Sarees are always in trend no matter what, but the blouse patterns evolve with each season. From the utmost traditional pattern to trendy and stylish, we experiment with the latest blouse trends. But what happens to your beloved blouse when the style is out of trend after a couple of months? Thus, we shortlisted a few blouse patterns that are evergreen and will forever be in trend. So, even when the trends change, these blouses will still be the classic patterns.
Check them out –
Big-Border Sleeves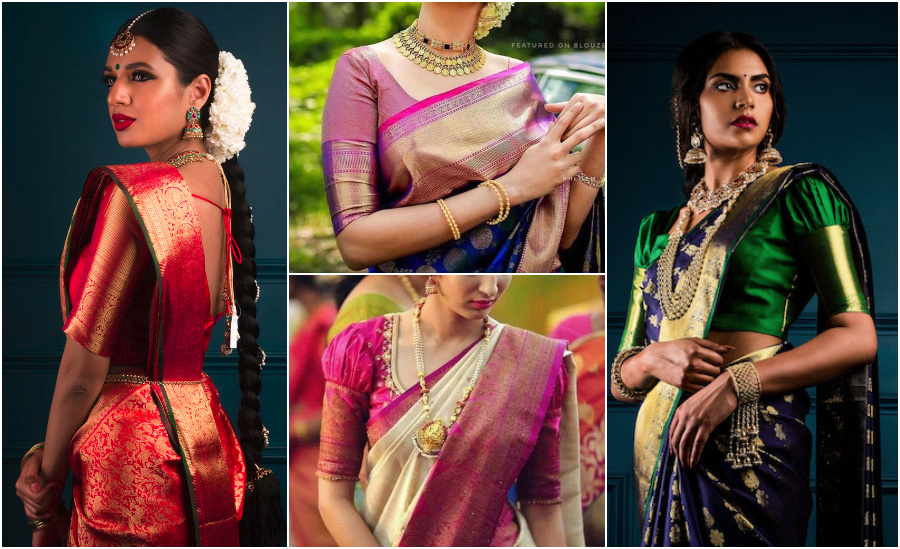 Big bordered sleeves with puff sleeves are a classic and it adds a touch of fun factor to the look. This blouse pattern is traditionally inclined and goes with every length of sleeves. However, you can also pair it up with any simple saree and the big border will emphasize the look. It will give a stylish designer feel like the heavy border compliments the simple saree.
Boat Neck Blouse Pattern
Boat neck style has been in trend ever since the 70s' and is still a part of the fashion world as fresh as new. It enhances the saree look and adds poise and panache to the personality. You can experiment with the sleeve length without hesitation as this blouse pattern goes with everything! From silk sarees to cotton sarees, this boat neck blouse pattern goes with it all.
Cold-Shoulder Blouse Patterns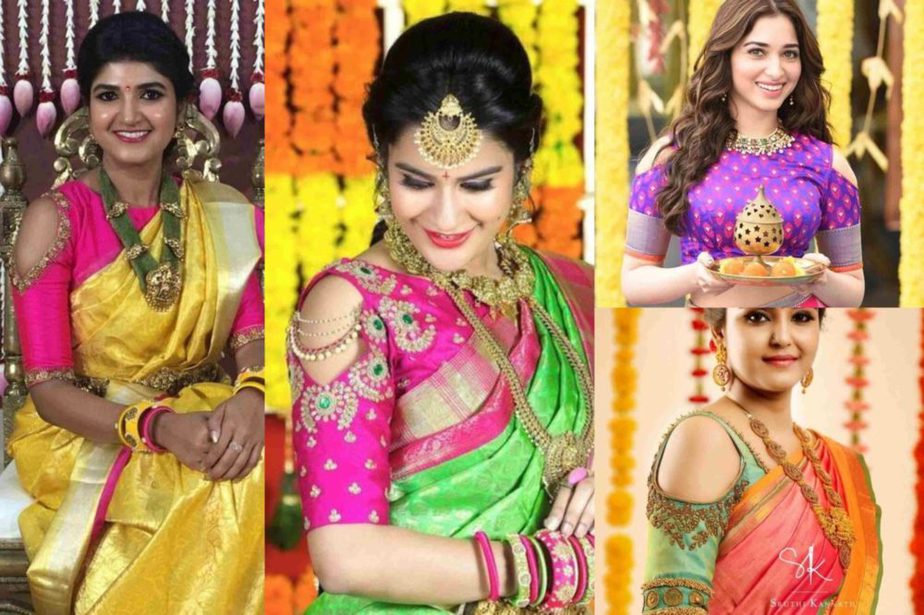 We all love the newness that cold-shoulder blouses add to our saree. It instantly gives a trendiness and modern look to even your traditional sarees. This pattern not only defines your shoulder but also is a good way to add some oomph factor. It looks stunning with long sleeves as well as short ones.
Elbow-Length Blouses

The good old style of long elbow-length sleeves are back in trend and how! They have been a part of the blouse patterns for a few decades and still rule. This blouse pattern suits every body type and makes your arm look slender and long. You can also enhance the blouse by getting Maggam or embroidery work done. This not only makes your blouse stylish but also gives it a ravishing designer touch.
Embroidered / Maggam Work
Heavy embroidery work and Maggam work blouses are never going out of trend! The designs and styles sure change but the stunning blouses are always mesmerizing. There are multiple designs that you can style your blouse with. Be it zari, zardosi, or rich silk threads and beads – they add a regal touch to your look.
High-Neck Blouse Patterns
To add that polished grace and elegance to your look, high-neck blouses are your BFFs. The high neck-blouses in brocade or silk are what every designer is incorporating these days. It adds a sophisticated appeal to the look and is perfect for wedding ceremonies. The best part is that it suits every body type and age. Add a stunning choker or rani haar and you will be slaying!
Tie-Back Style
Tie-back styles have always been in style and are the ultimate epitome of glam! From deep back neck blouses to backless patterns, a Dori or stylish tie-back string adds a sense of sexiness. Also, the ends of these strings have beautiful tassels, ghungroos, and hangings to make it more appealing!
These stylish and evergreen blouse patterns are here to stay and will never go out of trend. So, you might as well hold onto them and wear them with style.