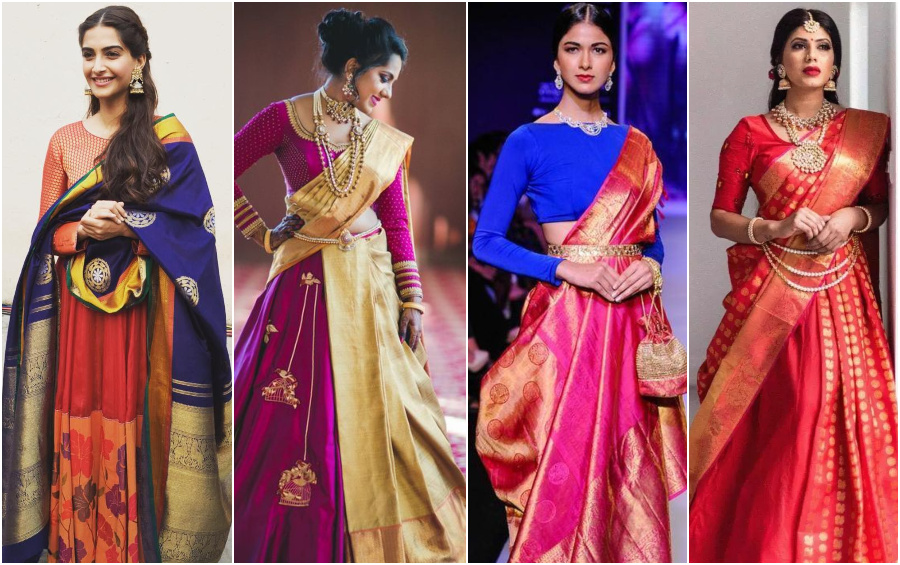 The scintillating Kanjeevaram sarees never fail to charm us. Just like some friends are forever, for every saree lover, Kanjeevaram is one such friend! Celebrities like Rekha and Vidya Balan have been the poster girls Kanjeevaram sarees. It's no longer a trend that Kanjeevaram sarees are just for the older ladies or too boring for the younger generation. People are now inclined towards handlooms to have also made their picks with Kanjeevarams. And with so many wonderful modern ways available to wear them, why shouldn't one opt for it!
But if you are wondering how to style them differently, here are some modern ways –
Cancan Drape / Flared Half Saree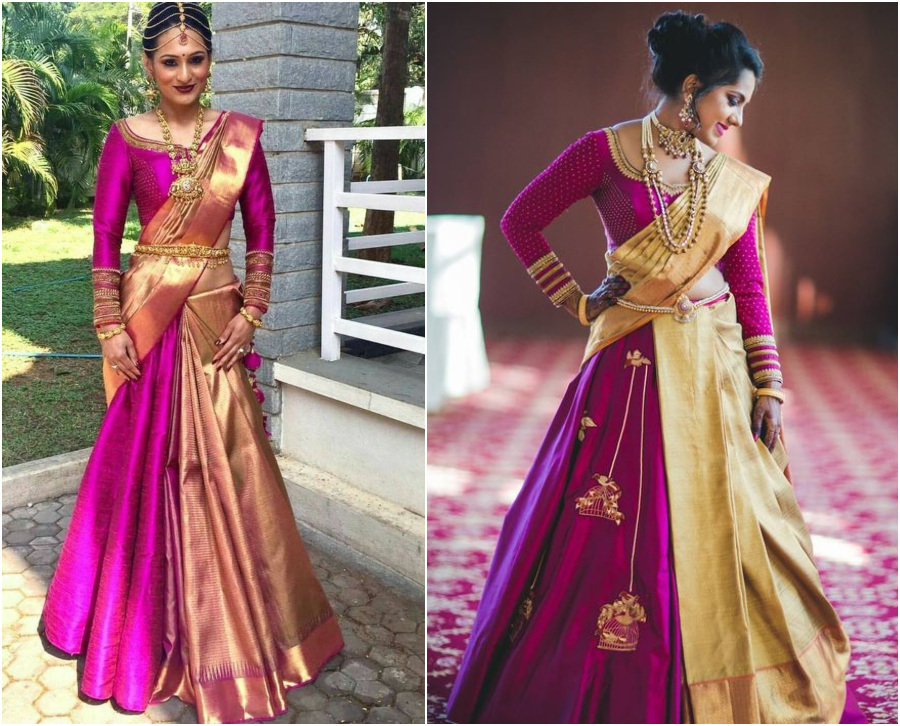 Cancan style or half saree style draping is one of the easiest methods to add chicness to your saree. Ditch the usual half saree for a flared back draping style like this one and add a twist to your look.  Take complete advantage of the manageability and fluidity of the fabric. Explore with pleats and tucks to create your very own statement or signature chic look.
Learn how to drape the Cancan Style:
Kanjivaram Lehengas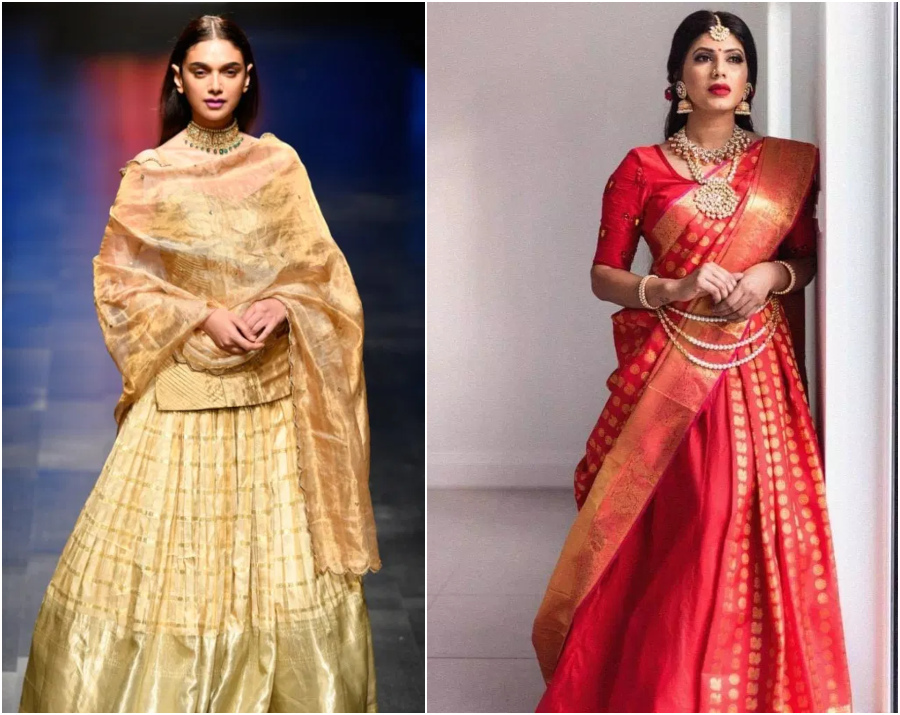 Kanjeevaram lehenga is the new trend that is currently a rage. And it looks supremely elegant and graceful! Ditch the usual heavily embellished lehengas for an elegant kanjivaram lehenga. You can also revamp your mom's old Kanjeevaram saree into a stylish lehenga!
Belt and Flare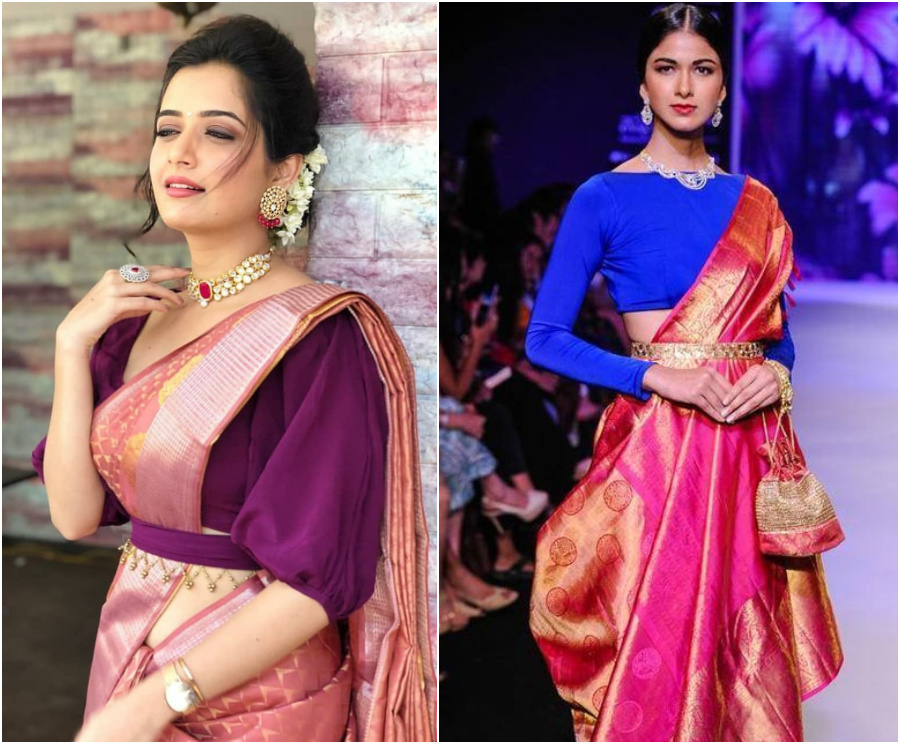 This awesome style can be effortlessly worn by a bride or even her bridesmaids! For all those who like to highlight their waistline with a belt, why not experiment the same with saree? With silk being so manageable and easy to carry, belting it up is a great way to style it. Use stylish belts, like leather or even fabric ones. Many of us wear kamarbandhs and that's nothing but a belt! You can also replace a kamarbandh with one of your long statement necklaces!
Ditch Regular Dupatta for a Kanjeevaram Dupatta
Sonam Kapoor Ahuja ditched a regular dupatta for a kanjeevaram pallu as her dupatta. And look how stunning she looks! You can get a gorgeous Kanjeevaram dupatta to up-style a simple outfit. Wear it with an Anarkali or a kurta and make a statement this wedding season. It will add an instant glam look to your attire.
Trendy Kanjeevaram Saree Blouses
A stylish chic blouse can work wonders if you wear it with your Kanjeevaram saree to give it a modern twist. Try out the various blouse styles for your Kanjivaram sarees. Like the high neck, long sleeves, peplum style, jackets, corsets, or stylish back-necks. There are numerous ways to up-style that Kanjivaram saree in a modern way. This gives a twist of edginess to the look and leaves a chic impression too.
These were a few fun and chic ways to style the evergreen kanjeevaram. Style them and slay in the edgiest way possible.