Mix and Match is the trend that has been raging off late ditching the usual style of matching up everything like clothes to accessories. This trend is contemporary and unique that lets you experiment and explore fashion. Many of us hesitate as we find it difficult to choose the best blouse to mix and match with our sarees and end up settling for the usual matching style. Currently, the trend is to mix and match blouses with sarees that don't go according to the standards. You too can jump in and explore this fashion trend!
Mix and match your saree with a blouse and get tons of compliments. We get awestruck every time celebs wear some unusual combinations. You too can try those mix and match combinations without going overboard. Saree looks created with mix and match colors turn into something stunning.
Check out a few ways to master the trend of mixing and matching your lovely blouses with sarees –
Play the Contrast Game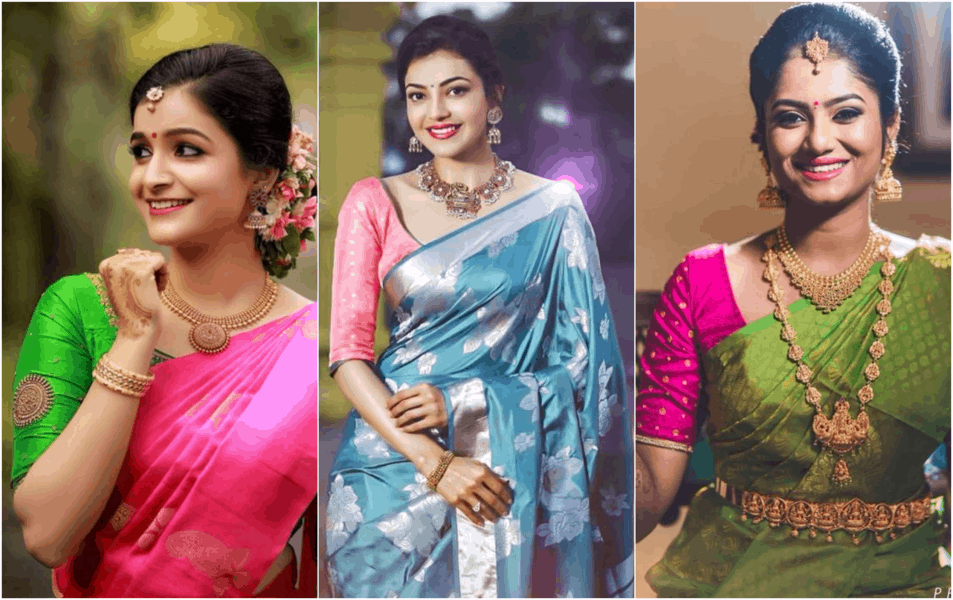 The easiest way to rock this trend is to play the contrast game. Your saree may not have a certain color in it yet you could mix and match your blouse! Go by the rule of mixing same color hues or contrast hues that are contemporary and chic. Start with classic color combinations like yellow-green, blue – pink, black with any bright color.
Embroidered Blouse
Brides or not – we all are wearing embroidered and embellished blouses! Zardosi work, mirror work, and any other motif add a beautiful charm to the blouse. And these blouses turn into multi-functional ones. You can mix and match these blouses with your silk, cotton or any other sarees. With embroideries done, they definitely will match up easily.
Cotton or Linen Blouse
This season we absolutely need to have cotton and linens in our wardrobe! Summer is an added reason to own them. The important one being its trending like fire! Plain or printed cotton and linen blouses mix and match with any handloom saree. Take cues from Kangana Ranaut and Samantha Akkineni! Customize the blouse patterns in fun and latest styles to add a quirk factor.
Indian Print Blouse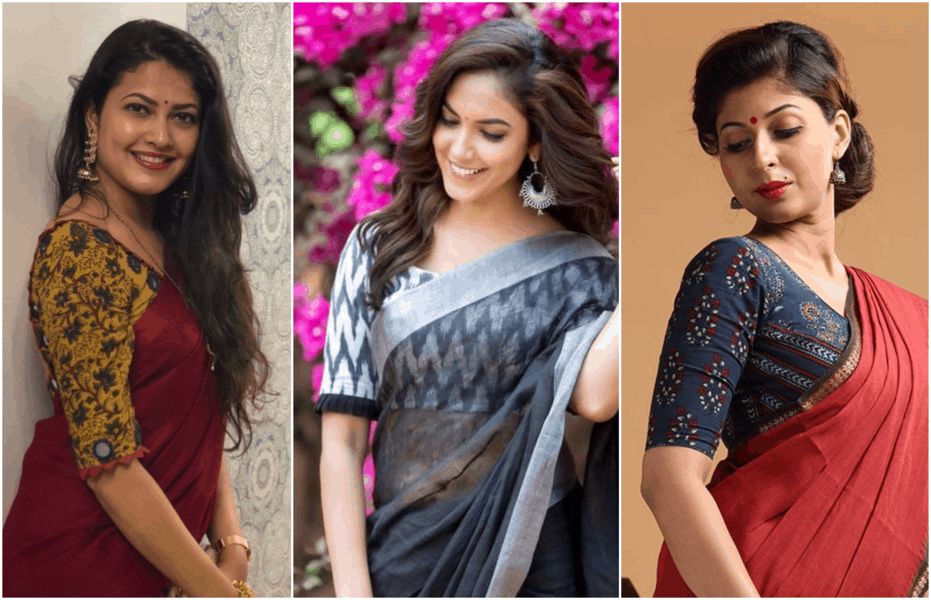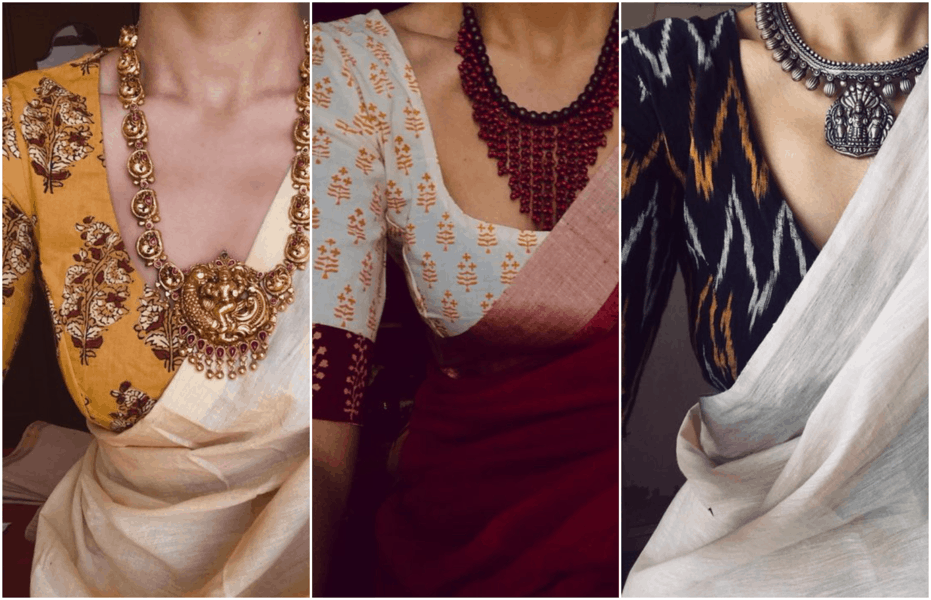 Indian prints are NEVER out of style! Kalamkari, Paisley, Ikat or Chevron prints – they all are astonishing and amazing! Tie and dye, bandhani or batik too fall in this category. Handloom cotton sarees, silks, or even chiffon look ecstatic mix and matched together. Combine Linen sarees with these Indian prints to keep it urban and chic.
Silk, Banarasi and Brocade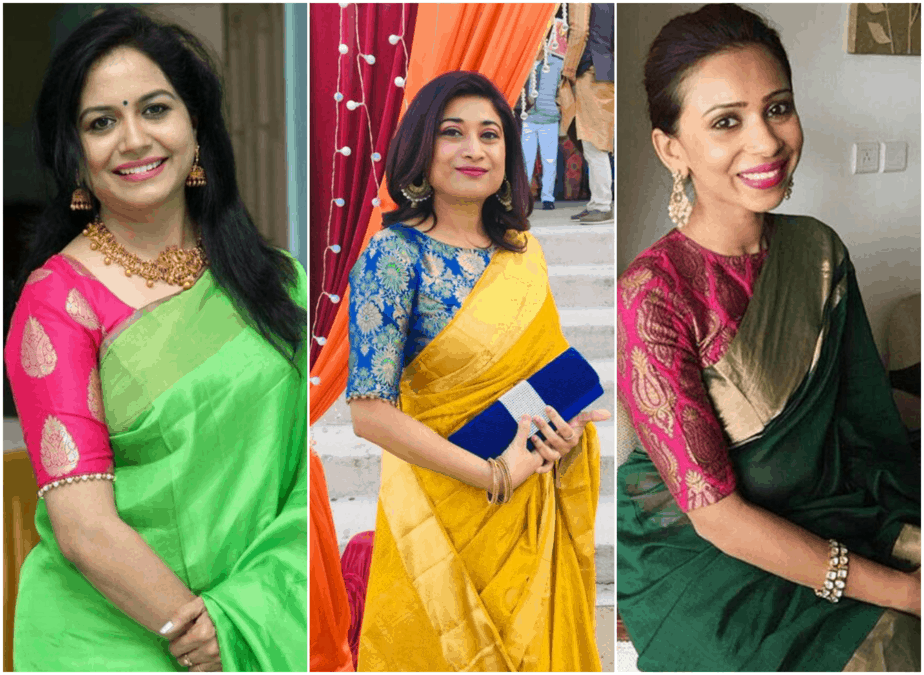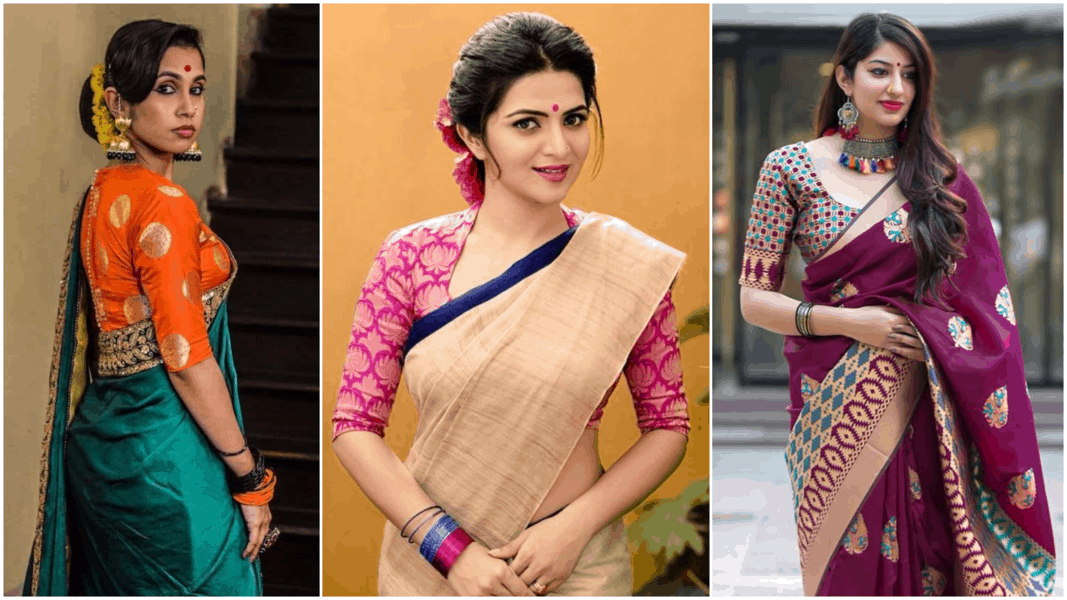 Silks are evergreen!! Saree or blouse – silks go with everything. These days the Banarasi blouses trend is catching up like a rage. From Banarasi dupattas to sarees, you could experiment with this current hot trend. Silk blouses too are easy to mix and match with all the sarees in any color combinations. They are great for every season as they are handloom. Brocade blouses are slightly on the contemporary side for the patterns and prints. They are like the versatile blouses that you can mix and match with any saree.
Remember that mix and match can change the entire look of yours. Plus, it's hot and trending! Try them out and let us know how you styled them.