The wedding season is upon us. And whether it's your own or a wedding that you are attending, assembling your look is a priority! Blouses not only enhance your saree but also add an oomph factor to your look. With so many changing trends, the special spot for Maggam work design still remains the same. The maggam work blouse designs have an utmost traditional feel to match your pattu saree in so many ways! So, we have created a maggam work blouse designs 2020 catalog for you to scroll through.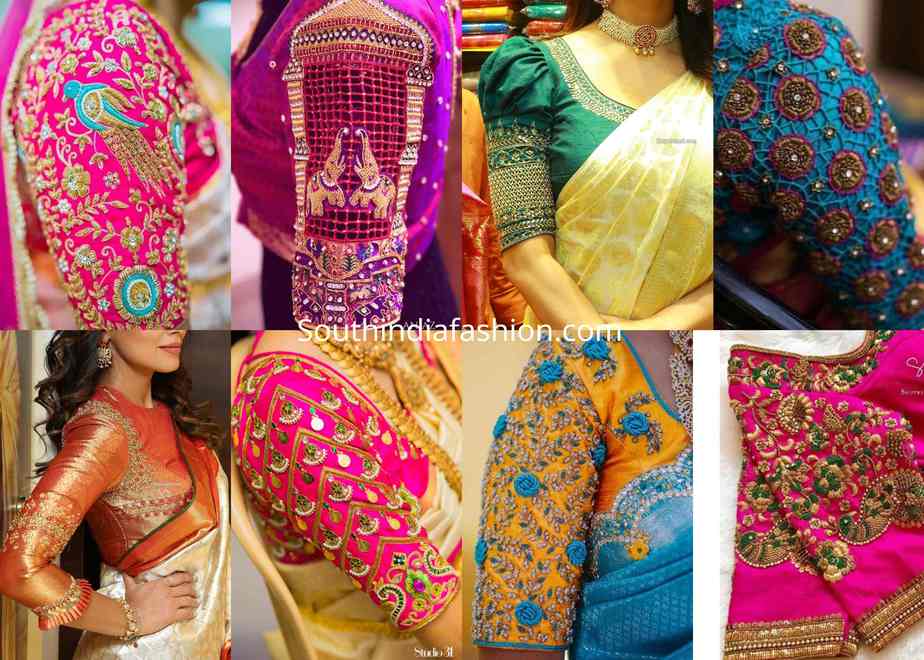 Let's check out some of the latest Maggam work blouse designs images that will trend in 2020 –
1. Three Quarter Sleeved Maggam Work Blouse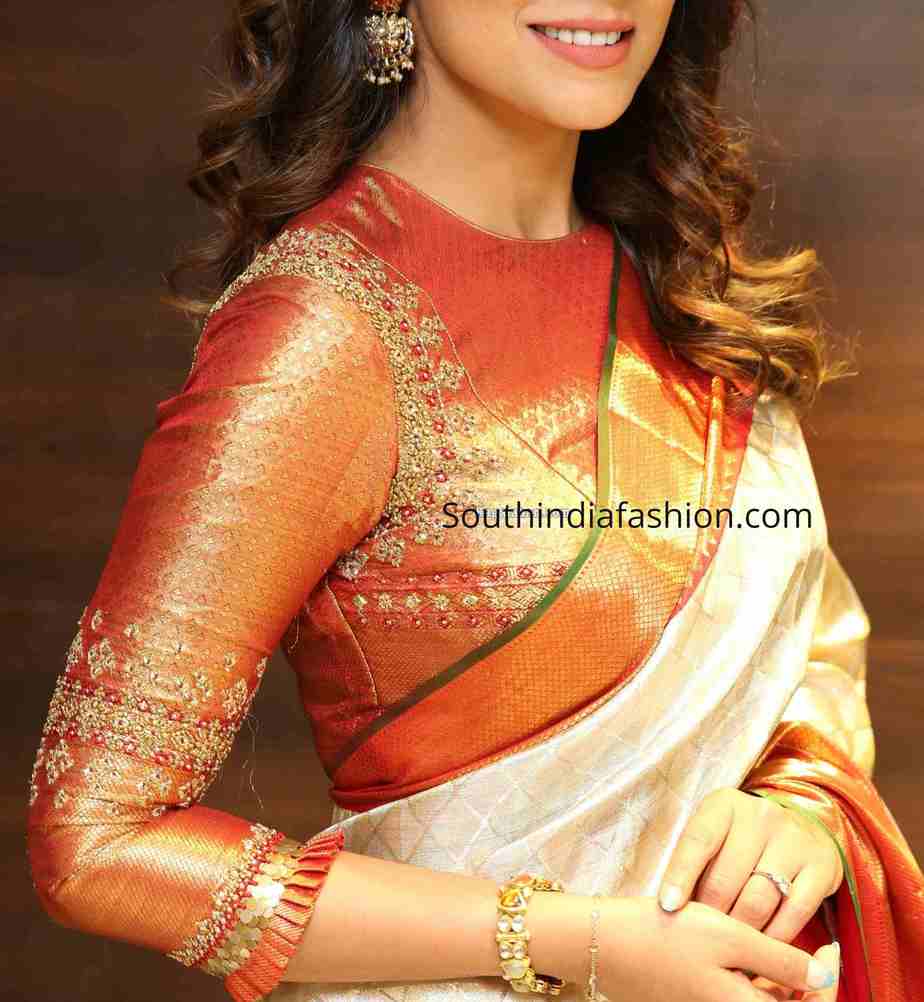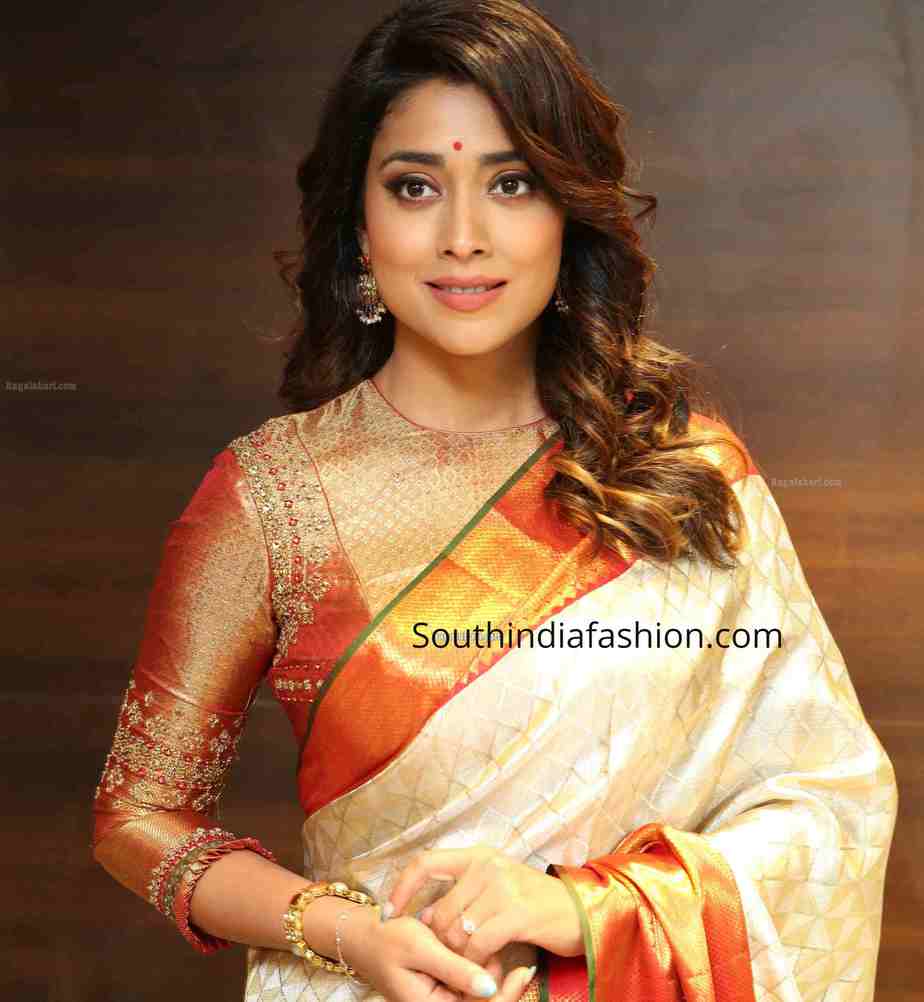 Three-quarter sleeved blouses are a rage these days as they offer grace and elegance. Adding maggam work to the pattu saree blouse designs enhances the look in so many ways! With simple maggam work along the arm and the sleeves, this looks perfect if you want to highlight the saree.
2. Cold Shoulder Maggam Work Blouse
Cold shoulder blouse patterns for pattu saree is perfect for the stylish bridesmaids. With simple maggam work done along with the cut out of the cold shoulder, the blouse looks stunning! To add to the minimalistic design are the tiny motifs all over randomly placed on the blouse.
3. Boat Neck Maggam Work Blouse
A heavily embellished golden blouse is essential during weddings. They highlight and match any saree and make it a perfect wedding ensemble. A boat neck blouse with heavy maggam work for pattu saree looks splendid! Don't you agree?
4. Maggam Blouse for Pattu saree
Enhance the beauty of your pattu saree blouse by getting maggam work done on its sleeve. Rather than going all out, keep it simple and in sync with your saree style and design. Just add some stones or zari like this one and keep the elegance intact.
5. Puff Sleeves Blouse for Pattu saree
Puff sleeve blouses are a classic choice for pattu saree blouse designs. The dark green blouse looks even more stunning with the intricate golden work. Along the neckline and sleeves, this latest maggam work design is going to rule 2020!
6. Zardosi and Maggam Heavy Work
There are so many elements that you can add to make your pattu saree blouse stylish and traditional. This one is yet another way by adding some zardosi motifs, coins and green stones to enhance your blouse. Your pattu saree blouse is sure to look amazing even when it is in a contrast color.
7. Scoop Neck Blouse with Maggam Work
This stunning blouse has pearls, stones, beads and zari work all around the neckline of the blouse. This new maggam work blouse design is worth crushing on! As it adds an oomph factor to the rather simple scoop neck blouse.
8. Contrast Colored Maggam Work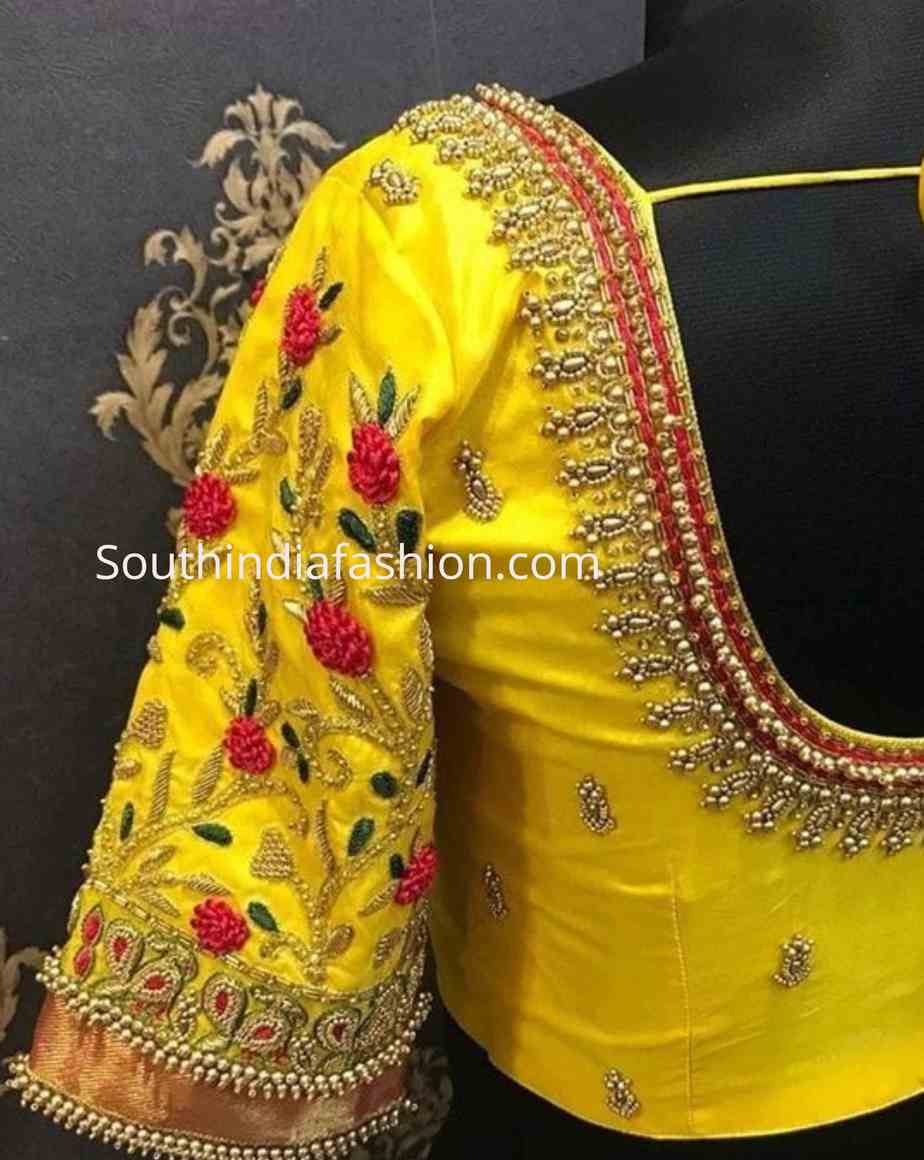 Just like mixing and matching, the contrast game is going strong in maggam blouse work as well! Adding a pop of color to the yellow blouse, this red colored floral maggam motif is gorgeous. With a simple jewellery neckline, the maggam work is enhancing the blouse beautifully.
9. Heavy Maggam Blouse Work Design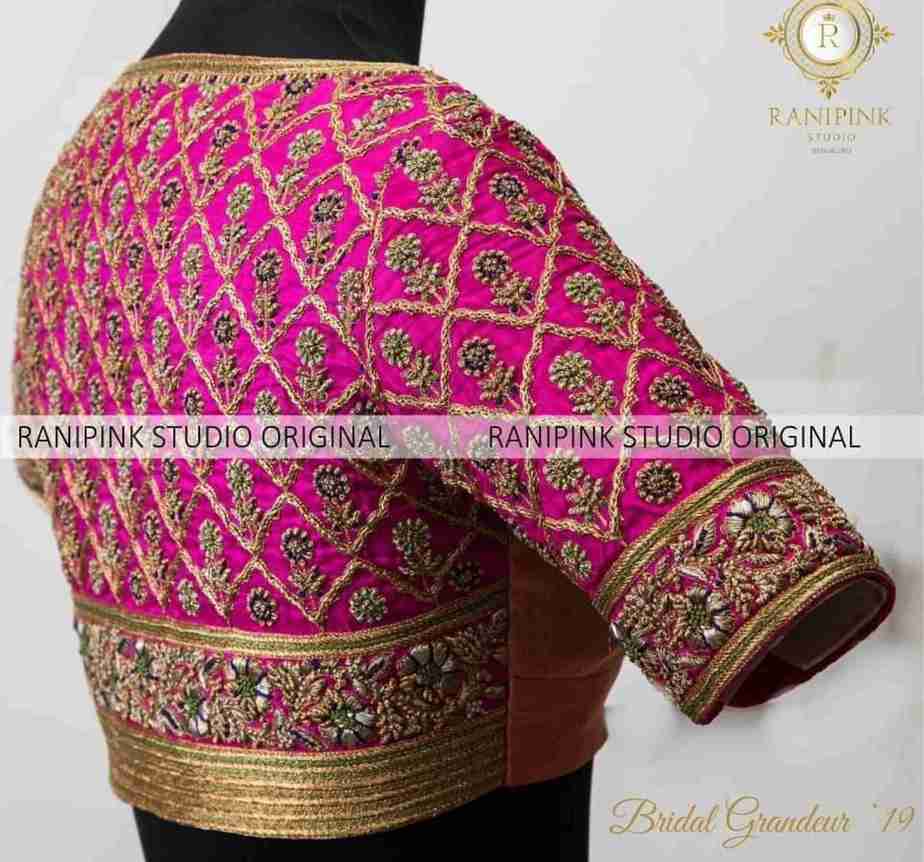 There is nothing as stunning as a heavily embellished maggam blouse design! This blouse is perfect for the brides and makes a great pre-wedding blouse for any of your pattu saree. With flowers and checks all over the blouse in zardosi, the blouse is worth staring at for hours.
10. Embellished Blouse work
We have spotted many different motifs and figures in maggam work on blouses. But this one is beyond imagination! Figurines portraying Shah Jahan and Anarkali is the latest maggam blouse design. The embellished blouse is going to be worth every penny when everyone compliments it.
11. Cut-Out Back Blouse Design
Cut-out back neck blouse designs are beautiful as it is, but when you add a touch of maggam work, they look exquisite! This blouse design has a cut-out in the shape of an antique palace window. And to add to that, there are crystal strings along the cut-out to enhance it further.
12. Elephant Design Maggam Work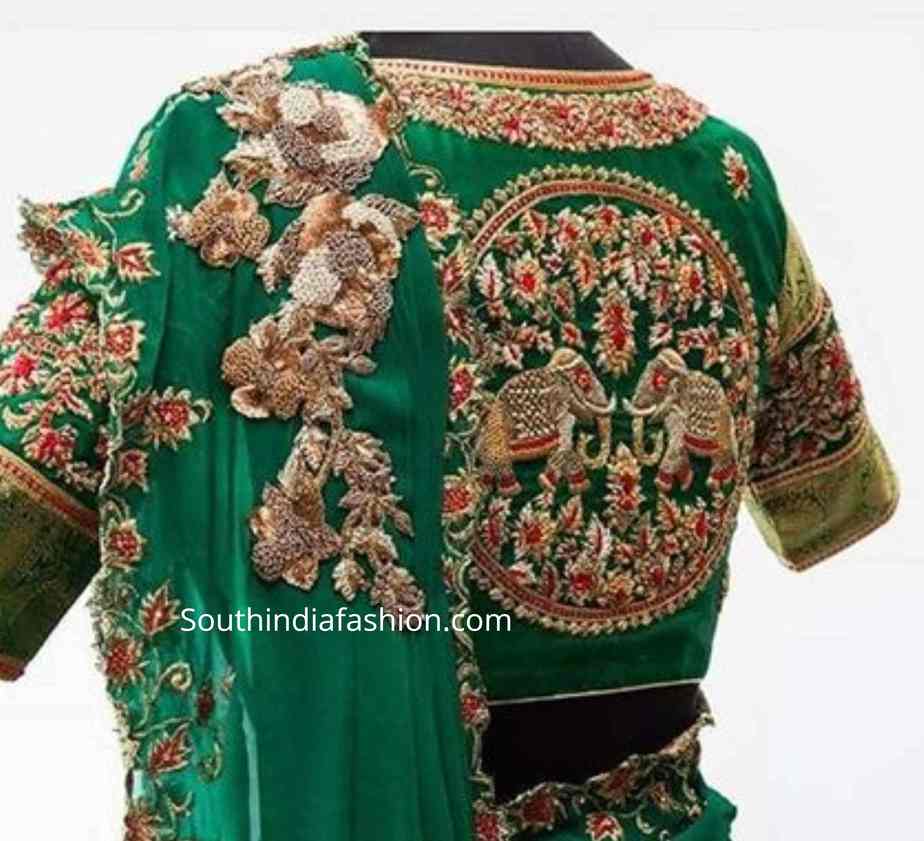 Elephants are traditional motifs used extensively in outfits and gold jewellery. This blouse with a stunning elephant maggam work in golden and red is all hearts! You can never go wrong with this motif as it makes a rich statement of its own.
13. Bridal Doli Design Maggam Blouse
The bridal maggam work blouses consist of heavy work in a variety of designs, patterns, and colors. The bridal maggam blouse adds to the grandeur and richness of the bridal look. Usually, a bridal maggam work blouse design portrays brides and groom, doli and baraat.
14. Goddess Design Maggam Work Blouse
Blouses are the heart of your wedding attire! And when you add figures, it makes the blouse even more appealing. These Goddess Lakshmi and Saraswati maggam work blouse designs are inspiration worthy! The rich maggam work adds to the grandeur of the saree.
15. Intricate Maggam Work on Red Blouse
Red blouse with a round neck looks even more appealing with some light maggam work around the edges, doesn't it? With intricate design along the neck and sleeves, the blouse looks perfect with a pattu saree. To add to the style, even the tassels have maggam work done on them!
16. Deer Border on Sleeve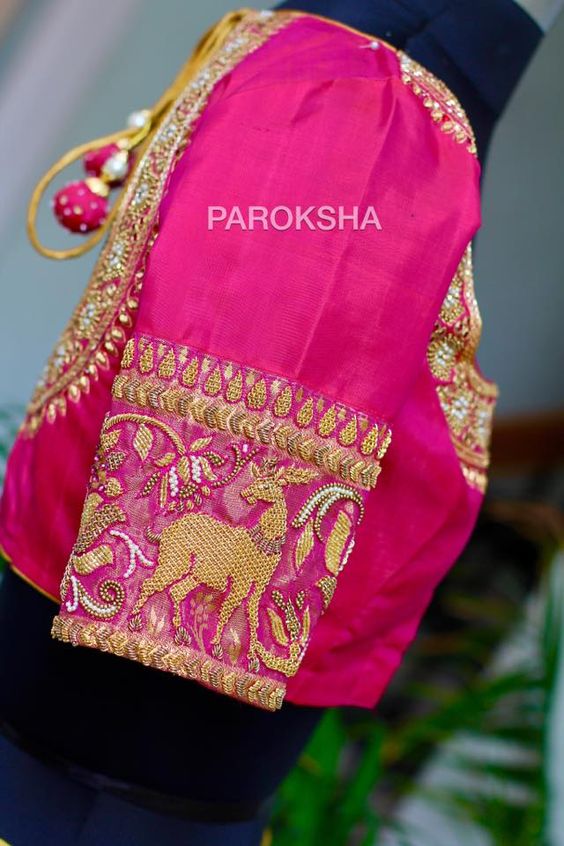 Taking it up a notch with the motifs, this stunning maggam work blouse design of a deer is so beautiful! The blouse even has intricate detailing and motifs along the hem of the sleeve. Mix and match this bright blouse with a yellow, royal blouse or a golden saree and you would be turning some heads.
17. Floral Maggam Work
Floral maggam work can never go wrong! Look at that stunning maggam work design and the floral design in bright blue! Floral design maggam work blouses are the most common ones and yet never fail to disappoint. They are always in trend and you can see why!
18. Latest Maggam Work for Heavy Sleeves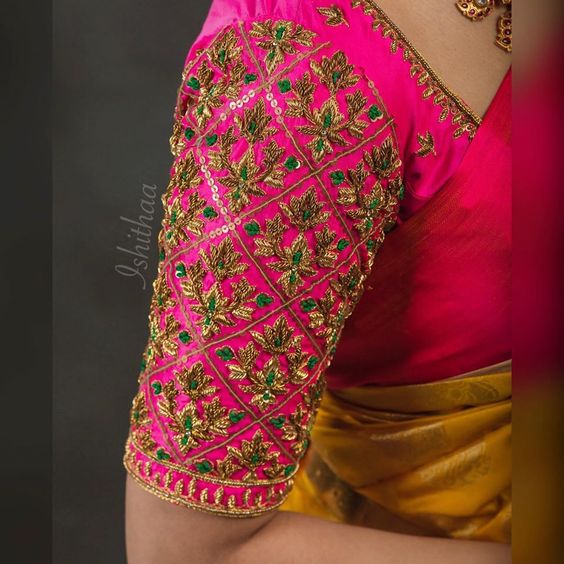 A heavy maggam work design blouse can never go wrong.  We can't take our eyes off this beautiful checkered latest maggam work blouse design! It definitely has a newness to the design with motifs within the check. It is something that a very modern bride would prefer. This latest maggam work blouse design adds to the richness.
19. Kasu Work Wedding Blouse Designs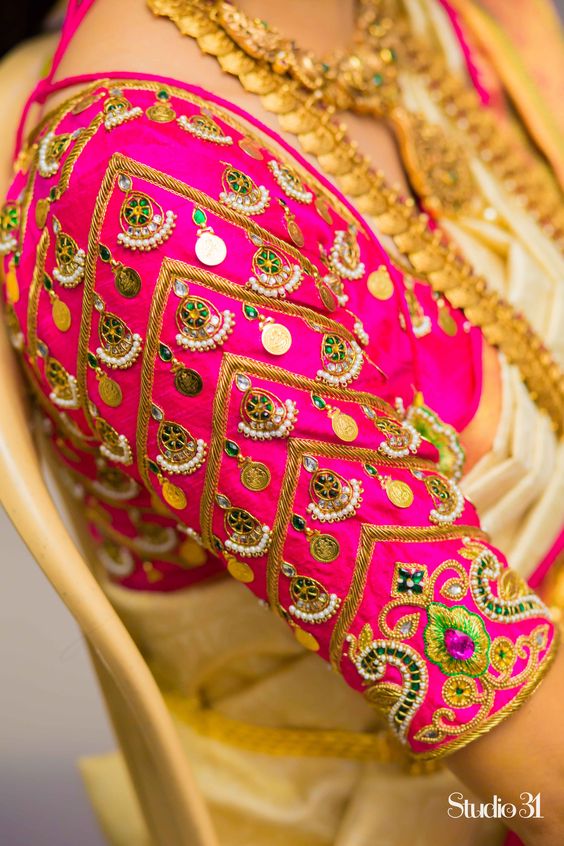 Kasu, Kasulu or coin work – is a very popular maggam work blouse design that is sure to rule 2020 as well. This gorgeous pattu saree blouse design image shows kasu work along with Aari work. There are also other embellishments like pearls and green stones. It would go perfectly with any contrast colored saree!
20. Small Motifs Pattu Saree Blouse Designs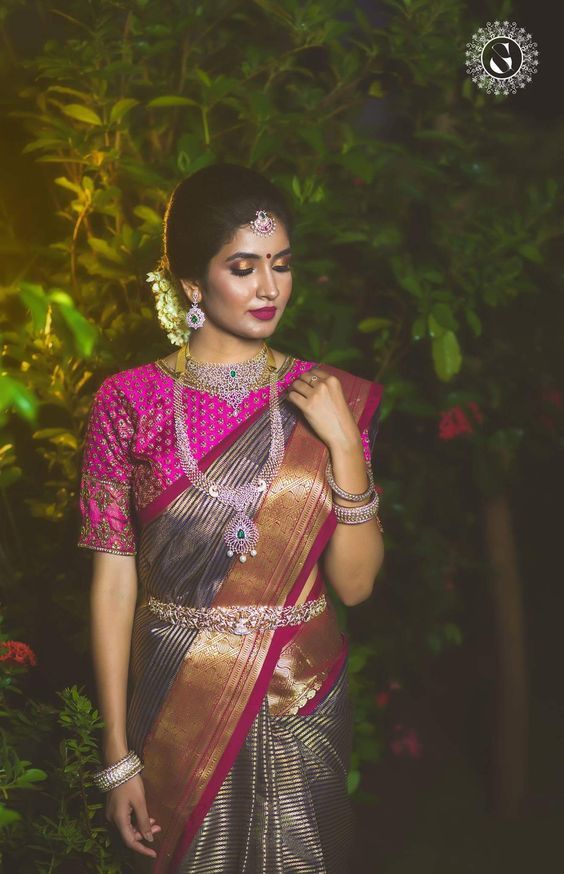 Ditch the elaborate maggam work designs and opt for small motifs all over the blouse. Trust us, it looks equally stunning! The high neck blouse pattern with elbow-length sleeves add to the elegance of the blouse. Pick any small motif of your choice and get this style done – you won't regret!
21. Heavy Sleeves Maggam Work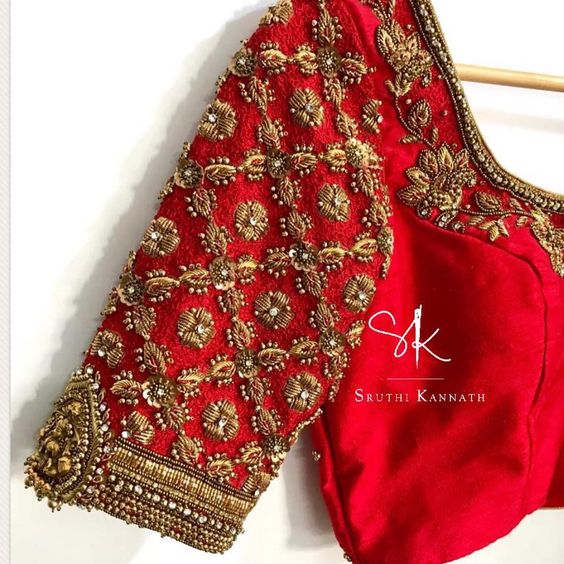 Small motifs forming checks patterned maggam design on the sleeves of this blouse! It is unique and definitely worth a bridal blouse pattern. It gives a rich look and will make your pattu saree look even grand and regal. The blouse sleeves have a thick maggam border to keep the blouse opulent looking.
22. Traditional Lotus Motifs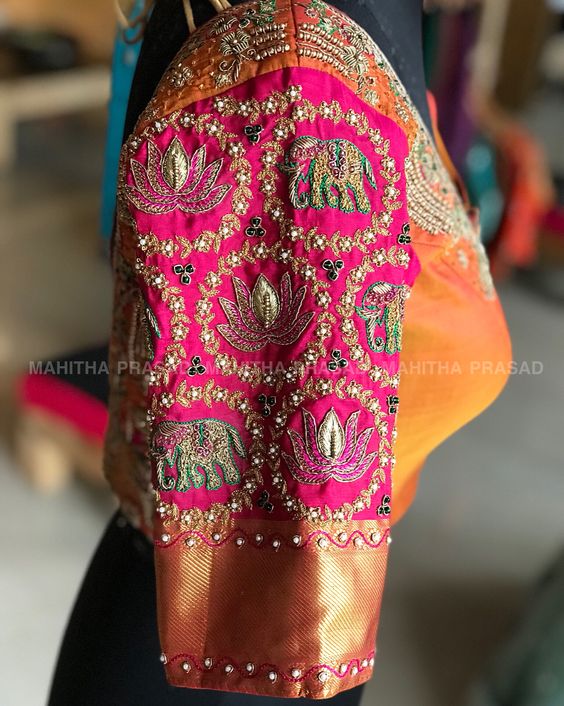 Maggam work designs of lotus motifs in circles on pattu blouses are the new trends. If you are really bored with the usual checks, the lotus motif is a nice variation to try with maggam work designs. To add to the grandeur, the blouse also has elephant motifs along with the lotus and it looks gorgeous!
23. Peacock Motif Pink Maggam Blouse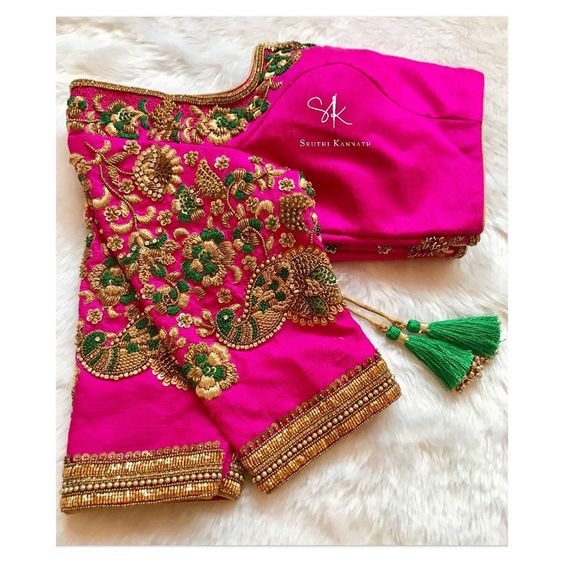 Peacock designs are the most traditional ones from the Maggam work blouse designs. The richness of peacock maggam work looks great on a regal pink blouse here. The floral motifs with a hint of green along with the golden zari add to the depth of the design.
24. Golden Thread Maggam Work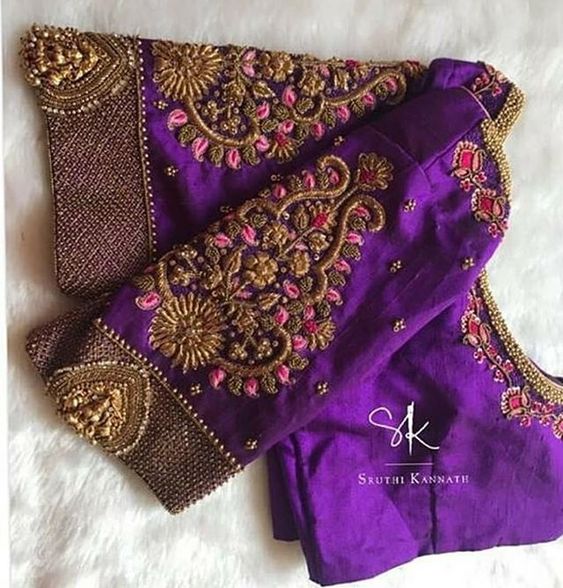 Golden thread work along with tiny pink thread work looks great on this rich purple blouse. The latest maggam work blouse design image shows the off-beat contemporary motif style. Ditching the usual motifs, you can create a trendy motif of your own and get it done. Just like this stunning pattu saree maggam blouse design.
25. Contemporary Wedding Maggam Work Blouse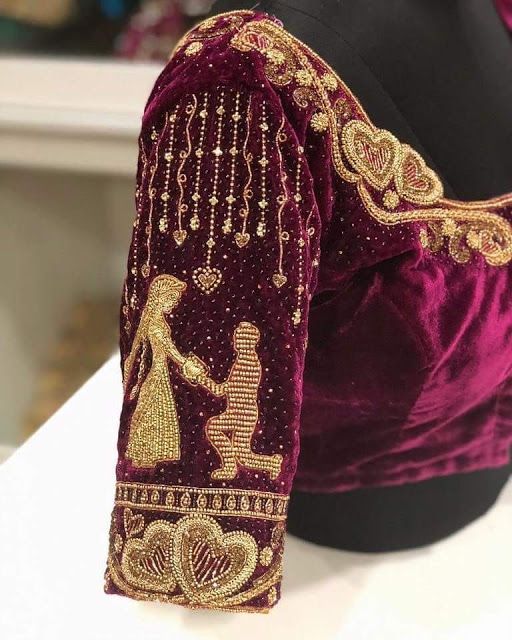 Not sure how to style your reception saree or lehenga blouse? Well, this contemporary latest maggam blouse design is for modern brides. With motif portraying the proposal, is perfect for an off-beat reception blouse. And there are two hearts to enhance the border! The zardosi, pearls and Aari work makes this velvet blouse look mesmerizing!
26. Mythological Motifs Maggam Work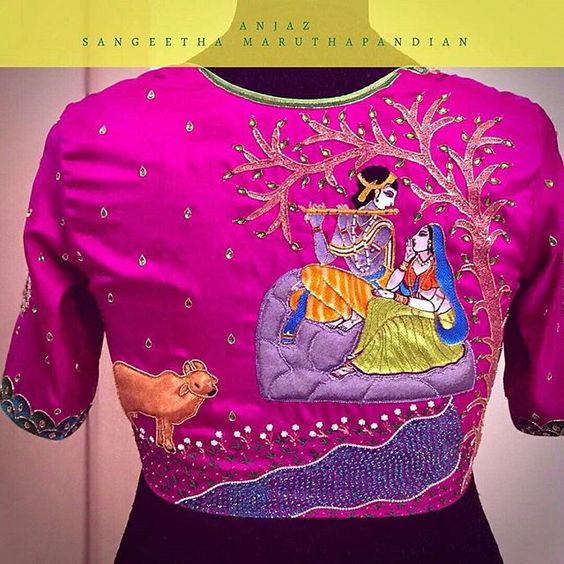 This is so unique that people will wonder in awe with this maggam work on your blouse. The mythological motif of Radha-Krishna beautifully done on the back of the blouse. You can choose any other gods and goddesses that gives you a chance to add more colors and bling to your blouse.
27. Round Motifs Cut Work  Maggam Design
Simple and stunning! Simple maggam blouse designs also have a beauty of its own, don't you agree? Take a look at this blue blouse with cut work and simple round motifs all over. The simple motifs put closely are adding up to the richness of the entire blouse. The tiny rhinestones in the center of the motif are adding to the subtle grace.
28. Traditional Elephant Motif Design
The cutwork at the sleeve woven together with maggam work is fancy and all sorts of stunning! Anyone who wants a blend of tradition and trend, this one for you. A beautiful elephant motif with netted maggam work design on the sleeves is simply so pretty!
29. Vanki Design Maggam Blouse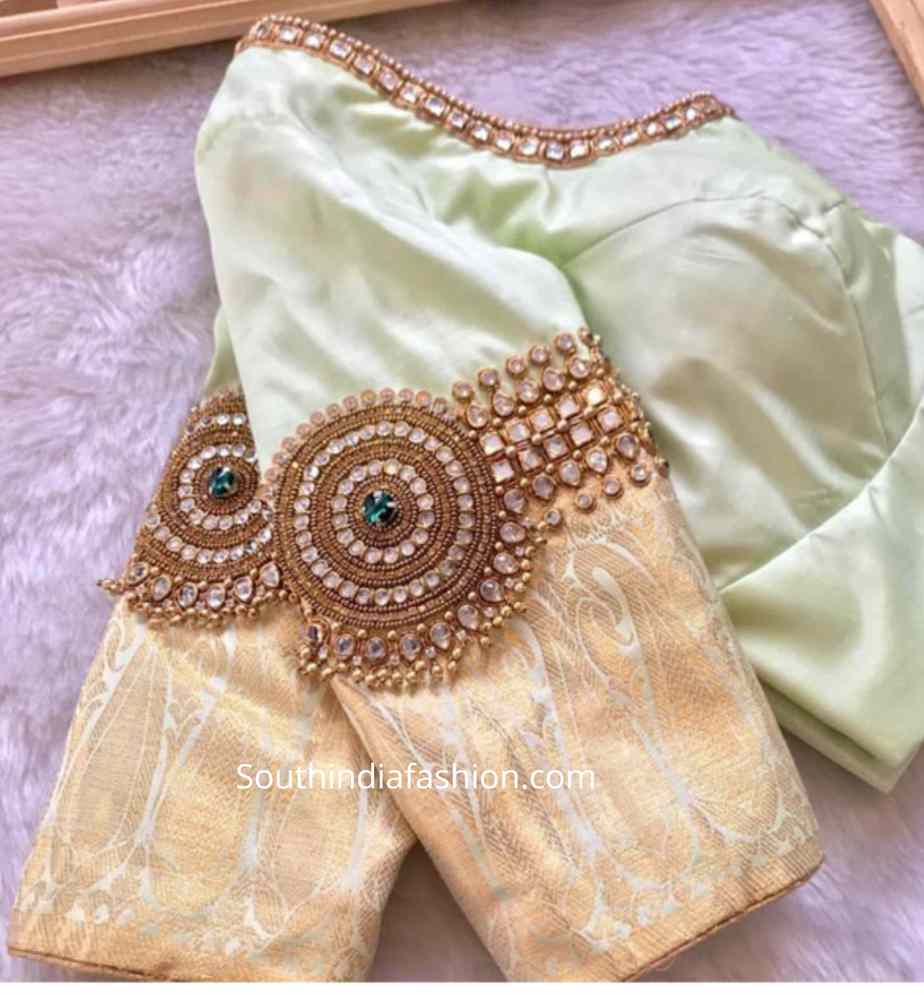 Bring the two amazingly stunning things together – maggam work and vanki design! And you get something as lavishing and classy as this gorgeous pattu saree blouse design! With round maggam work motif and a border of kundans and stones makes the design look like a Bajubandh – armlet.
30. Floral Maggam Work Blouse Design 2020
Look at that floral maggam design in bright blue on the yellow blouse! Floral design maggam work blouses are the most common ones and yet never fail to disappoint. They are always in trend and you can see why!
31. Parrot Motif on the Sleeves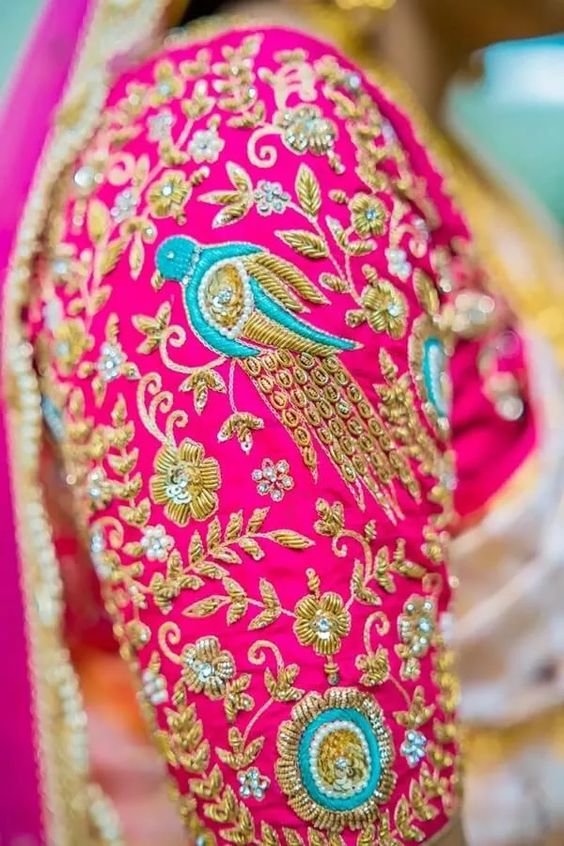 Just as the animal motifs, the bird motifs look equally beautiful when done in maggam work. Here, the parrot is in a bright blue thread on a bright blouse along with zari. And it looks so mesmerizing and rich. If all-over sleeves aren't your style, get a simple parrot motif on the sleeves and it's sure to look good too!
32. Contrast Colored Maggam Design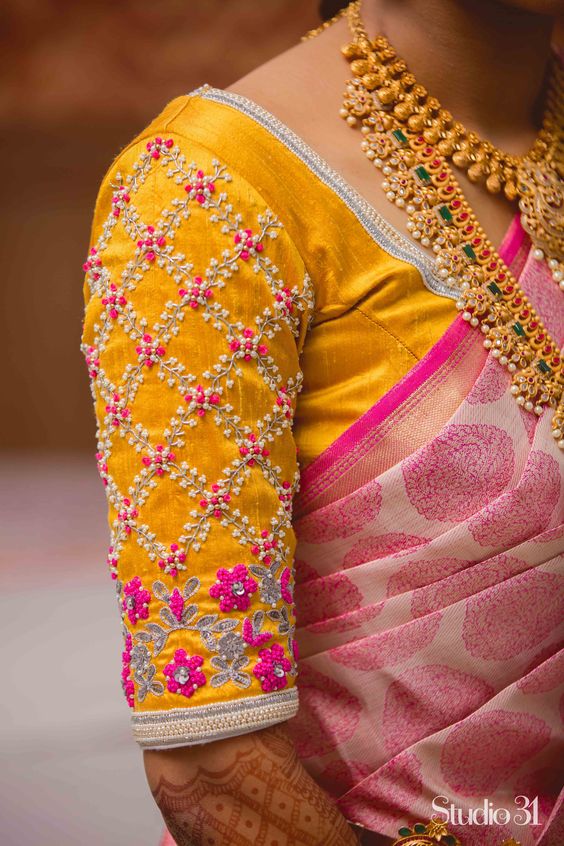 Such a beautiful blouse with bright pink and pearl white maggam work done all over the sleeves. The design looks delicate, feminine and subtle in spite of being fully covered. The pop of color that the pick adds on the yellow blouse works wonders! Don't you agree?
33. Colorful Maggam Thread Work Design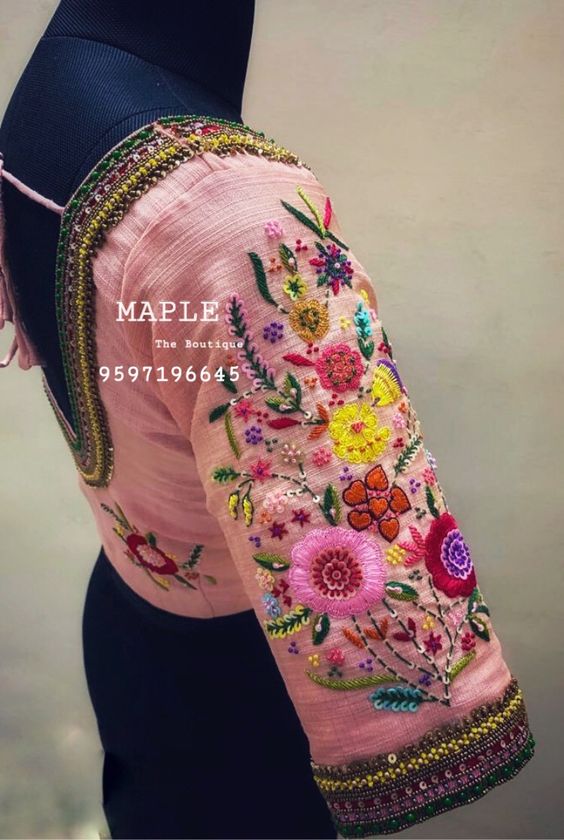 The blush pink blouse enhanced with the colorful thread work on its sleeve. The splash of bright vibrant colors can go with literally any colored saree. Try this one out and you will be able to mix and match your blouse with any pattu saree!
34. Stylish Plunging Neck Silver Zari Maggam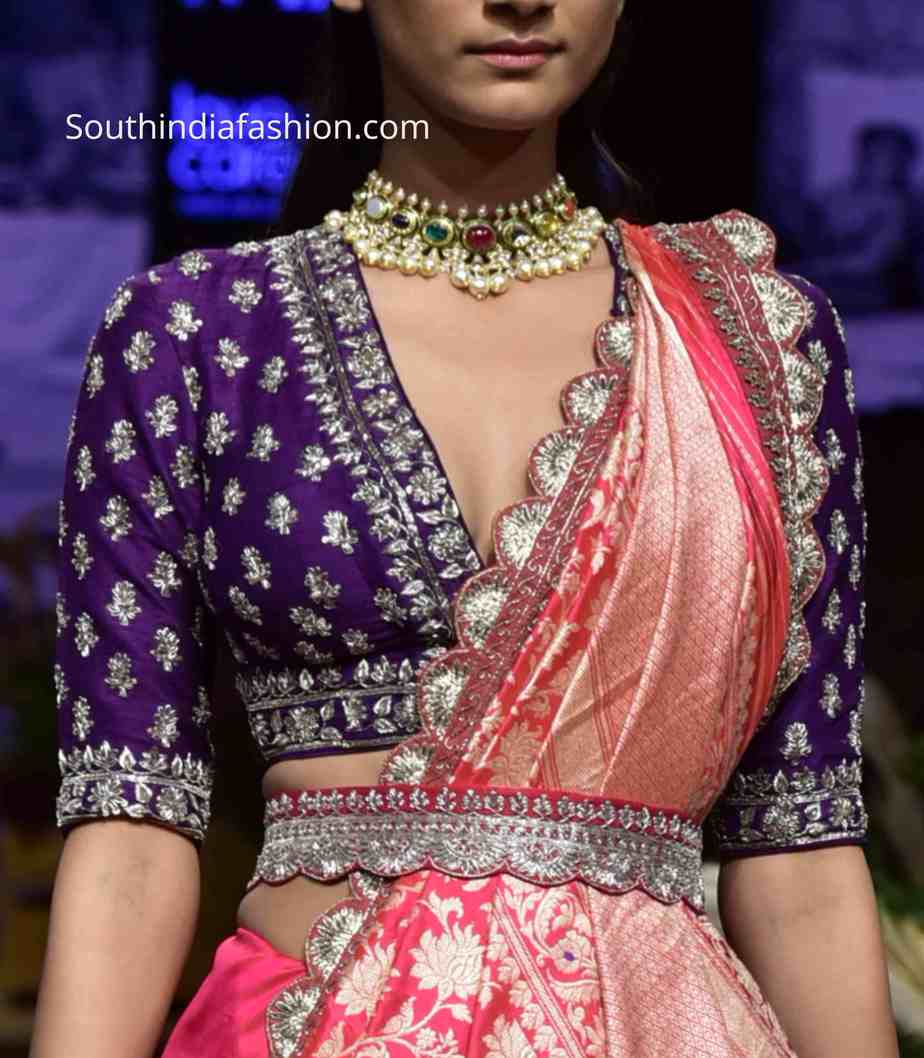 Ditch the usual golden thread for this silver thread maggam work design. A deep plunging 'V' neck blouse is for the modern and contemporary brides and bridesmaids. Thick maggam border and small motifs all over are certainly appealing.
35. Rustic Gold All Over Work
Yet another sexy back neck blouse with strings to tie-up. Embellished with rustic gold maggam blouse design, the blouse looks marvelous! With motifs like creeper, vines, and leaves, the style is contemporary and stylish.
Bookmark this article and start the wedding season 2020 with a bang with these latest maggam work blouse designs! Let us know your favorite ones.