How easy is it to spoil the entire look of a saree with a bad blouse? Well it is one easy reason that your whole look gets ruined. You probably have not stitched the right style of blouse. When there are so many patterns available we understand the confusion you would be in to narrow down on the right choice. A word of advice. If you are confused of which pattern of blouse you need to choose and if the pattern you are trying to pick might just about ruin your look, go in for sleeveless blouses.
Sleeveless blouses are not as "risqué" as you think it is. You can do it the way you want to. Opt for a contrast deep neck simple sleeveless blouse with piped edges and tassels for complete effect. That is perfect for designer sarees. You can also go for a neutral gold or silver sequins blouse with no trim so that you can wear these blouses with many sarees.  If you are wearing a traditional saree you can still go for the sleeveless blouse look. Add the zari on the straps and you have a grand blouse without a whole lot of bling.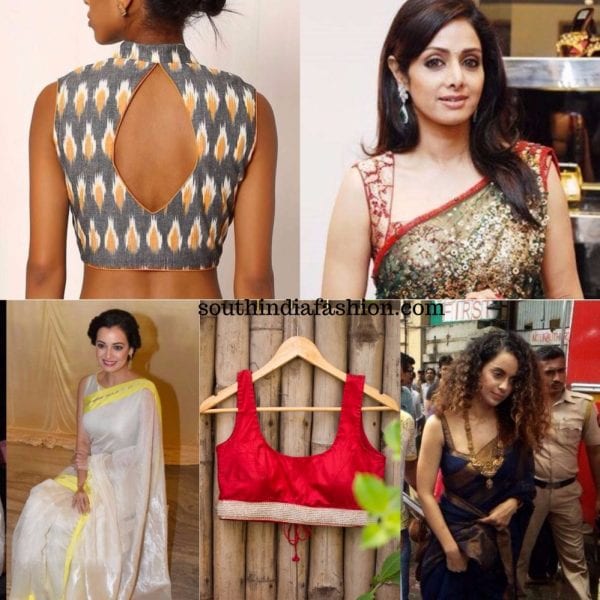 Sleeveless blouses suit a majority of body types. They go perfectly well even with simple cotton and linen sarees. If you are not a fan of deep necks then high neck or boat neck sleeveless blouses would make you very comfortable. You can always add fancy tassels to your sleeveless blouses to make it look even more enchanting. If you are interested in experimenting more, try out some glam blouses like a halter neck, spaghetti strap or a noodle strap blouse. They are all sleeveless blouses too and look phenomenal with designer sarees. You can go for fancy backs with cut outs or criss cross ropes. Alternatively you can make these blouses to resemble crop tops, so that you can pair them with skirts too.
Which is your favorite style of sleeveless blouse style? Do let us know!!