We often like replicating celebrity styles and outfits, don't we? And when it comes to Anita Hassanandani, we simply love her chic styles. She takes saree and turns it into a hot attire with her simple trick of upping her blouse game. Her blouse patterns are something that she experiments with a lot and always nails the look! Diminishing all the typical blouse patterns, she always brings out of the box blouse patterns that are hot and sexy.
We compiled 7 blouse patterns that Anita Hassanandani tried and slayed in. Check them out –
Choker Blouse Pattern
Anita Hassanandani dolled up in a choker neckline blouse pattern that was simply stunning! Once with a ruffle collar, and the other time just with cage-style straps. This neckline not only accentuates your shoulders but also adds a little drama around the neckline to avoid necklace.
Collar No Collar
The 'collar no collar' blouse pattern was an instant hit amongst the youngsters as it was so chic and edgy! Although, what might seem like a peter-pan collar, but is not – that's the beauty of this blouse style. Anita Hassanandani opted for a couple of variations in a similar neckline to give it a new twist each time.
Cross Shoulder Neckline
The Cross shoulder neckline has been a trend since the early 80s' which has come back looking chicer. Even the simplest of saree looks can easily be elevated with a stylish satin or velvet cross shoulder neckline. Anita sure knows how to play with every blouse pattern to make it top-notch couture.
Deep 'V' Neckline
The classic deep V is a very Sabyasachi style. And Anita Hassanandani slayed the look with so much panache with a hint of sexiness. She showed us how even the simplest 'V' neck design can become a stylish fashion with the right blingy saree. Her sequence silver saree and blouse was such a perfect cocktail look, isn't it?
Simple Off-Shoulder Blouse
This classy yet elegant off shoulder blouse designs have always been in trend. But Anita Hassanandani took it up a notch by pairing it with matching net sarees. The ever so sexy off-shoulder blouse looks even more stylish with these sarees. We love how a simple matching game can revamp your entire look to a whole new level.
Strappy Blouse Pattern
You can wear the strappy spaghetti tops and crop tops in yet another uber-stylish way.  Pairing them with cocktail sarees is the next best thing to do! Grab all your stylish strappy basic crop tops and turn them into a blouse and create chic styles.
Trendy Cage Halter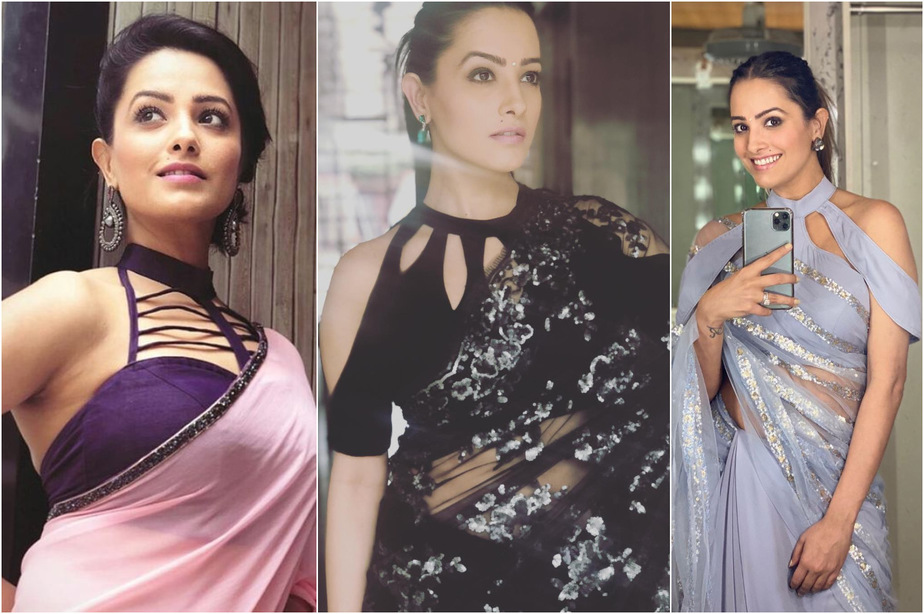 For the chic diva in you, the cage halter blouse pattern is just the right pick. As much as we love halters, they now seem very old-style. But when halter meets the cage style – it creates magic!! It surely is a must-have in your wardrobe. Stand out from the crowd in this amazing cage halter blouse pattern that is a perfect pick for reception or cocktails.
(Shop readymade saree blouses online HERE!)
Anita Hassanandani surely knows how to slay a saree look with stylish blouses. Which of these above-mentioned blouse patterns are you willing to try?