Blouse designs are always dear to us. None would like to miss a chance to wear a pretty blouse model. And if it is the festive season, things get even more interesting. While all kinds of saree blouses are revered equally, handmade ones have a separate fan base. Not only because they are meticulously worked up on but also because they look beautiful from every angle. They can be both handpainted or hand embroidered using various techniques. What if we tell you it is possible to design your saree blouse online? Eyal boutique gives you this exclusive opportunity to picture what your blouse design can be. For you to get a hang of it, we have curated 20 latest handmade blouses designed by Eyal Boutique. These can be worn both casually or act as festive wear.
Check out the designs below and see which one steals your heart-
1. White blouse with handpainted pink floral blouse-
2. Brick red multicoloured floral handmade blouse-
3. Brown 3D floral work blouse in multi colours-
4. White blouse with Krishna hand-painted motif–
5. Black blouse with gingham patch and floral handpainted design-
6. Yellow blouse design with feet and anklet motif in red-
7. Pink Blouse with sky blue fabric painted floral art-
8. Black saree blouse with keyhole neckline and painted sleeves-
9. Yellow blouse with a rural theme in bright hues-
10. Red blouse with black collar and rural painting-
11. White blouse with Maa Durga pattern in red and black–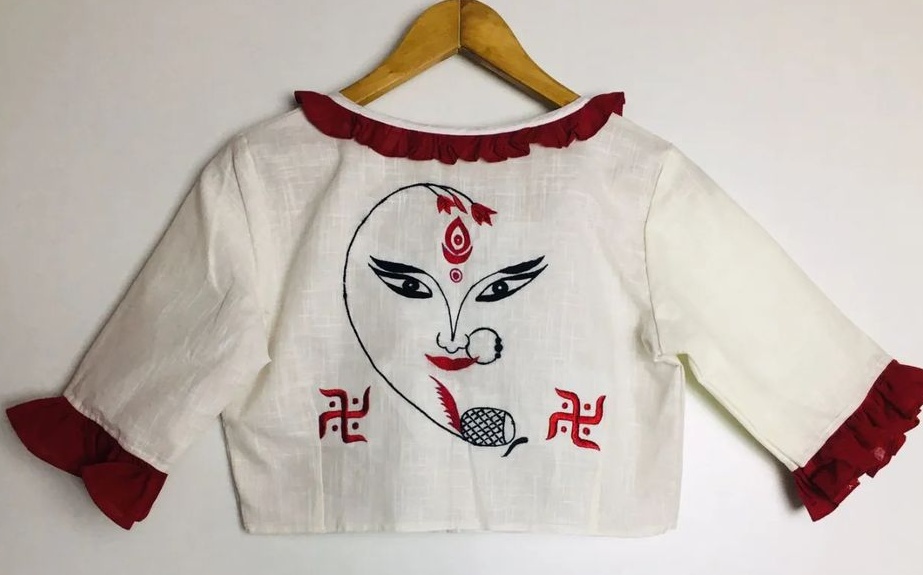 12. Red blouse with white traditional ritual art in white-
13. Black blouse with zari sleeves and kalamkari patch neckline–
14. Black blouse with hand-embroidered floral motif-
15. Yellow blouse with brown mandala art patch-
16. Black blouse with red thread work–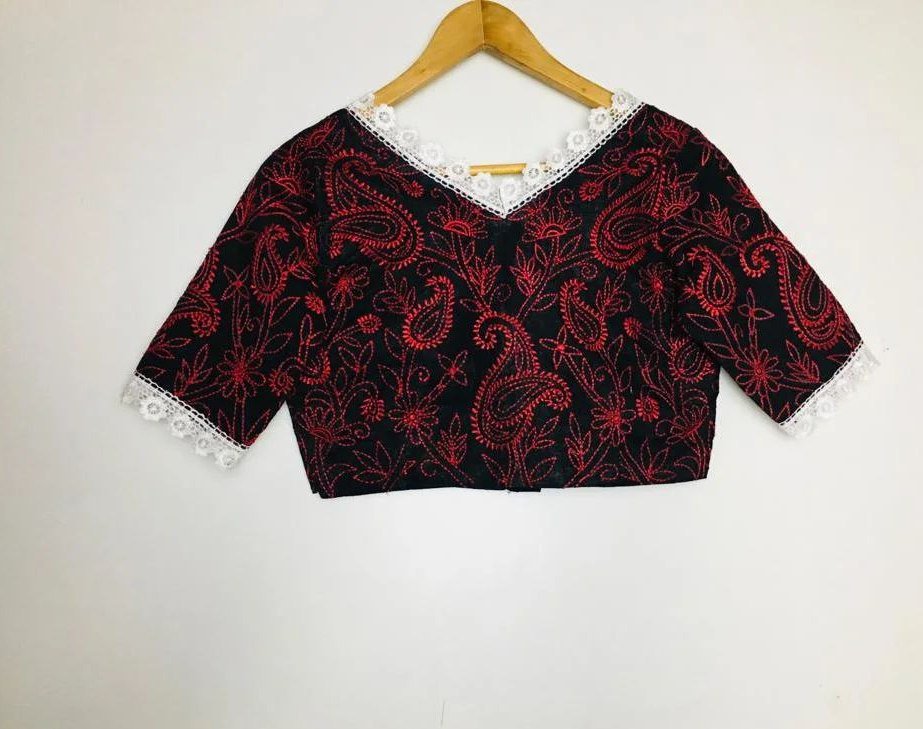 17. Blue blouse with sunflower motif in yellow-
18. Brown zari work saree blouse design with kalamkari patch neckline-
19. White blouse with green dragonfly embroidery-
20. Prussian Blue with red lattice floral patterns-
To buy these blouses online, visit  Eyal!
Whatsapp No.-9345375668!