We all have those trust worthy blouses or those common blouses that we literally pair with all sarees for a new look. Or maybe if we buy a saree and its actual blouse is not done yet, then we pick this "go to" blouse. The standard color of this go to blouse is either black or gold. How about shaking that up and changing it to a pink blouse? We can see your eyebrows go up. Trust us. With a nice pink blouse you can add glam to at least 7 sarees. Not just your elegant silks but equally your fancy designer duds too.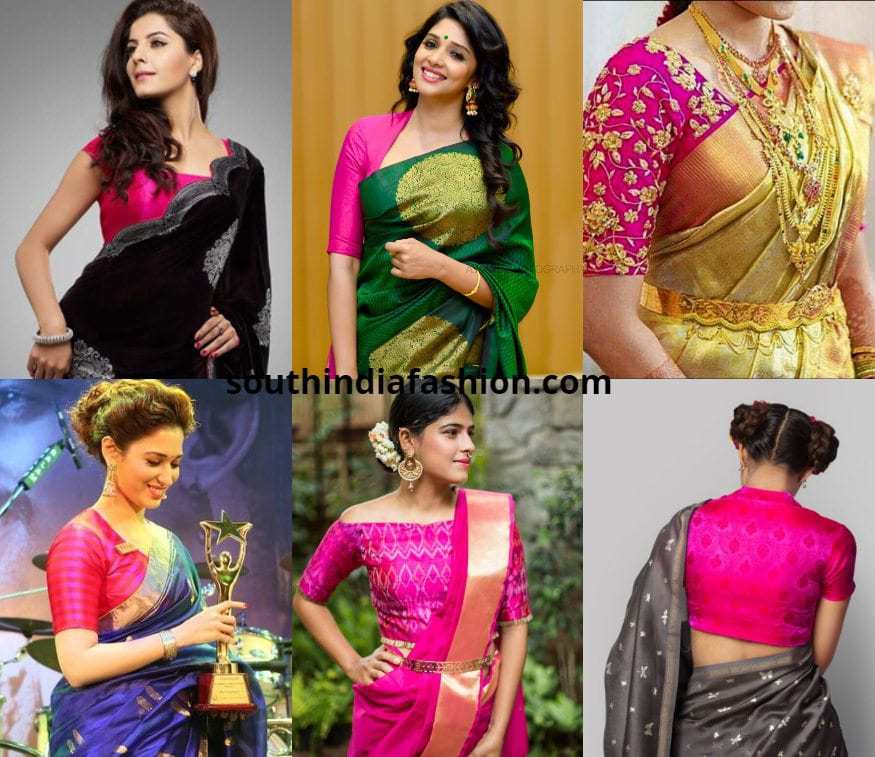 1. Pink Blouse With Pink Saree
When we team our pink saree with a pink blouse it gives a complete new look. As much as contrast blouses are interesting a pink blouse, be it simple or heavy gives a whole new dimension to your saree.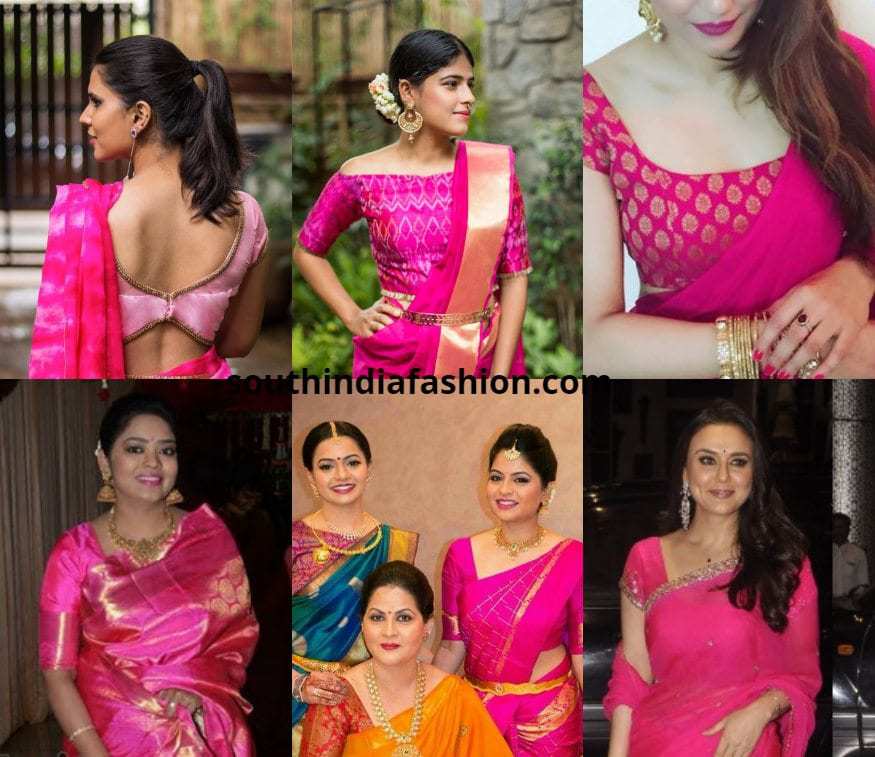 2. Pink Blouse With Blue Saree
Just like pink, blue is another that has many hues and shades and a good fitted hot pink blouse will work with most of the blue shades. Get one to give your saree a trendy look.  The blue pink combination works extremely well with pattu sarees and also bridal sarees.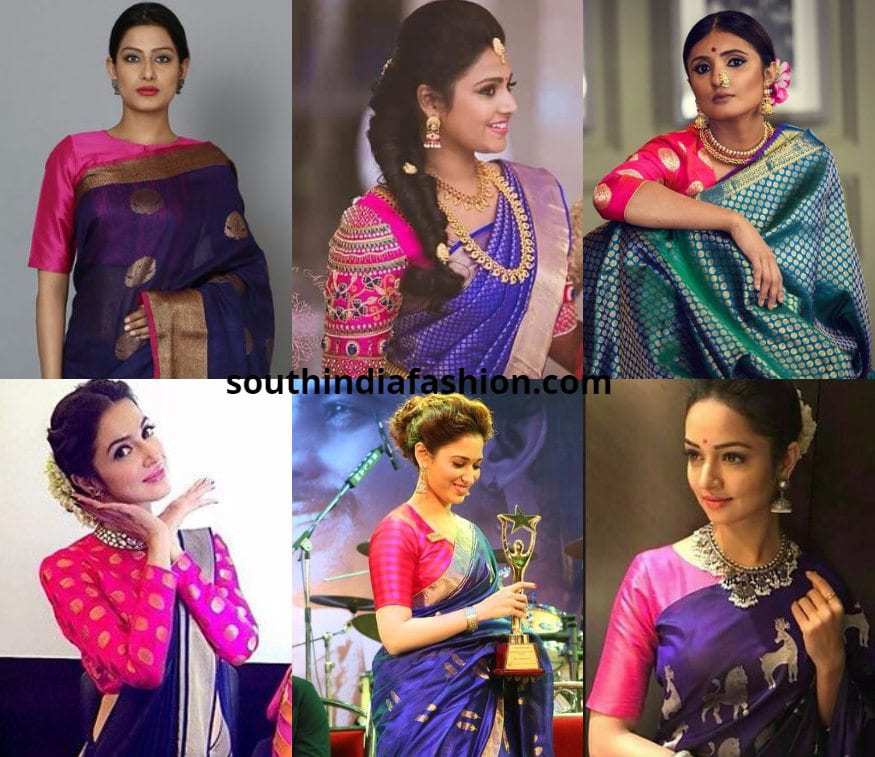 3. Pink Blouse With Green Saree
Another perfect bridal saree combination, a green pattu saree of any shade pairs extremely well with the contrast pink blouse. In fact this hot pink blouse contrast adds that bridal bling that is so needed. Our favorite choice would be to choose a lighter, brighter green with a deeper pink blouse.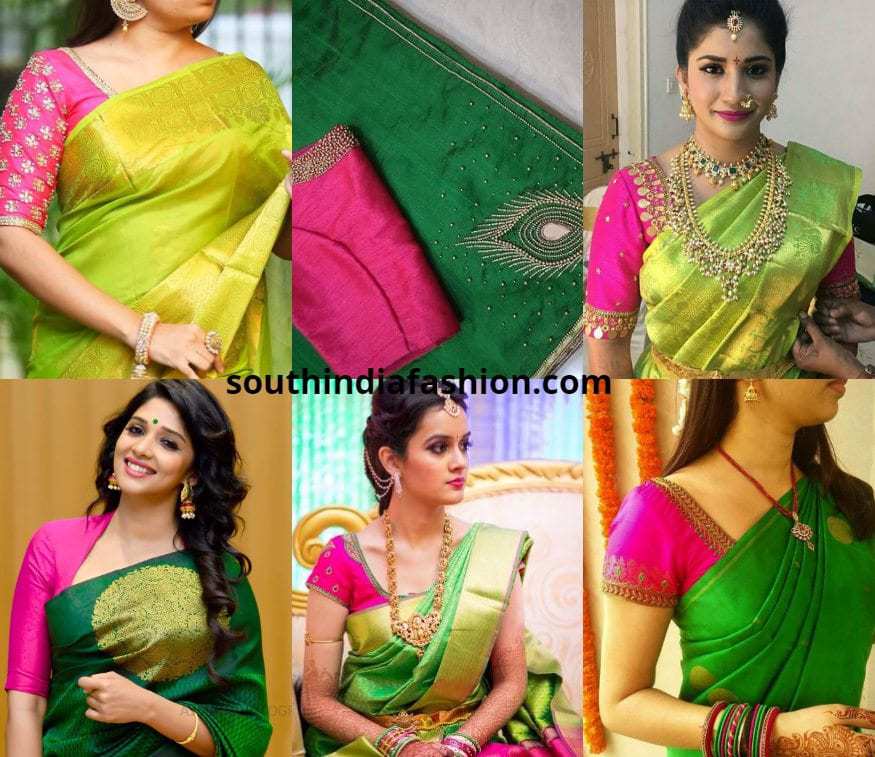 4. Pink Blouse With Gold Saree
The current bridal saree sensation is gold. A plain gold silk saree without much added zari can also be a perfect bridesmaid saree when the bride wears colors like pink. You can pair this gold Kanjeevaram with even a plain pink blouse to bring out the best of both.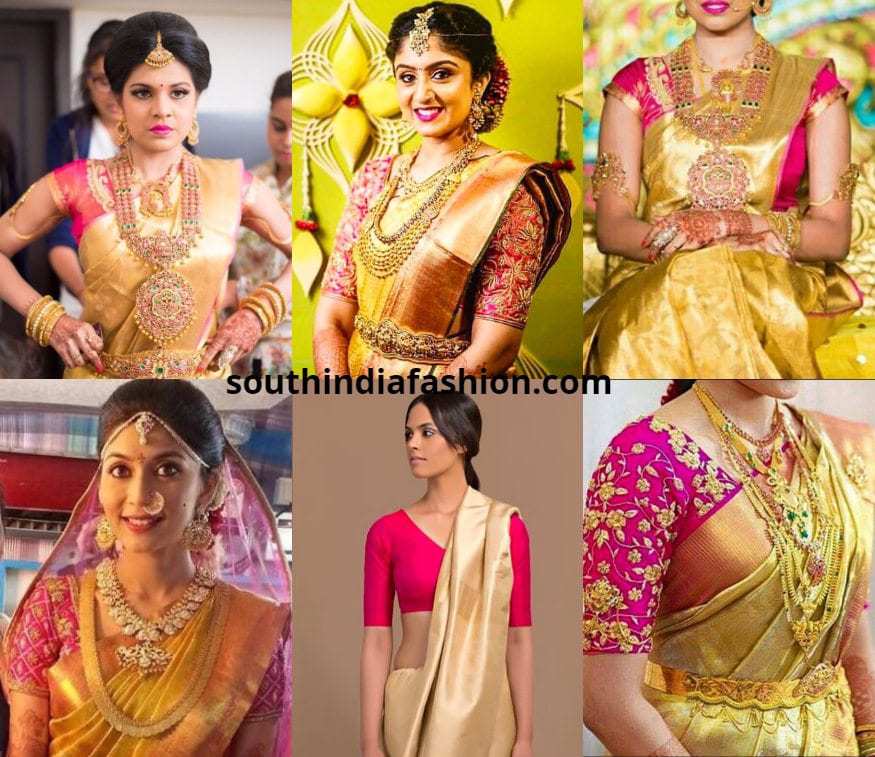 5. Pink Blouse With Yellow Saree
A combination that sounds very traditional, but works well even with plain georgettes and chiffons is the yellow and pink. It's a no fail combo.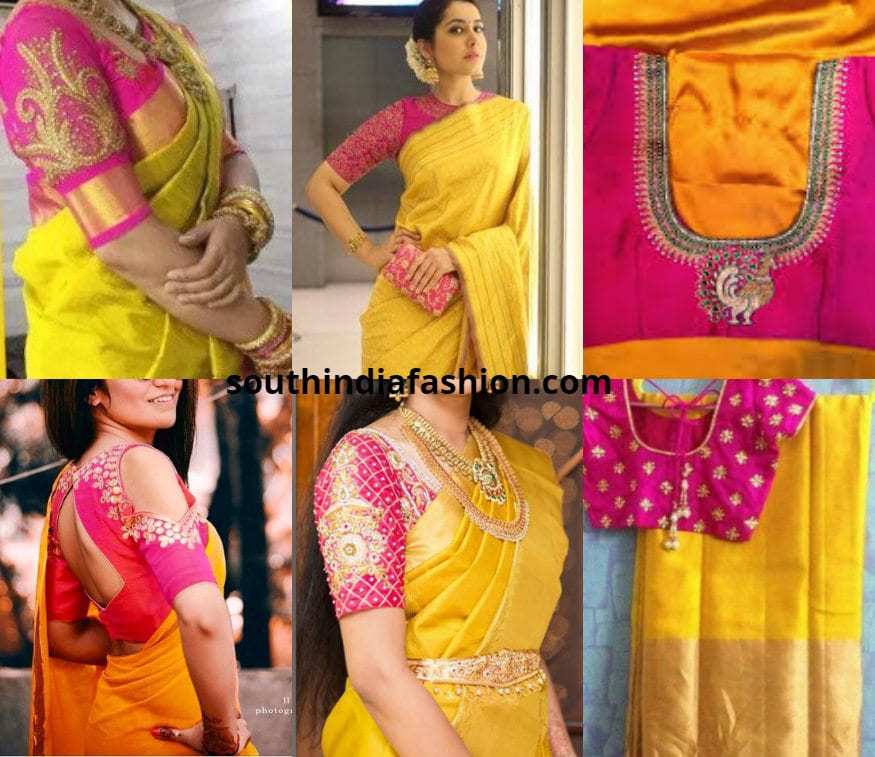 6. With Black Saree
Black by itself is such an arresting color. To break the monotony, you really need to throw in a vibrant contrast. Like hot pink or light pink. Pair it perfectly with your Ikkats, Kanjeevarams and also your heavy designer evening sarees.
7. Pink Blouse With Grey Saree
A perfect choice for the designer sarees where metal grey or even blingy grey can be paired with pink. Grey is a slightly gloomy color and pairing it with pink breaks the gloom and adds some cheer.
These 7 new looks with 1 pink blouse is so easy and in no time, your go to blouse will surely become pink. Want to bet?