Pattu sarees are one of the most treasured wardrobe investments for every Indian woman. We pass it on to generations as they are timeless and never get out of style. What makes our traditional pattu sarees interesting is styling old pattu sarees with latest blouses. So today we bring you 10 latest celebrity pattu saree blouse designs we love and can't wait to try them out.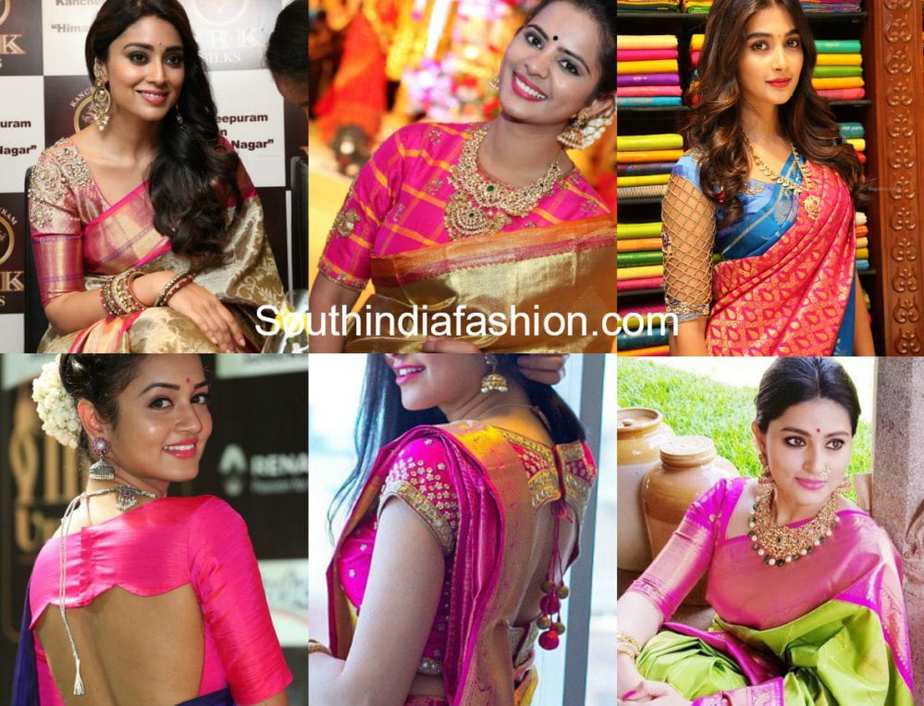 Celebrity Pattu Saree Blouse Designs
1. Shriya Saran in High Neck Zardosi Work Blouse
Shriya Saran wore a high neck zardosi embroidered blouse with elbow sleeves. She did not go for a major contrast with the blouse but chose a neutral shade and the heavy gold embroidery looked very sober yet made a statement. She instantly dressed up her kanjeevaram silk saree look.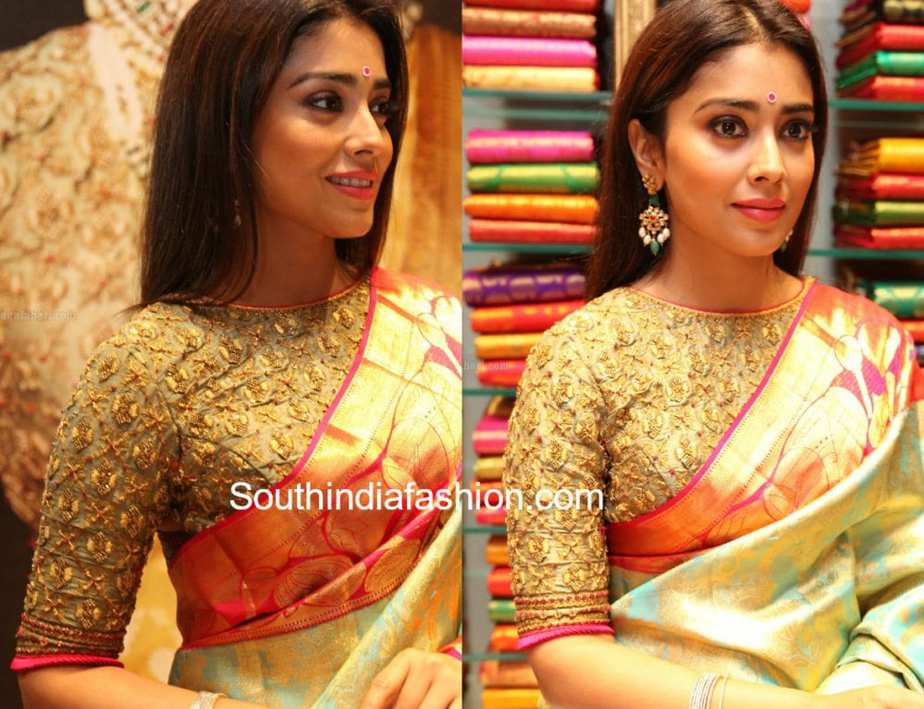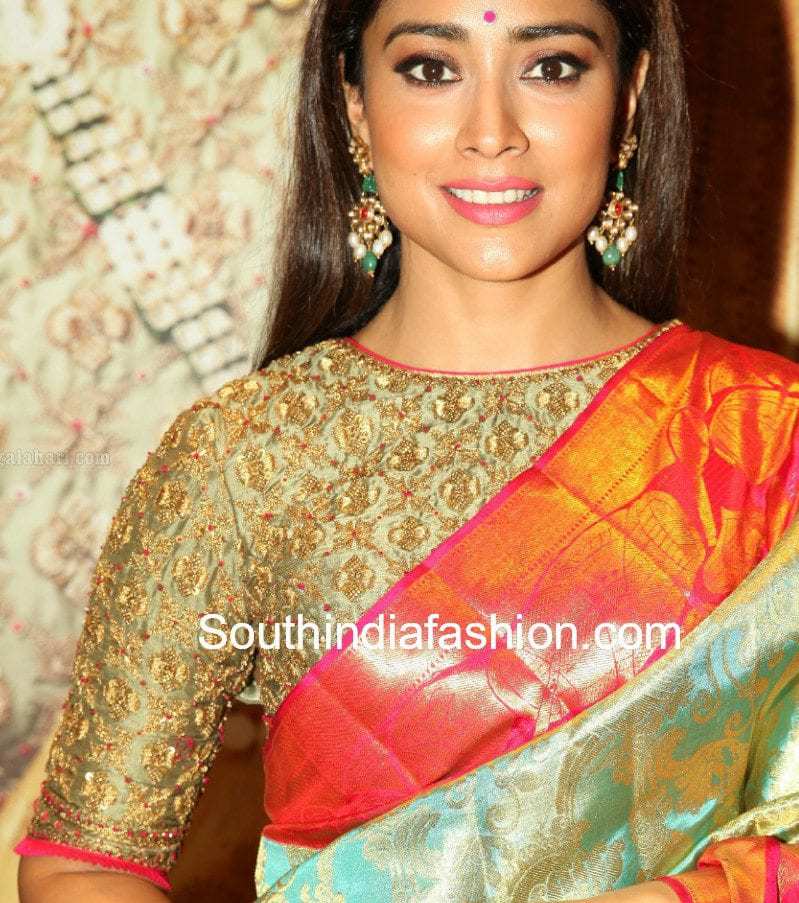 2. Anushka in a plain blouse with zari sleeves
Anushka dressed up her kanjeevaram pattu saree with a plain blouse with zari borders on the elbow sleeves. If you do not want to embellish your blouse and look dressy at the same time, then this style is for the win.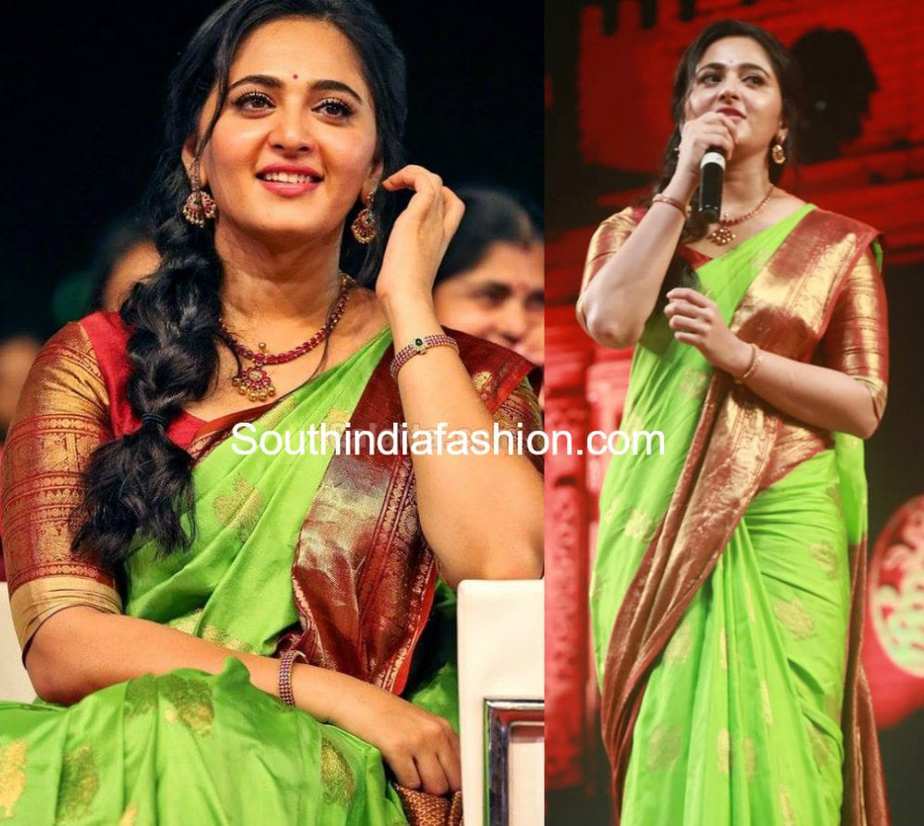 3. Sneha Prasanna in a big border sleeves blouse
Elbow sleeves blouse designs with a big border on the sleeves is one of the oldest and evergreen blouse designs.  Sneha Prassana looked fabulous in this style and we simply cannot get over it.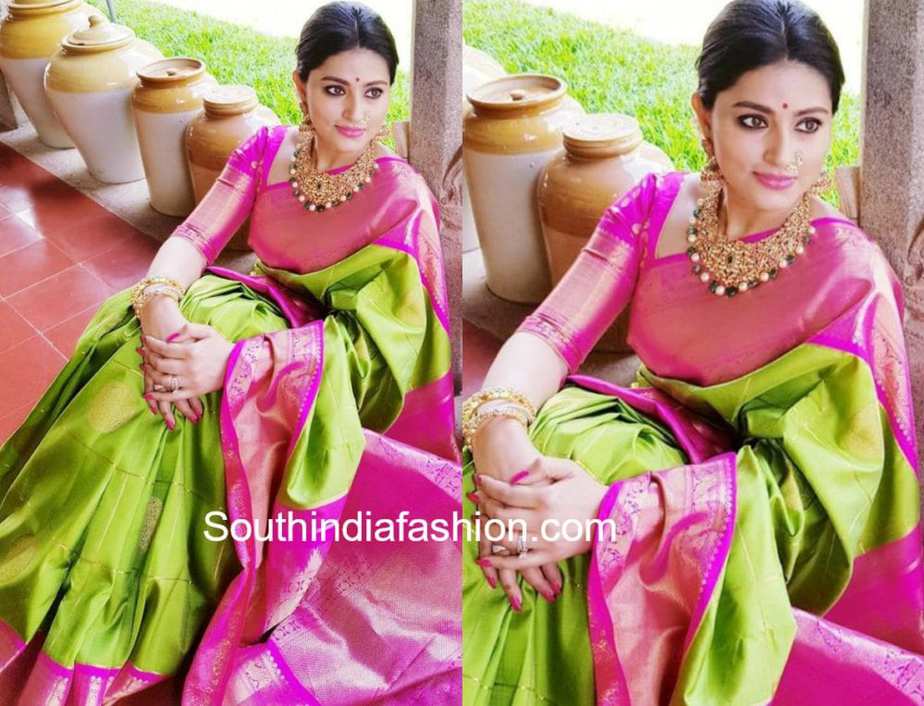 4. Manasa Himavarsha in a high neck checkered blouse
Manasa Himavarsha wore a high neck elbow sleeves checkered blouse with minimal embroidery detailing. This style allowed her to go bold with her accessories. One of the best ways to enhance your pattu sarees.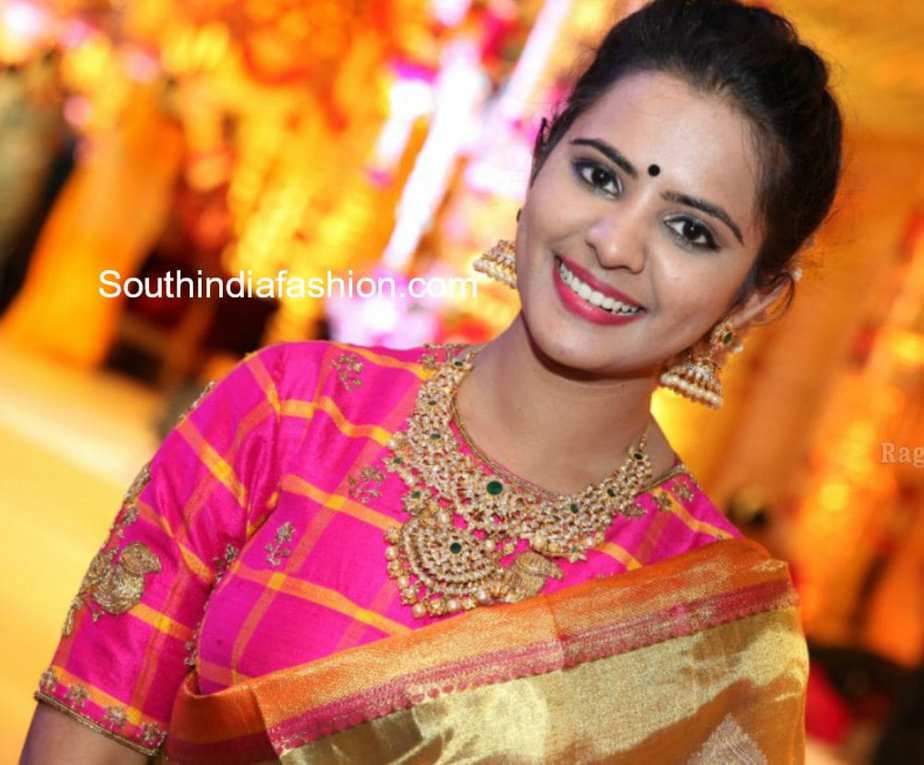 5. Shriya Saran in a stone work elbow length sleeves blouse
Shriya Saran teamed up her kanjeevaram pattu saree with a stone work elbow sleeves blouse. She enhanced the blouse look with very minimal stone work on the shoulders and on the upper sleeve.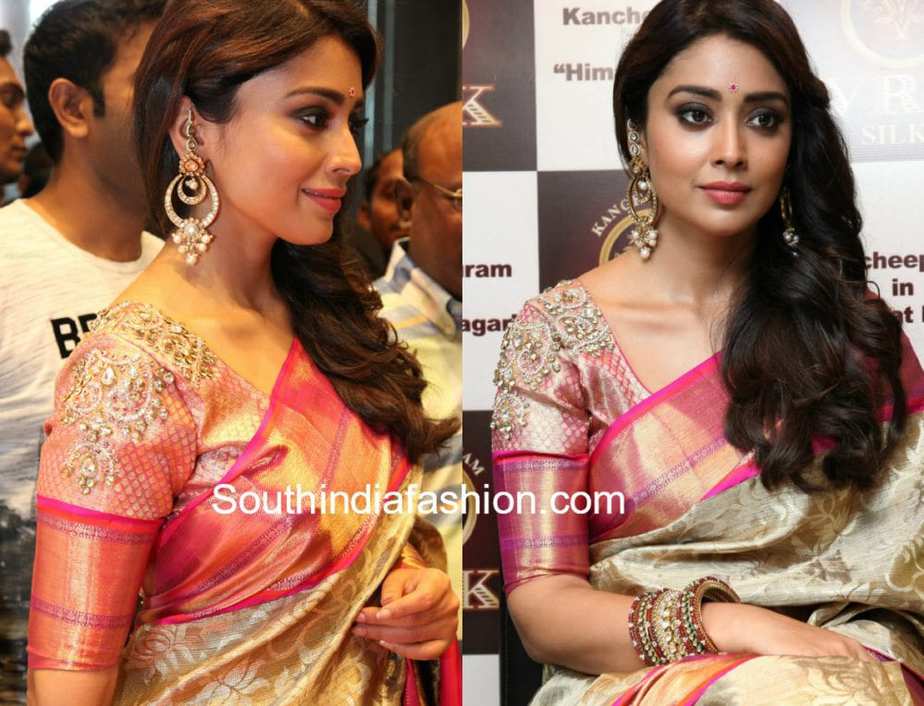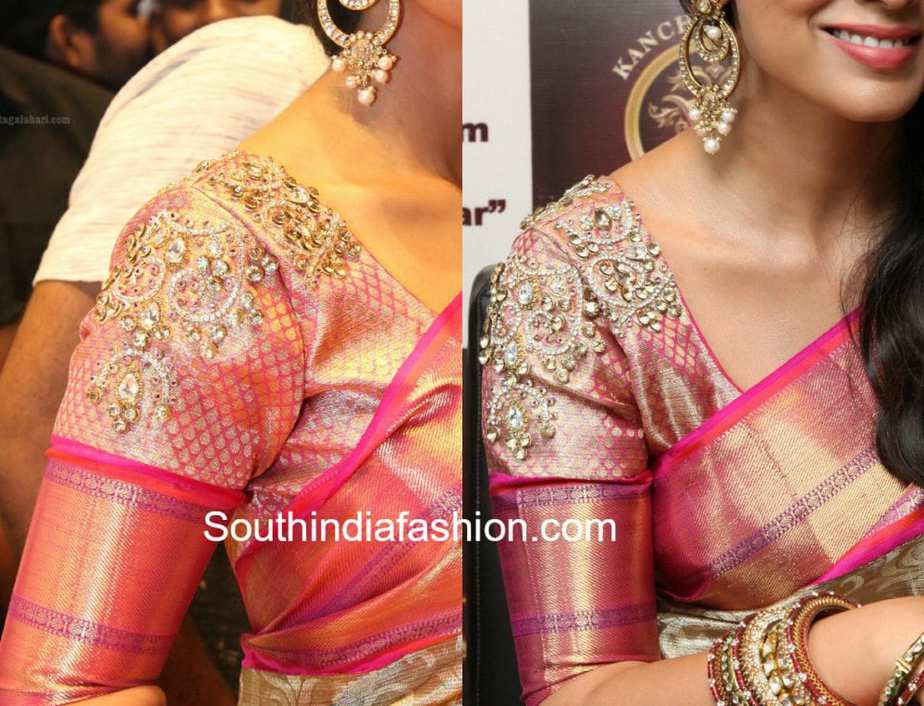 6. Adah Sharma in a short sleeved stone work blouse
Adah Sharma looked gorgeous in a short sleeved stone work blouse with a statement cut out at the blouse back neck. Delicate embellishments, tie-cords and edgy cut-outs only make the blouse look more dressy and attractive.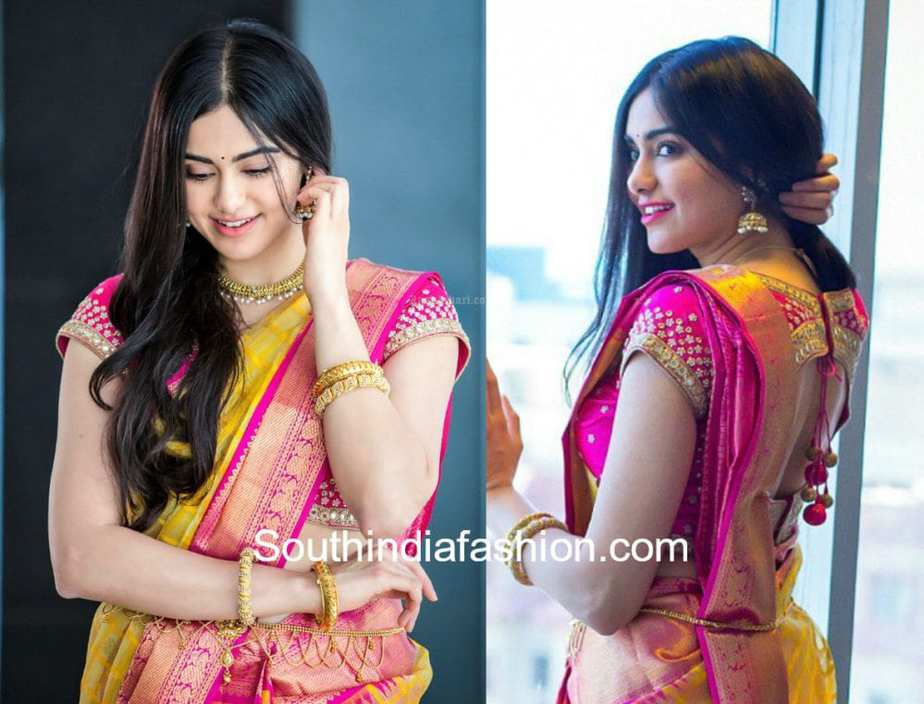 7. Anjala Jhaveri in a high neck net blouse
Anjala Jhaveri added a trendy touch to her pattu saree blouse with net detailing. She wore a contrast net blouse with zari border on the sleeves. We love the trendy and innovative design.
8. Ritu Verma in a cold shoulder embroidered blouse
Ritu Varma made a bold move by teaming up her kanjeevaram saree with a cold shoulder embroidered blouse. Here, she has kept her sleeves minimal and let the blouse do all the talking.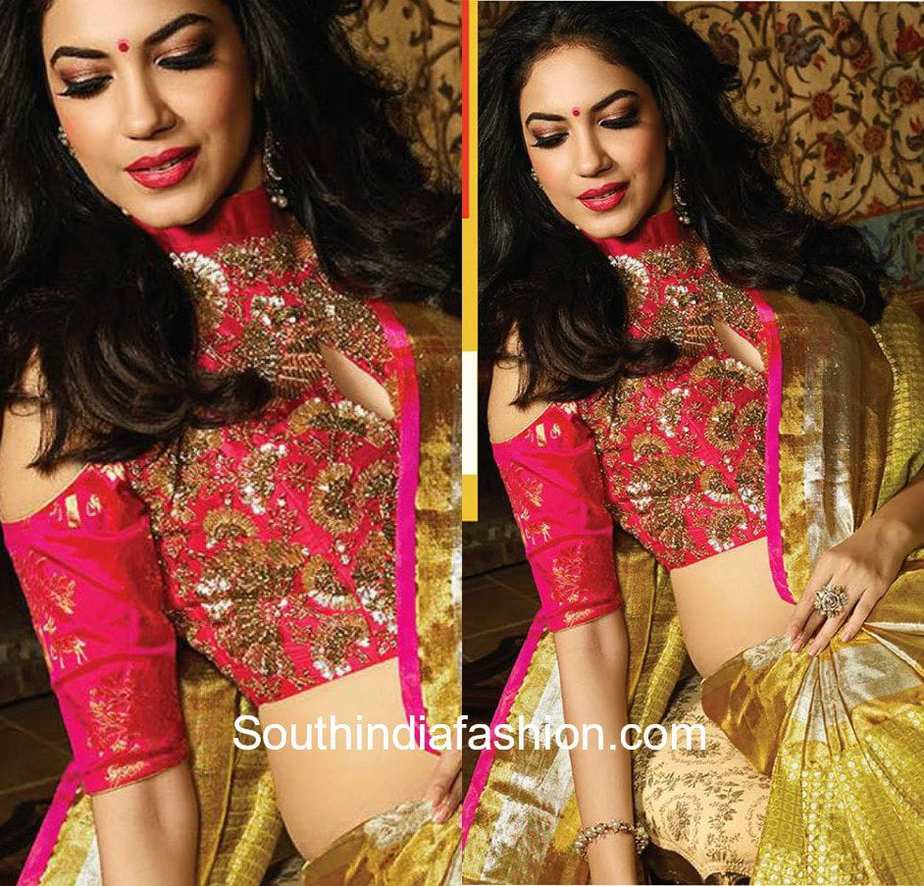 9. Pooja Hegde in a cut work blouse
Pooja Hegde wore an elbow sleeves cut work blouse with her kanjeevaram saree. She kept blouse look minimal and went for an entire cutwork sleeves blouse. This one is a major inspiration if you want to make an impression with the sleeves.

10. Shanvi Srivastav in a high neck blouse with cut out back
Shanvi Srivastav made a bold statement with a simple plain high neck elbow sleeves blouse but with a bold cut-out on the back neck. If you like to make heads turn with bold back necks then this style is for you.

Elbow sleeves, high necks, statement back neck designs, heavy embroidery have always been in trend and are here to stay. Take inspiration from our celebrity pattu saree blouse designs and experiment with different blouse styles to make your pattu sarees more interesting.