Samantha Ruth Prabhu is undoubtedly one of the finest stars of today. She is beautiful, has amazing fashion sense . In numerous events she attends there is an eclectic mix of clothes she prefers and each one is better than the previous. Today let us get some serious inspiration and check out 15 awesome blouses of Samantha.
1. The Subtle Off Shoulder Blouse
The beautiful off shoulder blouse Samantha wore for her engagement was a stunner. So subtle yet festive it was a perfect mix and suited the modern day bride.
2. The Cape Style Blouse
Samantha was one of the first to sport the fancy cape blouse. As unique as she is, the cape was also equally unique and it worked so well even with the simple saree.
3. The Heavy Sabyasachi Blouse
When Samantha dolled up in the heavy Sabyasachi blouse for Akhil's engagement she looked remarkable. This full sleeve blouse with heavy and intricate work surely belongs in one of the 15 awesome blouses she has worn.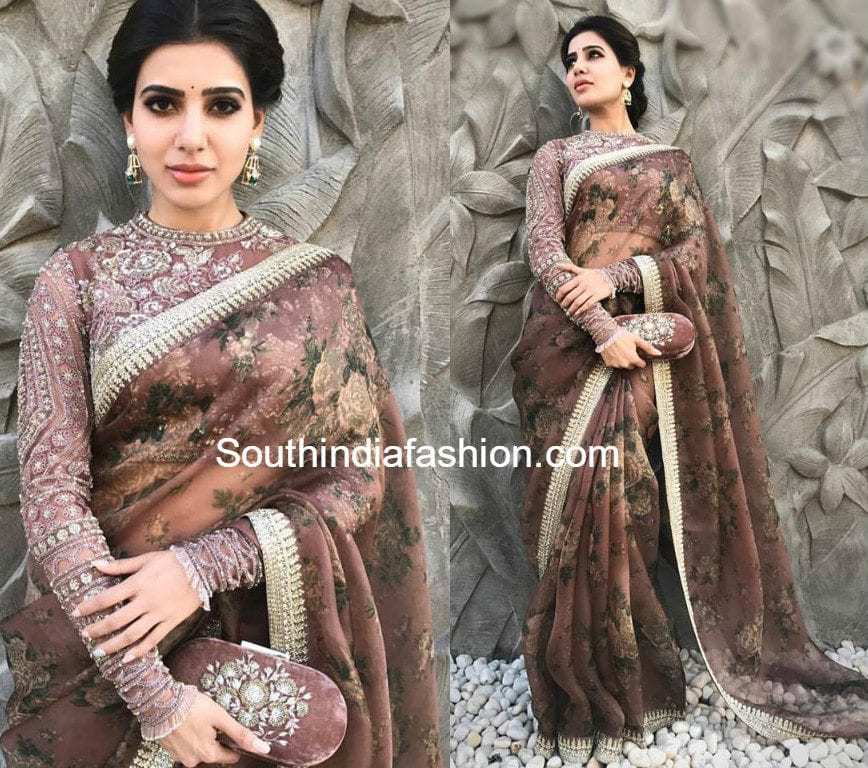 4. The Ruffled Blouse
The green ruffled blouse that she wore for Iifa Awards was surely glam. In trend always, she rocked this risqué style without any issues.
5. The Plain Black Boat Neck Blouse
A plain black full sleeve boat neck blouse is usually normal. But Samantha worked it around a simple white saree and made the effect nothing less than stunning.
6. Mirror Work Blouse
If you want to know how to pair a heavy mirror work blouse with a simple saree please check this out. A multi-color mirror work blouse has been paired with such a simple saree and it looks lovely.
7. Shirt Style Blouse
At the recent Behind Woods event, Samantha gave everyone lessons on how to wear a saree with a shirt style blouse. The belt, the accessories, everything is on point.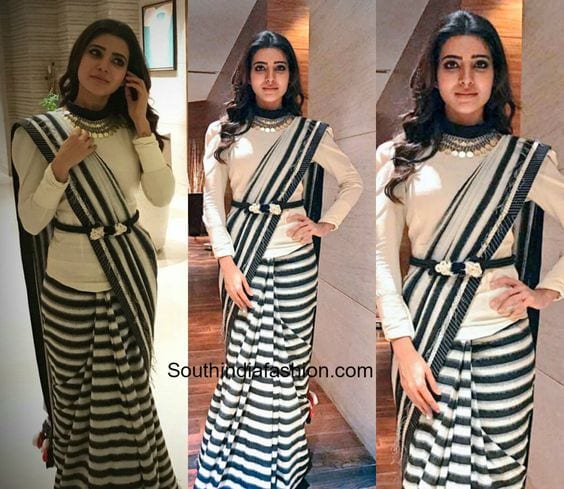 8. The White Bell Sleeves Blouse
Samantha is a true fashionista. You can see that when she paired her mother's saree with this gorgeous bell sleeve shirt style blouse. Don't you think this should obviously be on the 15 awesome blouses?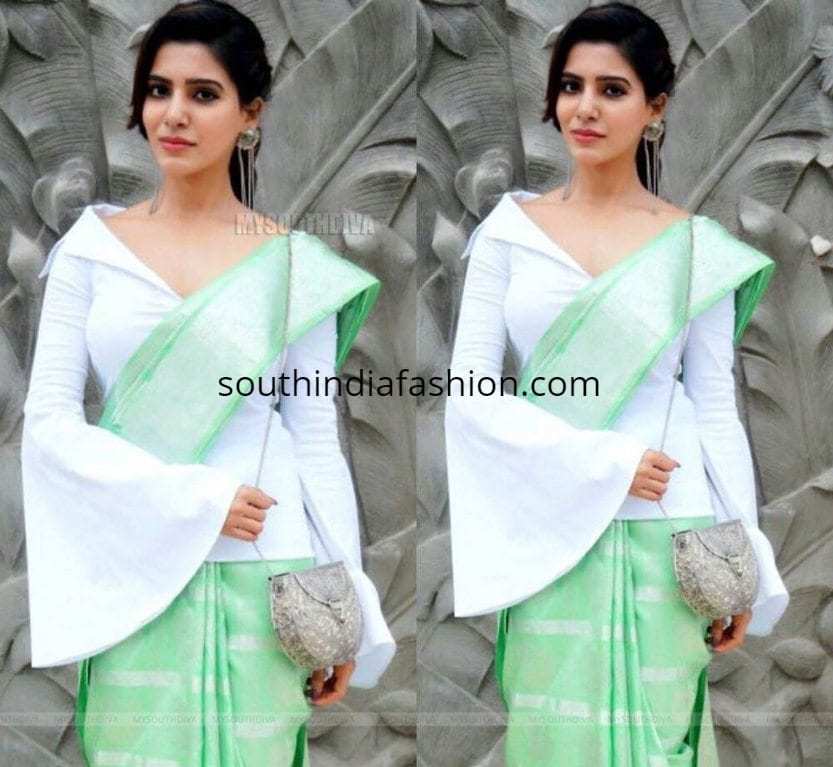 9. The Sheer Full Sleeves Blouse
If you feel that the sheer full sleeve was out of style, think again. A plain saree topped with a sheer embroidered full sleeves is fabulous.
10. Sheer High Neck Blouse
Samantha shows off the sheer high neck blouse in style and adds oomph to the simple saree.
11. The Printed Long Blouse
When we wear a printed saree, we team it up with a plain blouse. Samantha shows that you can rock it even with a printed blouse, however simple the style of the blouse may be!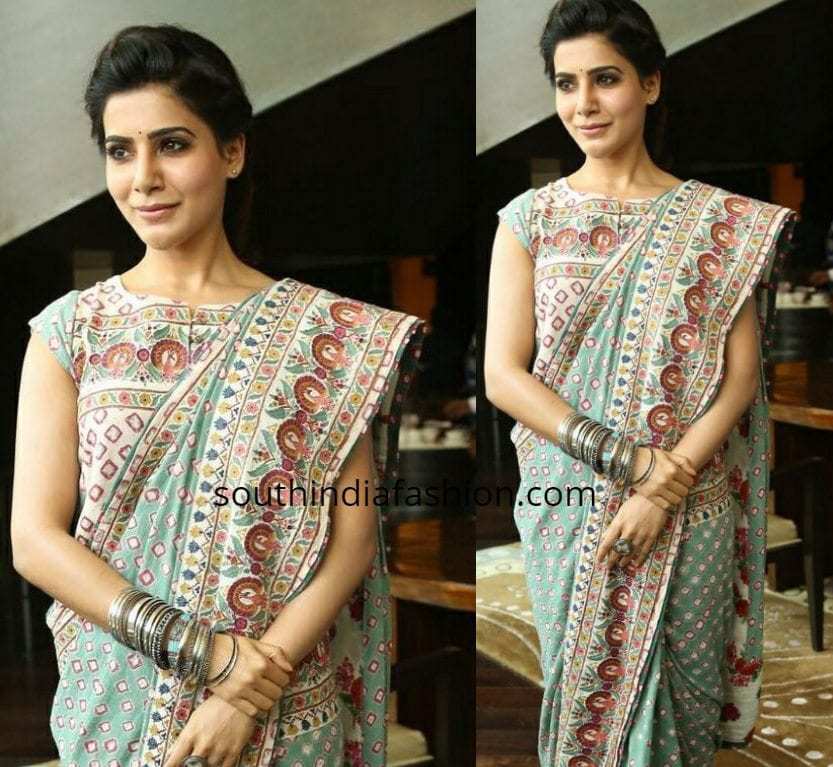 12. The Elegant High Neck Blouse
In the same way she pairs a rather simple silk saree with a same color high neck blouse. These are simple tips to look so amazing with very less bling added to your blouses.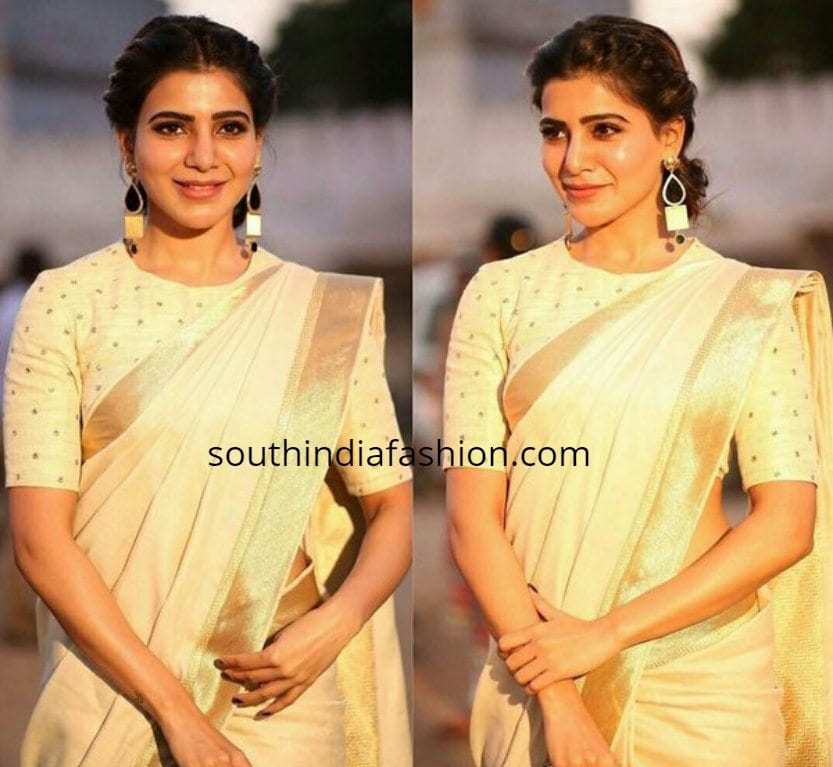 13. Pocket Blouse
Wearing a saree blouse with wood buttons and pockets is so cool. The way Samantha does it gives us major goals as to how we can re-style the saree.
14. Tie-Up Blouse
Red and Black can never go wrong. At an event Samantha rocked the scene with a tie-up black zari and zardosi blouse by Tisha Saksena.
15. Quirky Print Blouse
Pairing a plain saree with a quirky print blouse is so much in vogue. She does just that in style.

These 15 awesome blouses are not just for this star. You  can in fact totally replicate it this festive season!!