A Gold blouse is always there in all our wardrobes. If you do not have it already, you need to get a few of those done in these styles, patterns and fabric options that would help you for an instant uplift of your overall look or even help you with pairing up when you have a new saree and blouse not done yet.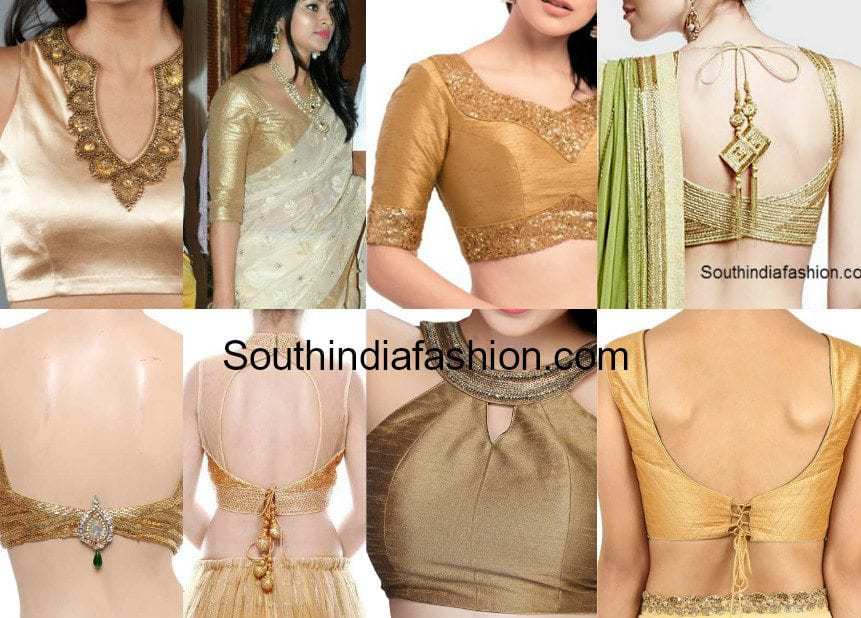 A plain gold blouse in fabrics like tissue or silk cotton with simple sleeve options is what we think about when we want a gold blouse. Even a ready made gold blouse is similar to this. This gold blouse takes care of all simple saree woes. Make some interesting sleeve pattern like a puff sleeve or a cap sleeve to give it some jazz. You can also opt for a plain sleeveless gold blouse. Fabrics like raw silk, silk cotton or tissue works the best.
A sequins covered or an embellished gold blouse is the perfect add on for all the evening wear sarees. In fact this sequins blouse is as important as having an LBD or a little black dress. Reasons are very simple. You can pair it with almost all sarees that has a gold base. It works with net, chiffon and almost all fabrics. Embellished more than sequins also is a great choice for fancy events. Both sleeveless and even full sleeves give equal oomph. A mirror work version also can fall into this category. In fact this sequins blouse can be paired up with a Kanjeevaram saree too!!
Embroidered and cut work options are also a must have. If you feel that gold with colored embroidered options will limit your use of that blouse, try on gold with gold embroidery. Yes, we can literally see your eyebrow going up. But trust us, it blends so well and makes a fancy effect. You can also add a sheer back for one such blouse to break from the monotony.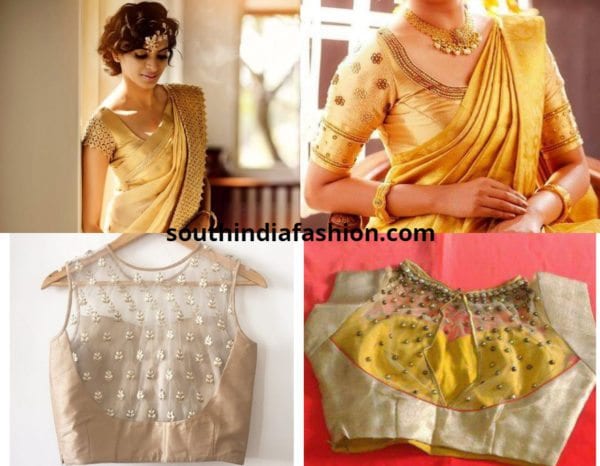 This is the story of a gold blouse that you need it for all those days that you are unable to decide on a match for your saree.