As much as Sarees are the most gorgeous outfit there are to flaunt around, most of their beauty depends on the blouse we choose to go with it. How we wish it was as easy to buy a designer blouse that was made just for the saree as buying the saree itself, right? Now that just might be possible. We've listed out five stores that sell readymade designer blouses in Hyderabad. All you have to do is find out which blouse matches with your saree.
Top 5 Stores to Buy Readymade Designer Blouses in Hyderabad: 
1. Jus' Blouses
Just like it was named, Jus' Blouses is a store for blouses and one of the most gorgeously designed readymade blouse stores in Hyderabad too. They've got blouses in nearly any fabric that you could imagine, all of them weaved into beautiful designs.
Very recently, they opened a branch of theirs in Dallas, Texas as well.
Address :
Banjara Hills Branch– Road NO 10, Opp Nallis Showroom, Banjara Hills, Hyderabad: Phone: 040-40110029
Khairatabad Branch – B-2, Green Channel Building, Opposite Nasr School, Khairatabad, Hyderabad; Phone : 9848126431
Address of the Texas branch : 6440 N MacArthur, Suite #100, Irving, Texas, 75039; Phone :248-462-4213
2. Anagha 
Anagha, a designer store in Hyderabad that has gotten really popular lately for all the ethnic and gorgeous sarees has got some of the greatest collection of designer readymade blouses as well. Most of their clothes are all traditional weaves designed into some great patterns – blouses a part of the amazing collection.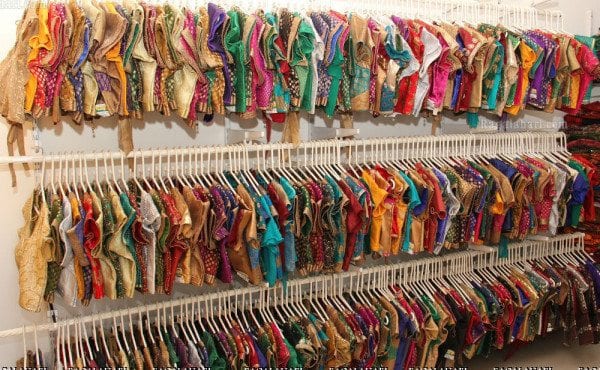 Address : 'Vintage' 8-2-577/1/C, 1st Floor, Beside Tarun Tahiliani's Studio, Road No 7, Banjara Hills, Hyderabad.; Phone : 040-42408226
3. Singhania's
Singhania's is another shop located in Hyderabad where you can buy readymade designer blouses from. Singhania's, the Saree store that has been around in Hyderabad for a long time now has also started selling some beautifully designed, traditional blouses with an ethnic touch to them, along with a vast collection of gorgeous handloom sarees. Next time you want to try out blouses with some mirror or thread work on your sarees, Singhania's, the house for some gorgeous designer, readymade blouses in Hyderabad, is a must visit store. This store also carries Usha Raghunathan's beautiful designer blouses.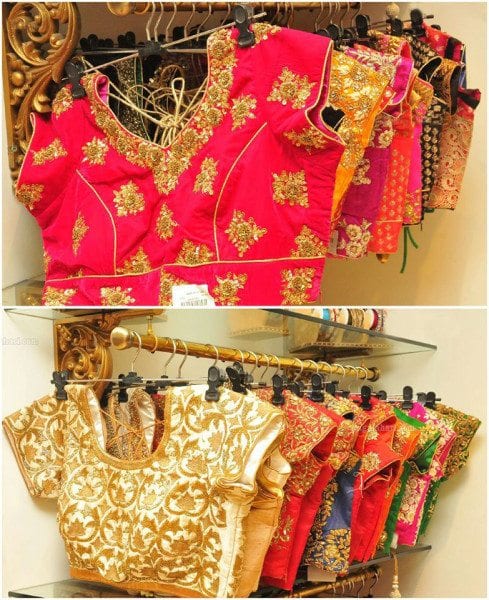 Address: 8-2-672/S, Ground Floor, Sufi Chambers, Road Number 1, Banjara Hills; Phone: 9848833310; Website:www.singhanias.in
4.The Looms
If you are a fan of handlooms and ethnic sarees like the Ikkat and the Kalamkaris, The Looms is one of the best places in Hyderabad to shop for both sarees and designer blouses. They've got a great collection of readymade blouses that are made almost entirely of handlooms and kalamkari designs with some beautiful work on them to make them a lot more gorgeous than they already are. The prices of their ready made designer blouses start at Rs.900. The Looms boutique in Hyderabad also offers custom tailoring for blouse stitching.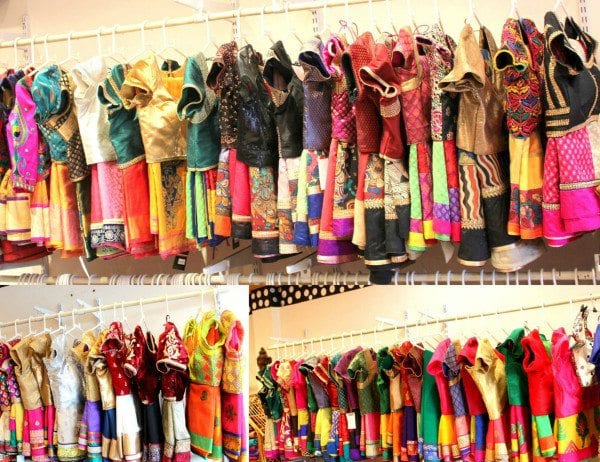 Address : 3-6-561, Unit No F2, Aaltos A and M trade centre, beside Mc Donalds, Himayath Nagar
5. Trisha Trends
Trisha Trends, the store that gained popularity in a mere year for all the beautiful sarees and half sarees has also got some beautifully worked upon designer readymade blouses. Next time you decide to shop at a place where you get great sarees and readymade designer blouses along with them in Hyderabad, Trisha Trends is where you should go visiting.
Address :
Karkhana Branch:Rajeev Gandhi Rahadari, Vikram Puri Colony, Karkhana, Secunderabad; Phone : 040-27890010
Jubilee Hills: Plot Number-795, Road Number 36, Jubilee Hills, Hyderabad; Phone : 040-23540088
Website :www.trishatrends.co.in