Are you a bride-to-be and looking for unique bridal blouse designs for inspiration? Well, we know how stressful it is to pick the right kind of bridal blouse design! Blouse designs surely can make or break your entire look, and you don't want to experiment on the D-day, right? But we have some great bridal blouse design inspiration for you from the brand Studio 149! They have some stunning bridal blouse designs in their latest collection.
We rounded up some of the most stunning bridal blouse designs from their collection, check it out –
All About Sleeves
Sleeves are one of the fabulous things that are taking their due credit in blouse styling these days. When it comes to bridal blouse designs, sleeves play a key role. And in this collection, the brand has focused on elaborate detailing of the sleeves! Intricate embroidery and maggam work on the sleeves, doesn't it look simply stunning?
Blouse Back Patterns
The back pattern of any blouse adds a fun element to the look. Be it simply Dori or stylish back neck, we love styling the back necks, right? This collection from Studio 149, took it up a notch, and how! They included various types of open-back bridal blouse designs to oomph up the look.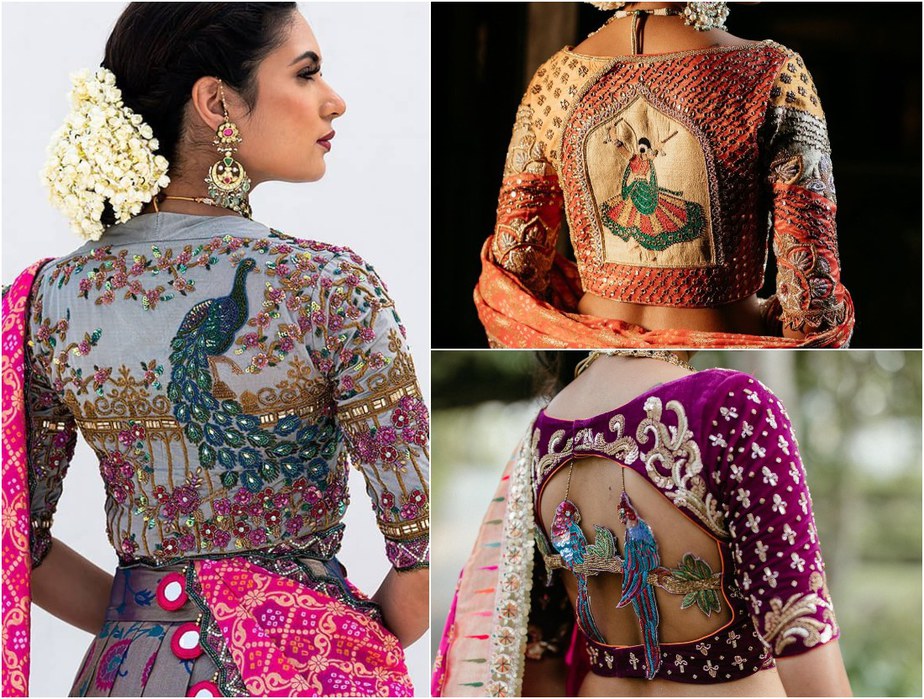 They not only included Dori and back patterns but went ahead with gorgeous embellishments on the back. From beautiful applique work that included stunning peacocks, birds, and other designs, the blouse design is worth checking out! The high neck back with this detailing was something beyond our expectations and worth giving a try!
Heavily Embellished Bridal Blouses
Bridal blouses are often the heavily embellished ones to add grandeur to the look. No matter what blouse pattern, a heavily embellished blouse looks good! And anyway, what's a bridal blouse if it doesn't have the bling factor? You can totally experiment with maggam work, zardozi, applique, or embroidery to ensure that it has a bridal look vibe.
Netted Necklines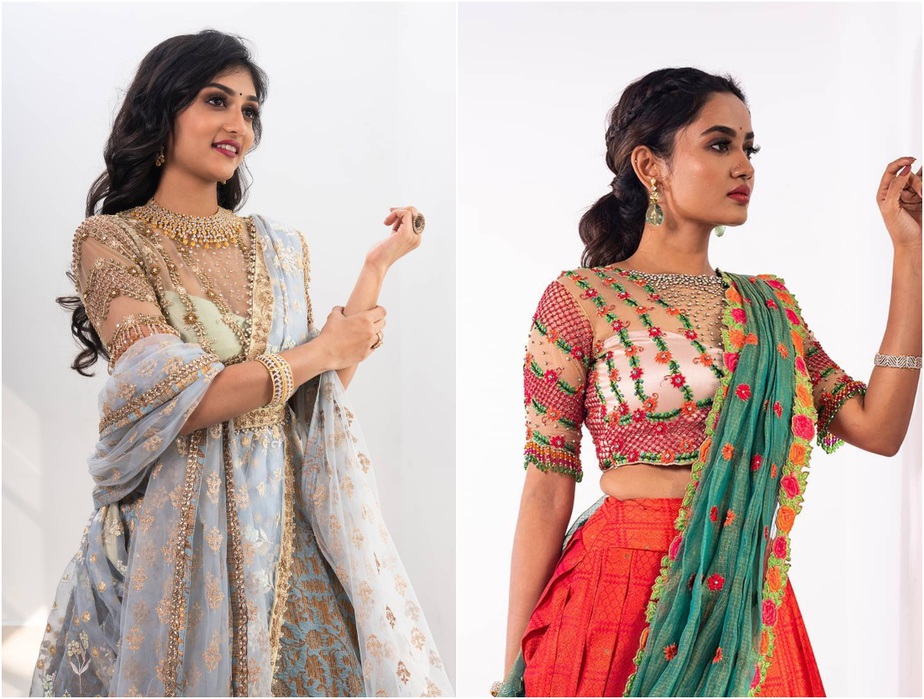 This latest trend of the netted neckline is something that has grabbed all eyes! This adds a touch of modern-ness to the look and gives your look an oomph. The netted part of the neckline can either be kept plain and simple, by simply letting the bust area embellished. Or you can also cover up the netter neckline with some embellishments. Either way, this neckline is stunning and is perfect for a summer bride!
Long-Sleeved Bridal Blouses
Long sleeves for blouses have been in trend and are here to stay. The elegance and charm of a long-sleeved bridal blouse design are unmatchable. They make a perfect heavy and graceful addition as a bridal blouse. The long-sleeved blouses from this collection are subtle embellished, while the necklines are also experimented with.
Sweetheart Neckline
One of the unmistakably feminine neck shapes that had been a trend a few decades ago, is now back with a bang! The sweetheart neckline is reminiscent of a heart shape which is a hugely flattering style for most body types. This neckline is a perfect balance of sexiness and charm all rolled into one! Explore this neckline and you are sure to love it!
Let us know which of these amazing bridal blouse designs were your favorites!