This bridal season, stay within the comfort of your homes and shop the latest and most trending designer blouses from Niaa boutique. The brand focuses on Indian ethnic wear, especially designer sarees and blouses. Don't worry if you haven't got an outfit planned for your next big wedding yet, Niaa boutique will make sure you have plenty of options to choose from- ranging from bold striking designs to soft subtle ones. We've compiled a collection of the most interesting and visually appealing bridal maggam work blouse designs for you below!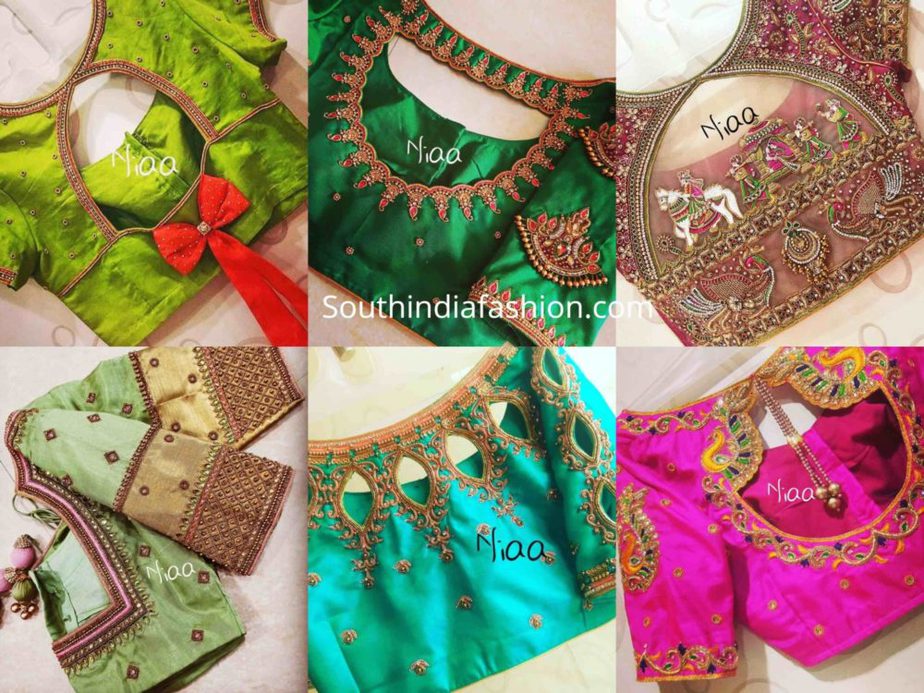 Bridal Doli blouse design
Go for a traditional yet charming look with this maroon colored maggam work blouse featuring intricate embroidery all over the back. The blouse is adorned with beadwork, thread work and a sheer back decorated with traditional motifs. All in all, the richness of the fabric and the embroidery is all too evident.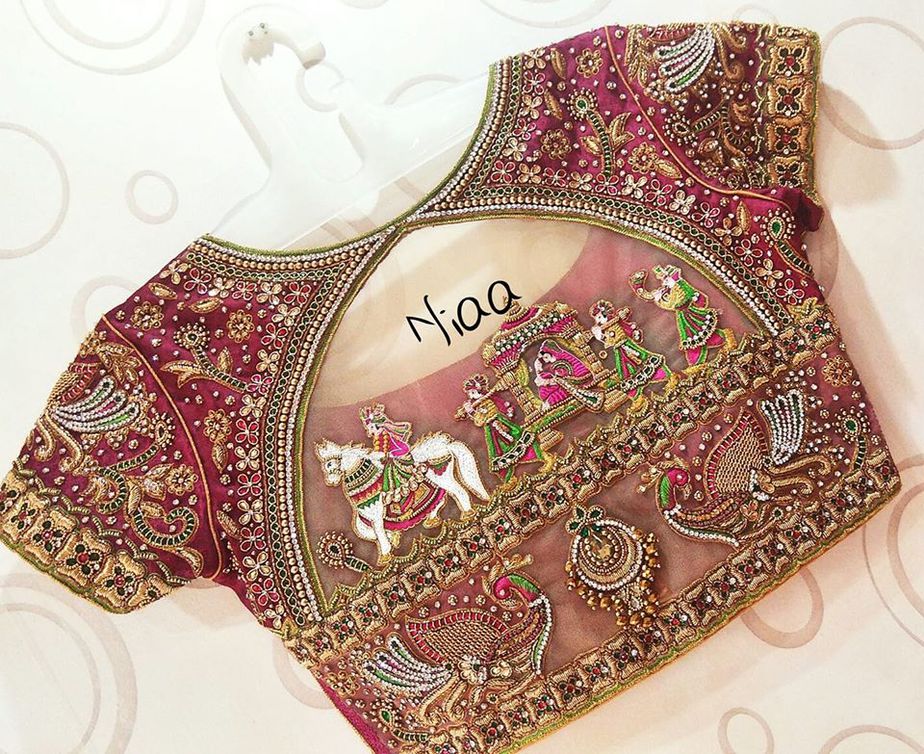 Parrot green blouse with red bow
This eye catching parrot green cap sleeve blouse has a dome shaped cut out at the back with a cute red bow detailing as well. The blouse is perfect for a quirky haldi ceremony, a sangeet function or even a summer day wedding. It's extremely stylish and will surely fetch you tons of compliments.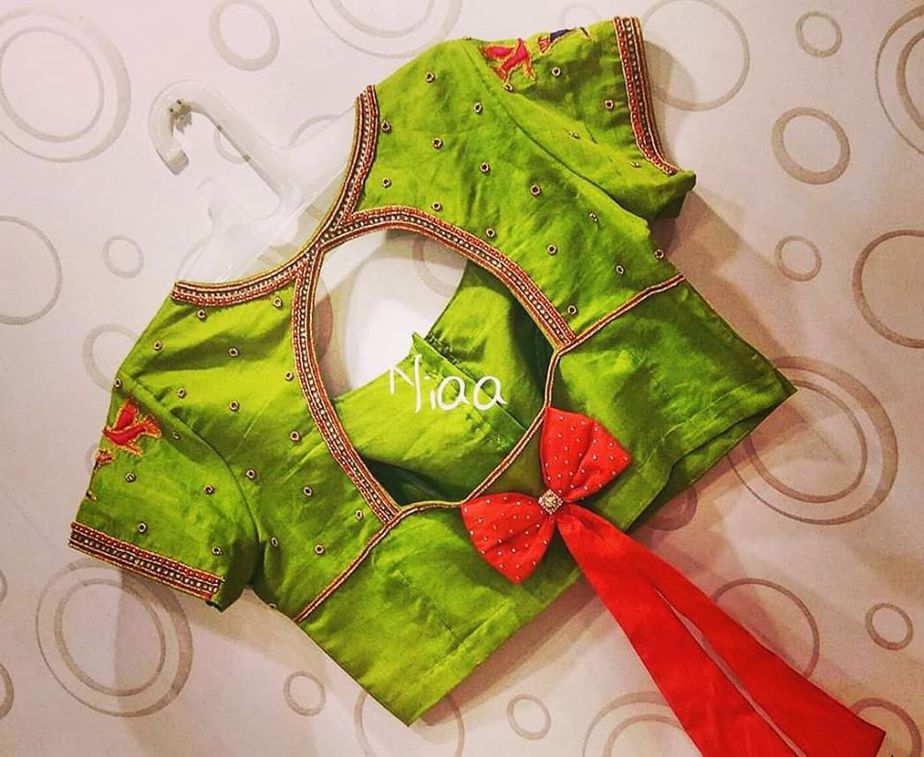 Pink flower cut out maggam blouse
Why not try this minimalistic ruby pink blouse with a flower cut out design at the back adorned with silver embroidery. You'll be sure to stand out the entire evening with this look!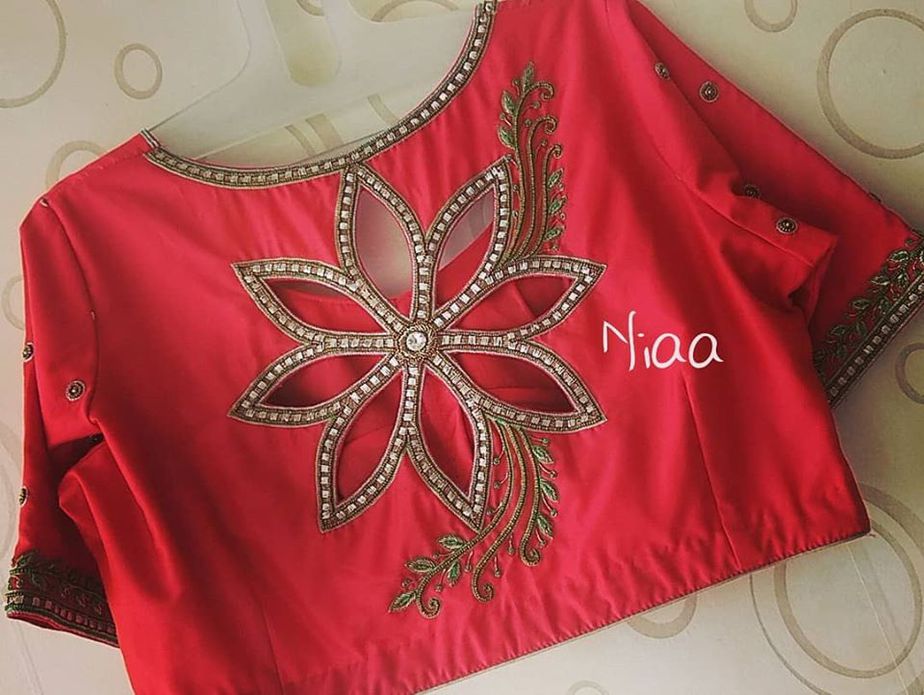 Red and blue stones maggam blouse
We think this crimson red cap sleeved maggam work blouse featuring chunky jewel toned cobalt-blue stones looks absolutely fantastic! The floral maggam embroidery design is totally unique and the colour combinations feel like a breath of fresh air compared to the usual colors we've seen off late.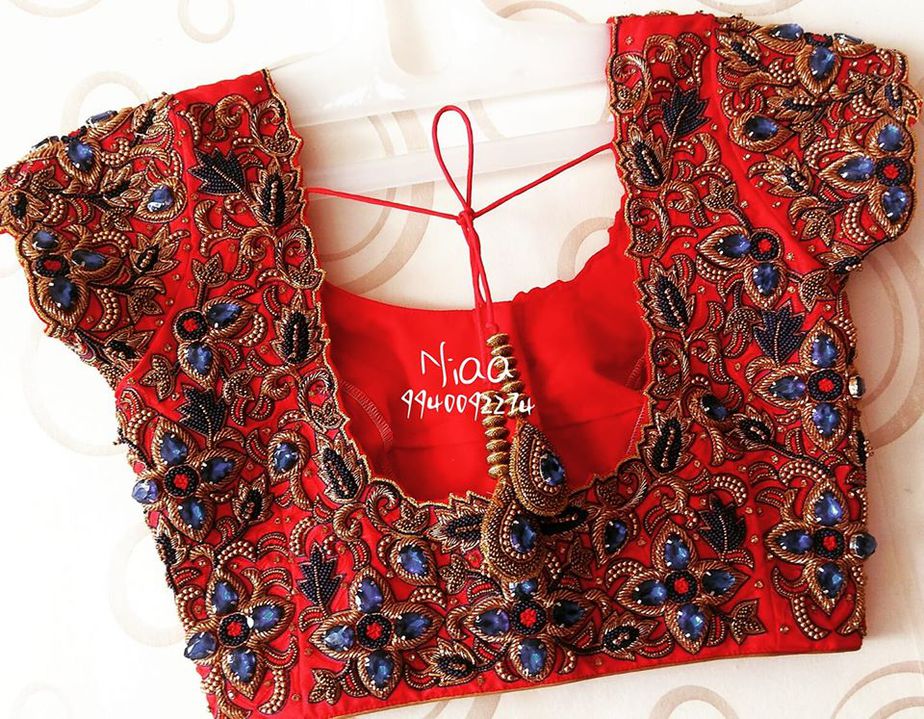 Pink floral maggam blouse
This understated pink aari embroidery blouse features a flattering floral design made of beads and zari threads on the sleeve, along with fancy tassel strings at the back. Lovely, isn't it?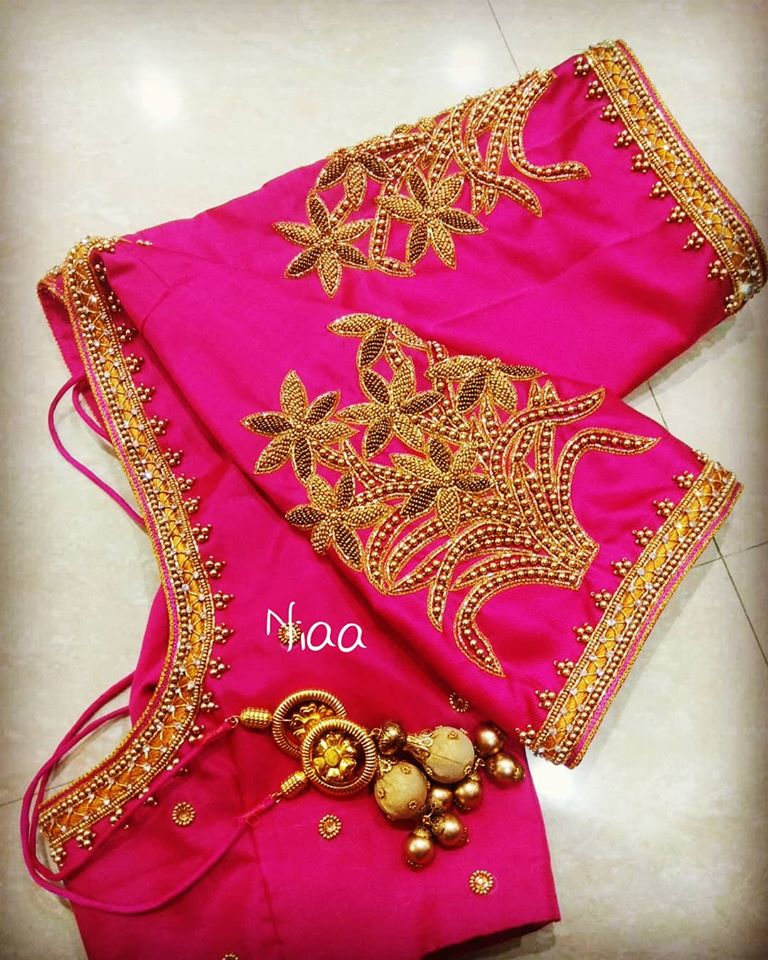 Peacock green zari work blouse with  leaf shaped cutouts
Feel like a princess stepping straight out of a fairy tale with this lovely peacock green blouse featuring leaf shaped cutouts on the sleeves and along the neckline. The intricate zari embroidery, bead work and sequin work all along the neckline and sleeve hems looks stunning and gives a rather regal flair to the design. We're completely bowled over with this one!

Pink floral stone work blouse
This maggam work blouse with floral design arranged in a chequered pattern on the sleeve and the back is stunning indeed. It is the perfect piece to go with your bridal saree! Furthermore, the kundan stones on the sleeve hems and the ball tassels on the back add just the right amount of oomph to the design.
Blue full work bridal maggam blouse
What a mesmerising jacket style blouse design! The richness of the aari embroidery coupled with the electric blue looks completely hypnotizing. Loving the gorgeous floral patterns on the sleeves and the mango designs along the neckline.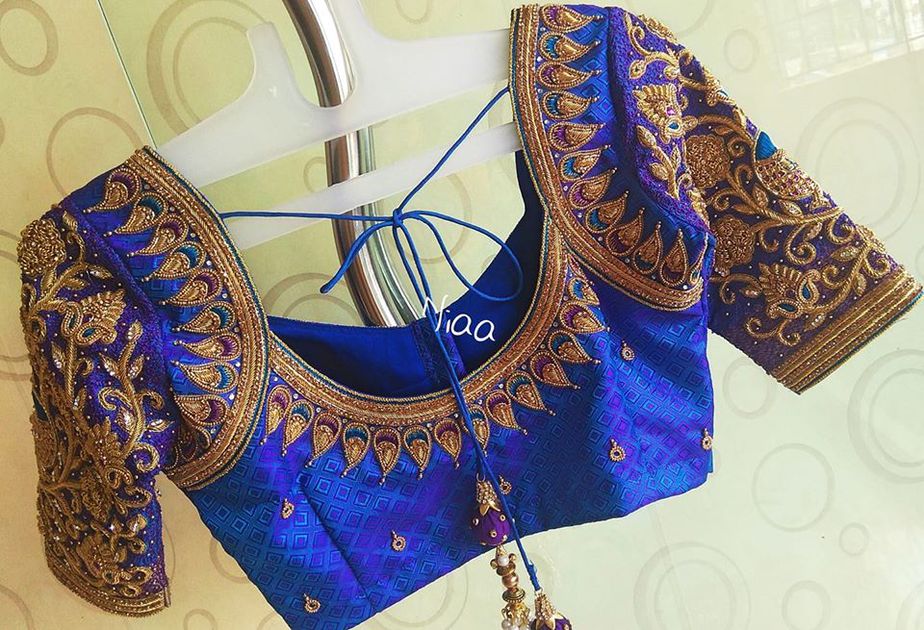 Pink white zari work blouse
The highlight of this romantic pink 3/4 sleeve blouse is the silver zari work embroidery that is oozing of old world charm. The sleeve hems feature a zigzag pattern adorned with mirror work. The sheer back design showcases a large floral mandala in the centre made of silver zari threads. Truly, a one of a kind piece!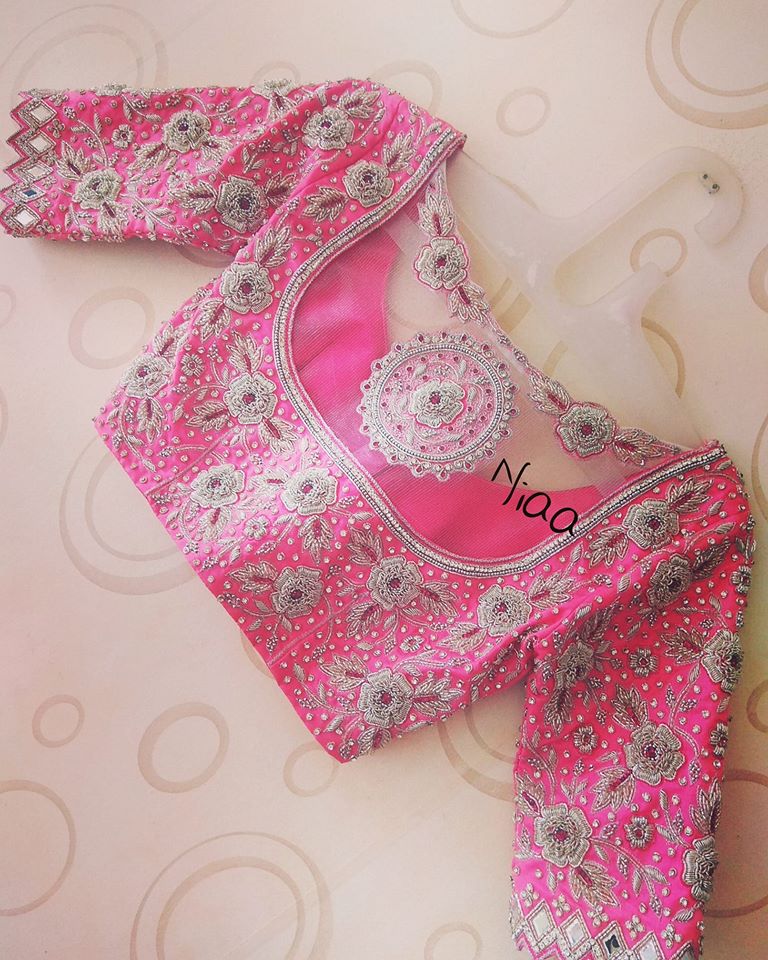 White and red embroidery blouse
The bold use of red threadwork embroidery on this creamy silk blouse looks not only quirky, but also incredibly stylish! The red roses and sequins along the neckline add just the right amount of elegance to the design.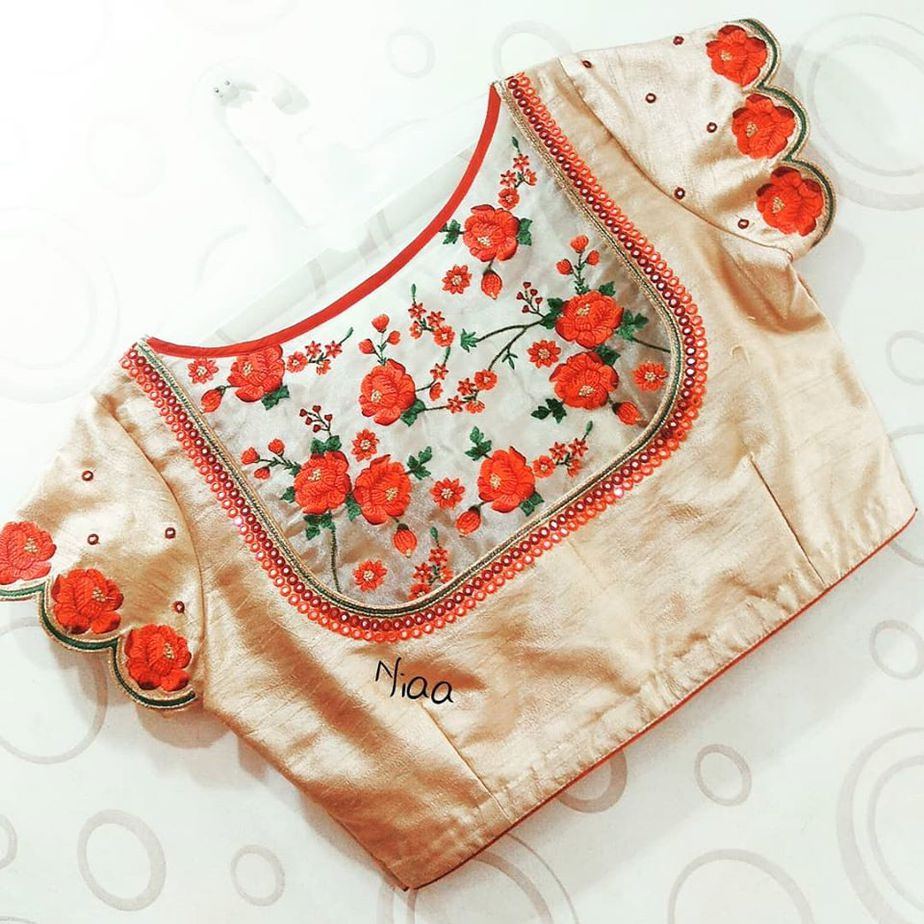 Blue peacock embroidery blouse
In love with this peacock blue embroidery blouse with vibrant thread work and stones arranged to resemble peacock feathers. The eye catching colors and peacock design in tear drop shapeslook pretty as a picture!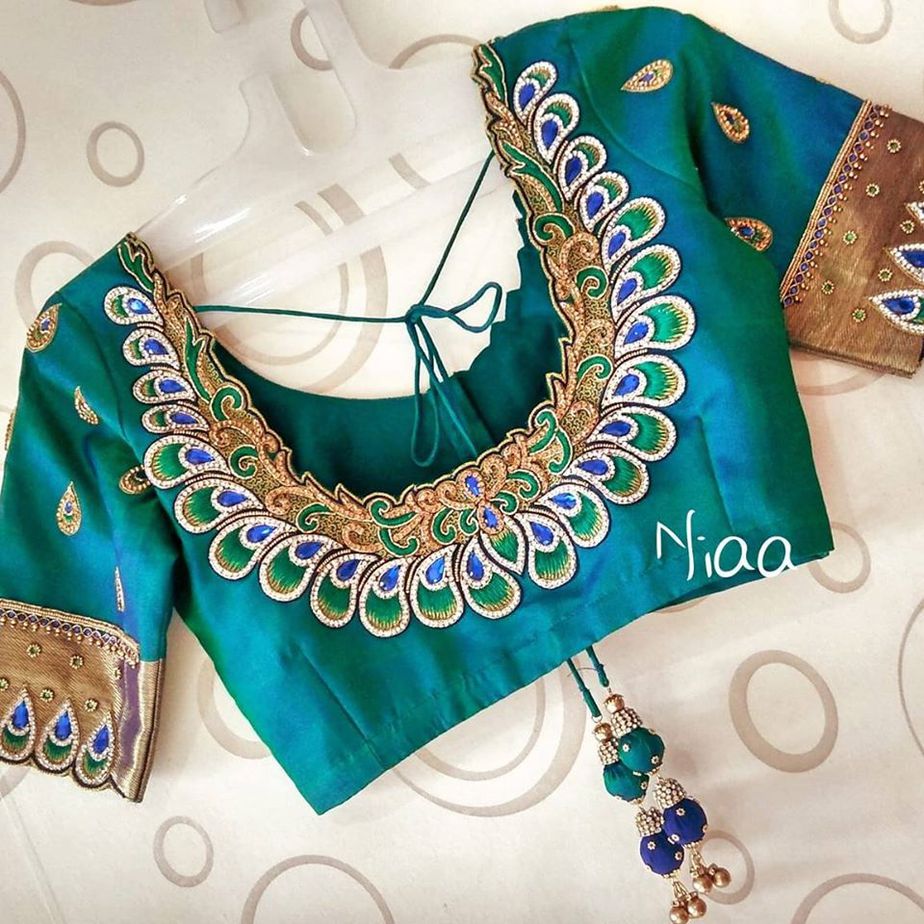 Pink latest maggam blouse design
You can never have too much of kundan. Don this peppy yet sophisticated fuschia pink zari blouse with bead work and lots of kundan stones arranged in tear drop and mango embroidery. The deep back design looks steamy, dont you think?
Electric blue traditional motif maggam blouse
Loving this cold shoulder electric blue bridal maggam work blouse featuring a sheer back decorated with a traditional chariot motif. It's the perfect mix of ethnic and contemporary, and will surely turn heads everywhere you go!
Full maggam work blouse
Perfection in zari is a difficult art to master. But the artisans at Niaa boutique have managed to create this beautiful emerald green bridal maggam work blouse from zari threads and Kundan stones arranged in floral designs all over the sleeves. Doesn't it remind you of fresh jasmine flowers?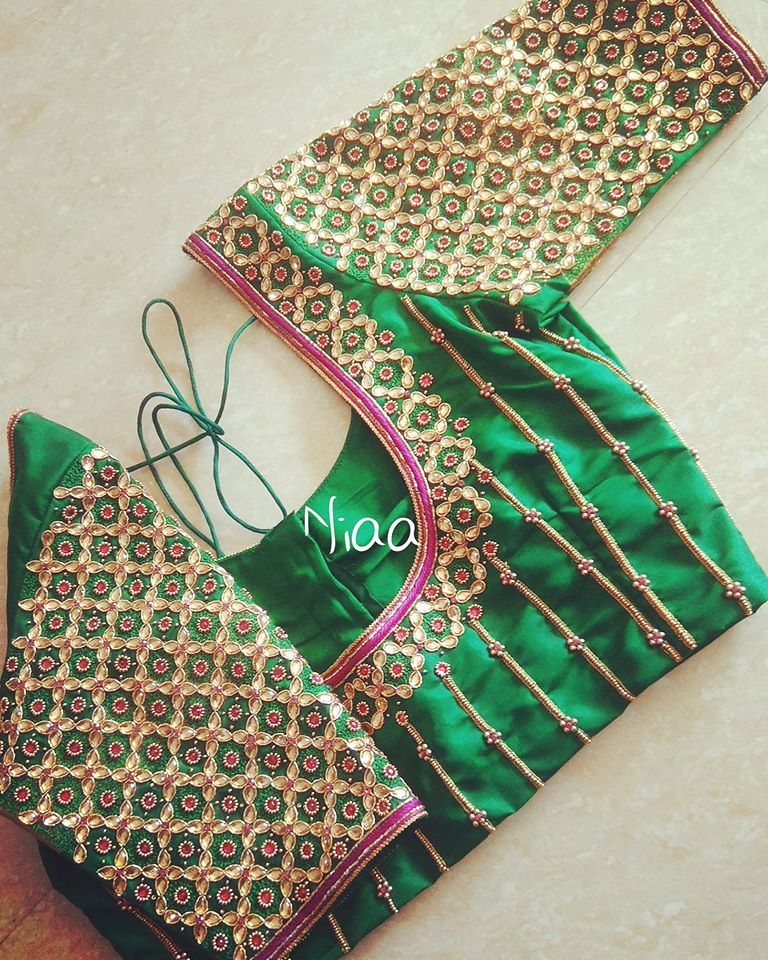 Green kasu work blouse
Go for a classic look with this green blouse featuring kasu embroidery and kundan stones on the sleeves and neckline.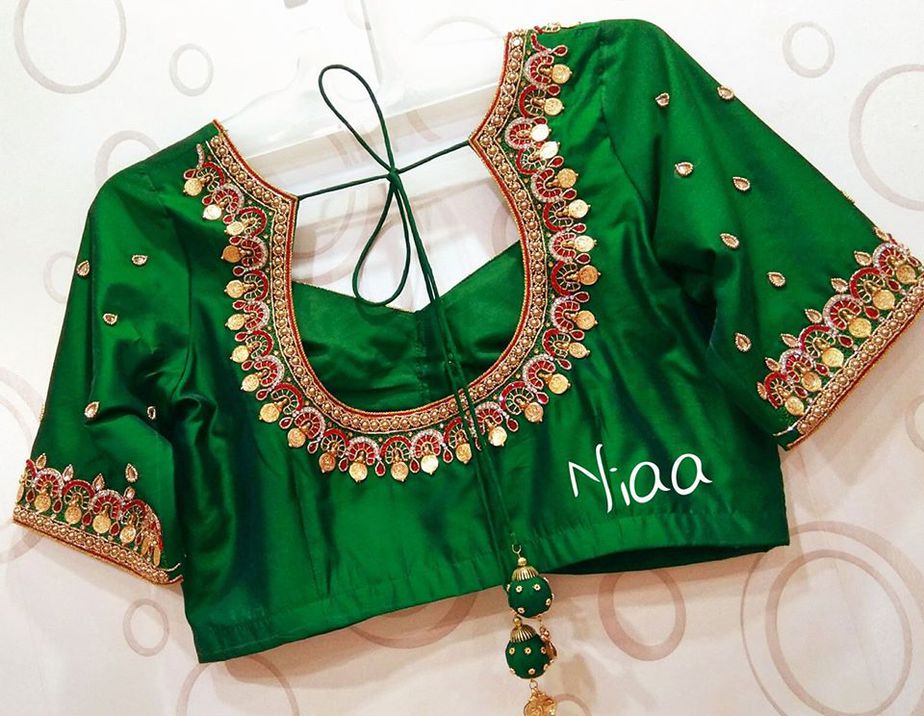 Hot pink maggam blouse
This striking hot pink maggam work blouse featuring multi coloured silk thread and zari work embroidery looks fabulous indeed! Vibrant peacock motifs on the sleeves and neckline along with a diya shaped cut out at the back adds much more dimension to the blouse!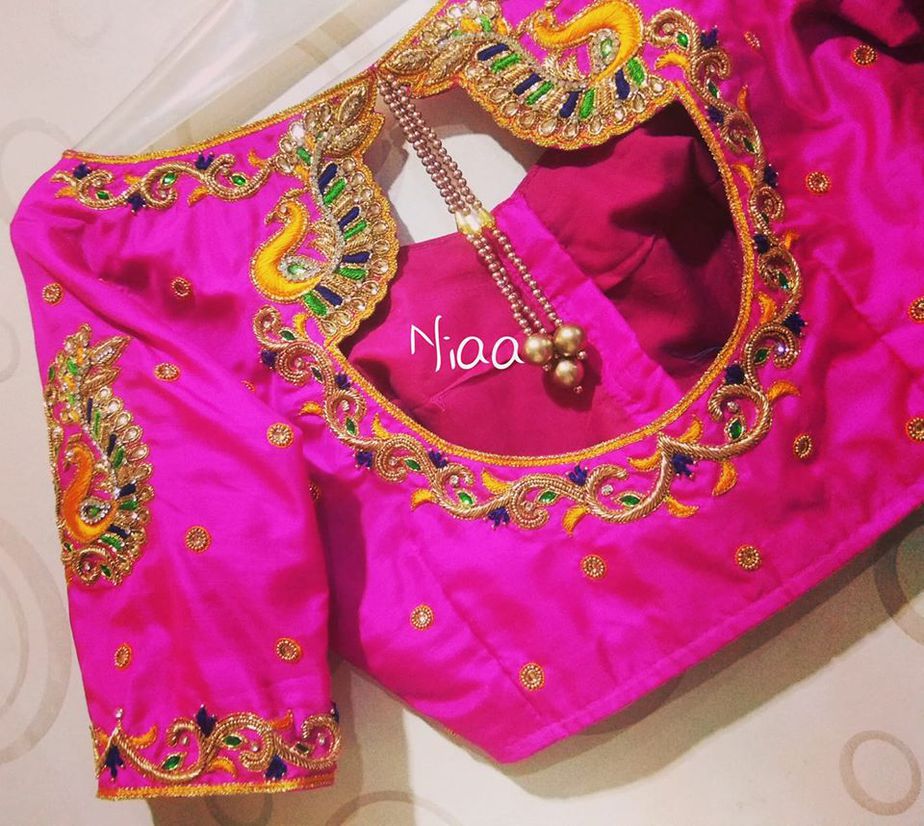 Peacock motif emerald green maggam blouse
Peacocks are truly magnificent Birds.Try this stylish and chic boat neck blouse with a peacock motif embroidery on the back and look like a million bucks.
Latest bridal maggam work blouse
Try out this Emerald green maggam work blouse with golden bead work, red stones and mango design embroidery. You'll surely be the star of the evening with this look.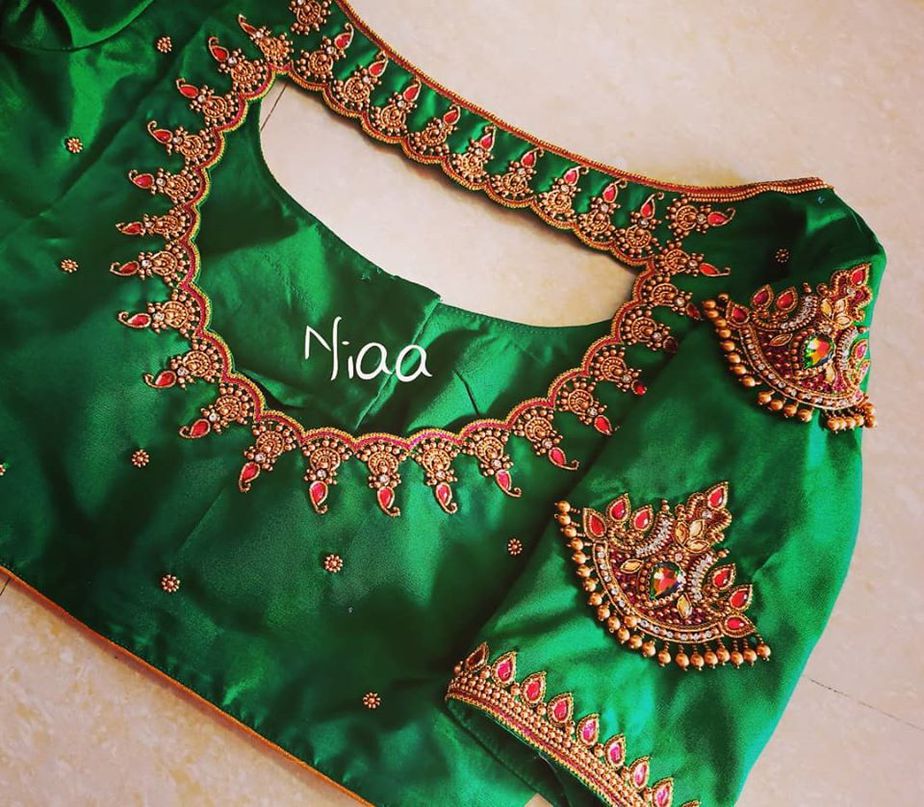 Pink jhumka motif maggam blouse
We love jhumkaaswith anything! Opt for a feminine and traditional look with this pink zari blouse adorned with jhumkaa motifs and french knot on the sleeves and the neckline.
Mint green maggam work blouse
this elegant pastel green zardosi bridal blouse features a mix of zari, bead work and kundan stone work embroidery. the criss cross arrangement of beads on the sleeve hems along with green Kundan stones on a golden base gives it a royal look indeed, don't you think?
For inquiries contact:
Facebook: https://www.facebook.com/niaaboutique/
Phone: +91 99400 92274