It's fun to dress your kids up, if you have twins then that's just double the fun and cuteness. Viranica Manchu is a mother of beautiful twins Viviana and Ariaana, often seen all dolled up in cute coordinated outfits. Instead of choosing same outfits, Viranica Manchu smartly plays around with complimentary pattern and color combinations.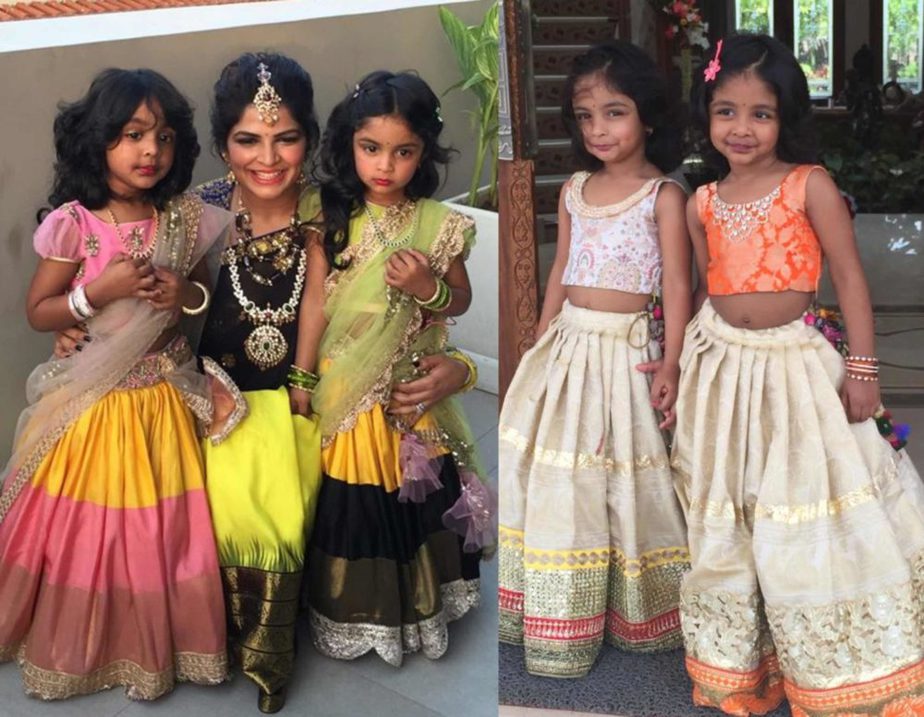 Ariaana and Viviana in Coordinated Outfits
We have gathered some of the adorable coordinated outfit looks of Ariaana and Viviana for you to style up your cute little munchkins! Let's get right into it.
Glam Gowns
Gown's are all little girls fairytale outfits! The sparkly dresses with pretty bows and frills are sure to excite them. You can see the girls here wearing a dull gold gown, that has been played around with to create two different yet similar outfits. In the other look , these beautiful red gowns have the same glittery bodice but with fall variations.
Crop Them Cute 
Crop tops look really cute on kids! Showing off their peek-a-boo midriff, its a fun and playful outfit for sangeet and mehendi parties. Viranica picked this quirky printed Masaba crop top with skirts in contrast colors keeping it stylish. She also opted for a pastel peach and blue floral lehenga and crop tops with sleeve variations for her twins.
Half saree princess
In most of the south Indian wedding functions, you can see little girls all decked up in vibrant half sarees. You can go for pastels and bright color combinations with more pattern play and subtle embroidery work. For the first look Viranica Manchu dressed up her twin daughters in silk zari work lehengas paired with bright contrast dupatta's with delicate floral work blouses. The second look is more dressy with heavy embroidered blouses and banarasi lehengas.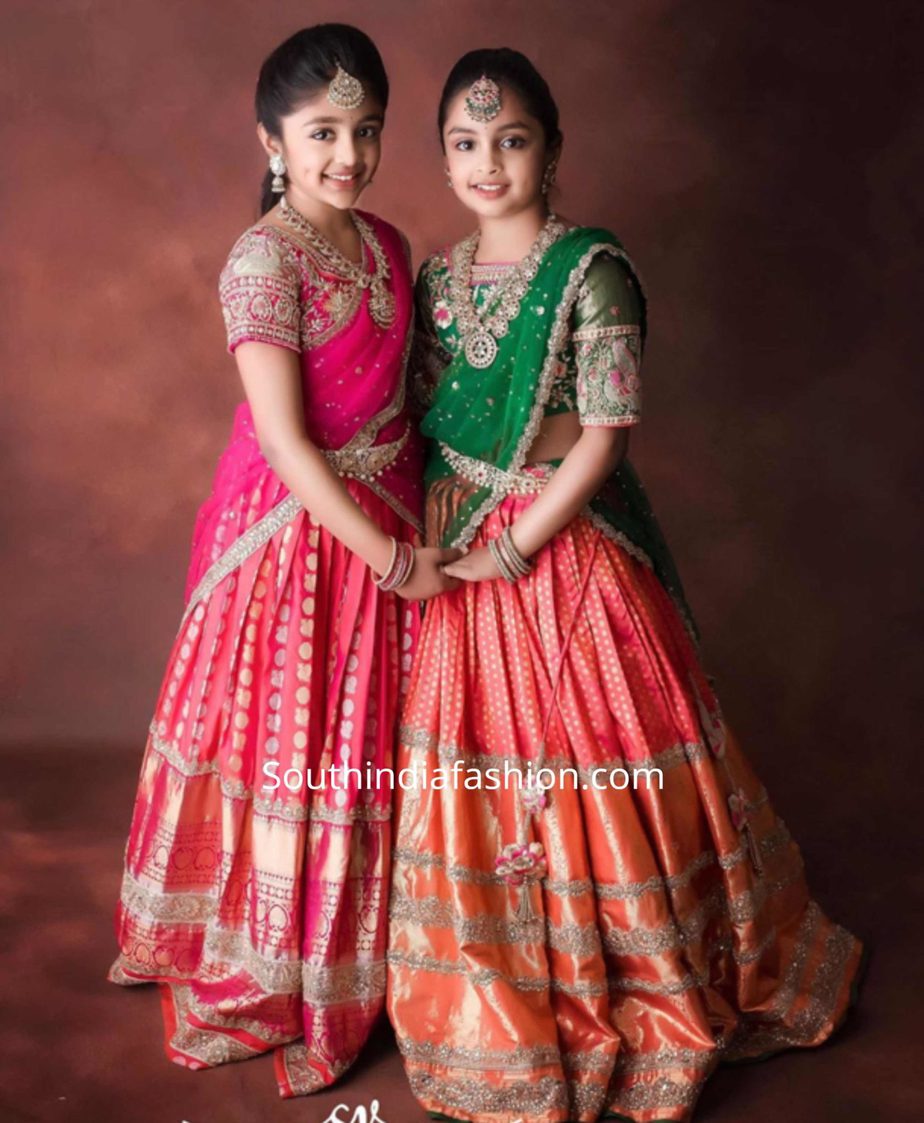 Frockalicious
Frills, pleats, ruffles or tulle, all kinds of frocks are loved by kids. They are available in a huge variety to suit every occasion. Here the twins keeping it merry in rich deep red dresses for Christmas. With tiny pleats and big florals all over, these coordinated outfits look festive. The second look has them wearing girly soft net frills in pastels.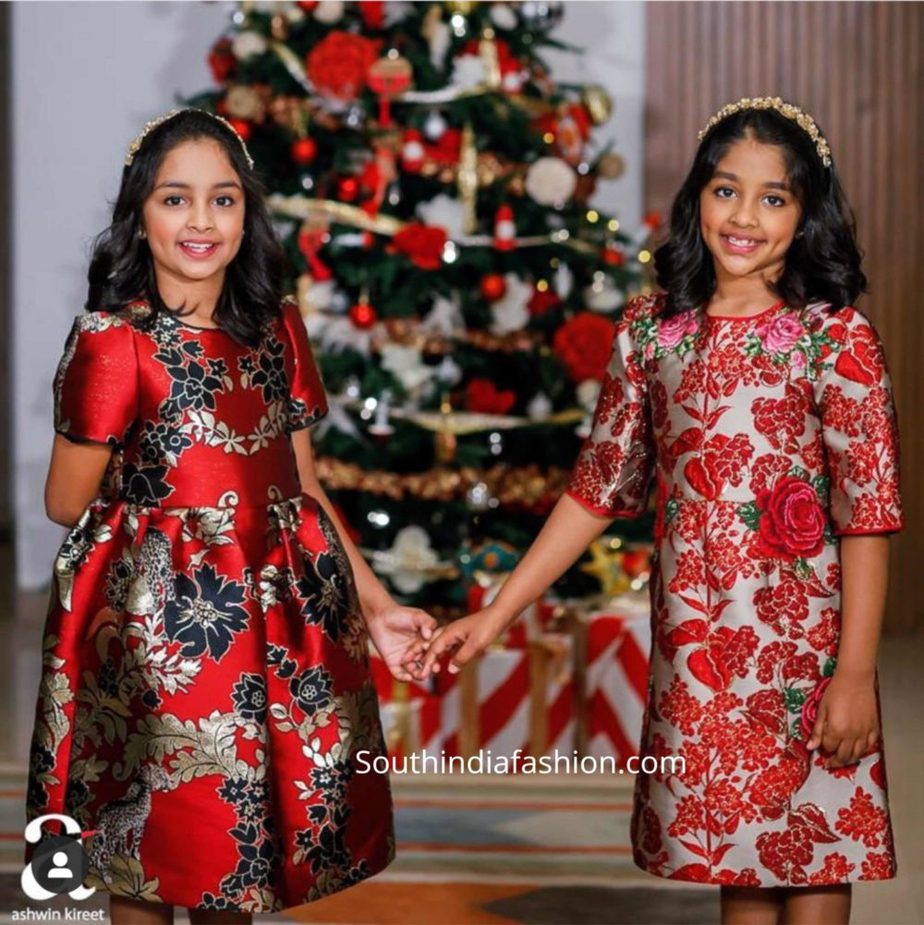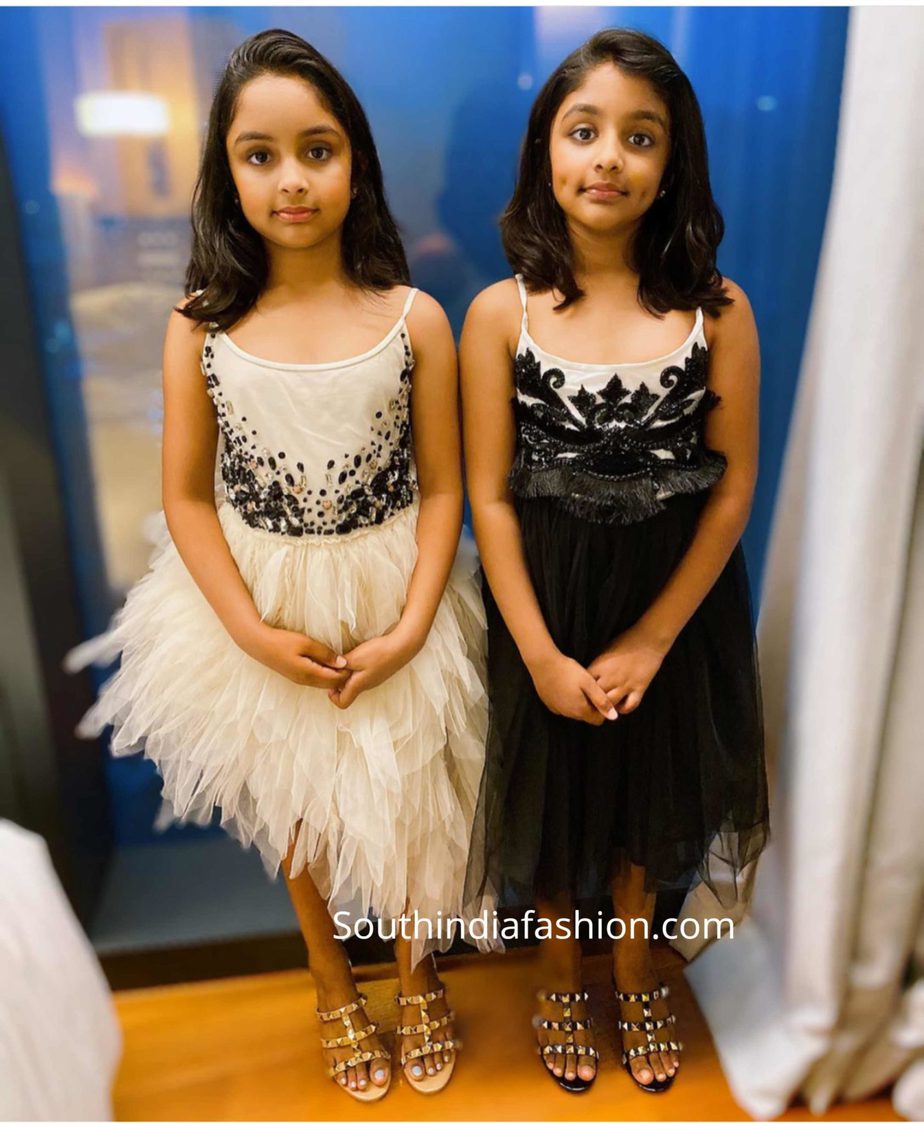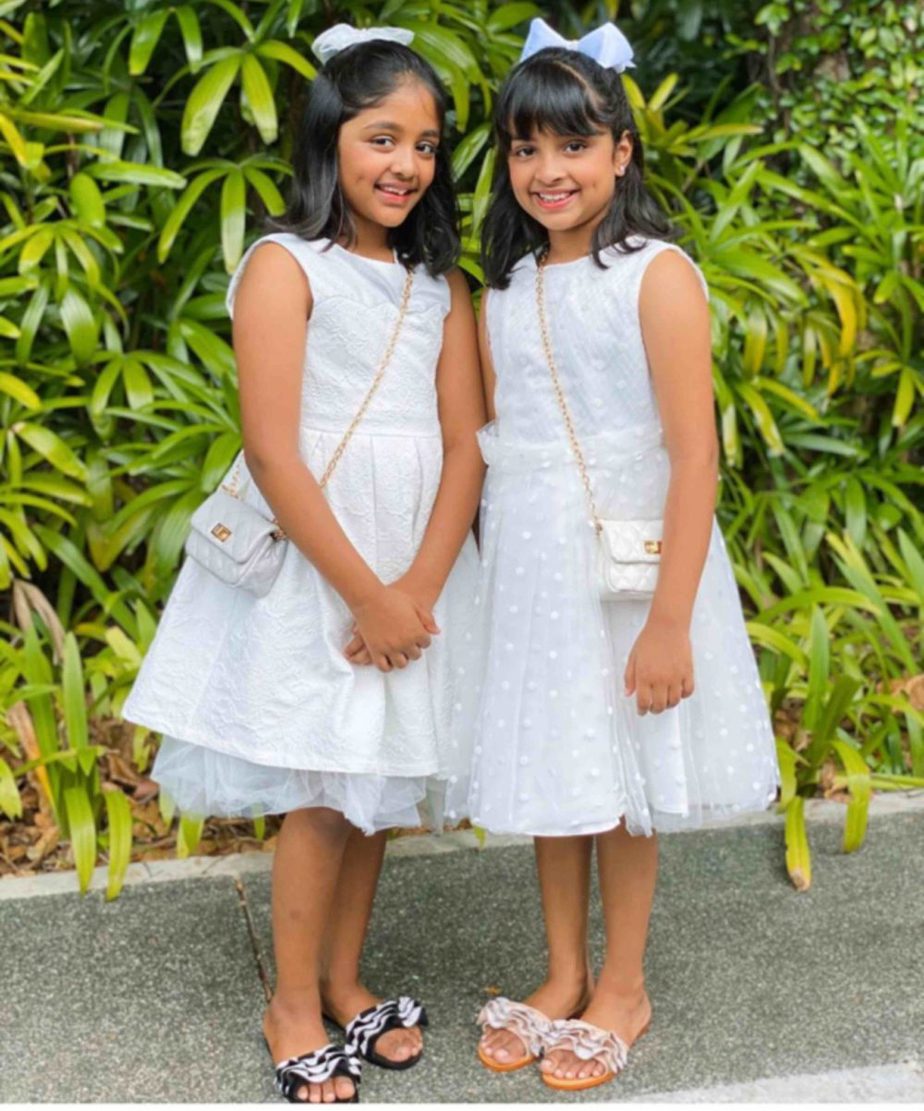 Pretty Lehengas
Lehenga's are girls favorite ethnic wear outfits for festive occasions. They can be chic, dressy and girly depending on how you style them. Little girls are no exceptions, lehenga's look all the more adorable on these munchkins. Here Manchu twins are wearing Banarasi silk lehengas with paithani silk blouses with an embellished shawl collar and belt. For another occasion they wore a super breezy pair of blush white with peach florals all over. The neon colored backing for the lehenga border's kept this look uber cool for our summers!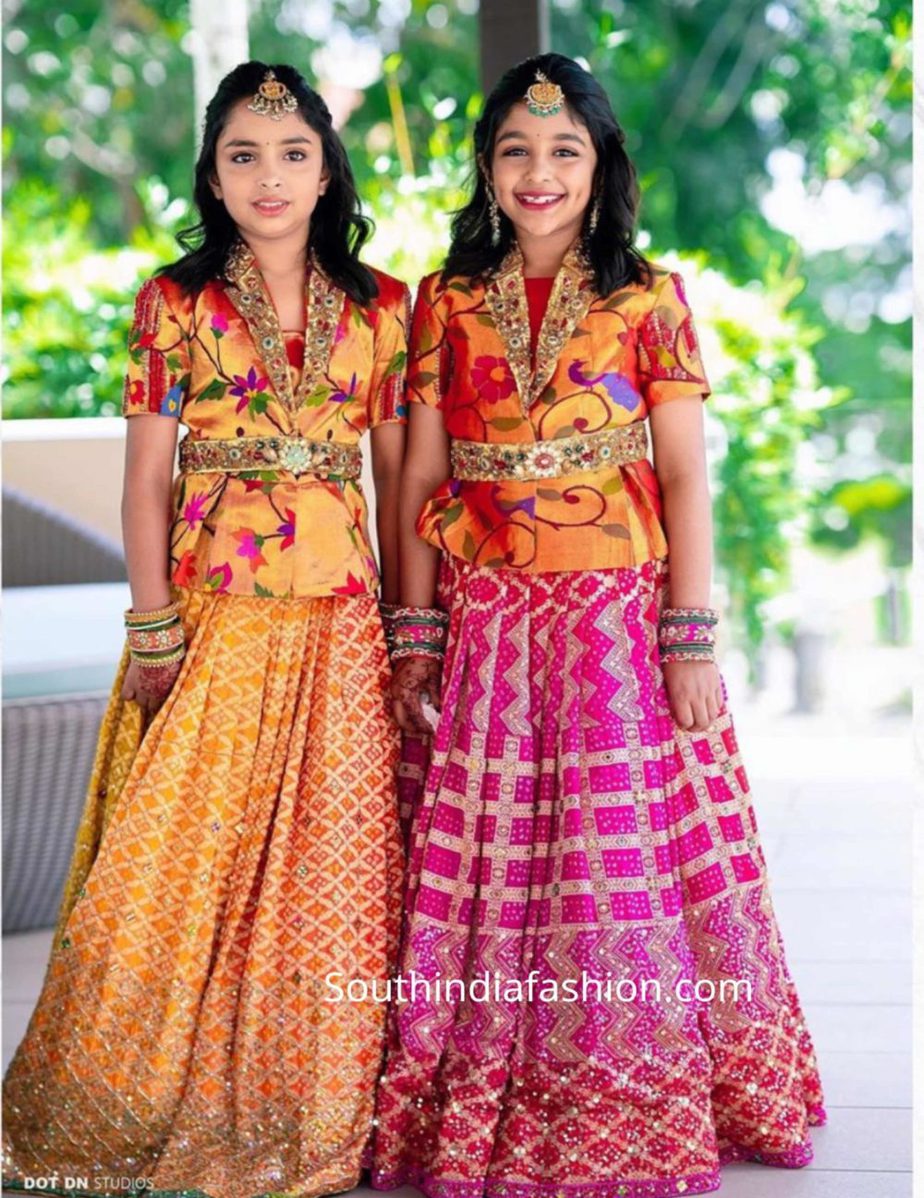 Use your free time to style your kids up in such various adorable coordinating ensembles. Don't forget to capture those dressy moments!