There is something beautiful about the Kerala sarees or kasavu sarees. Their simplicity and elegance have a charm of their own. Kerala sarees are in off-white, pearl or sandalwood color with simple zari border. The efficient neutral base color makes it easy to pair with a variety of blouse designs, patterns, and colors. This gorgeous Set saree is famous worldwide for its simple yet classic traditional look. While the basic rule is mix and matching Kasavu sarees with colorful blouses, Kerala saree blouse designs also play an essential role to highlight the saree.
If you love donning Kerala saree, you will love this look book we put together. Check out these finest Kerala saree blouse designs and styles –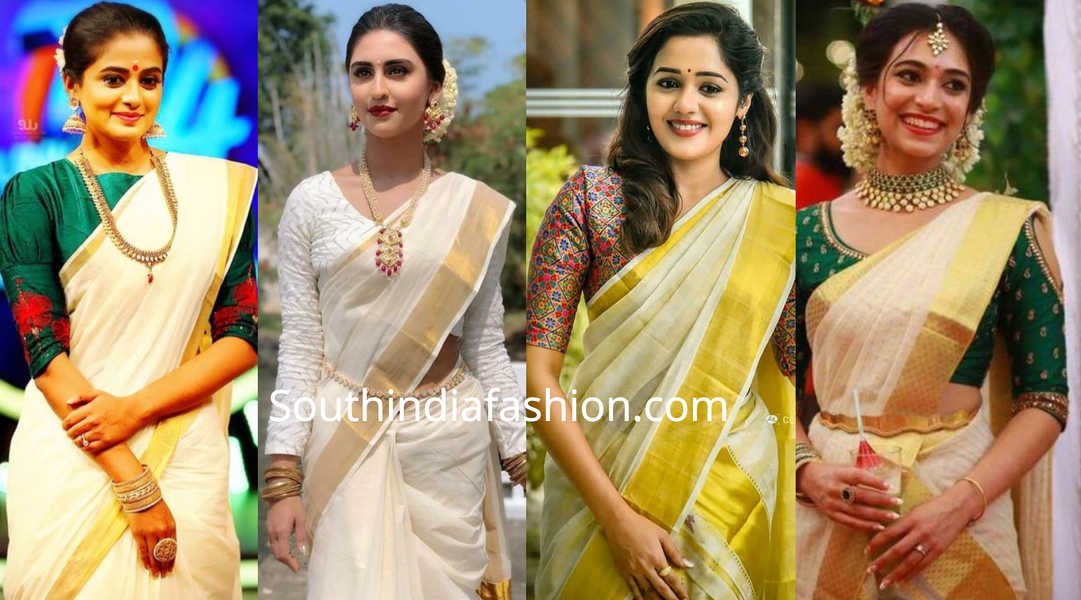 Classic Round Neck Blouse design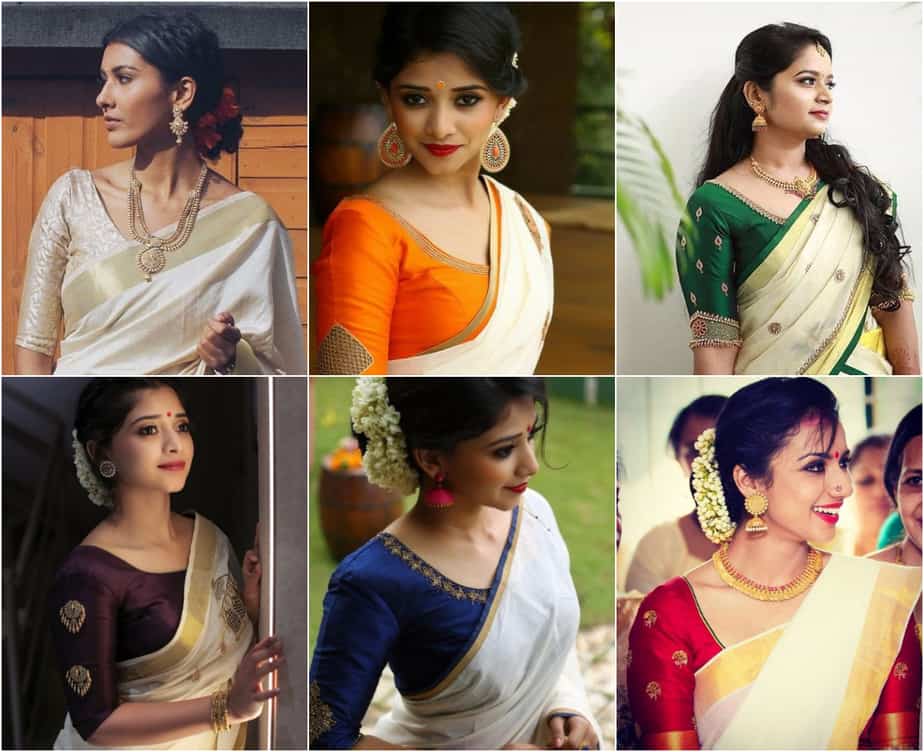 We know that the basic round blouse design might seem boring, but it still remains a classic. A deep round or a deep 'U' neck with long sleeves bring out the most traditional feel of the Kerala saree. Opt for vibrant colors with zari border or embroidery around the neckline and sleeves. Above all, a deep 'U' neck Kerala saree blouse design gives space to add a statement temple necklace to the traditional look.
Cold Shoulder Blouse Design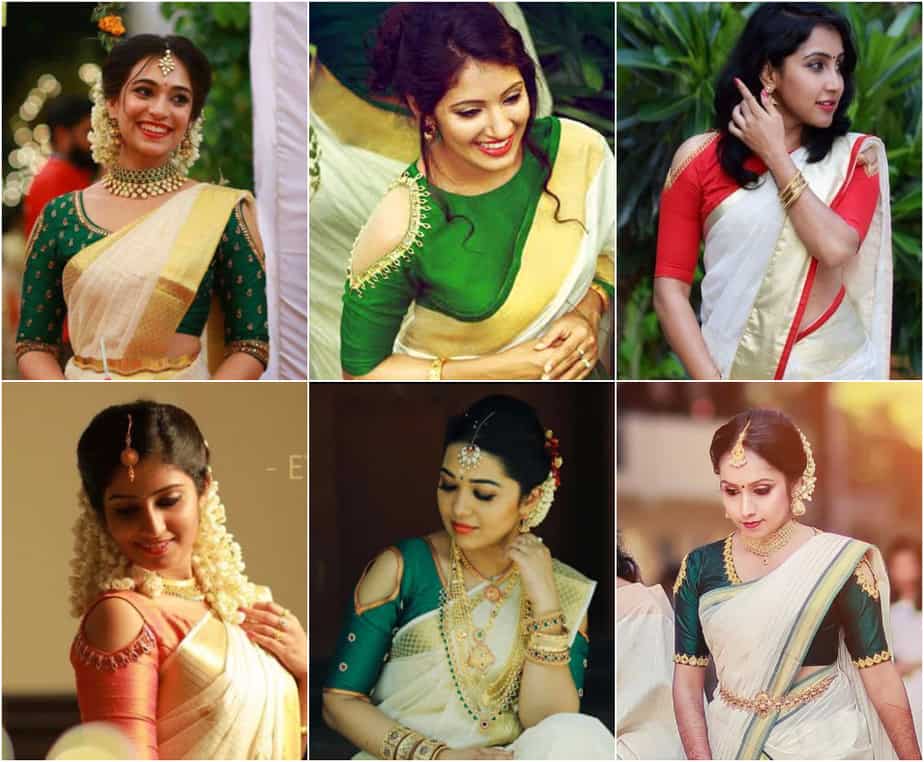 The cold shoulder is the latest trend that has been catching up on blouse designs now. For a stylish look for your Kerala saree, pair it with a cold-shouldered blouse design. And for the cold shoulder blouse design, you can get the area around the cut embellished for a more festive feel.
High Neck or Boat Neck Blouse Design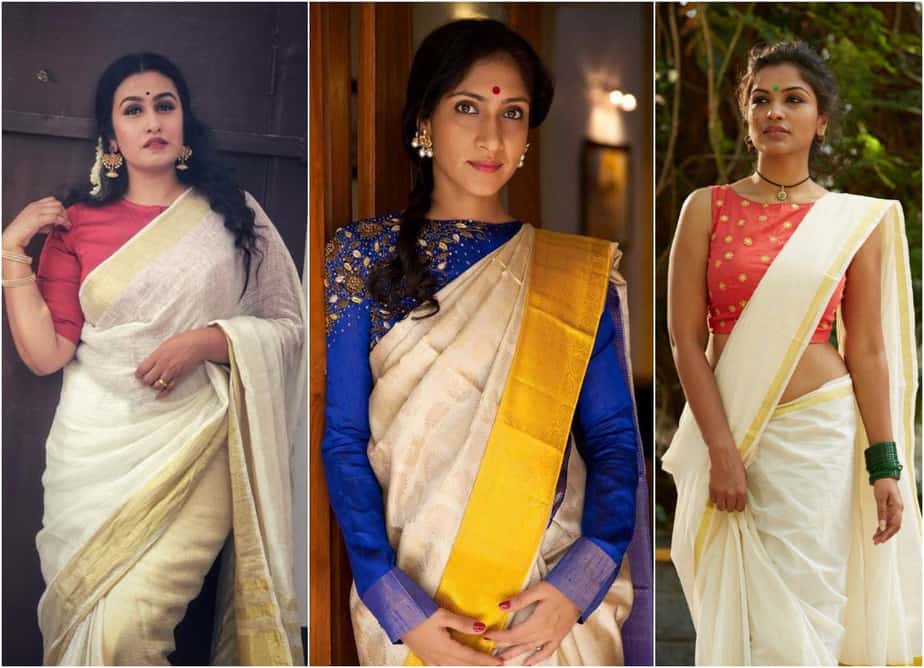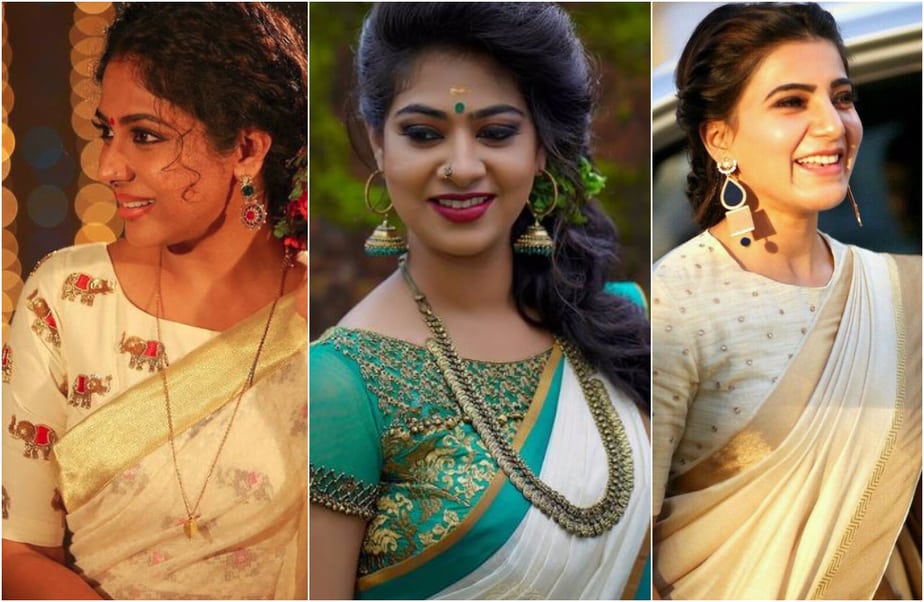 One can never overdo it with full neck blouses because they look classy always, and these are in trend. The high neck also has a fancy variation of turning into a classy boat neck blouse design. With varying sleeve length, mix and match of colors, this Kerala saree blouse design works literally for every body type.
Puff Sleeves Blouse Design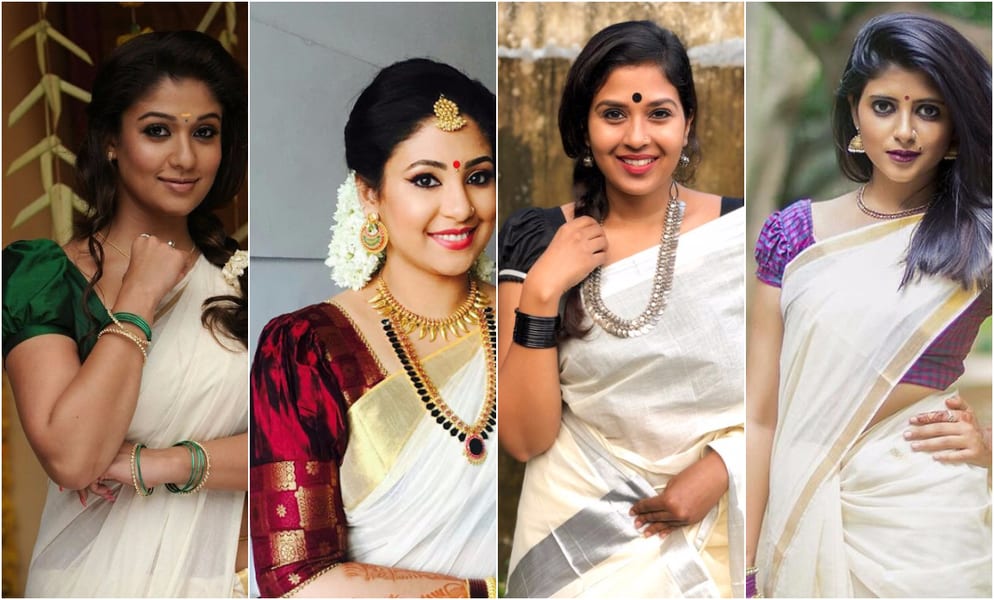 Puff sleeves are a classic blouse pattern which works beautifully with traditional silk sarees. If you have slimmer arms, opt for more puff. But if you are heavier on the arms then go for subtle puff and frill sleeves. Take it up a notch by going for a puff with elbow-length sleeves. Trust us, it going to fetch you some compliments!
Long Sleeves Blouse Deisgn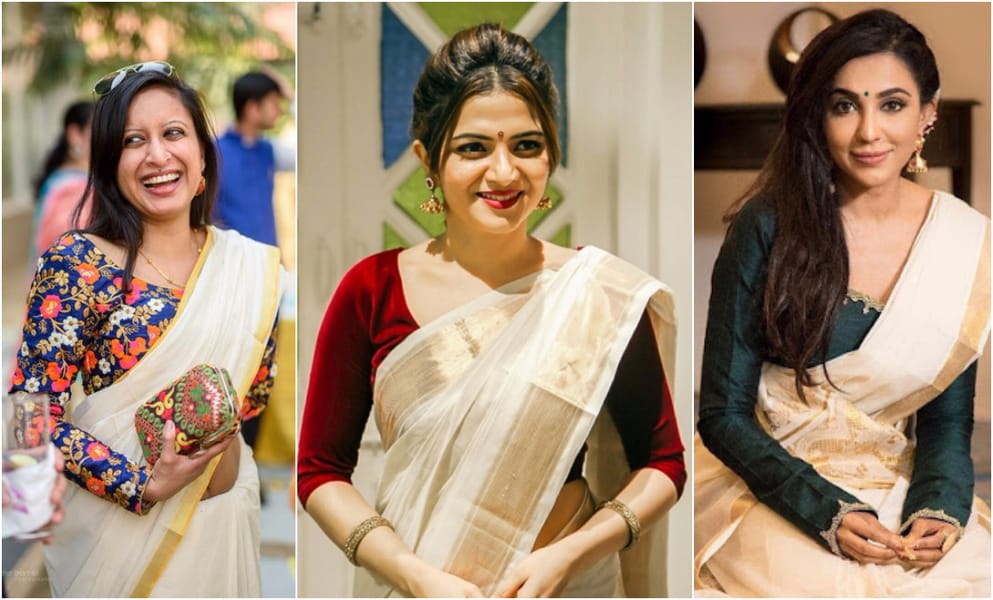 When it comes to blouse design with long sleeves, remember you can play around with fabrics! From velvet to silk, everything looks stunning with the Kerala Saree. Above all, it definitely looks stunning and regal. Anyone with heavier arms can opt for long sleeves that can end just below the elbow.
Elbow Length Sleeves Blouse Design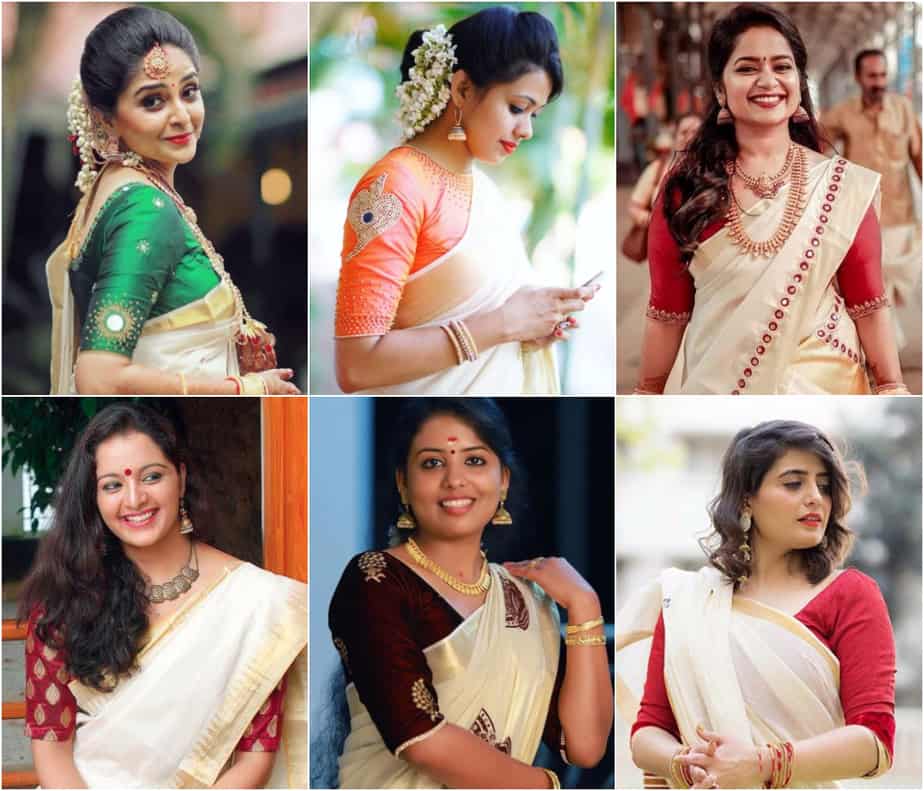 Elbow-length sleeves are a rage these days which work well for bridal blouse designs. If you want it to be your bridal blouse, then you need to jazz it up a bit with some zari or zardosi work. Above all, make sure the blouse has rich and heavy work to balance out the subtle charm of the Kerala saree.
Sleeveless Blouse Design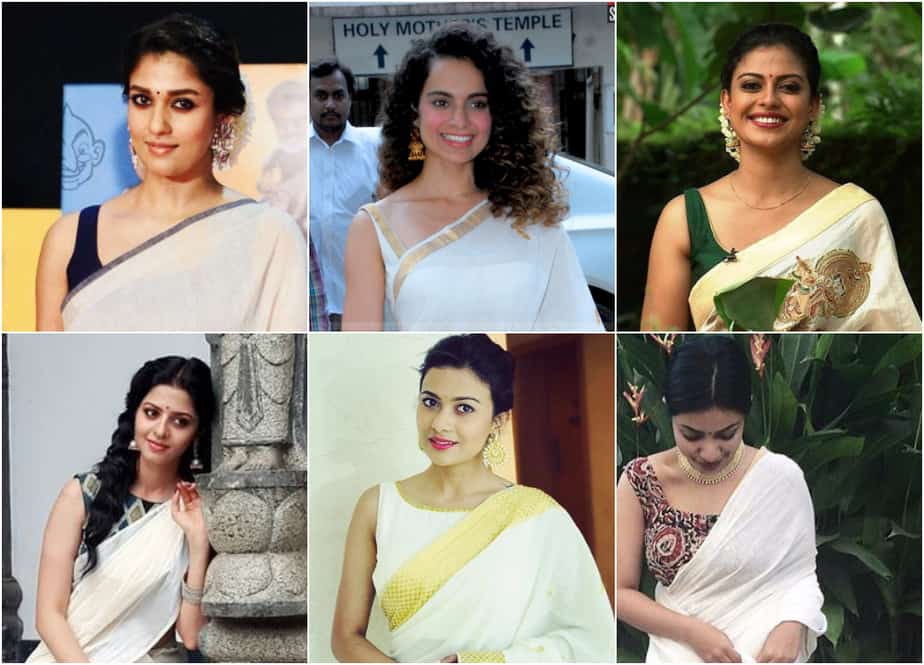 For a more modern twist on the traditional Kerala saree, try sleeveless blouse design. This makes for an interesting look for traditional or cultural events. You can opt for printed blouses in traditional and contemporary designs. To make a sleeveless blouse look stunning with Kerala saree make sure to keep the pallu unpinned.
In conclusion, anyone can rock the Kerala saree and it will surely be a hit!