White, Off-white or pearl white sarees are beautiful to look at, but many of us are skeptical to style them. Off white sarees can end up looking bland and boring if not styled well. Speaking of off-white sarees, you can include your Kasavu (Kerala Sarees) too in this list! It looks great on ladies of all skin tones and in addition, highlights their best features. It always looks appealing and rich if you style it just right and pair it up with other colors too. In addition, remember that off-white, beige, ivory or white – they all fall under the same color family.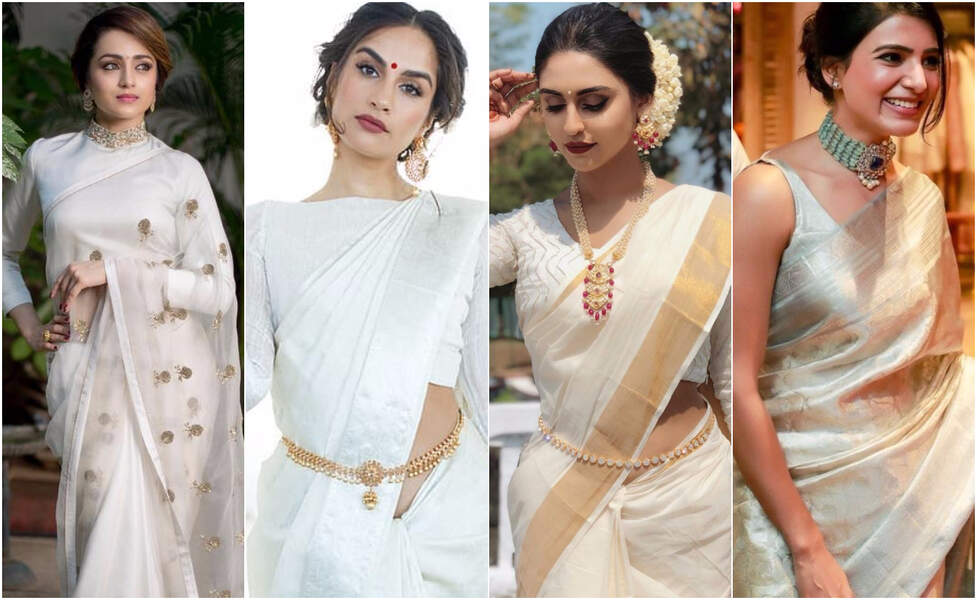 So, for all those who love wearing off-white sarees but don't know how to style them.
Here are some simple ways to style off white sarees:
1. Play with the Blouse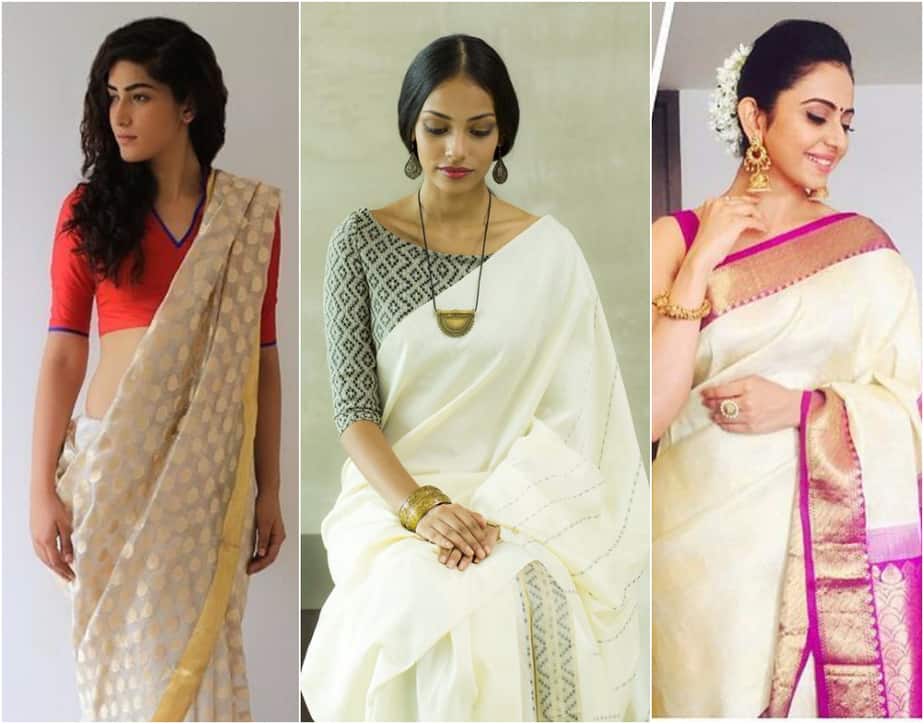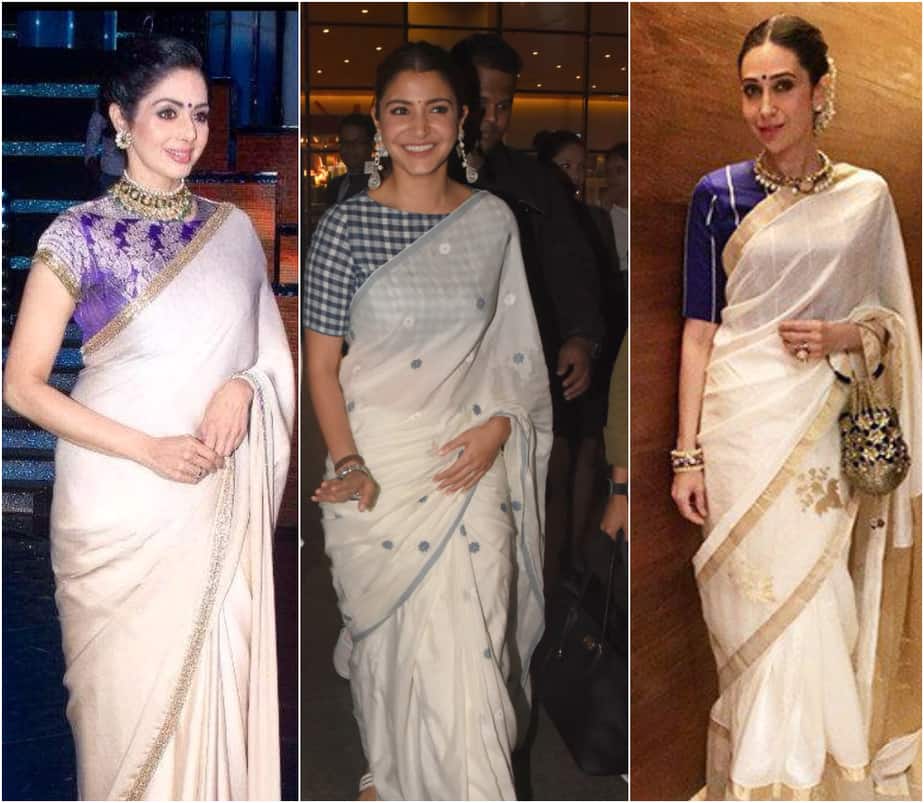 The basic way to accessorize a white saree is to first pick a contrast or printed blouse. Take tips from our Bollywood divas on how to pair up contrast plain blouse with an off-white saree. Printed blouses are also perfect blouses to go with white saree. As they add a lot of pop and fun to the saree. The prints could be ethnic, geometrical or floral prints. You can also go with multicolored or embroidered blouse.
2. Accessorize it Right
Temple Jewellery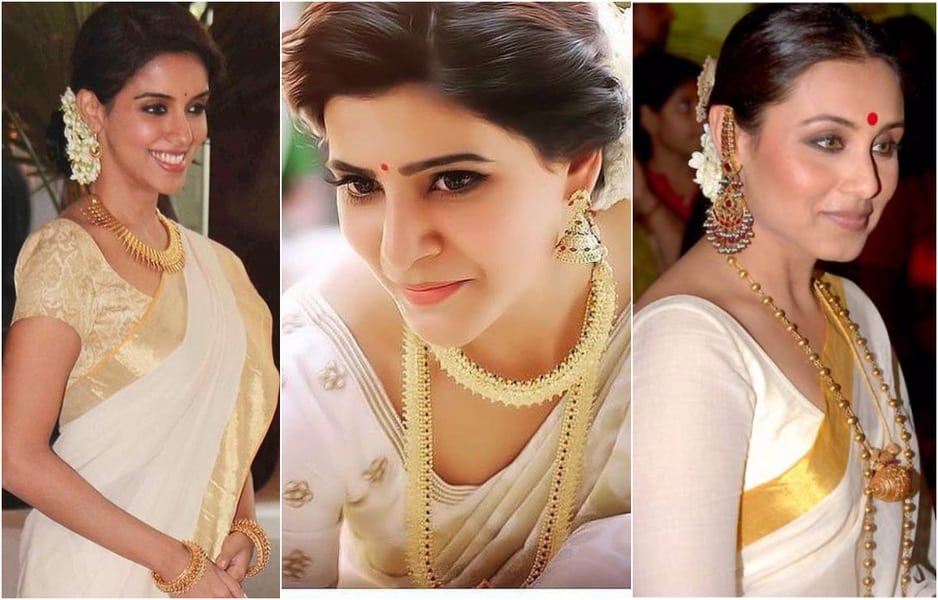 When styling jewellery for your off-white silk saree, always go with the temple jewellery! The beautiful antique tone of the temple jewellery compliments the off-white base perfectly. It adds a regal and richness to the saree even if you don't wear a contrast blouse. Add a big bindi to the look and you are bound to look every bit of a traditional diva!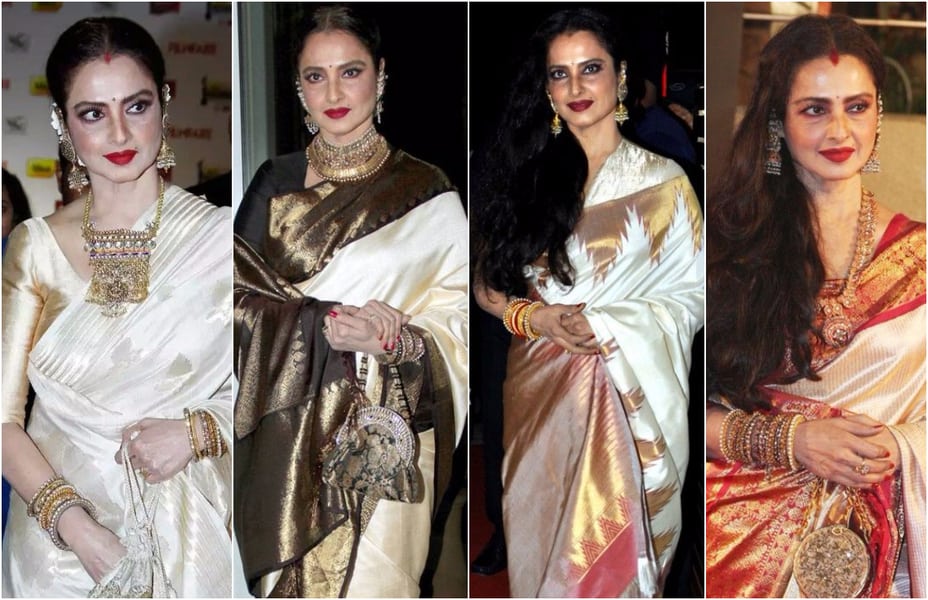 Do we need to say more or do Rekha's pictures speak for themselves? This diva can pull off an off-saree with temple jewellery look like a pro!
Emerald Jewellery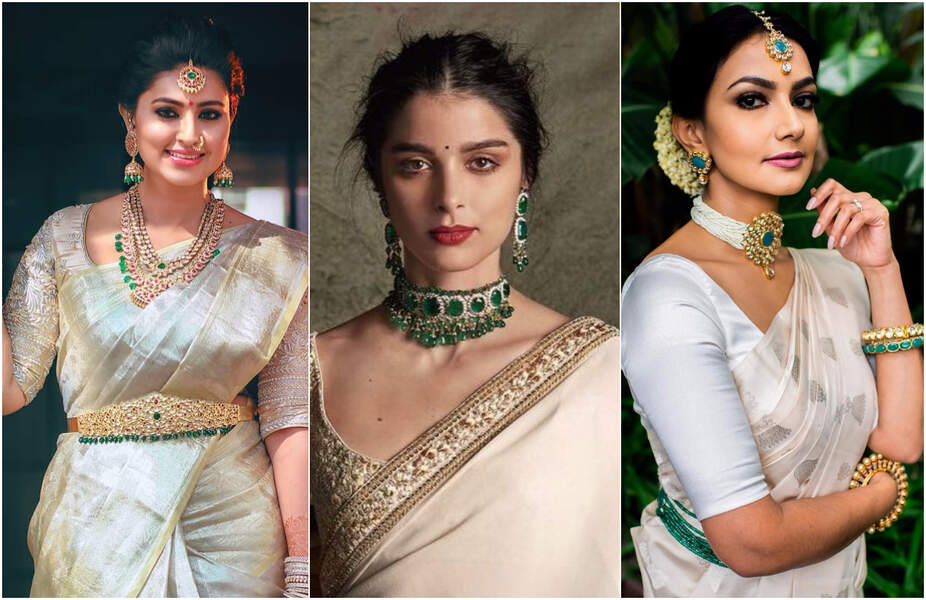 Magic happens when you style an off-white or ivory saree with emerald green jewellery! This combination is classic and therefore, celebrities blindly go by this rule. Green adds a beautiful pop of color to the off white without taking away its richness. Be it emeralds, polki or crystals – they all look beautiful! In conclusion, remember when you wear an off-white saree with green jewellery – keep your makeup subtle.
3. Add Elements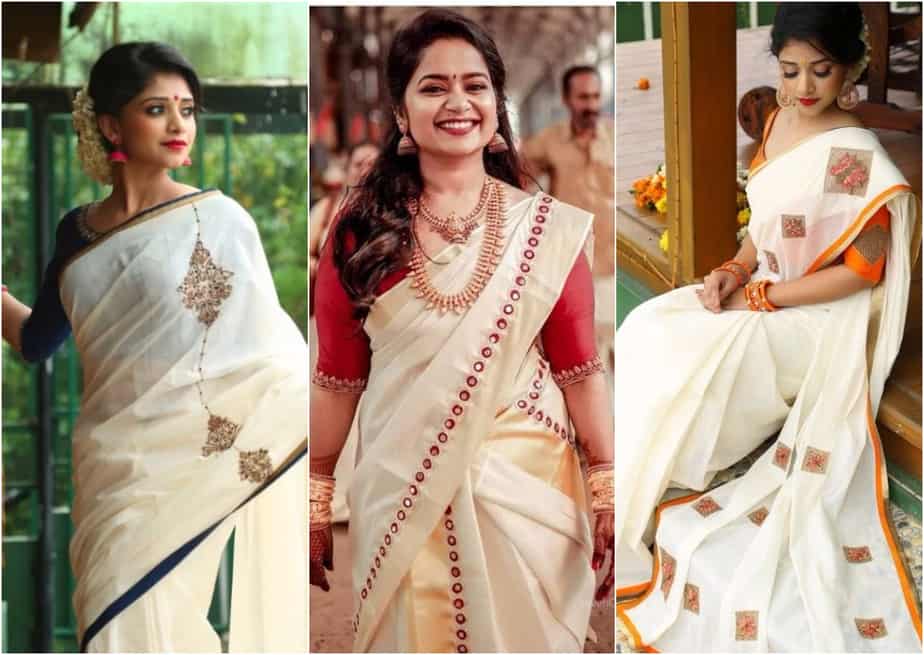 For your plain off-white sarees, you can add multicolored piping along the edges to add some pop. You can also get mirror work or embroidery done on it. This can make your rather plain saree a designer looking instantly. Similarly, you could stitch on some nice applique work patches along the pallu. Or add a nice golden lace belt around your waist and turn it into a belted saree.
4. Pop of Color
Take cues from Anasuya as she took her white saree up a notch with colorful tassels on her pallu. This is the simplest way to add a dash of fun to your saree. Pair it with a similar blouse to complete the look.
Follow these easy ways of styling your off-white saree and look no less than a diva! They are simple, and also effective when it comes to draping not-so-vibrant shade.