Bridal blouses is an industry now. The sheer number of patterns, designs and embroidery only adds to our confusion rather than clearing it up. With a lot of brides still choosing to wear red on their special day, what are the interesting red bridal blouse designs? These are the top 15 choices by brides especially if they want to wear a red bridal blouse with their pattu saree on their special day.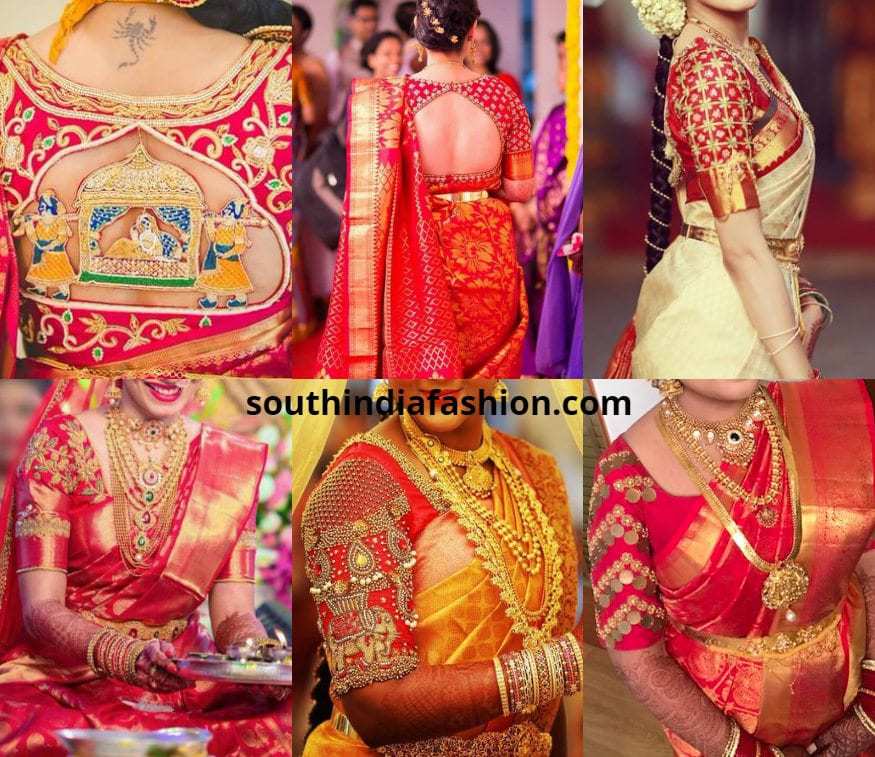 This deep red kasu embellished blouse is totally in vogue right now. The heavy work that has been done perfectly suits the bride and it will complement yellow gold and antique jewelry that is the choice of brides now.
How gorgeous is this bird with a cage blouse? Though it is not quite common in the bride circle such quirky blouses are in trend now.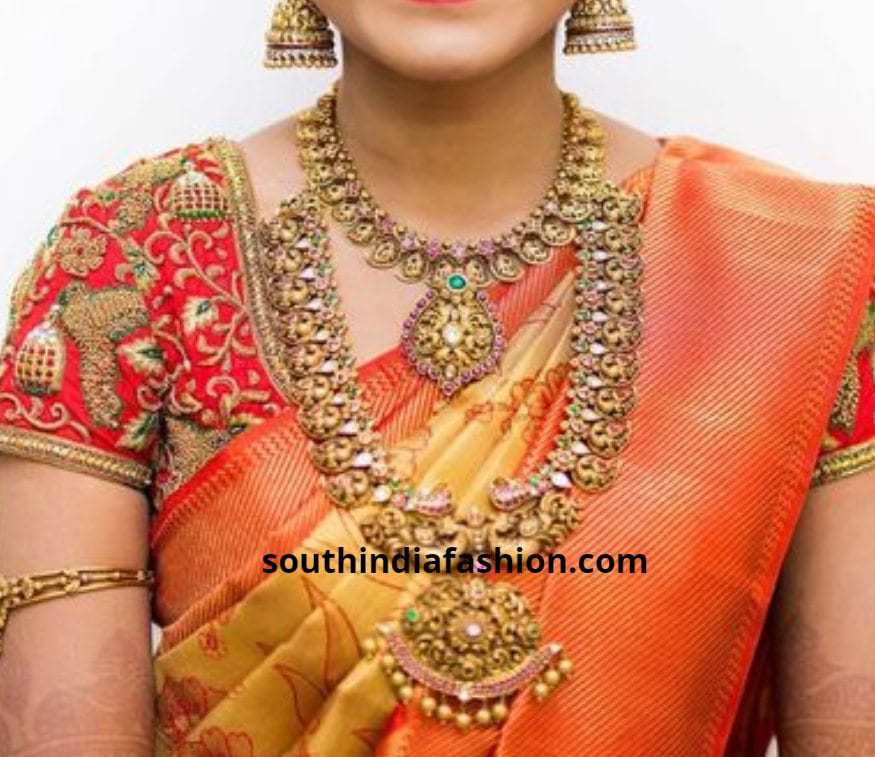 With the addition of slight pops of color and the elaborate doli scene on the blouse this is one of the best red bridal blouse designs and every bride should add this to her trousseau.4. When you have a heavy border that you do not have the heart to cut off choose this beautiful style and make your bridal blouse unique.
This is another kasu embellished blouse that also has a heavy border that is available in the blouses that come with the bridal Kanjeevaram saree.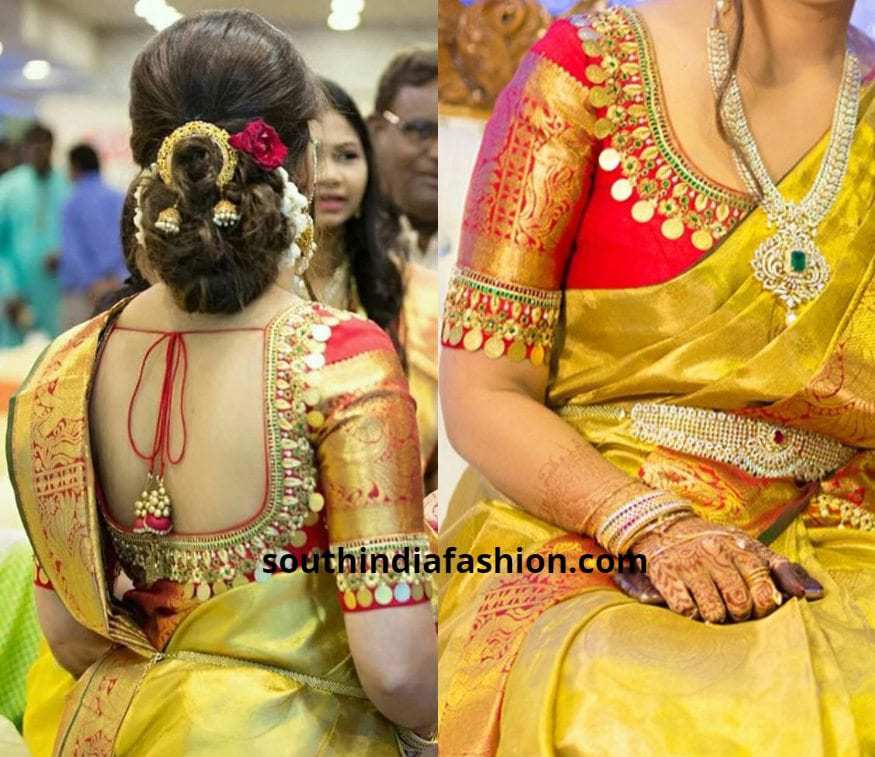 This elephant work blouse is an ode to another motif that is trending now. The work is heavy and intricate and by pairing this with a contrast saree you can highlight the beauty of the blouse.
Opting for sheer sleeves is so 2018. Choose this red bridal blouse style with sheer elbow length sleeves. The slight touch of bling in this blouse makes it look elegant.
Another gorgeous heavy blouse that is an apt choice if you are going to be the golden bride. The heavy work done on sleeves with the solid bodice gives more depth.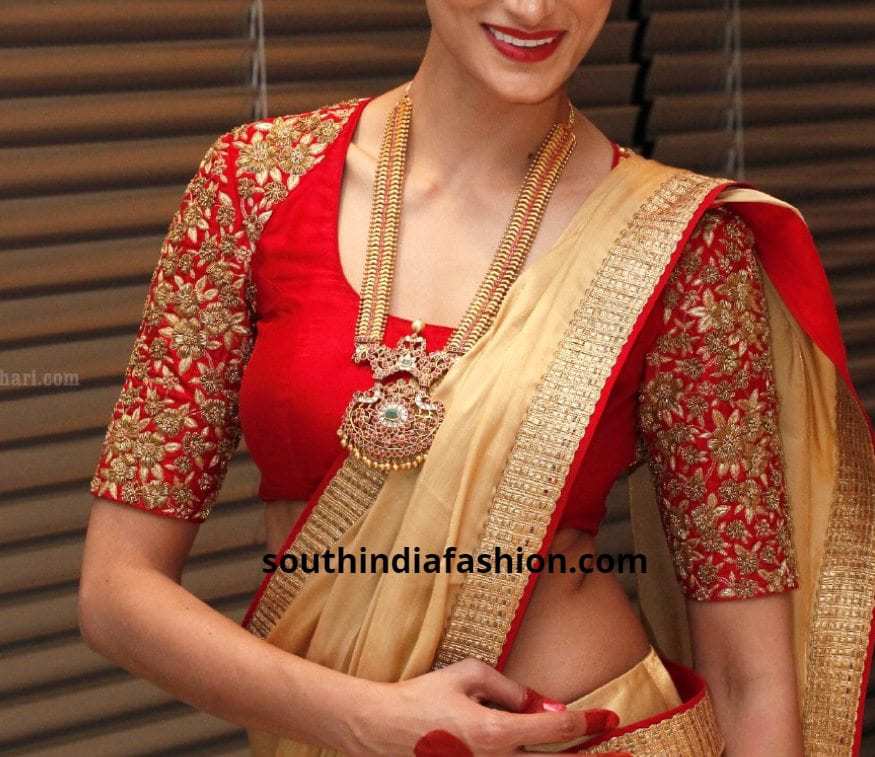 This blouse with its USP being the neck design and the way the stone work is done, is unique in its own way.10. A beautiful blouse that balances the border and has interesting work in it, especially the arm band style of embroidery looks so bridal.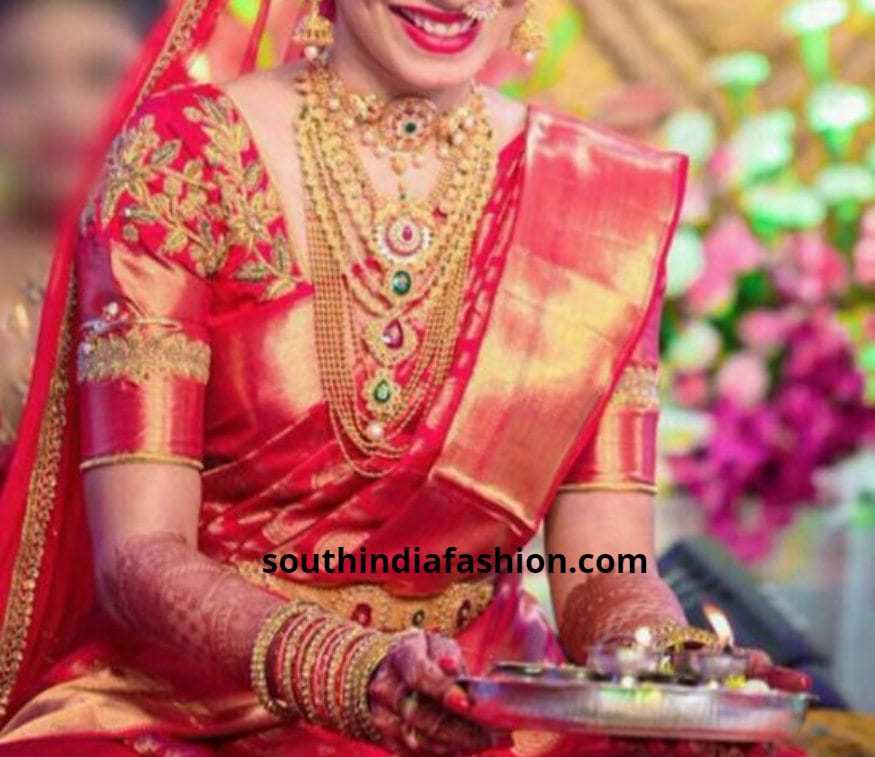 Now let us go towards short sleeve blouses. This cute vintage style puff sleeve blouse is bridal blouse goals. Neat and complementing the same color saree.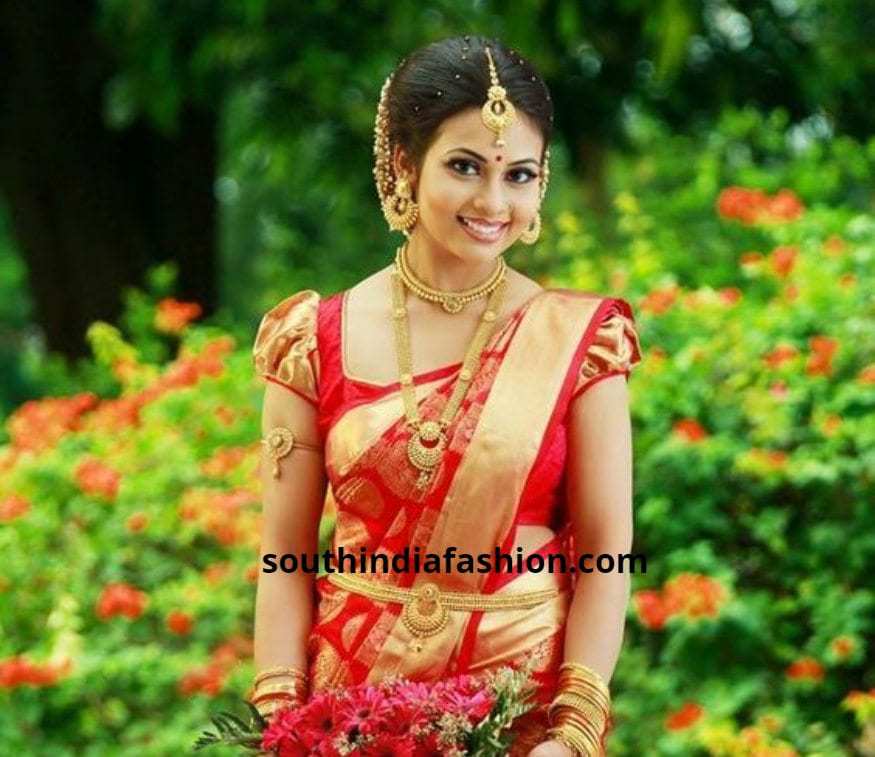 12. This is another short sleeve blouse that has delicate embroidery with stones and is a go to choice for the trendy brides of 2018.
     13. How about a red bridal blouse in brocade. It is timeless and classy. This blouse pairs so beautifully with off white or a gold color bridal saree.
This blouse is another great choice for a contrast saree. Heavy with the mesh style work along with the border addition works and blends beautifully with the pattu saree.
A popular style that has always been around is replicating the motifs of the saree all over the blouse. This heavy blouse is bridal, traditional and a fail proof choice if you are confused.
These 15 red bridal blouse designs for pattu sarees are the trend setters of 2018. Brides, hope you have chosen your style of the red bridal blouse.