Plain sarees are always the charm. In this chilly weather a thicker fabric than your chiffons like crepe or satin or something similar in plain jewel tones makes one look beautiful. Choosing a blouse for a plain saree can sometimes be quite the task. Here are 10 gorgeous designer blouse ideas to perk up your plain saree styling.
1. Instead of the same color blouse with heavy work, this deep purple designer blouse paired with an orange plain saree makes the entire look more attractive. Right from the collar neck to the short sleeves everything is perfect about this blouse.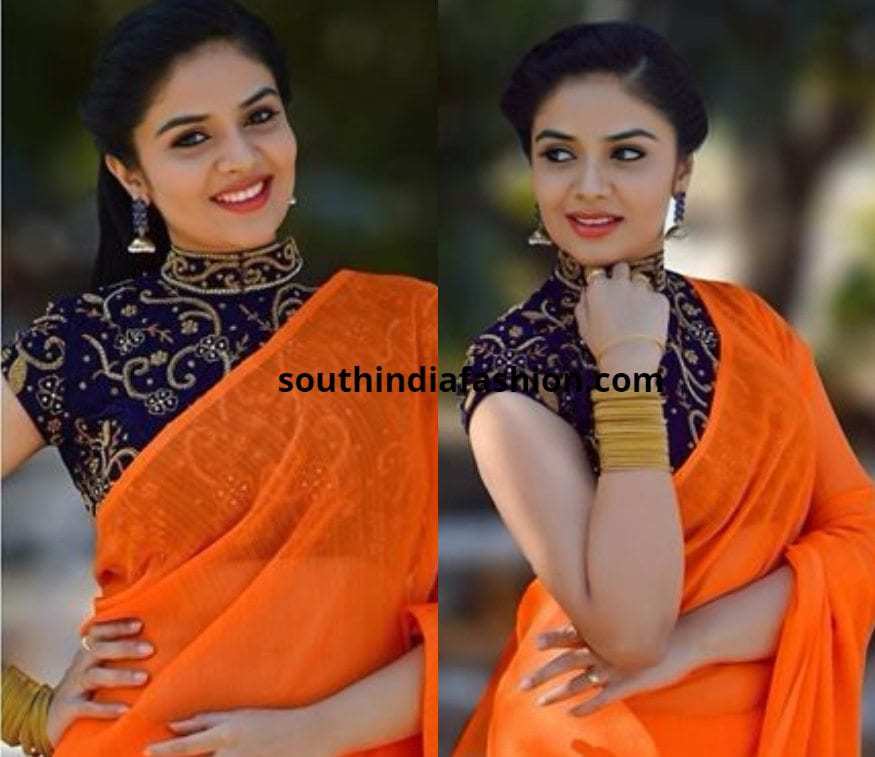 This plain saree is teamed with a simple designer blouse. A little bit of sheer and interesting detailing on the sleeves is just perfect for the bridesmaid team.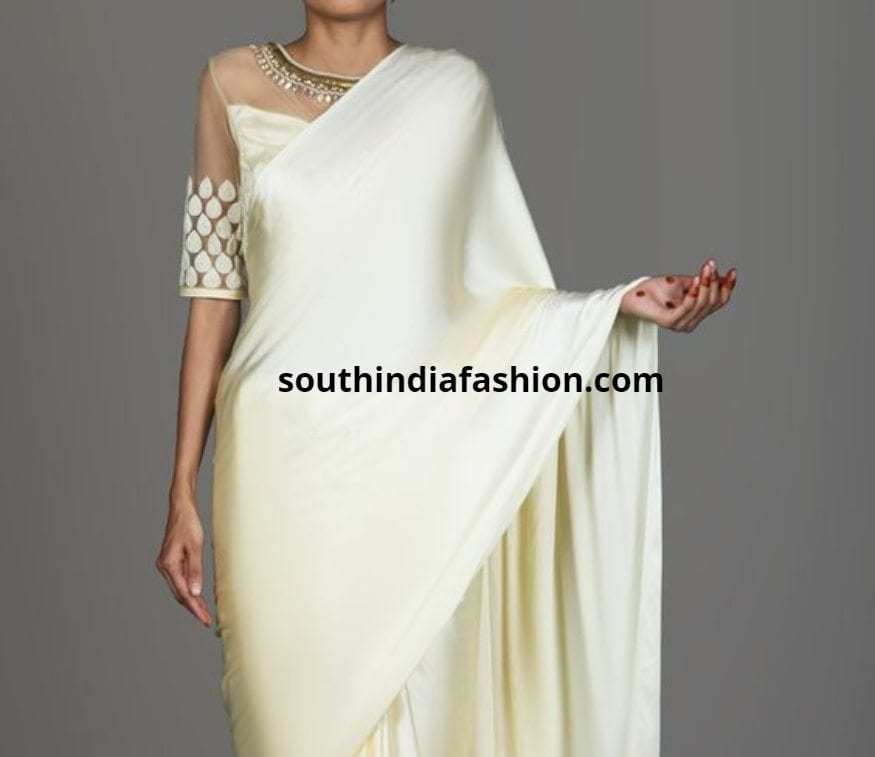 Fringed sarees are a latest obsession. How to make a plain fringed saree look amazing and not just funky? Pair it with a rich contrast designer blouse. The ruffled collar takes you back to the Elizabethan times and gives that mystical aura.
4. Grey is another trending color this season. See how diva Sridevi carries off that simple saree with a stunning designer blouse. Though it is the same color as that of the saree the detailing makes it elegant.
Another take on grey this lacey designer blouse with its sequins gives the plain saree a whole new look. When you check out the previous picture, though both sarees are almost the same shade the uniqueness of both the blouses makes it look so new and fresh.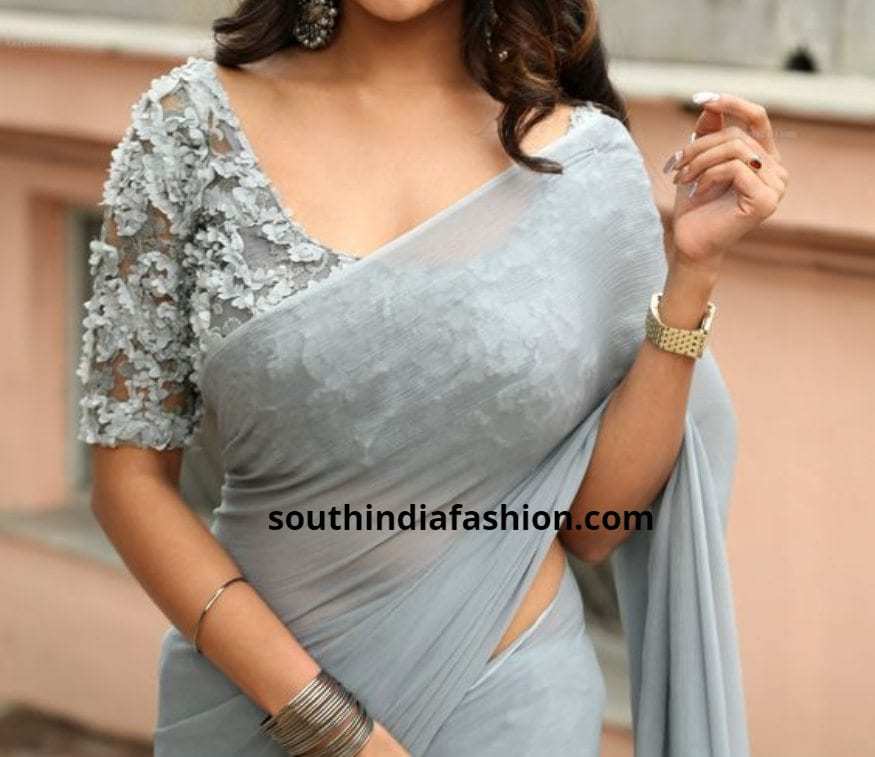 Look at this interesting contrast choice for a beige tone plain saree. Orange with loads of bling sets the mood right for an otherwise very simple and easy to miss saree look.
A heavy sequin designer blouse is always in vogue. Tammanah shows us how to get this simple look right in a girly pink plain saree and designer blouse.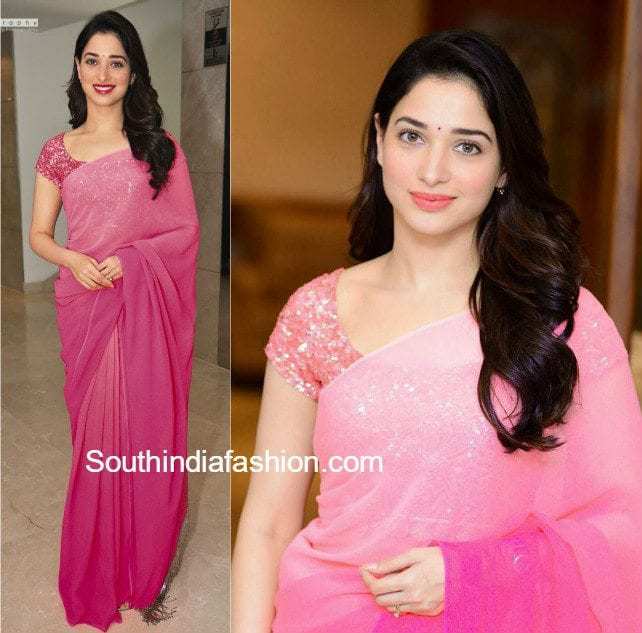 Mauve is a color that is so pleasing. Especially when you wear it as a plain option. Try this lacey designer blouse with pleated ends to make it look very neat and classy.
Who cannot love cartoon prints? Funky prints are in vogue especially when you try a fusion drape with your saree. Check out how Sreemukhi paired her plain yellow saree with a Mickey Mouse printed blouse.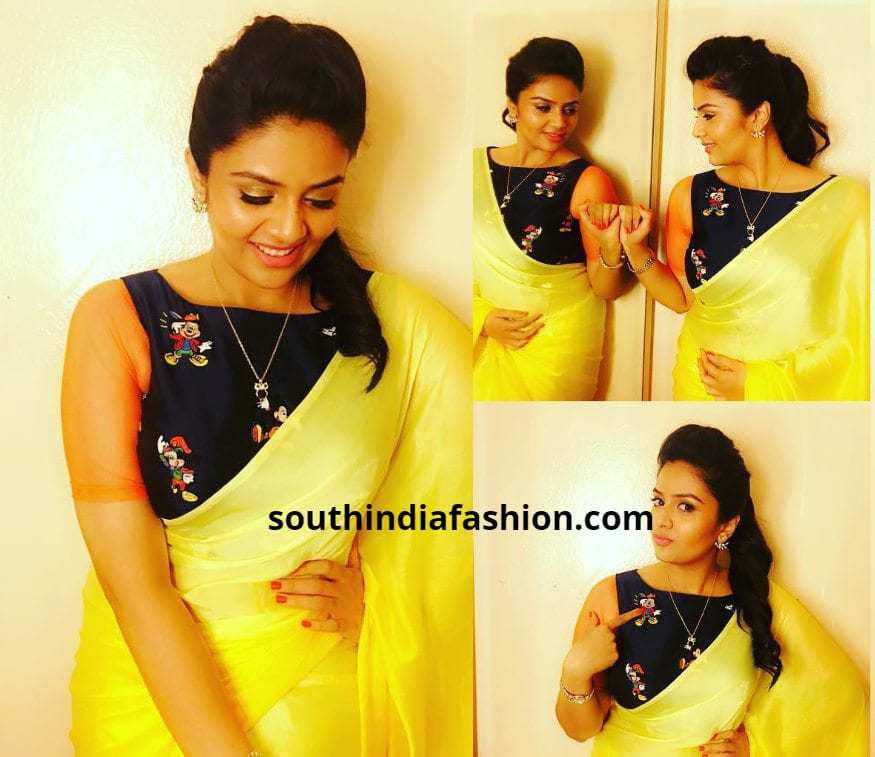 Lady superstar Nayanthara rocked this plain black saree with matching high neck designer blouse. This gives us more reasons to pick up plain sarees and never call them simple. The heavy blouse looks wow and is another fusion drape perfect partner!!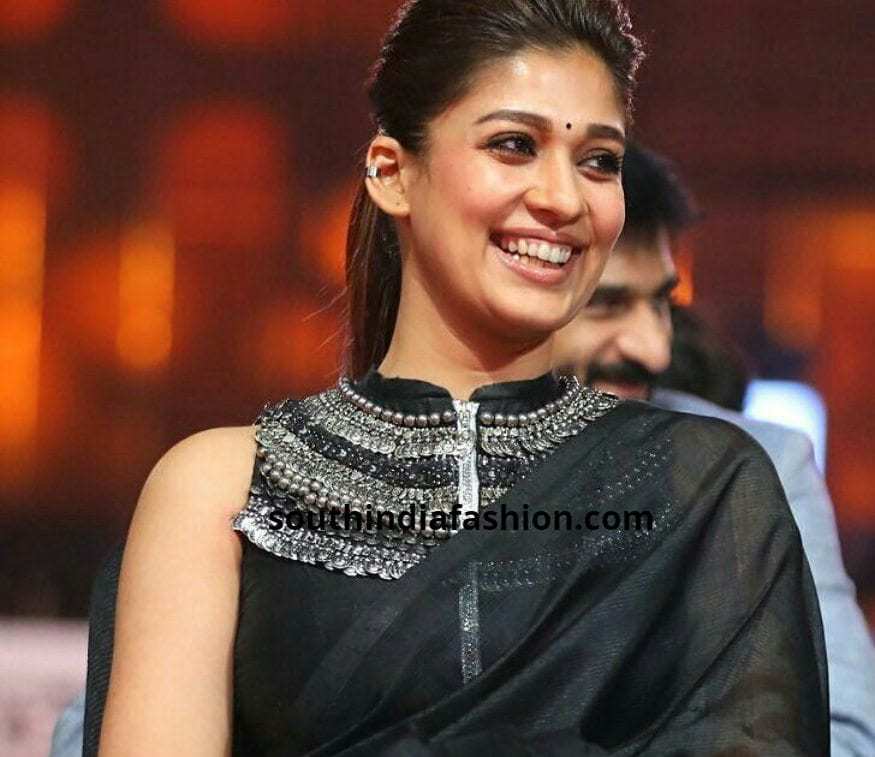 These 10 designer blouse ideas are perfect pairings for plain sarees and is the next big thing this saree season!!