Pattu saree blouses are discussed all the time. With the wedding season in full flow now, you need interesting patterns all the more. In fact even if you are going to wear something that you already wore, a new blouse with a great neck design will give you brownie points. Here are 10 lovely back neck designs for your pattu saree blouses.
1. How to make an impression with a great back neck? Have a clean design and heavy work. Stone and pearl work complements the saree and makes your blouse very grand.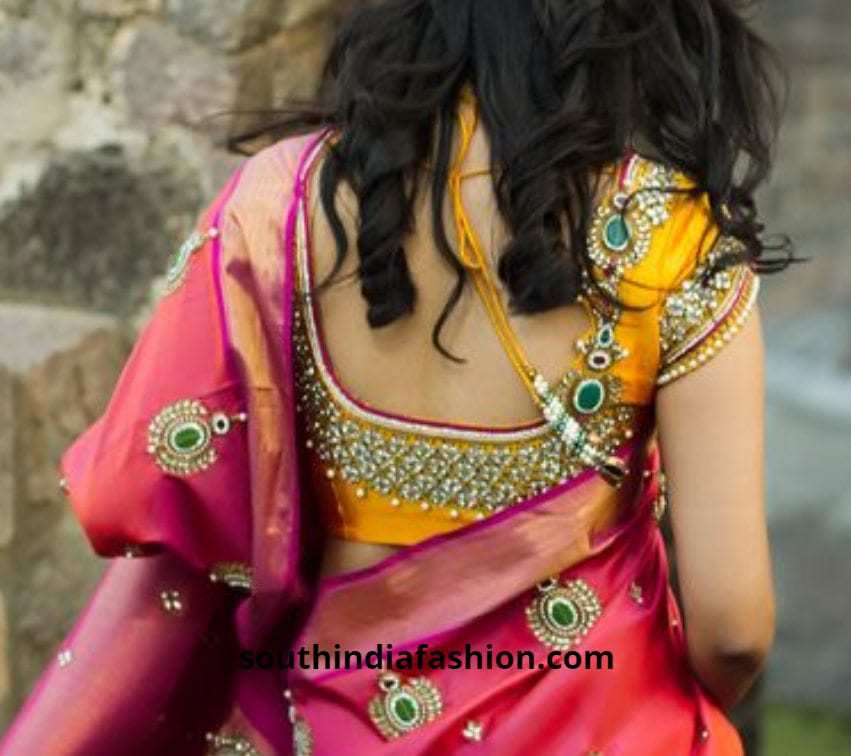 2. A single heavy jhumka embroidery looks so exquisite on this blouse and makes it look royal to be matched with a pattu saree. It is a perfect bridal blouse if you add sleeves to go for a traditional look.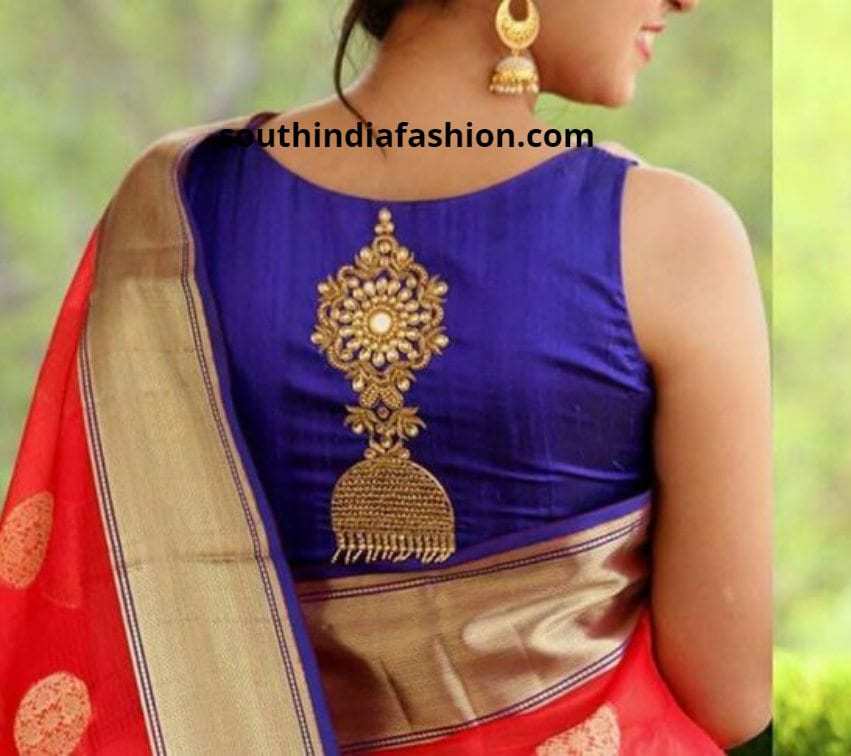 3. Next let us go for this simple blouse with clean cuts, that would work perfectly with simple pattu sarees. The only glam addition is the temple jewellery piece that grabs all attention. You can add more glory by adding more temple jewelry bootis across the entire neckline.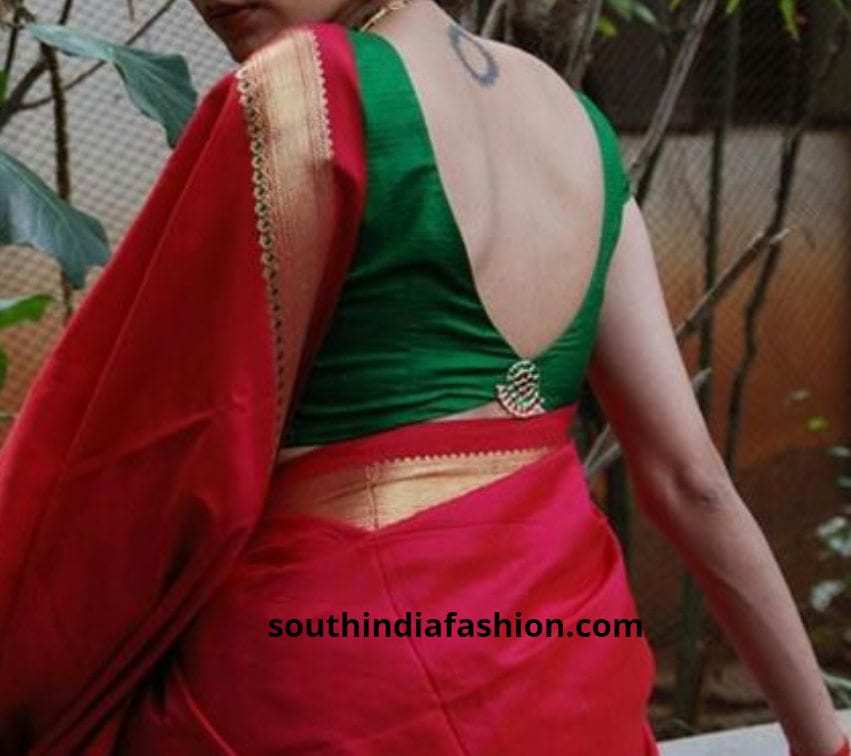 4. This one is a bridal saree blouse. Heavy embroidery with the coin artwork is beautiful and to add more beauty, the heavy borders will surely complement the pattu saree. Try this with saree color or contrast color blouse fabrics for a stunning effect.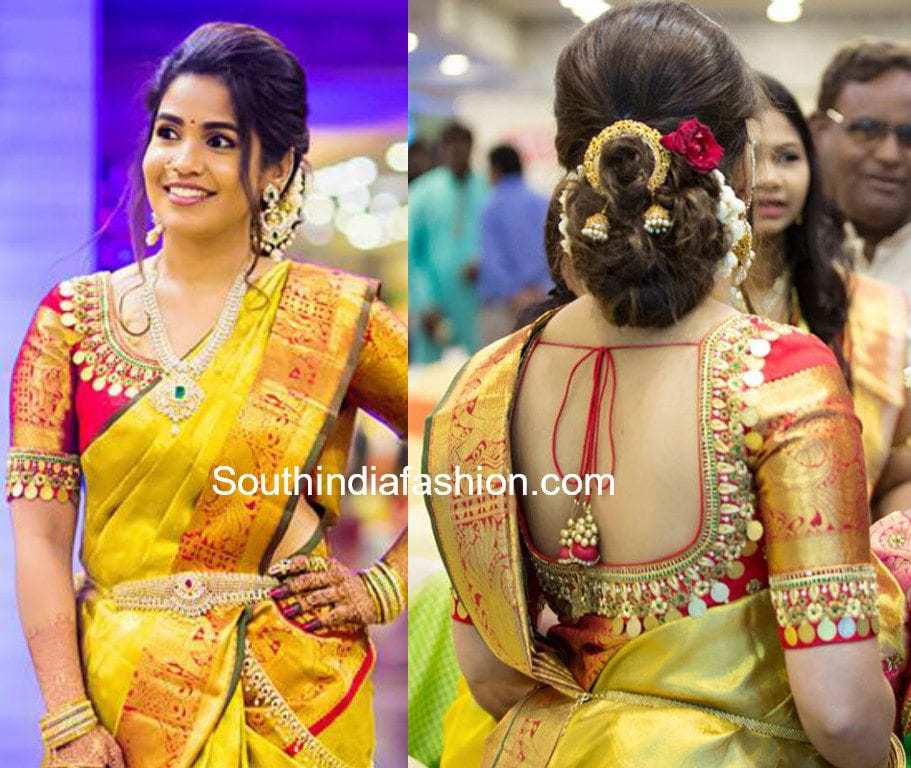 5. For all you high neck blouse lovers, it is not needed that your back neck should be high too.  Short puff sleeves with a fun back neck makes this blouse look funky and yet traditional.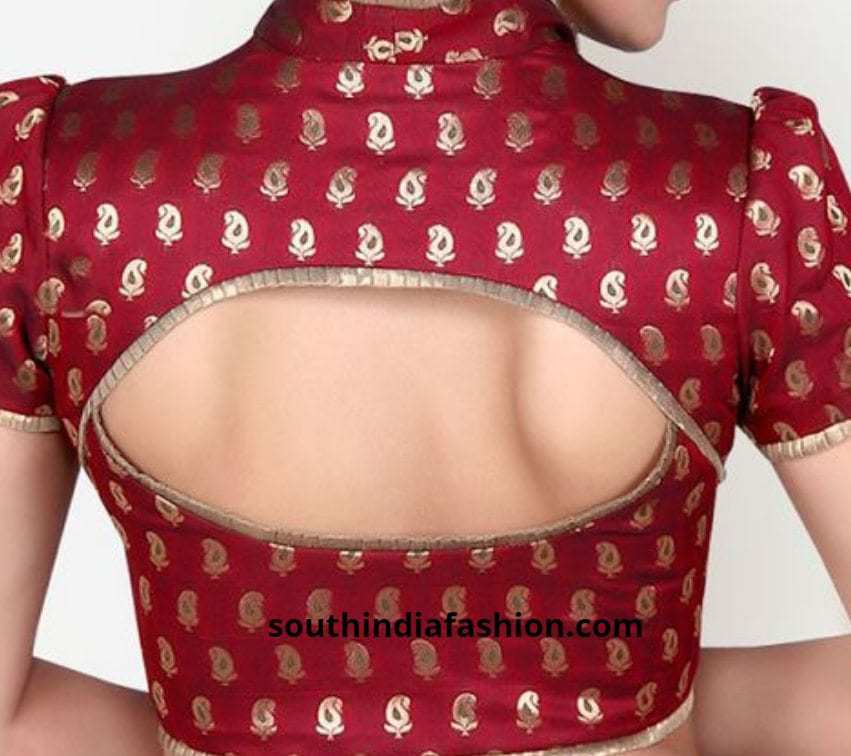 6. A heavy stone work blouse with tassels to complement would be a perfect wedding blouse. Though the back neck design is simple, the work and the tassels make it quite special.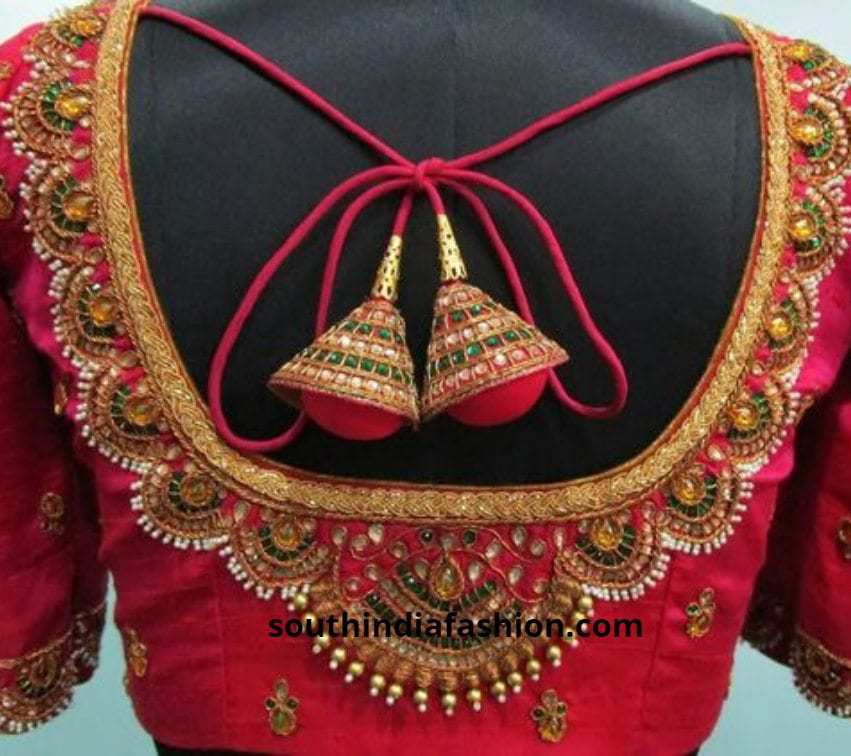 7. We are sure cut work and sheer back blouse with work is a popular back neck option. Try this intricate pattern which is a hit as a bridal Kanjeevaram saree blouse. Though the back neck is high the advantage is the intricate work that has been done.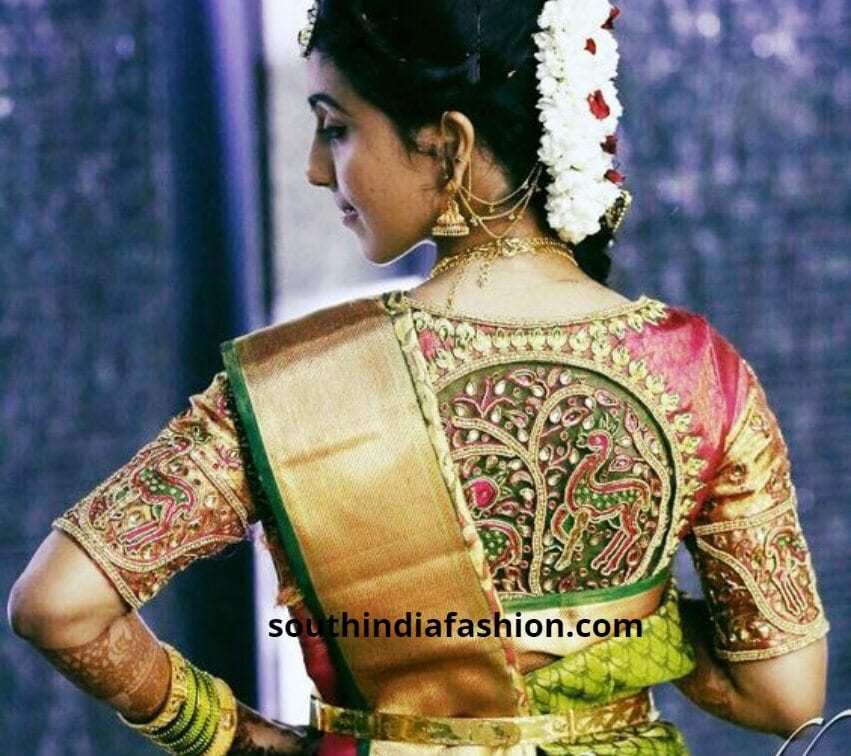 8. This is a clear winner from the set of beautiful back neck designs, The deep neck is compensated for by making the blouse an inch longer to give an illusion of a deeper neck and complemented with elbow length sleeves.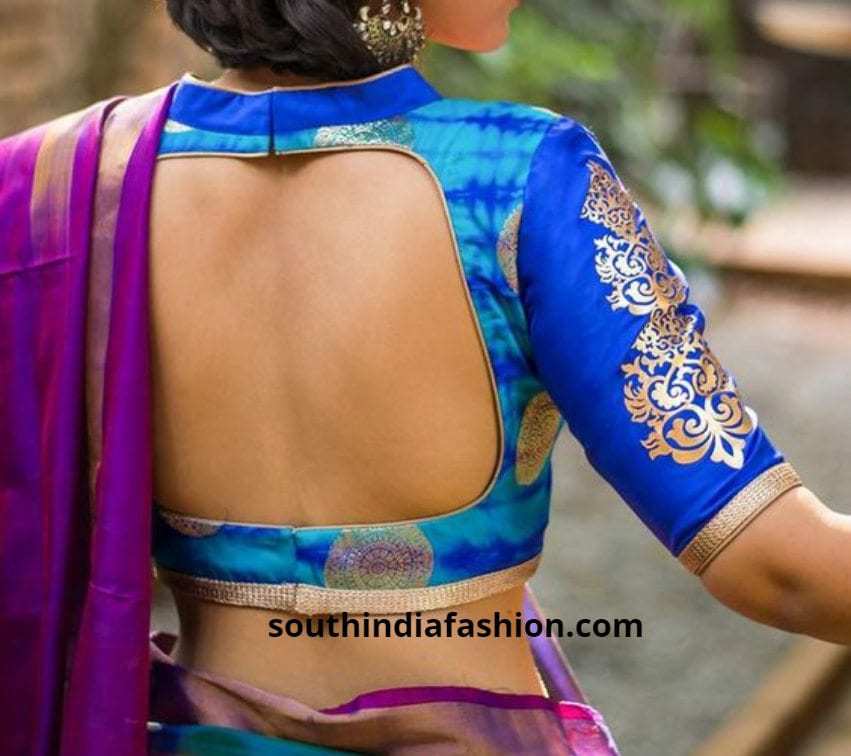 9. For those of you who have a dual tone saree and want to incorporate both colors in your blouse, this back neck design will be perfect in showing off both the colors, with a subtle tone of the gold base. You can also add some fun tassels to the same.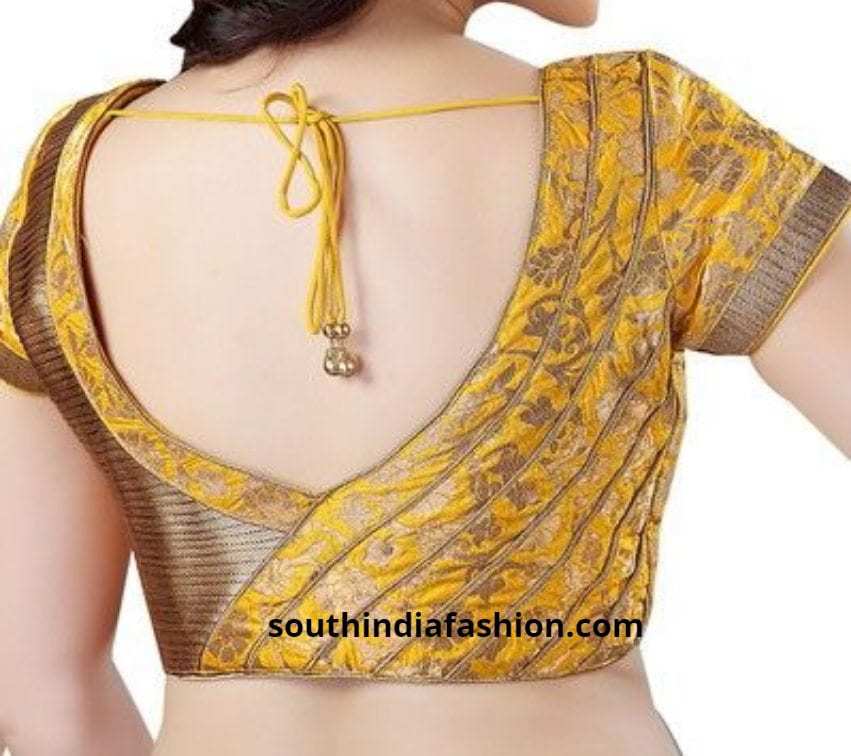 10. High back neck lovers, this one is for you. The wedding embroidery with the high neck and the work, and the use of both the saree colors is awesome. They have concentrated on adding heavy work to the side of the blouse that would be exposed.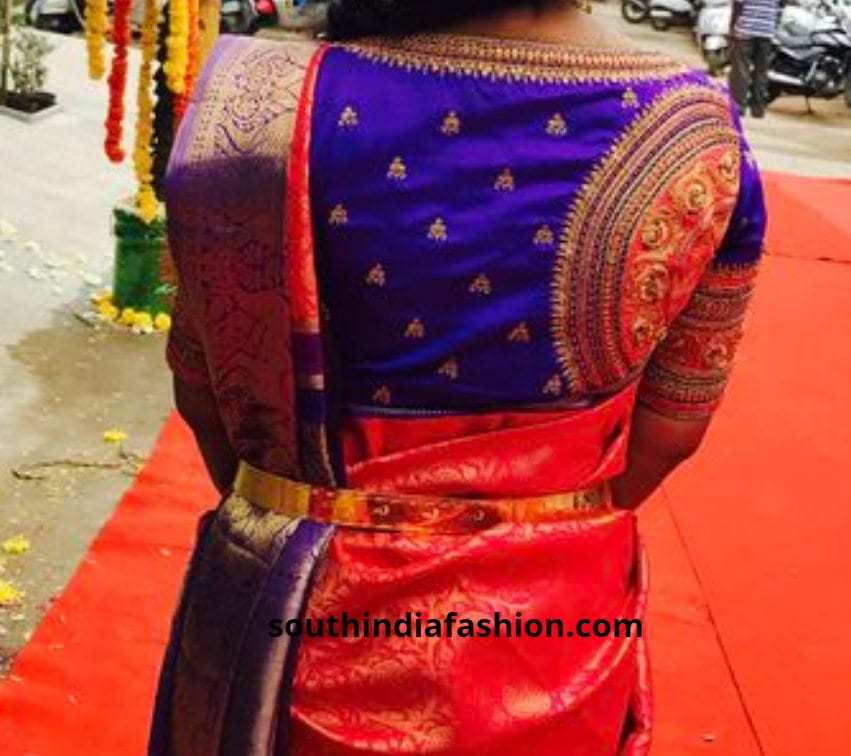 Hope these 10 back neck designs are captivating enough for you to choose it for your next pattu saree blouse!!