Blouse designs are always so much to do. When it comes to bridal blouse designs it is more than a handful. The right embroidery, the right fabric, the correct kind of neck and sleeve designs that would work perfectly is suggested by almost everyone. When thinking of bridal blouse designs, the first thing is if the bride would be able to carry it off. Another thing is would it suit the occasion. Like someone will want the bride to wear a stone studded armor kind of blouse for a simple pre wedding ceremony.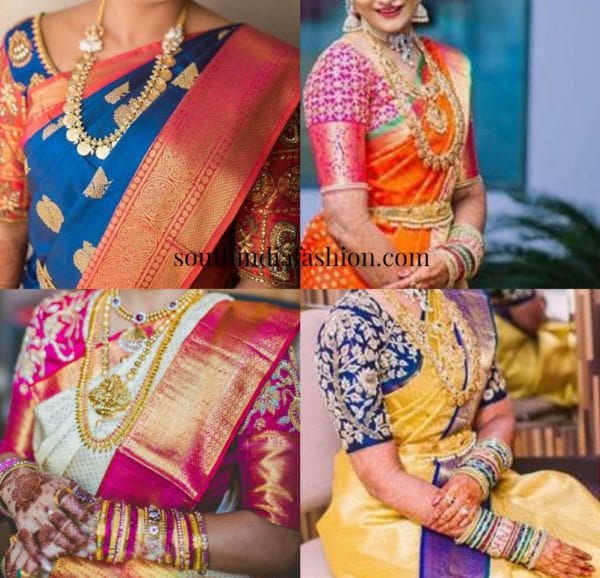 For every occasion a special blouse can be designed that depicts not just the contrast or the basics that is followed in bridal blouse legacy. We can do a lot more like incorporating favorites and the wedding theme on the blouse embroidery. You can also choose to depict the saree motifs in your blouse with the help of maggam or stone work, thus enhancing the motifs.
Yet another fancy but a sure winning trend is the temple jewelry kind of embroidery done on your blouses by using pearls and colored stones and anything that would make your blouse look royal, which is exactly how you want to look on your wedding day. These work beautifully on any color fabric, but gives its best on jewel or typical bridal colors. Opt for plainer fabrics than already heavy ones so as to show off that beautiful work.

If you are someone who does not prefer elbow length sleeves try out these fancy cut work sleeves blouses that you can replicate on your back too. If you are not that keen on keeping the lacy cutwork on your back, you can add a sheer lining in a contrast color below thus creating a fancy pattern by itself. Elbow length sleeves can always have heavy work done on the full length of sleeves and make even a sober saree look very grand.
When choosing bridal blouse designs go for a mix of options, i.e. make sure each of your blouses follow an entire new pattern and let it range from a relatively plain one to a heavy embellished blouse. Hope these bridal blouse designs have helped you in choosing your favorites!!