Blouse patterns can never be too many. Here are some interesting blouse patterns that are very unique and you will surely get so many compliments for them.
1. Ruffles Blouse
Ruffles is totally in right now, we are sure you would have seen how beautiful Samantha looked for Iifa 2017 in that gorgeous green ruffled concoction.
So here are two really interesting ruffled blouse patterns that you can try with your sarees. More suited for evening wear a must have for the fashion forward.
2. Embellished Blouses
Embellished blouses we have seen a lot, but check these interesting blouse patterns. The first one has a unique neck pattern along with the fancy embellishments put all over. It does not look too over the top and yet perfectly bridal.  They have also continued this on the arm band so as to make it very realistic.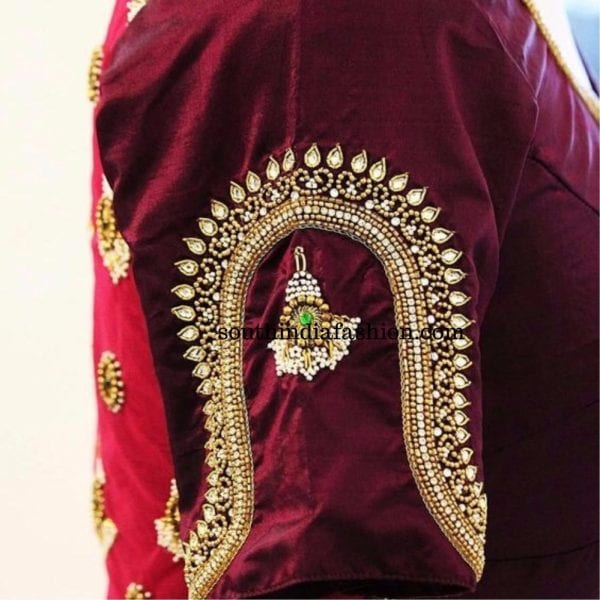 This one is a really heavy blouse and is again perfect for bridal blouses. The amount of the gold embellishments used can be replaced by stones to create a similar effect if need be.
The third embellished blouse has chains on the shoulders and it looks so unique. Not just the embellishments but the embroidery done is also equally unique. If you are a bride to be you must try this out.
3. Unique Embroidery
When we want a heavy blouse we tend towards heavy embroidery. This interesting blouse has a pattern of an antique fan and it will get everyone's attention for all the right reasons. Team this kind of blouse with a beautiful Kanjeevaram saree.
This beautiful bird cage sleeve catches ones eye like none another. Perfect for those who love some different embroidery done and totally trending right now.
4. Mirror Blouses
Ok. You must be thinking what is new in mirror work blouses. Well the valkannadi (or rightly translated as a mirror with a tail) blouses are a rage right now. It has one mirror and work done all over it so as to resemble those antique mirrors used by royalty. Looks utterly new and different!!
So ladies here are some very interesting blouse patterns for you to experiment!! Do try and let us know how it is!!