The Banarasi trend is a huge rage this season and is definitely here to stay. The major comeback of Banarasi silks can be spotted almost everywhere from fashion week runways to weddings and festivities. Women love to flaunt the rich fabric in various other styles but no outfit can element the beauty of the fabric as much as the saree. A Banarasi saree is a treasure in every woman's wardrobe and what better way to enhance the beauty of the saree than with a stunning blouse?! So, here we bring you 8 trending blouse patterns for your evergreen banarasi sarees.

1. Banarasi Saree with Full Sleeves Embroidered Blouse
A banarasi saree with a full sleeves embroidered blouse is for those of you who want to make a bold statement with the blouse sleeves rather than going for a bold back neck design. This style is best suitable if you want to attain a slimmer look.
2. Embroidered Elbow Length Sleeves Blouse
This is the most favorite design of almost every bride lately. Embroidered elbow sleeves on blouses is suitable for every age group and especially when its teamed up with a banarasi saree it will set you rock at any occasion. Well, it's our personal favorite too!
3. Simple Brocade Blouse
A simple brocade blouse is extremely versatile and a definite wardrobe must have. Pairing it up with a banarasi saree will only enhance the beauty of the 2 fabrics making it a royal ensemble.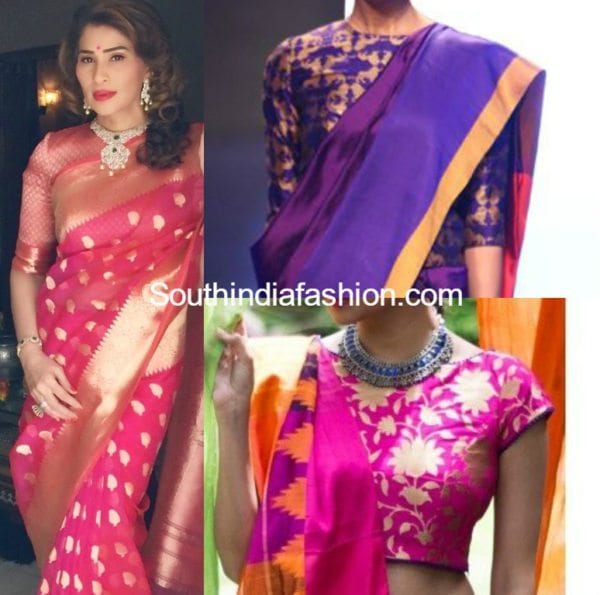 4. Elbow Length Net Sleeves Embroidered Blouse
If you want to add a modern twist to your traditional banarasi saree then an elbow length net sleeves embroidered blouse is the way to go. It adds the right amount of feminine touch to your ethnic ensemble.
5. Banarasi Saree with Plain Collar Neck Blouse
Banarasi saree with a plain collar neck blouse is for those of you who want to attain a sophisticated yet stylish look. Wear it at work or to any of those semi formal events for a lasting impression.
6. Banarasi Saree with High Neck Sleeveless Blouse
A high neck sleeveless blouse elements ultimate sophistication. Teaming it up with a banarasi blouse will make one look effortlessly stylish.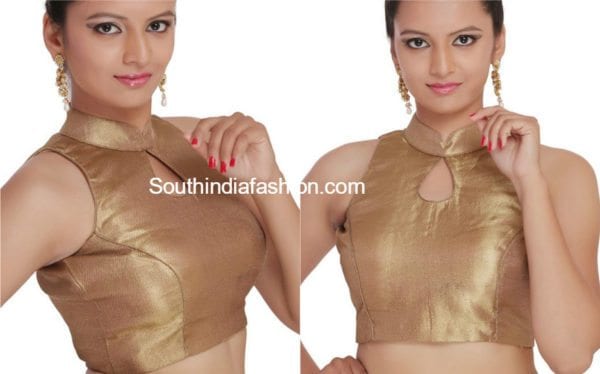 7. Banarasi Silk Saree with Plain Elbow Length Sleeves Blouse
A banarasi silk saree with any plain elbow length sleeves blouse makes a subtle yet striking statement. If you do not want a jazzy look with heavy embroidery on your blouse then a plain elbow sleeve length blouse will set you rock.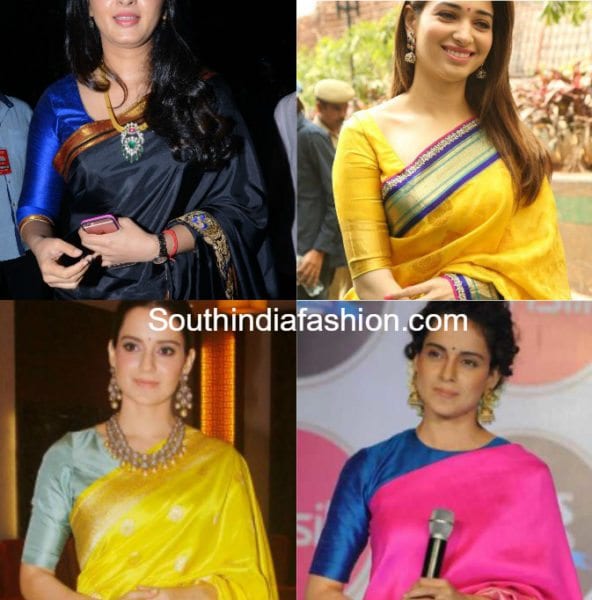 8. Simple Sleeveless Blouse
We all have our favorite sleeveless blouse. Any simple sleeveless blouse with the right contrast to the banarasi saree will make you look effortlessly elegant.

What's your favorite pick? Share your thoughts in the comment box below.