Like we always say, blouse patterns can never be too many. At times, especially when we are looking for something unique for a special occasion the confusion mounts up all the more and we are finally left with the same old pattern. When a special occasion arises, please do not think anything beyond cutwork blouses.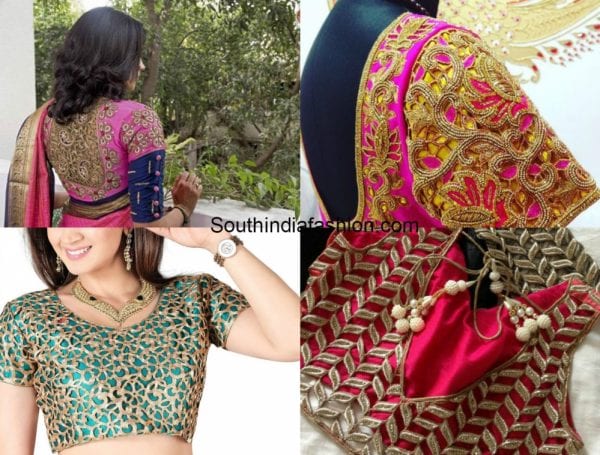 What is cutwork? Well, as the name suggests cutwork involves working on fabric and making cuts in a particular pattern and doing thread work all around it so that the ends does not get frayed. In fact this art can be traced back to 14th century in Italy where this was done by hand.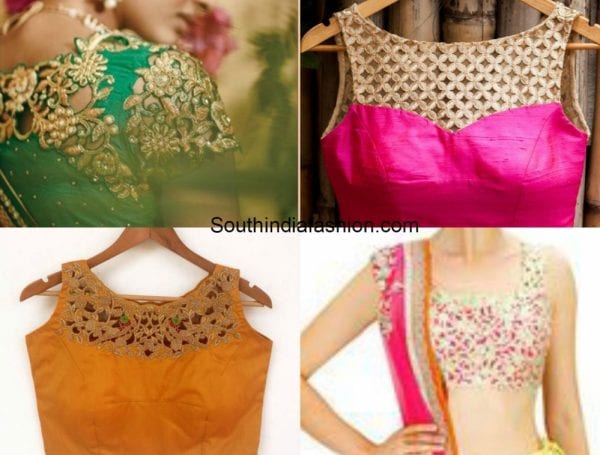 Nowadays keeping in tone with the trend cutwork has taken a whole new avatar. Gone are the days when it is done at just the hems of dresses. Instead this is being done on sarees and blouses to suit the Indian taste.
There is fancy gold embroidery along with equally fancy cutwork in different shapes that captures sometimes the style of your Kanjeevaram saree border. Apart from this heavy maggam work is done all over the blouse to make it look appealing. This is a must have for all you brides to be.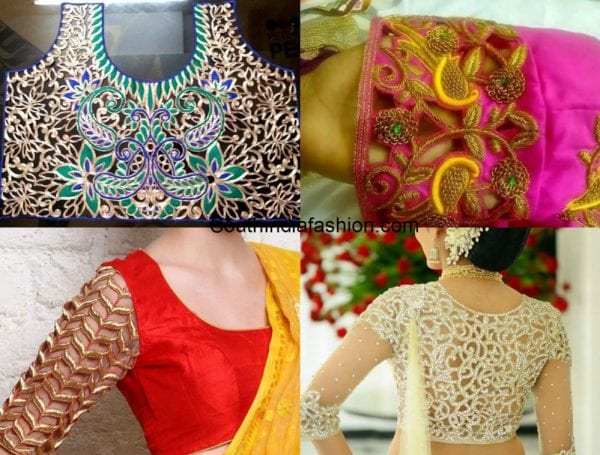 Apart from heavy maggam work stone work is done over the threads of the cutwork borders. This is so much in trend right now. Women prefer to opt for these cutwork being done wither in their sleeves or the back neck making that a pattern of their back neck design.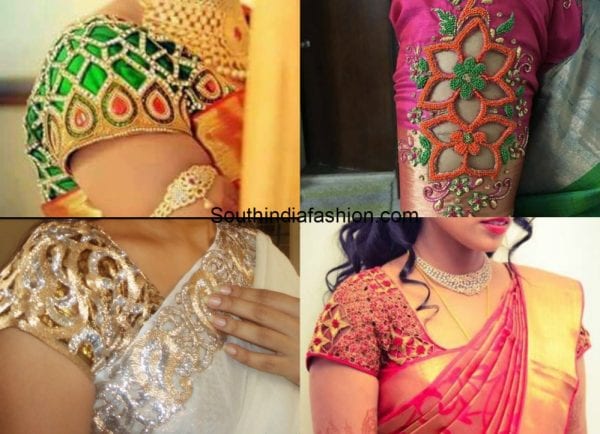 If you are opting for a boat neck blouse you can go for cutwork for at least 2 inches in the front neck area. It adds so much oomph to a plain boat neck blouse. Motifs like birds and animals are also done in between, creating perfect sync between the cutwork and the embroidery.
You can also go for single color cutwork fabric blouse where the entire fabric which is mostly metallic shades having cutwork all over. You add a lining- either same or contrast depending on your choice and get the blouse done.
There are also cutwork sarees available where the cutwork is concentrated on mostly in the borders and in the pallu.
Hope these cutwork options makes you choose this pattern for your next blouse.