Blouses can make or break the look of your beautiful saree. When you have a blouse of a great fit then rest assured you are going to rock the event that day. When you are getting a blouse stitched there are various ways in which you can design the back of the blouse each adding glam in its own way. Here are some fail proof blouse back neck designs that you can opt with all kinds of sarees.
1. Buttoned Back 
For all you high neck fans adding some pretty bobs and buttons be it big or small pearl buttons makes your blouse quite fancy. It looks great even if you want to try a racer back or a closed neck or even a sheer back. Try adding cloth buttons or take fabric from saree to make those matching buttons!
2. Sheer back with embroidery
When you have a sheer back option you can jazz it up with embroidery or patch work. You can copy out the border pattern on the back of the blouse too leaving the rest sheer for some muted glam. Also try adding small stones on the full blouse back to get the bling factor.
3. Cut out back neck
These have been in and out of trends for a very long time. Having cut outs and closing them with ties or buttons or just a cut out in the middle of the blouse looks really good. You can also add lace up style cutouts if you feel you can carry it off.
4. Heavy tassels
Adding heavy tassels to your blouse adds so much glam to it. Flaunting those small circular things that has now become pieces of animals and birds makes your blouse look rather enticing.
5. Full work and high neck
If you have a regular cut blouse make the back get all the focus with the heavy embroidery. Maggam work, zardosi work blouses work with traditional sarees. You can also do a fancy cut work embroidery if you plan to have a high neck. Plain high necks are relatively boring.
6. Jeweled back neck
Adding beads to your blouse gives your blouse a royal touch. A lot of bridal blouses have been given this look to add more bling. If you feel the beads are a tad too much for you, replace the stings of beads with a single heavy stone pin. It looks really dramatic.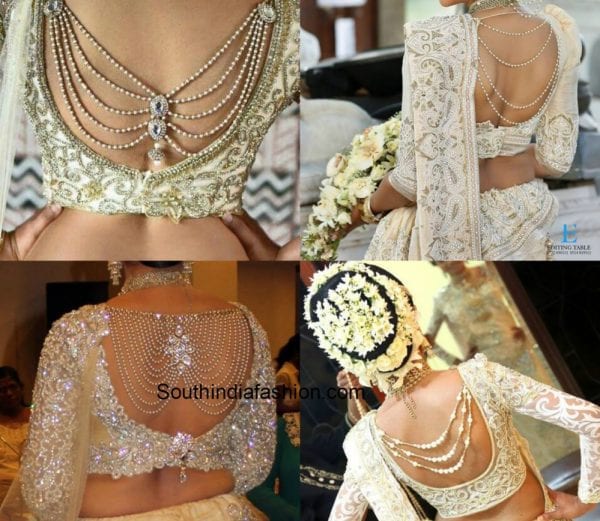 Ladies hope these blouse back designs makes you want to flaunt your back in style!