As grand and gorgeous Kanjeevaram Sarees always are, they can only get more beautiful when paired with nicely designed blouses. While it is the norm to wear a silk blouse or a brocade blouse or even a work blouse, we show you some unusual, offbeat and stylish blouse designs that you can try out with your Kanjeevarams.
Here are some trendy blouse designs for Kanjeevaram Sarees that will add that modern twist to your attire.
1.Net Blouse with Kanjeevaram Saree
Oh yes, a net blouse can actually be teamed up with a Kanjeevaram saree. And if you chose the right pattern and the right work to be done on it, it can actually look great..!
2. Sequins Blouse with Kanjeevaram Saree
Instead of the usual maggam work, try out sequins work on your Kanjeevaram saree blouse this time and it is sure to add a little bit of a bling and a little bit of a glitz to your saree.
3. Closed Neck Blouse with Kanjeevaram Silk Saree
Closed neck blouses can make your Kanjeevaram attire look regal and you – like royalty! They add a certain elan to the already elegant silks. A little bit of work done on it can rev up the beauty by much more.4. Collar Neck Blouse with Silk Saree
Collar blouses can make your Kanjeevarams look graceful. Try out a collar work blouse on your silk saree this time with a little bit of work done on the collar to add some sheen to it.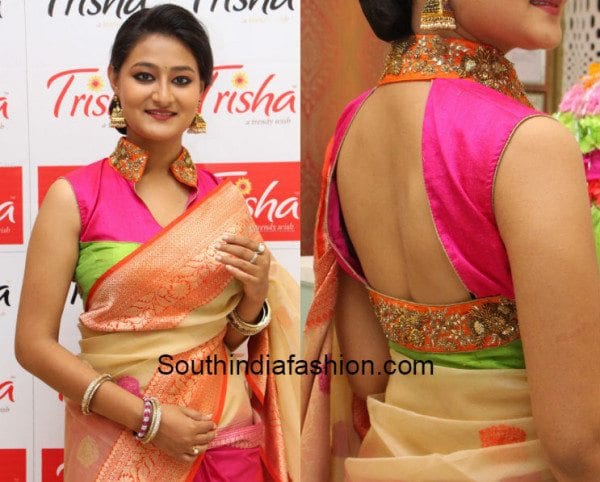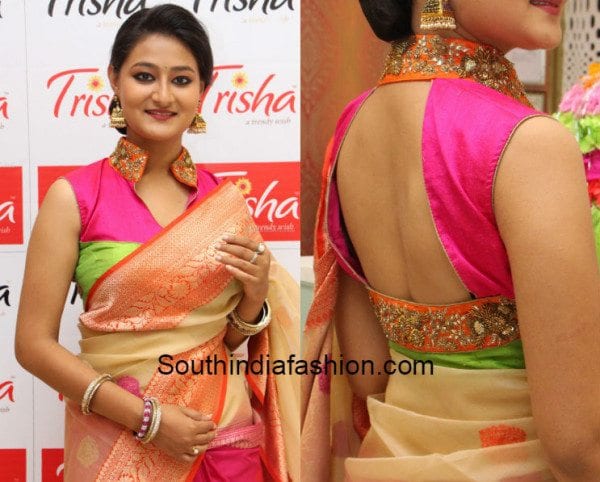 Brocade collared blouses with full sleeves can make your Kanjeevaram silk look its elegant best.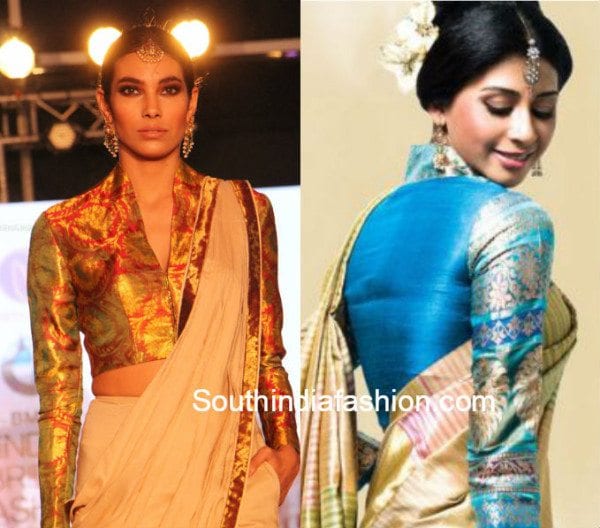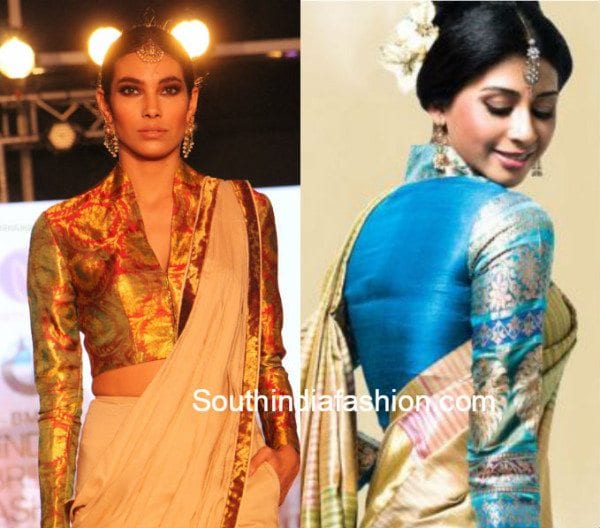 5. Boat Neck Blouse with Pattu Sarees
Boat neck blouse pattern, which has been all the rage lately. There is every reason why you should try it out with your kanjeevarams as well as they add a touch of modern-ness to the pattu saree. Adding some gold work at the neck can make the saree look blingy and grand as well.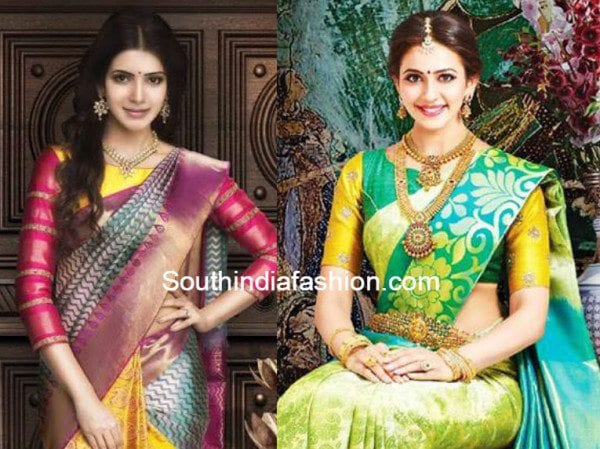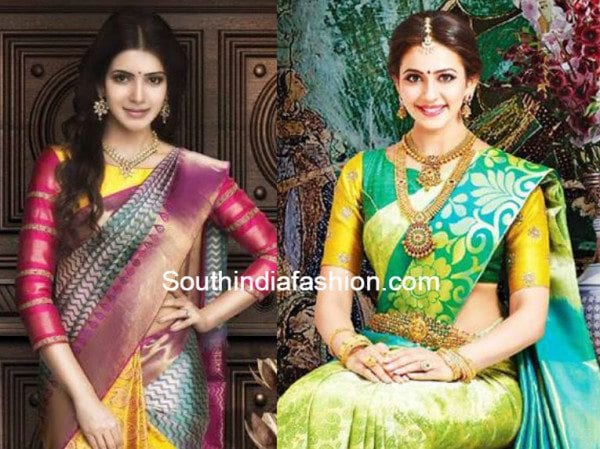 6. Sleeveless Blouse with Traditional Sarees
The best way to bring out all the grandeur and gorgeousness that your kanjeevaram has to emulate is to team it up with a sleeveless blouse. A brocade or a plain sleeveless blouse goes best with a Kanjeevaram.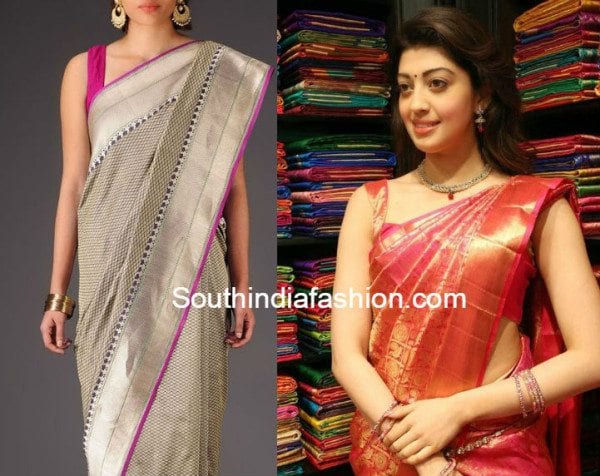 7. Floral Print Blouse with Silk Saree
Although it's not a combination that been much worn, you should try wearing your Kanjeevaram over a floral print blouse. It could add a very subtle chic-ness to the otherwise grand and royal saree.
8. V-Neck Blouse with Silk Saree
A V-neck blouse is one another simple yet ethnic combination to try out with your kanjeevaram saree. A printed or a worked-upon v-neck blouse looks best with a kanjeevaram.
9. Long Sleeves Blouse with Kanjeevaram Sarees
A long sleeved silk blouse teamed up with your kanjeevaram is a sure-shot way to bring in the old world charm to your saree while also adding a certain elegance to your look. Vidya Balan is one actress who's seen sporting this style a lot of times and with all the grace that she exudes, she sure inspires us to try the style out.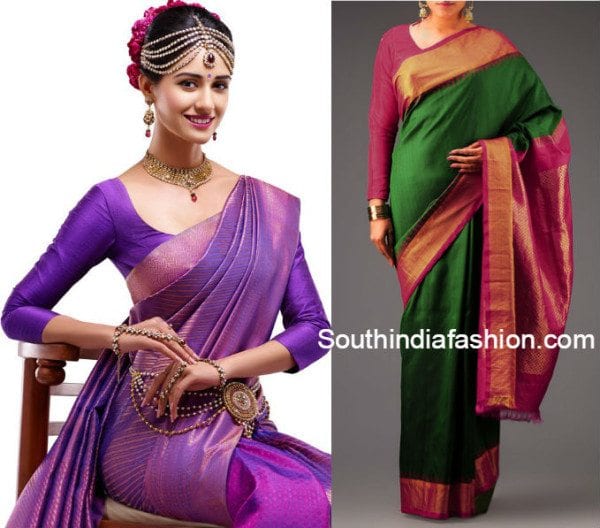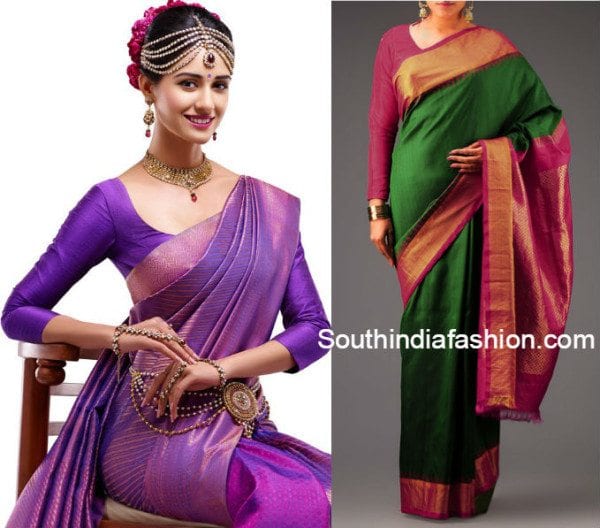 10. Jacket Style Blouse with Silk Saree
Jacketting up your saree blouse is all the rage these days and surely, a Kanjeevaram is what you should try it out with. Make sure that the jacket that you choose is adorned with beautiful work or woven into beautiful patterns.

So which one of these off-beat Kajeevaram blouse designs are you going to try out this festive season? When you do try, don't forget to share your pics with us…!
Tags: latest stylish blouse designs with silk sarees, blouse designs for kanjeevaram sarees, trendy blouse for silk sarees, fashionable blouse with silk sarees, pattu saree blouse patterns, back neck designs for silk sarees, new model blouse designs