There are a number of things Kerala is famous for and one of them is definitely their sarees. Kasavu sarees are always in demand and now more than ever all thanks to their elegance and grandeur. While the sarees are usually zari worked, blouse designs are where you can change your game totally. In fact, a lot of people have been experimenting with some latest blouse models for quite a long time now. As another Onam dawns on us, we are sure this blouse model catalogue is going to be quite helpful. Not only are their traditional blouses for sarees by some modern crop top blouses have also been made into our list.
So here are 16 set saree blouse designs that are just right for you. This is from the specially curated Onam collections by Mohini, the store.
Check out the latest designs below-
Sky blue halter neck blouse-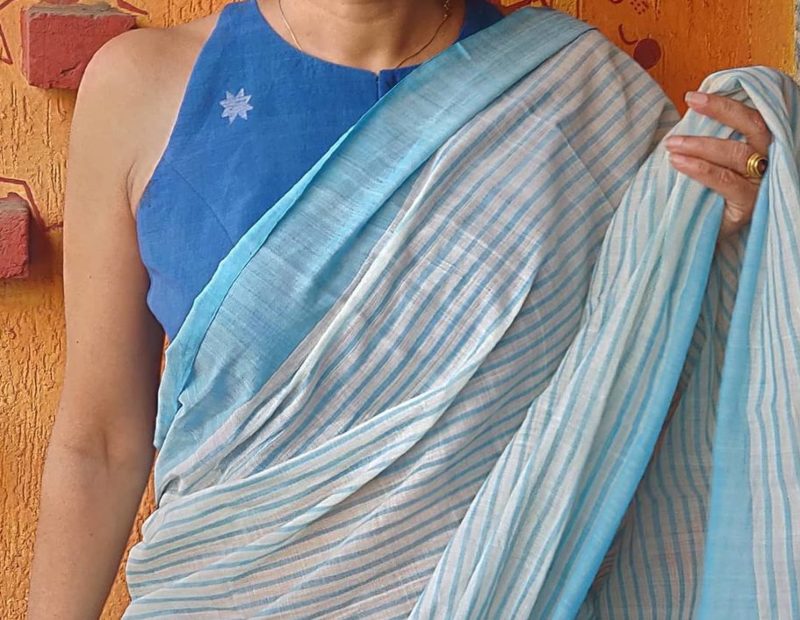 2. Navy blue 3/4 blouse design with paisley motifs-
3. Red blouse with 3/4 sleeves-
4. Multi-coloured check blouse-
5. Collared multi-colour blouse with short sleeves–
6. Gold striped silk blouse with peacock motifs-
7. Halterneck blouse with elephant patches-
8. Green striped blouse with zari-
9. Pink Mahabali embroidered blouse-
10. Buttoned detailed gold zari sleeves blouse-
11. Yellow deep neck 3/4 blouse-
12. White plain full sleeve blouse-
13. Close neck from open ivory plain blouse-
14. Ivory blouse with silver zari sleeves-
15. Strappy sleeved plain marron blouse-
16. Double coloured zari checkered blouse-
So we hope you liked these blouse options for set sarees. Apart from their style, the blouses are 100% handloom and so are vegan. In fact, the dyes used to make these  Kerala saree blouse designs are also natural and often from recycled clothes as well. As the festival is about celebrating ourselves, we hope these set saree blouses will sure swoon you over.
To buy these latest Kerala saree blouses online, visit   HERE!