Blouse designs offer a variety of patterns often unknown to either attires. Most importantly, it can be stitched in any way as well as customized fully according to your preferences. However, the quirk prints have never been able to replace the floral blouse design. While you might be thinking how useful this blouse model for saree is when the springs have ended. This is a myth since floral blouses for lehenga and sarees are for all seasons. The floral readymade blouse is readily available online but not without its shortcomings. So we have collected 19 blouses from Motif by Chandrayee who specializes in custom-made floral blouse pieces. These are very much in vogue and most of them are comfortable to wear.
Check out the blouse designs here-
White embroidered blouse with colourful flower embroidery-
2. Ivory blouse with pink embroidered florets-
3. Grey blouse with colourful florets-
4. Black blouse with red and orange floral motifs with ruffle sleeves- 
5. White blouse with embroidery ruby pink florets with organza sleeves-
6. Prussian blue blouse with colourful embroidery-                                                                                                                                                                                                                                     
7.Black blouse with yellow embroidery-
8. Ivory blouse with green vines-
9. Black blouse with pink thread work blouse-
10. Ivory blouse with red rose shrub-
11. White blouse with pink lotus embroidery–
12. Navy blue blouse with white daisies-
13. Green open-back blouse with yellow florets–
14. Black blouse with yellow floral motifs in red-
15. Yellow blouse with red thread embroidery–
16. Pastel pink blouse with hand-painted florals-
17. White blouse with sky blue flower pattern-
18. Thread-sleeved blouse with black and red embroidery–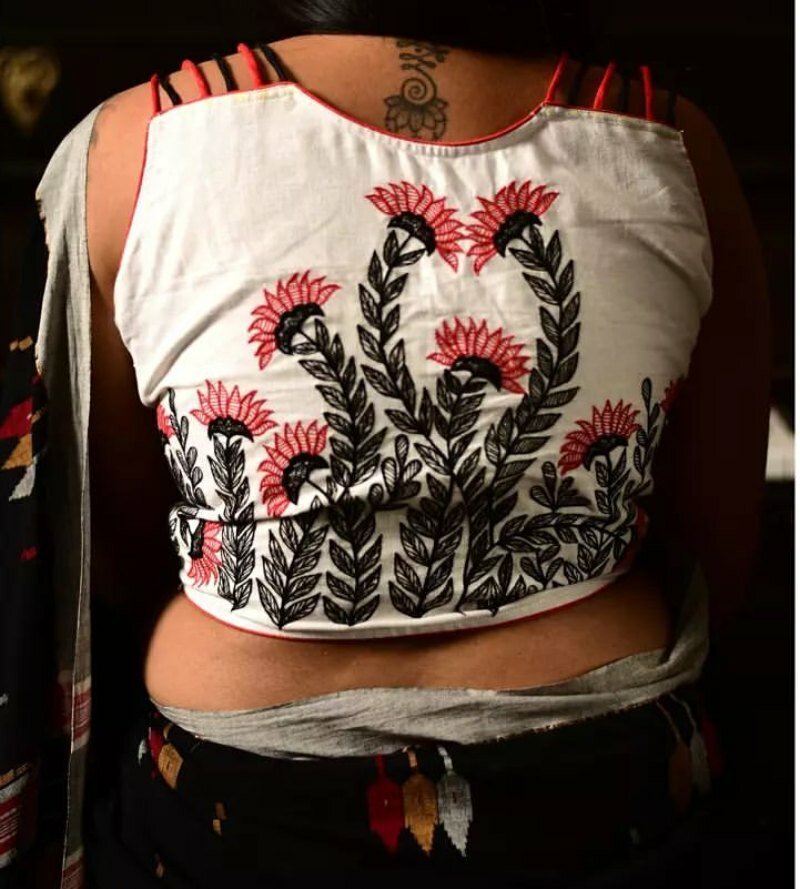 19. Orange blouse with matching flowers-
There is a dire need for a blouse design catalogue more than ever before because of the upcoming festive season. And we are quite sure that this collection of saree blouses for women is very much appealing as it should be.
To buy these blouses online and more, visit  Motif!