We often find ourselves searching for the latest blouse designs for the back but seldom do we get what we want. A part of the reason is the abundance of latest blouse designs that make it difficult to decide which to select and which to discard. Sometimes a particular blouse design doesn't suit a certain colour and it ends up looking tacky. However, we have got you covered. D'zaina Blouses is an online blouse boutique that specializes in back blouse designs and will customize any fabric according to your choice. Don't believe us?
Take a look at these 17 latest blouses of 2022 that are sure to steal your breath away-
1. Pink blouse-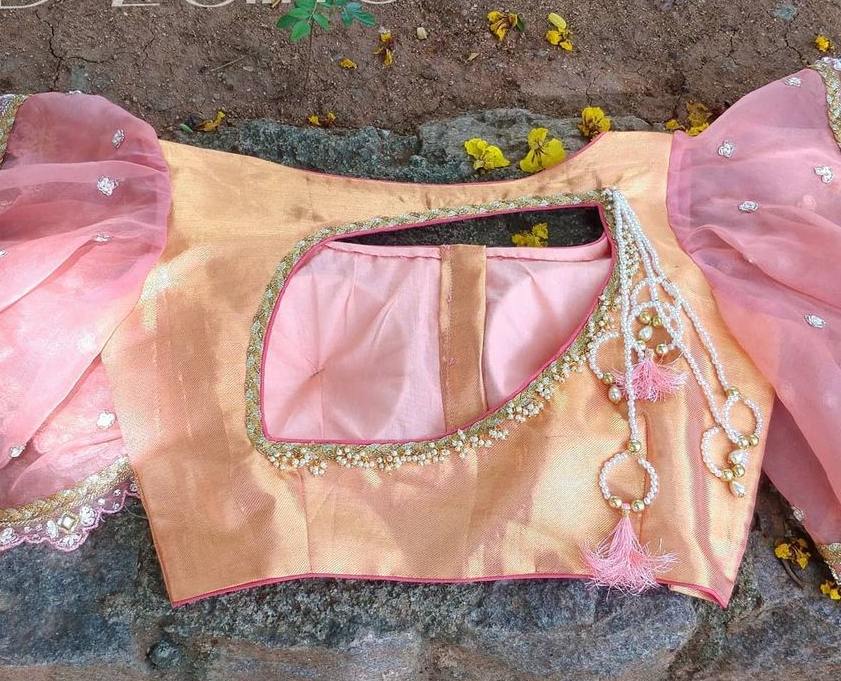 Decorated with pearls around its asymmetrical neckline, this one is a stunner.
2. Green blouse-
Showcasing cut-out rounds and floral jaals, this is one of the new blouse designs to hit the market.
3. Blue blouse-
With an ornamental necklace resembling tassels, this number is sure to give you some princess vibes.
4. Purple blouse–
The latticed embroidery on an illusion neckline as a modern blouse design never goes out of style.
5. Brown blouse-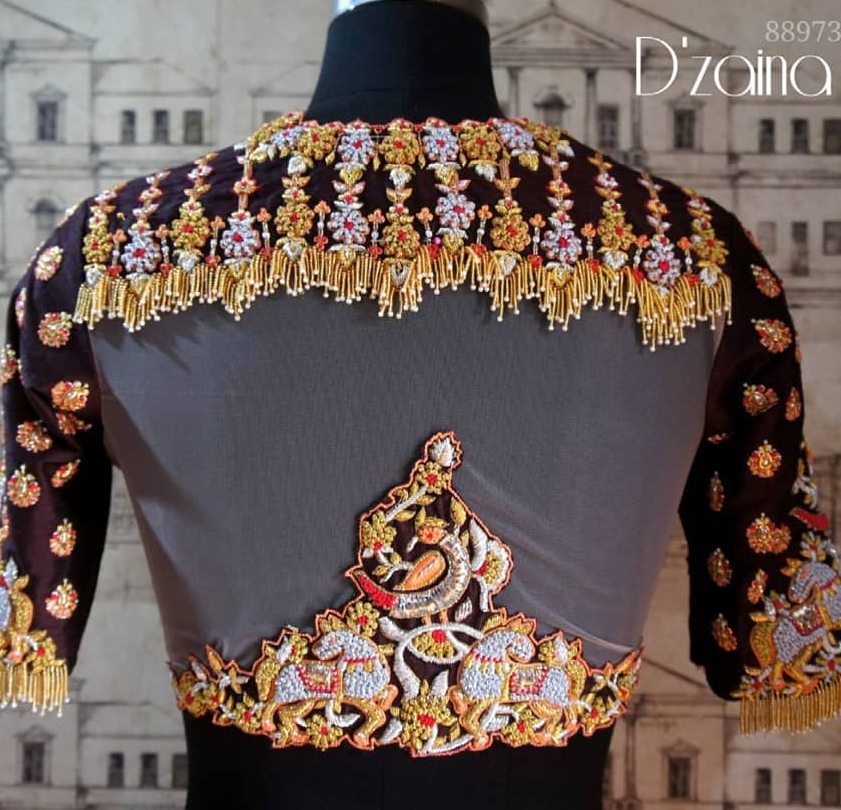 If the one above didn't interest you, this fully illusion back neck blouse with bridal motifs can definitely woo you.
6. Neon green blouse-
Though the design seems simpler, the colour makes this blouse design extremely sophisticated.
7. Hot pink blouse-
Embroidered with gold threads and hanging cloth tassels.this saree blouse design for back sure seems perfect.
8. Royal blue blouse-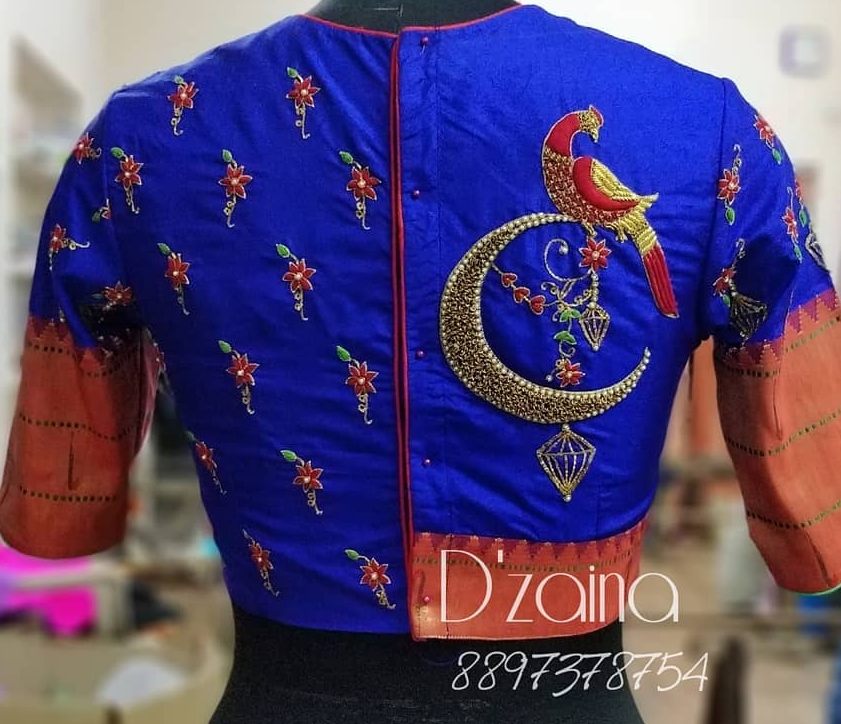 Featuring the crescent moon with Arabian themes, we cannot take our eyes off this one.
9. Red blouse-
Worked with deer motifs and mirror chintz, this one is sure to find a place in the best blouse design catalogue.
10. Gold blouse-
A perfect mix of cut-out work and embroidery, it also includes pearl tassels.
11. Sky blue blouse-
Lucknowi chikankari is one of the most sought-after embroidery works of India and the blouse is a testimony to it.
12. Lilac blouse-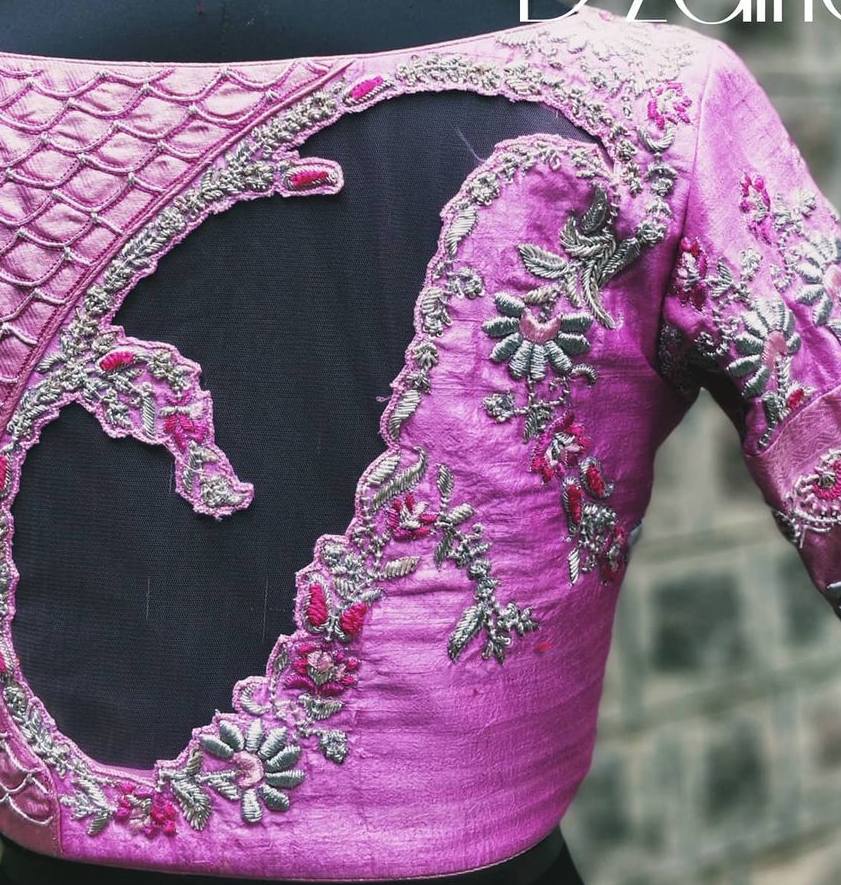 Paisley cut out blouses seldom find their place in any list but this one sure deserves a spot.
13. Peach blouse-
Embodying the elegance of Persian carpet with tulle embroidery in florals, this one is a traditional blouse design combined with modern silhoutte.
14. Magenta blouse-
Adorned with majestic elephants in aari work, the silk blouse is a head turner.
15. Ivory blouse-
This back tie blouse has peacock etched on to its side and red tassels.
16. Red net blouse-
With a pair of green parrots decorating its back, the blouse is wedding wear.
17. Red blouse-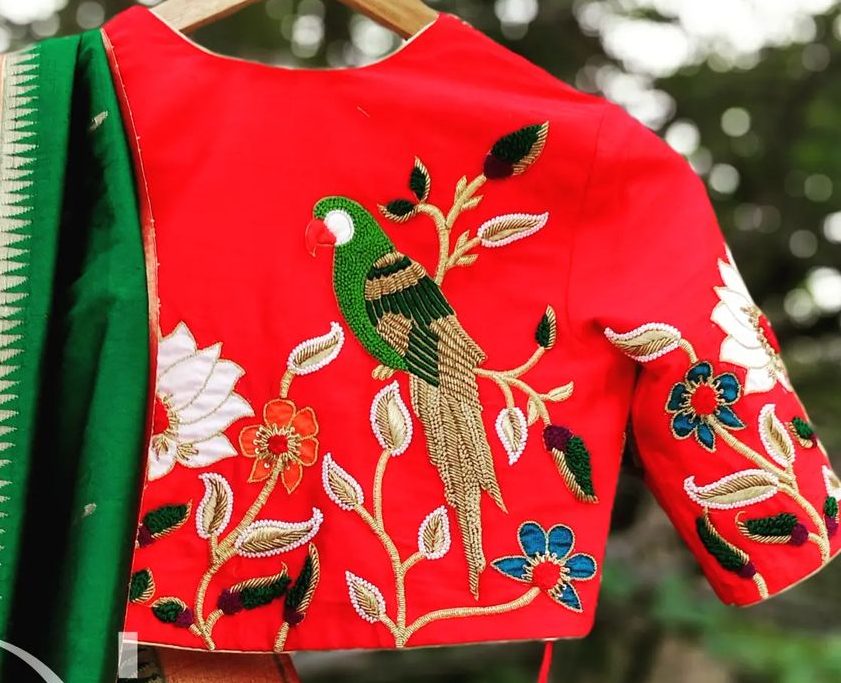 Last but not the least, it has a garden on display in multiple colours.
To buy the blouses online, visit,  Dzaina!