When we think of a wedding blouse design, very often than not we think about its neckline or back design. However lately the focus has shifted to the blouses' sleeves design as well. You might be familiar with different types of blouse sleeve designs already and may have stumbled upon a number of them online including aari work blouse designs.
Below are the 12 latest blouse sleeves designs that showcase magnificent hand-embroidery on them designed by Archana Karthick.
Red blouse–
This bridal colour sleeve features embroidery on its sleeve cuffs in hand along with green tassels.
2. Yellow blouse-
The aari checked sleeve designs on the blouse in floral motifs studded with white shades are just what the bride ordered.
3. Royal blue blouse-
Enhanced with red and gold, this is one of the unique blouse sleeves designs.
4. Ivory blouse-
Belonging to the list of latest blouse designs, the ivory number showcases a simple hand embroidery design for blouse sleeves.
5. Orange blouse-
The simple aari work sleeve designs are always in vogue and this one with its intricate embroidery makes it special for all the right reasons.
6. Sky blue blouse-
Designed with peacocks, the sky blue colour stands out in the gold hand embroidery it is drenched in.
7. Green blouse-
Speaking of unique bridal blouse designs, with the bride and groom etched on its body, it is sure to brighten up your saree.
8. Magenta Blouse-
Mirror embroidery in a pink patch with orange organza patch and finally magenta, this one is a dream come true for multicolour lovers.
9. Black blouse-
A black full sleeve blouse with a saree is the perfect combination. And it's as pretty as this one, that's just a cherry on top.
10. Violet Blouse-
This is definitely the star of the bridal aari work blouse designs. Heavily worked with all the embellishments, this one just steals the show.
11. Pastel pink blouse-
Pair this heavily embroidered blouse with a plain saree and see how you become a head turner.
12. Ruby pink blouse-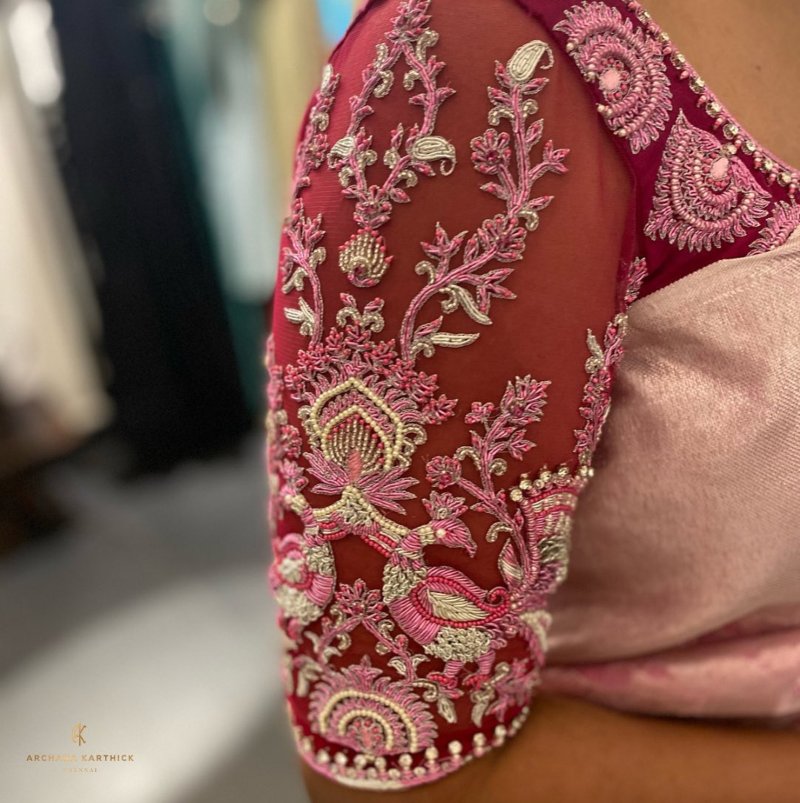 The pink blouse design is for silk sarees and its elaborate thread embroidery keeps it simple yet elegant!
To buy these heavily embroidered blouses online- visit Archana Karthick!