Masks have taken over the world, and weddings aren't any far behind! The market is filled with various types of designer bridal masks and some of them are simply amazing. We rounded up a few mask styles for brides just as the wedding season is around the corner.
Check them out –
Tassels
The cut-pipe tassels have forever been a part of the embroidery and hemlines of blouses. But take it up a notch by using them for your bridal masks as they surely add a little bit of glam.
Blingy-Golden
Nothing has more wedding-vibe than the glitzy golden! Anything golden can be a part of your wedding ensemble as it can be matched with any outfit. Opt for a golden mask and work your magic instead!
Floral-Charm
Floral printed masks are way too common, but have you seen bridal masks with floral embellishments? Be it embroidered, sequined or actual flowers, floral bridal masks are something you can surely try!
Embroidered Bridal Masks
Why keep embroidery just to your blouses? Get your hands on the embroidered designer bridal masks! You can get the embroidery matching to your lehenga to keep your outfit in sync.
Sequence Bridal Masks
Sequence and shimmer are a part of a wedding, and having them as designer bridal masks is indeed amazing! Also, you can either get a neutral colored sequence mask or a matching one.
Simple Yet Classy
Amongst all the designer bridal masks, if you prefer something classy and elegant, opt for simple masks with minimal bling. Either block prints or a subtly embellished mask would do the trick!
Customized Bridal Masks
These days, most of the things in the market are customized and can be made to order as per our requirements. Get your designer bridal masks made as per your choice with customized initials, face prints, or any hashtags you prefer!
Designer Bridal Masks
Just like the customizable bridal masks, there are masks curated especially for brides! Get yours customized in different fonts and styles with add-on designs if you please.
Matching With Outfits
This goes without saying that you can get your bridal mask matching to your bridal outfit or its dupatta. So, either get a similar or piece of the same fabric and turn it into a designer bridal mask.
Gota Patti
Gota Patti can never let you down! From lehengas to dupattas and now masks, they can be used for glamming up literally anything!
Pearl and Stones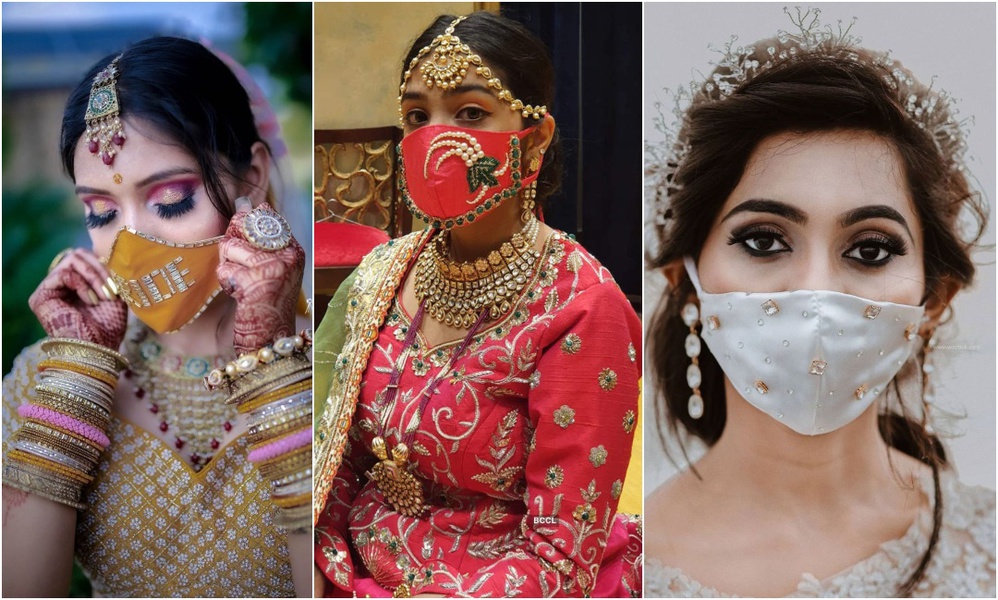 Pearls and stones can be used to create some fabulous designs on your bridal masks. Also, they add oomph to even the simplest piece of fabric, don't you think?
Embellishments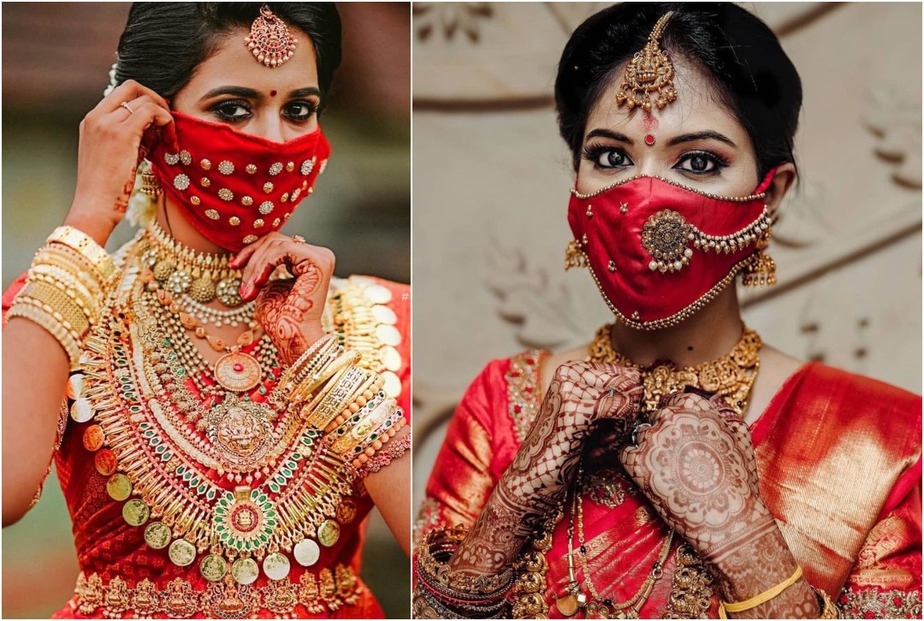 For those brides who love a little extra glam, get heavily embellished designer bridal masks. Moreover, some brides take it up a notch and get Naths embellished on them.
Pastels
If your outfit is paste or light-hued, then we urge you to opt for pastel-colored bridal masks as they look stunning when worn. Embellish them with golden or colors and oomph them up.
Lacey Bridal Masks
If you are a Christian bride, opt for these gorgeous laced bridal masks that match fabulously with your outfit. Nothing can go wrong with lace!
Ditch Mask For Face Shield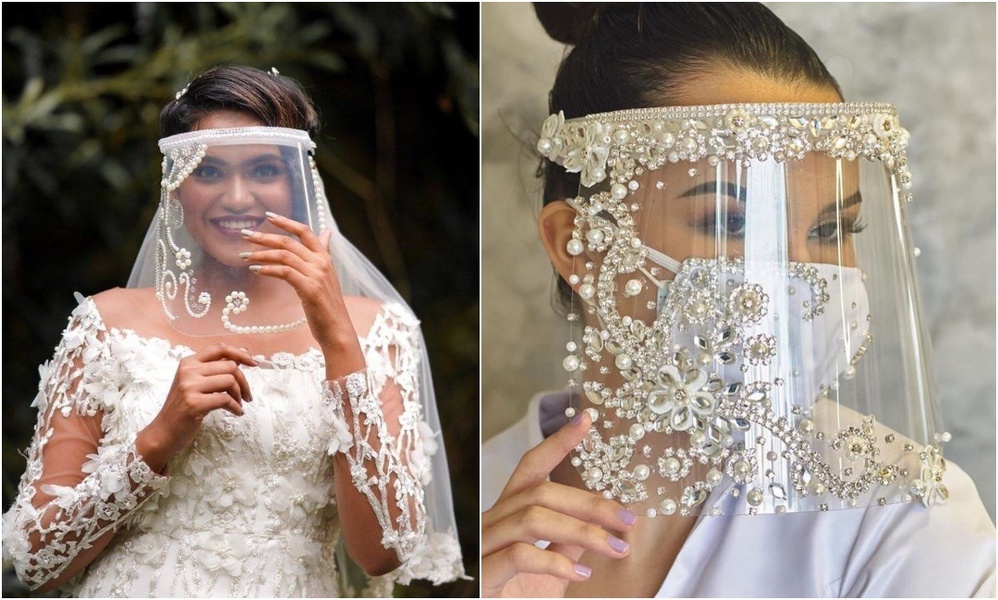 If masks aren't your thing, then turn a PPE face shield into a glamorous mask! This way, you can flaunt your makeup, and still have protection from the virus amidst the pandemic.
So, fight the pandemic with style, and don't let wearing a mask stop you from being a glamorous bride!