South India's cultural heritage consists of its rich traditional temple jewellery which is the most sought-after jewellery style for a bride. From the rich necklaces – Haarams to the ultra-gorgeous Matha Patti – Nethi Chutti, every piece of south Indian bridal jewellery looks stunning.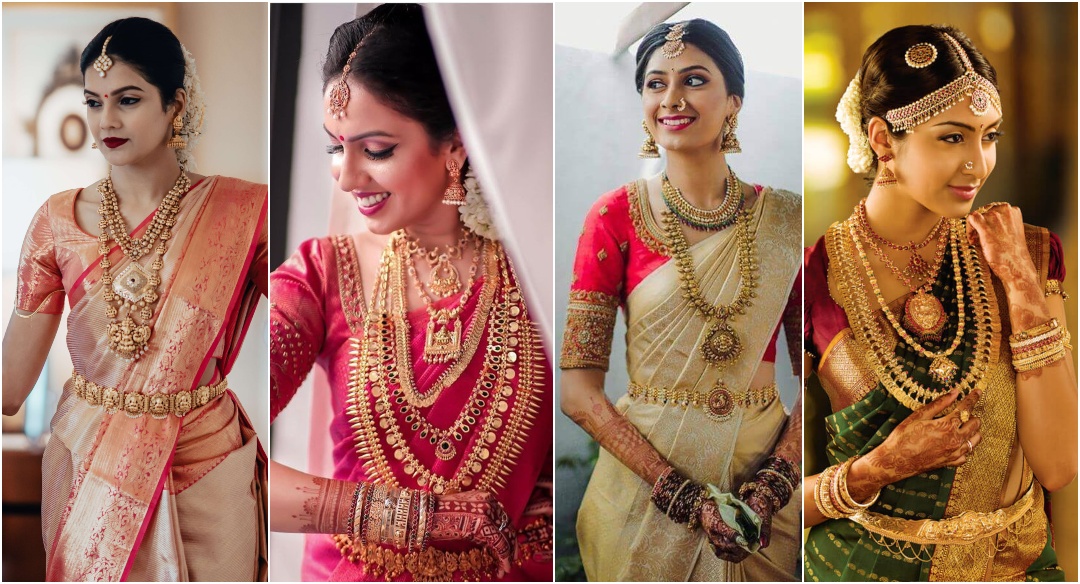 For all those looking for bridal jewellery inspiration from the South Indian brides, scroll away and archive this ultimate bridal jewellery guide –
Classic Matha Patti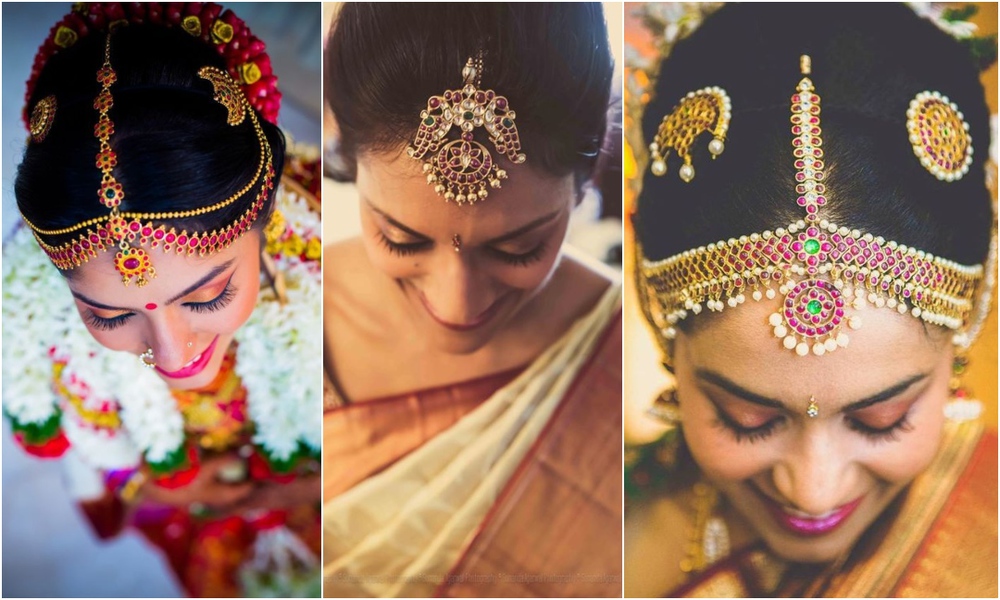 When it comes to South Indian bridal jewellery you can find Matha Patti's in distinctive styles. Nethi Chutti maang tikkas, temple jewellery, and even in Kundan or polki. It also consists of a pair of sun and moon hair brooches, popularly known as Suryapirai and Chandrapirai on either side of the maangtika. It is a crucial and most important part of a South Indian bride's ensemble.
Jhumkis
The bridal earrings are popularly known as Jhumkis or Jhimkis in the South. The jhumkas with various gemstones, Kundan, and Polki are believed to highly accentuate the bride's features.
Traditional Nose Rings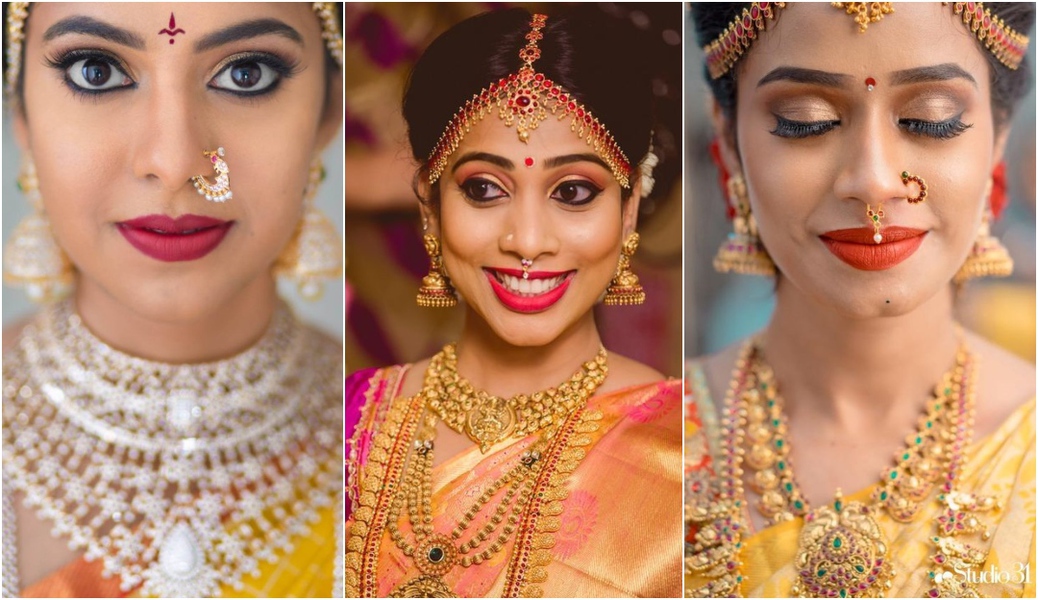 Nose rings or Mukku Pudaka in South India are quite similar to Maharashtrian nose rings. Although, the only difference being that South Indian nose rings are mostly circular and are not too big in size. Some south Indian brides also prefer septum rings that are usually popular amongst Tamilian culture.
South Indian Hair Accessories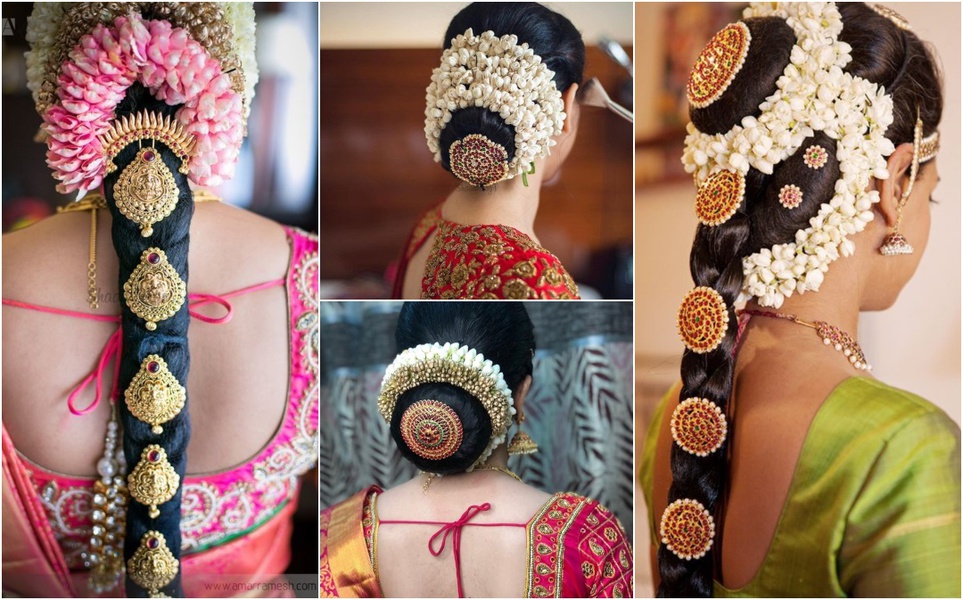 The hair ornaments also play a vital role in the south Indian bride's ensemble. The floral braid embellishments also known as Pellipoolajada has various temple jewellery brooches to enhance it further.
Haarams and Chokers
Trust us, you need to learn the art of layering your necklaces from a South Indian bride! From chokers to long necklaces, the South Indian bridal jewellery is unbeatable. And the beauty of these temple jewellery not only lies in their heavy and elaborate designs but also in the fact that they are worn in layers. The Pallakad chokers, Haarams, Mango Maala, and Kaasumala necklaces are a must in every south Indian bridal ensemble.
Kamarbandhs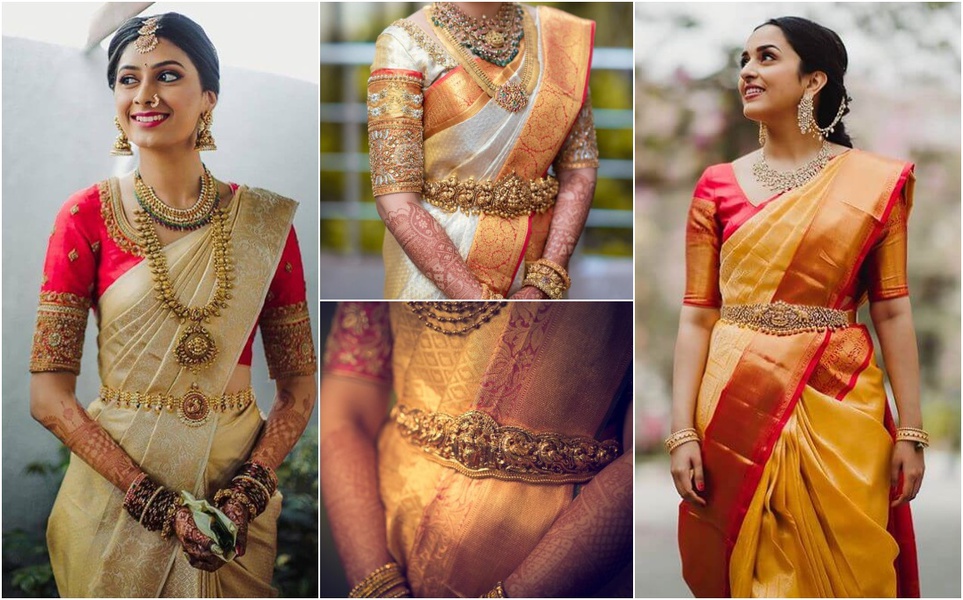 The Kamarbandh or Oddiyanam is a fine piece of temple jewellery that most South Indian brides opt for. It not only enhances the look but also holds up the saree in place. This heavily embellished kamarbandh usually has traditional peacock motifs and other South Indian deities.
Bangles or Kadas
Unlike the usual Kadas and chunky bracelets, South Indian kadas or bangles are exquisite and look stunning when paired with others or worn by themselves. They have floral or animal motifs intricately carved upon them and are decorated with various gemstones.
Baju Bandhs
Baju Bandh is traditionally known as Vanki as it is made in an inverted V-shape and decorated with pearls, diamonds, and rubies. It usually features motifs of goddesses, peacocks, serpents, and elephants and looks absolutely stunning! Many South Indian brides prefer them as they look aesthetically charming.
So, are planning to rock authentic South Indian bridal jewellery? Make sure know about what all goes inside a South Indian bridal jewellery box. Well, because South Indian jewellery is elaborate, to say the least.