Ditching the same old floral bridal braids, brides are now moving towards embellished hairdos! And why not?! Just look at home mesmerizing and charming these embellished hairdos are.  If you are in awe of the ornamented braids or jaadas from South Indian weddings, then this is just one notch up! From Chandbalis, Gota Patti, Paasaa, to your Challas – create amazing embellished hairdos with your jewellery.
Here are some inspirations to get the stunning embellished hairdos for the wedding season ahead –
Tassels + Gota Patti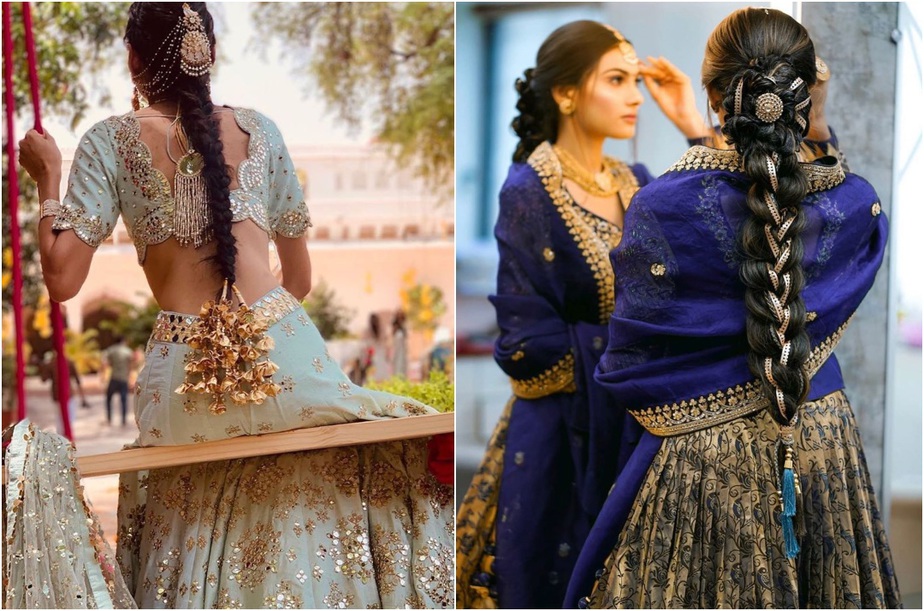 Who could have thought that the usual Gota Patti lace can come in handy to create such fabulous embellished hairdos? Simply weave then into your braid and add some tassels at the end to finish it most elegantly! A few ornamental touches here and there will only elevate the beauty even more!
Embellished Hairdos With Earrings
Pick a couple of pairs of your favorite Chandbalis and Jhumkas, and incorporate them in your braid to give it a fun twist. Perfect for any bride or bridesmaid, this embellished hairdos is simply stunning, don't you think? You can either pick the same set of earrings to repeat through the braid or opt for various styles or sizes of the same pattern to add dimension.
Embellished Hairdos With A Paasaa
Many use Paasaa as a stunning maangtika, but using it to enhance and accentuate your braid, that's something we never thought about! Either hook up one Paasaa or multiple ones, up to your braid game with this simple embellished hairdo hack.
Challas in Braids
We all love the Challas or the key holders from our grandmother's jewellery collection, don't we? Well, it's time to give it a special place in your bridal braids! Look at these magnificent ways to include them in your embellished hairdos. With Challas and pearl strings, you can uplift even the simplest braid or hairdo into something royal and bride like.
Pearl Overload
There are so many waist belts or necklaces that you can easily transform for an amazing embellished hairdo accessory. Adorn your hair on your sangeet ceremony or mehendi with such exclusive and remarkable ornaments that will surely have everyone's attention.
Sonam Kapoor tried this amazing embellished hairdo with pearls at the Cannes Film Festival 2018 and slayed like a desi diva! With an overload of pearls, her simple braid-look was elevated with this embellishment.
Minimalistic Ornamentation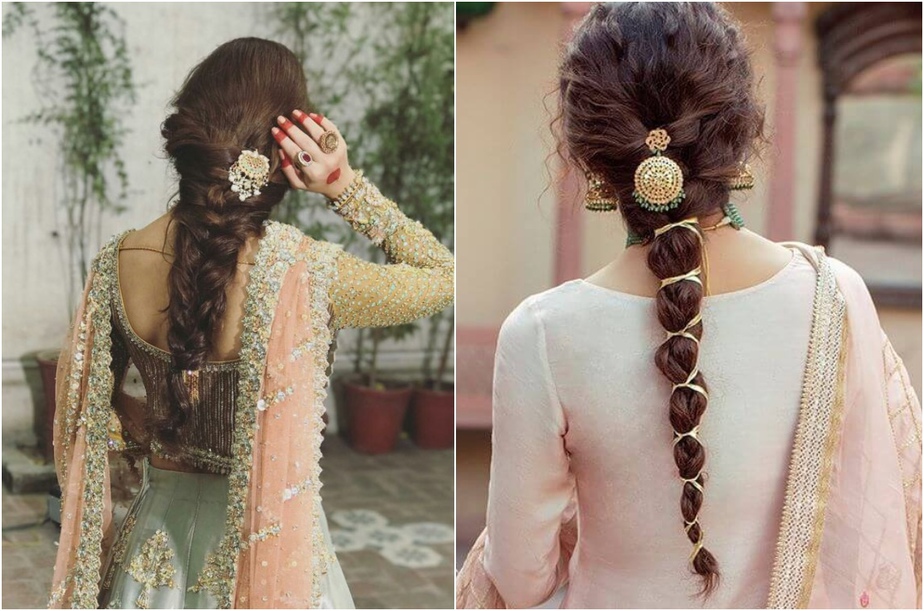 Not a person who loves too much bling and jewels? Well, then why not pick a simple one and let that be a highlight of your look! As stunning as the heavy hairdos look, the simpler ones look equally amazing. You can either keep it simple with just a couple of earrings hooked to your braid or can wrap around a Gota Patti lace to finish the look. Either way, pick your style and slay it!
Be a bride who experiments with the new hairdos rather than placing a safe bet on the same old floral bridal braids. These embellished hairdos are never been done before and are sure to make your guests stare at you in awe!