Puff sleeves blouses are making a major comeback and how! You often spot classic pull sleeves as a bridal blouse pattern. Puffed sleeves bring some drama into your wardrobe and can effortlessly be styled with sarees and lehengas. Even though classic, puff sleeves have now evolved with an upgraded version to some stylish ones. From classic puff sleeves to thick border puff sleeves, from fabric to sheer, puff sleeve pattern can be the perfect pick for any day.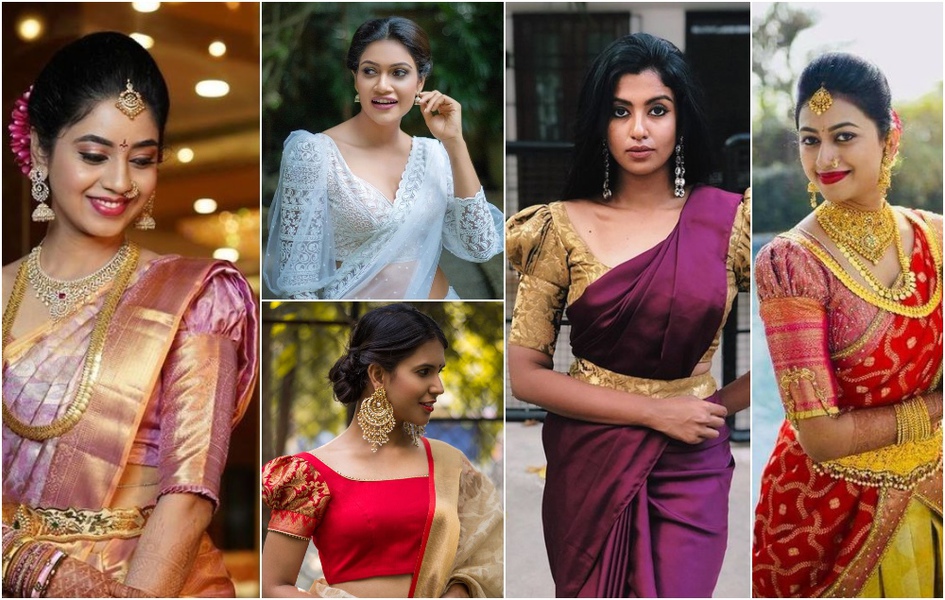 We have found some of the latest puff sleeve blouse designs, so scroll through this list to find the perfect blouse to go with your saree –
Classic Puffed Sleeves Blouse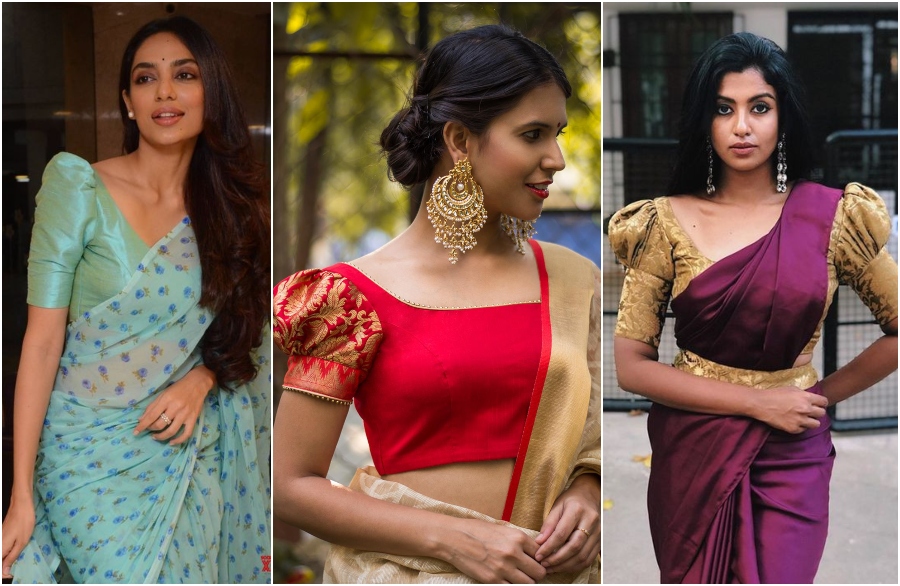 If you are a fan of classic, then opt for the elegant and basic style of puff sleeves. This blouse pattern is minimalistic and does not have any added unnecessary drama around it. This blouse pattern goes perfectly with any saree from Chiffon to Kanjeevaram and Banarasi.
Bridal Blouse Pattern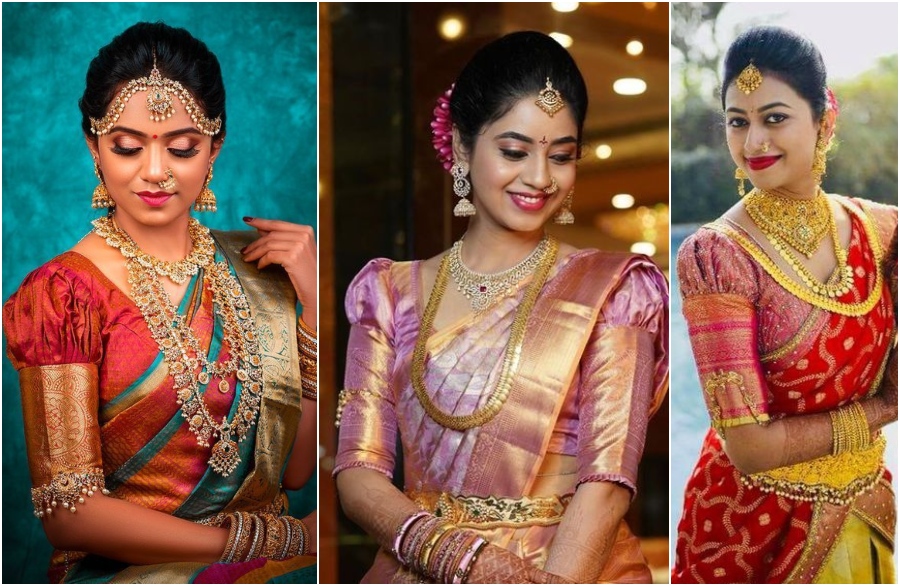 Picking the right kind of blouse pattern can be a challenge for brides-to-be. The plus point about bridal blouses, however, is that you can go all out on embellishments and patterns. Which is why major of the brides opt for the classic puffed sleeves with a thick zari border. This adds an oomph factor and a very rich bridal feel to your look.
Embellished Puff Sleeves Blouses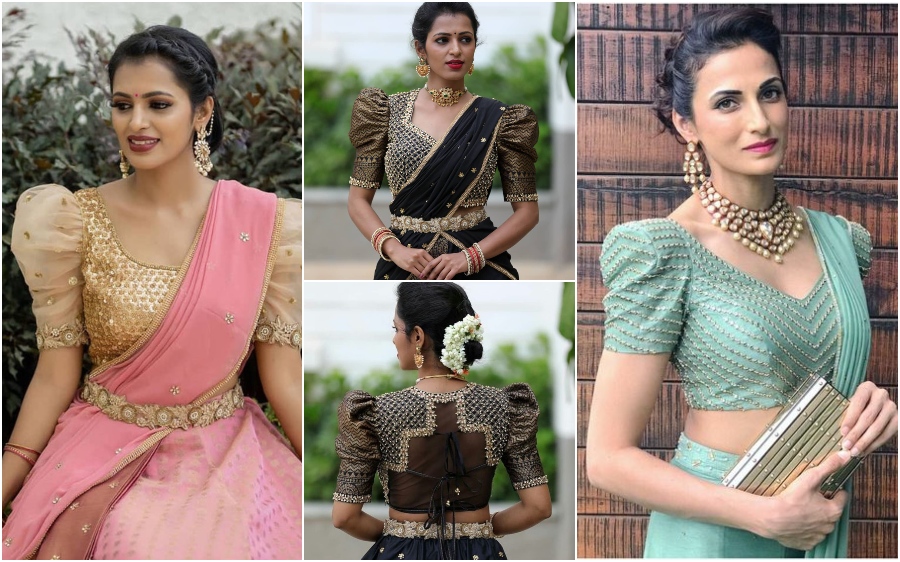 There's no rule that you cannot go all out on glam if it's not your bridal blouse! The subtly embellished puffed sleeve blouses are a great way to keep it simple and elegant. You can wear it with an embroidered saree or a plain saree with a border and enhance the blouse even more!
Boat Neck + Puff Sleeves
Puffed sleeves blouse with boat neck patter can never go wrong! This classic pattern is a favorite and looks exceptionally well even if it's simple and plain. Add bling or embellishment along the hemline of the neck and sleeves and it is sure to look fabulous. No matter how long or short the sleeves are, this pattern can elevate the beauty and grace of any saree to the optimum level. Try it out and you would agree!
Maggam Work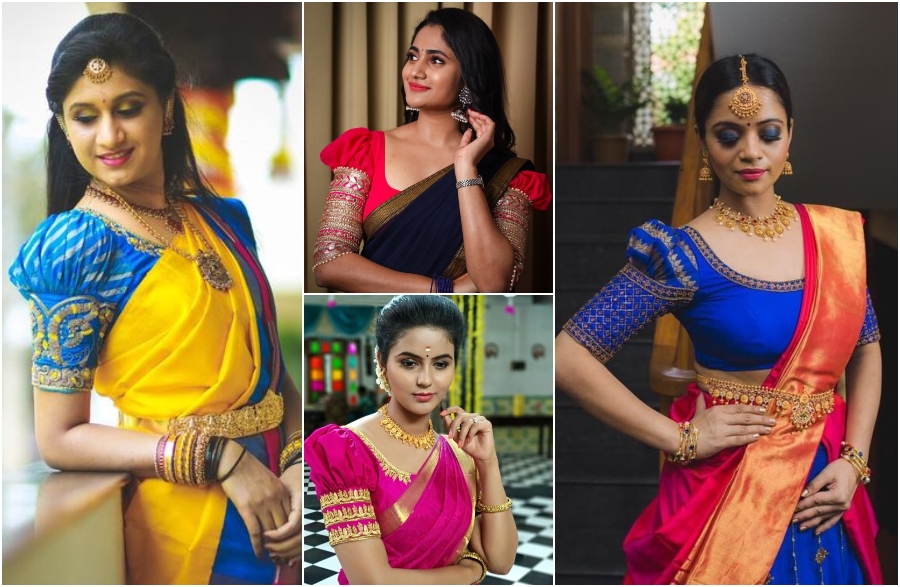 Can Maggam work ever go wrong? We don't think so!  Be it heavily embellished or subtly done, Maggam work looks exquisite – no matter what. You can either try a full heavy bodice or a heavy Maggam work along the entire sleeves. Even the simplest saree can look stunning and graceful when paired with a heavy puffed sleeves blouse.
Stylish Puff Sleeves
Talk about the upgraded version and how! Add that twist of sexiness and charm to the classic puffed sleeves by taking it up a notch. Netted or destructed puff sleeves are a chic wearable variation that is trending currently. This style of puff sleeves will not look exaggerated but instead will be a fresh change from the traditional pattern.
We hope that these amazing patterns of puffed sleeves blouse designs tempted you enough to try it! This festive season go for the classic that is trending and slay like a diva.