The modern brides these days have an elevated sense of style when it comes to bridal looks. They prefer styling their look with a blend of tradition, minimalistic style, and modern. If you are a bride-to-be and exploring jewellery looks for your D-Day, then you have landed at the right place. From your mom's heirloom jewellery to your accessories, explore minimalistic jewellery style. We compiled a few looks of minimalistic jewellery styling that you can choose from.
Check them out –
Minimalistic Chokers
The choker game is going immensely strong these days! From simple ones to the rich maharani style chokers there are so many styles to match your taste. Instead of loading up on many necklaces, cleverly style your bridal look with a choker. Chokers work as minimalistic jewellery as well as enhance your look. Also, it gives a room to show-off your prominent neckline. Be it Meenakari, Kundan, Temple style, or diamonds – explore your style!
Ditch Rings for Haath Phool
Every bride likes to highlight her mehendi-clad hands with gorgeous over-sized maharani rings. But, if you want to put the minimalistic jewellery styling in use, then ditch the rings for fancy haath phool. These days there is a lot of variety like bracelet-rings as well as bangle-rings. Pick the one that you feel most comfortable with to enhance your hands. Delicate pearl string haath phool is the current trend, but you can also opt for kundan ones.
Maang Tikkas
If you are ditching elaborate necklaces, then compensate it with a statement-making maang tikka. You can pick anything from Borla and Mathapatti to Chaand-tika – all look stunning! With a prominent maangtika, you can skip on multiple necklace layering. Keep the minimalistic jewellery styling on point with just a chunky maang tikka.
Passa
Do you feel Maang tikkas are too basic and cliché? Then opt for a stunning and royal Passa instead! Passa is no longer restricted to Pakistani brides. Moreover, it has become a style statement that anyone can explore. Many brides opt for minimalistic jewellery styling trick instead of an opulent maangtika.
Minimalistic Jewellery Layering
When it comes to minimalistic jewellery layering, always remember the key-rule that less is more! Too many layers end up shifting focus from everything looks messy if they are not in sync. So follow the thumb-rule of layering with just two necklaces. A stylish choker and a trendy long necklace – this combo is rich, heavy and yet looks simple and organized. Also, the focus is thus restricted to each of these pieces and highlights them both.
Satlada / Panchlada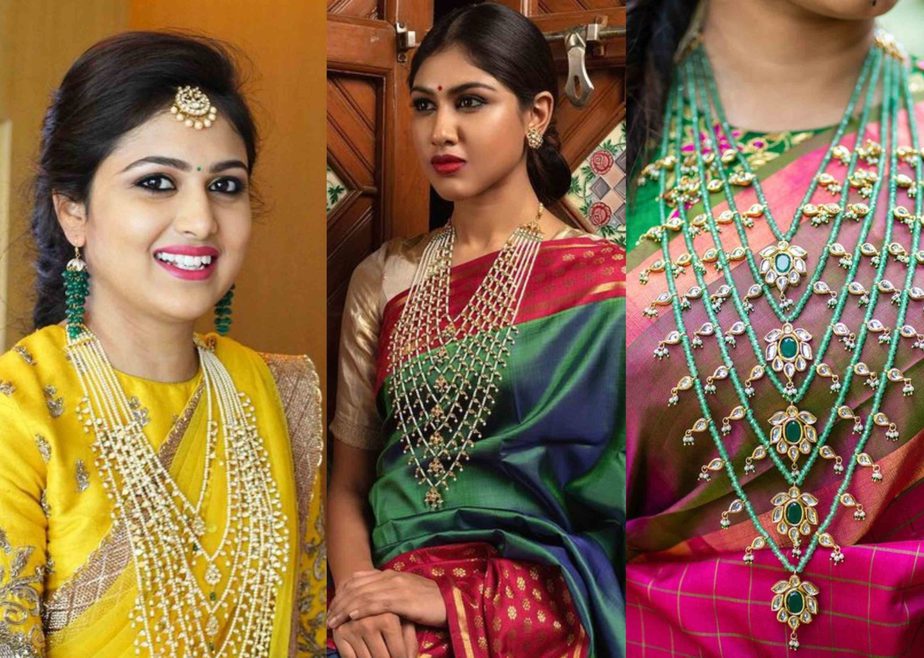 Satlada is a necklace set with seven layers. Usually made in gemstones and kundan, but nowadays it is also trending in fancy pearls. Satlada is the trendiest jewelry these days and suits everyone! It is an ideal choice if you want to complete your bridal look with just one statement neck-piece. It also comes in a variation of five-layers called Panchlada. This multilayered necklace adds grace to your look while being minimalistic jewellery.
If you are a bride who also believes that less is more, then archive this article!