Paithani Sarees are the handloom sarees that have a rich Maharashtrian culture. And they get their name from a place Paithan in Aurangabad. The saree is rich and full of grandeur and elegance as it is hand-woven out of pure silk threads. Paithani Saree is popularly known as the Queen of Silks in Maharashtra! And in addition, is every Maharashtrian bride's patent wedding saree or trousseau. From 5 yards to 9 yards, the Paithani saree comes in an extensive wide range. It's regal and opulence is something each one needs to experience at least once by donning it! We urge you to know all about it and to own one of these lavish luxurious sarees in your collection.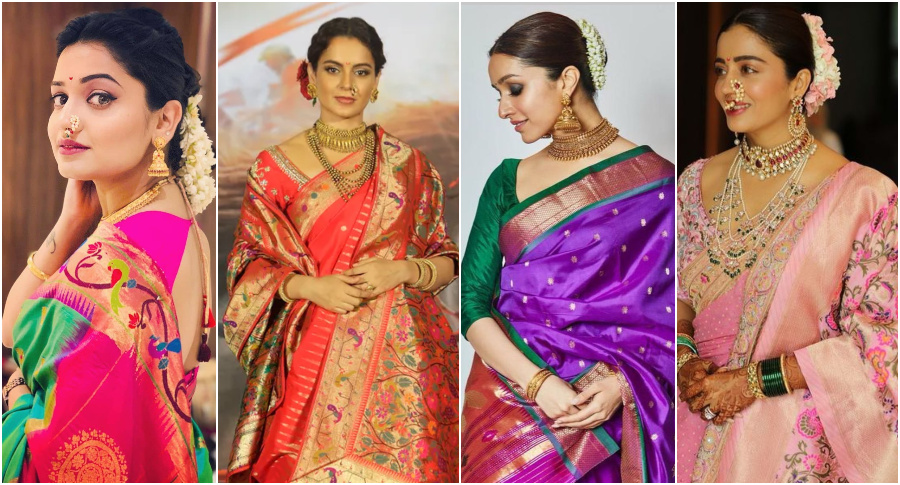 So here's all you need to know about the rich and magnificent Paithani Sarees –
History And Weaving
Paithani silk goes back to the 2nd century B.C and was woven and exported to the Roman Empire. It originated in the capital of the Satavahana Dynasty which is now known as Paithan. However, the saree was initially made with silk and the border of pure gold. But now, depending on the intricacy of the design, the gold is now replaced with pure silver zari.
Significant Motifs
Above all, intricate designs on pallu and border are a specialty of Paithani Sarees. Motifs on pallu are usually peacock, lotus, mango, leaves, or flowers. In fact, they are highly inspired by the renowned Ajanta Caves in Aurangabad. When it comes to cost, a pure and authentic Paithani saree ranges from ₹7,000 and goes up-to ₹5 Lakh. The price of the Paithani depends upon the designer collection, motifs, and intricacy of the design. Usually, the saree is subtle while the border and the pallu are elaborately filled with motifs. While it's the vice-versa when you opt for the designer Paithani collection.
Brands to Shop for an Authentic Paithani Saree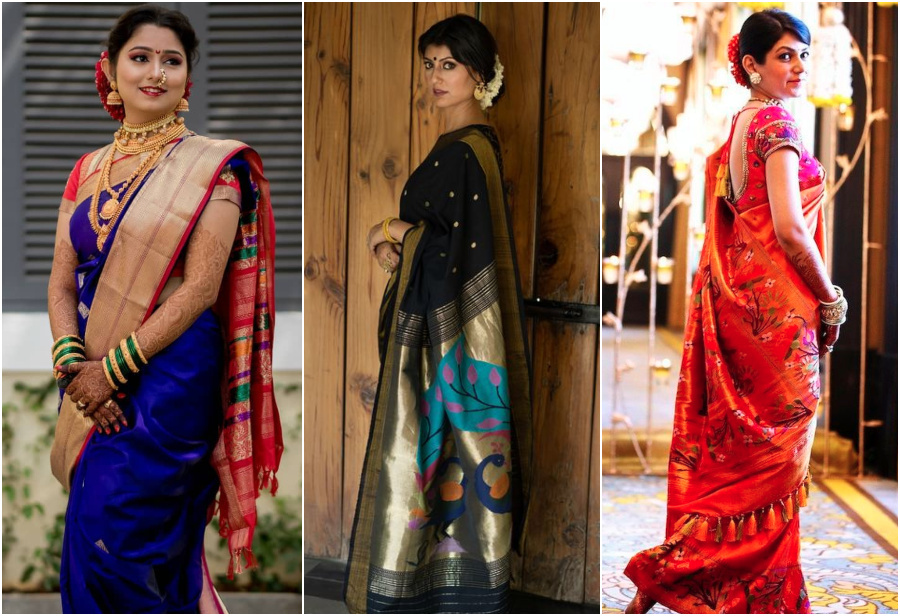 Some brands are over the years famous for their exclusive and authentic paithani sarees. Some of these brands also have their weaving centers and manufacturing. Here are some of the brands to shop from if you are planning to pick up an authentic Paithani saree –
Shop from: Nasik or HERE.
Shop from: Nasik or HERE.
Shop from: Kulkarni Path – Pune or HERE.
Shop from: Sadashiv Peth – Pune or HERE.
Shop from: Pimpri-Chinchwad – Pune or HERE.
Apart from these, you can always visit the cities Paithan, Aurangabad, or Yeola near Nasik. You can shop directly from the manufacturers and weavers for exclusive sarees. So, from the thick golden border to motif borders, there are numerous options available at the weaving centers.
Celebrities In Paithani Sarees
Just like Kanjeevaram, Paithani sarees have a soft spot with the celebrities. Many actresses have time and again donned this marvelous regal saree. From Shraddha Kapoor, Sridevi to Kangana Ranaut – all flaunted their exclusive sarees. Neha Pendse even opted for a pastel powder pink Paithani saree as her wedding outfit. Above all, each one styled it in the utmost traditional way and slayed in their quintessential Paithani saree.
Paithani sarees have a special place in Maharashtrian heritage due to its richness! Also, now we know exactly why they are every Maharashtrian bride's patent choice.