Anita Hassanandani's saree and blouse game has always been on point. She's not someone who sticks to boring ordinary blouse designs but rather, experiments with versatile and modernistic cuts and silhouettes in not one, not two, but ALL her blouses! So let's have a look at some of the recent Anita Hassanandani blouse patterns that are drool-worthy..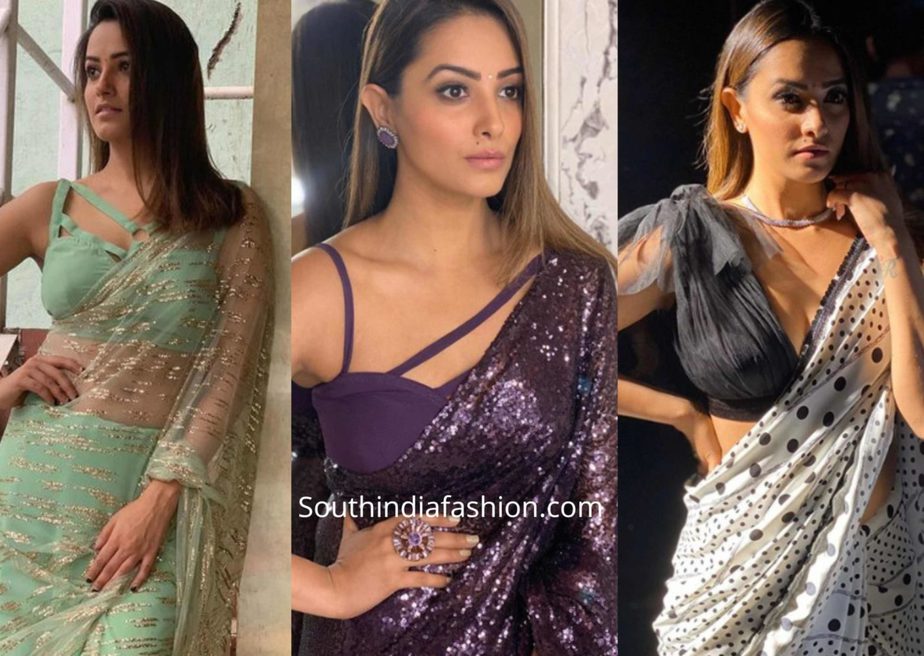 20 Latest Anita Hassanandani blouse patterns:
Deep purple spaghetti cross strap blouse
Anita never lets us feel that a saree cannot be ultra-modern. This deep purple sweetheart neckline blouse design with a spaghetti cross strap is simplicity combined with novelty.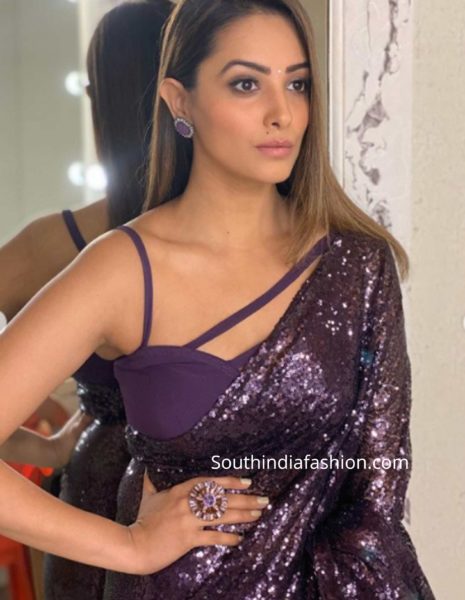 Mint green strapped blouse design
This mint green spaghetti blouse with smart cutout designs and cross straps arranged around a central ring in the front is the perfect inspiration you need to get creative with your blouse designs!
Beige Halter neck blouse design
Halter necks are incredibly stylish as it is! But Anita has taken this beige halter neck blouse design to a whole other level by incorporating a diamond cutout in the front of the blouse; paired with a textured saree full of frills and applique. How sexy does this look?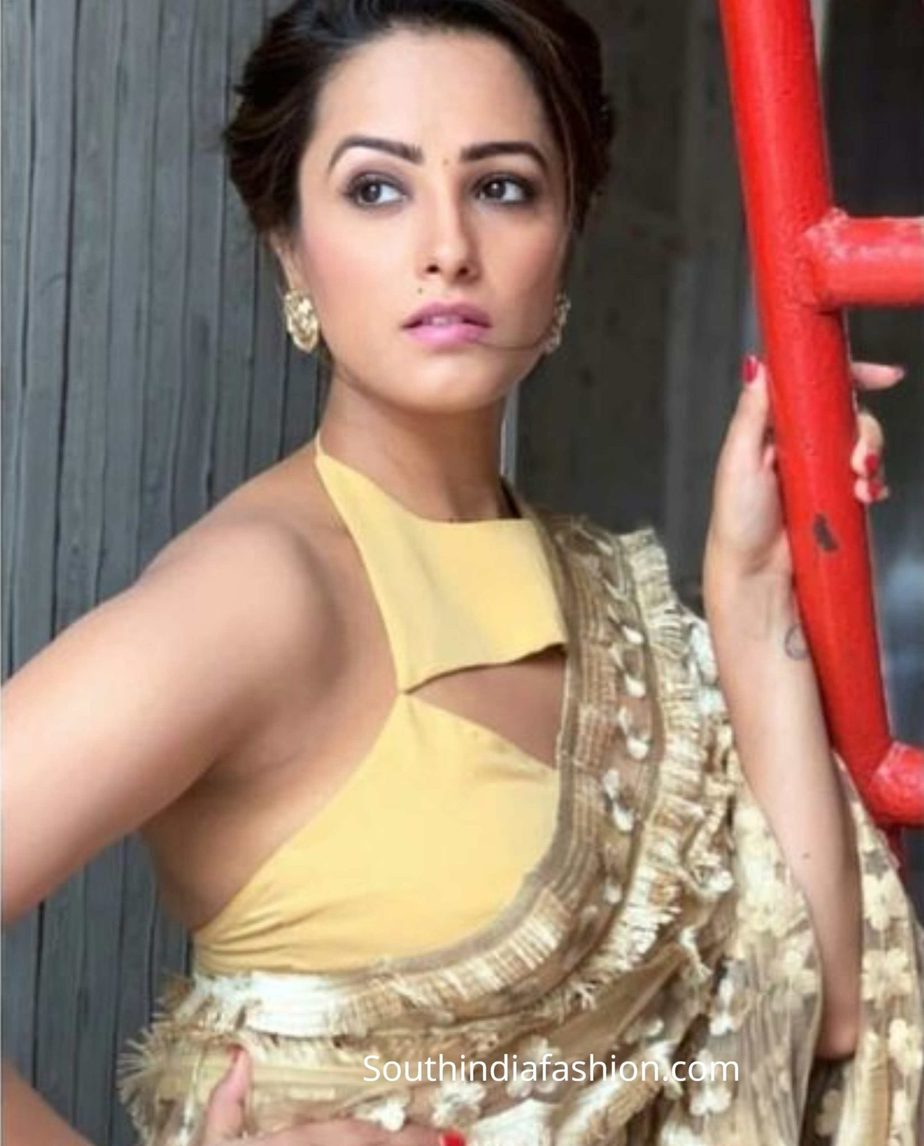 Electric blue strappy stylish blouse pattern
This electric blue bodice blouse with thick cross straps is just another one of her designs you need to bookmark RIGHT NOW. Step away from the boring and into a glam new world with this simple yet futuristic Anita Hassanandani blouse pattern.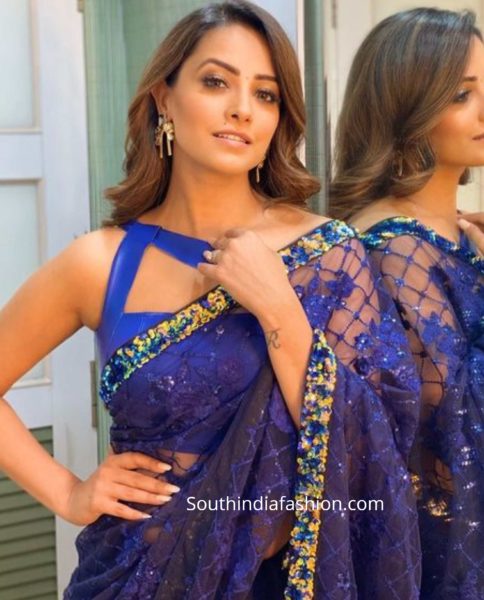 Black crop top blouse
We're completely at a loss for words here. How gorgeous does she look with this innovative black crop top blouse with  a high neck design paired with a sheer applique saree? So elegant!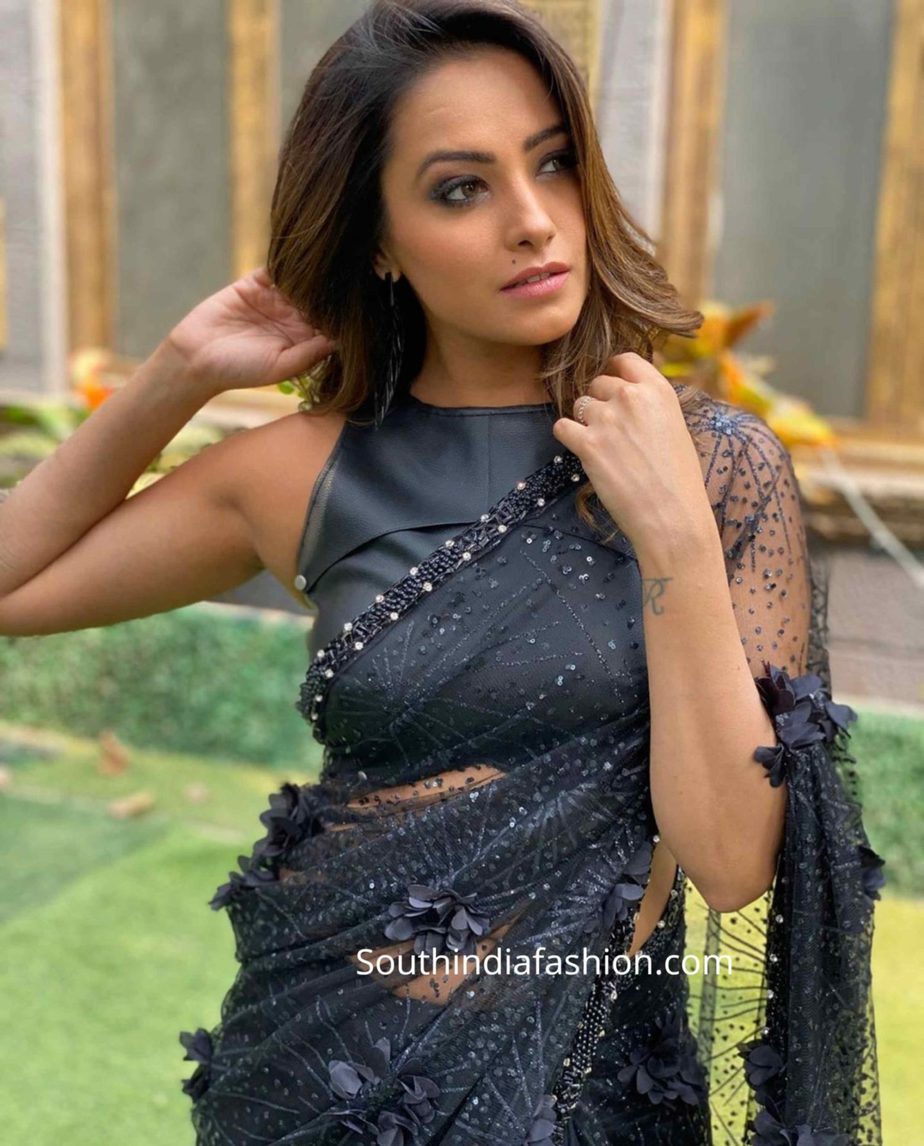 Orange deep V neck blouse with frills
This bright orange deep V-neck sleeveless blouse pattern with frills on the shoulders is just perfect for any traditional saree look. The frills add a touch of playfulness to the outfit.
White Off shoulder sweetheart neckline blouse
Anita looks ravishing in this white off-shoulder sweetheart neckline blouse design paired with a textured feather and applique work saree. This neckline is the perfect opportunity to flaunt your chiseled collar bones.
Red cutouts sleeveless stylish blouse design
Red is the classic way to go! Try out some funky cutout neck designs to oomph up your plain blouse and add some drama to it. You won't regret it, we promise.
Deep neck gathered on shoulders blouse design
Doesn't she look like a sultry goddess in this gathered fabric deep neck blouse with a flamboyant shoulder design? All we can say is WOW. This is one important lesson in power dressings you don't want to miss out on.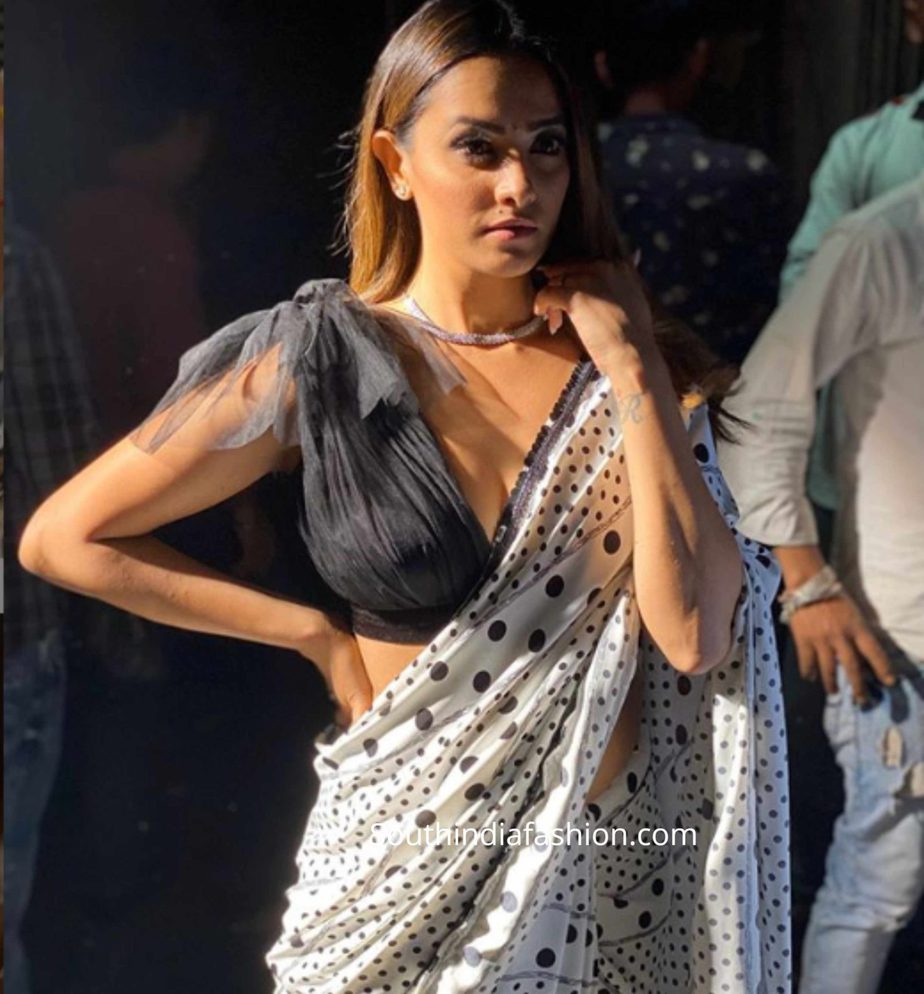 Metallic grey gathered tube top blouse
Who says tube tops are only part of western ensembles? Watch Anita Hassanandani rock this metallic grey gathered organza fabric tube stylish blouse design paired with a monotone saree! This is truly class.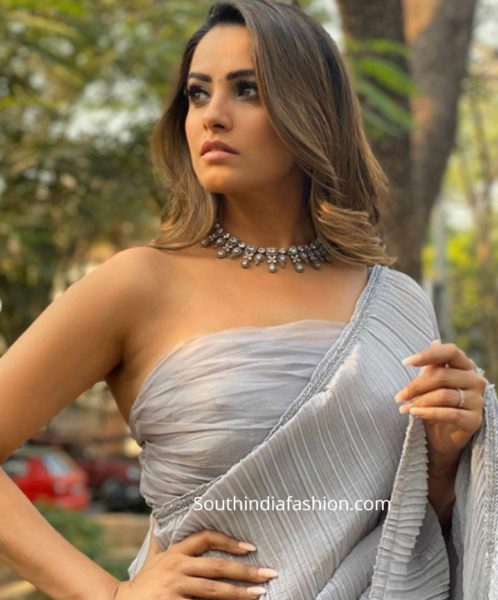 Multicolor Sequined deep V-neck sleeveless blouse
Are you a disco dancer? If yes, shimmer your way into a party with this multicolor sequined deep V-neck sleeveless blouse design.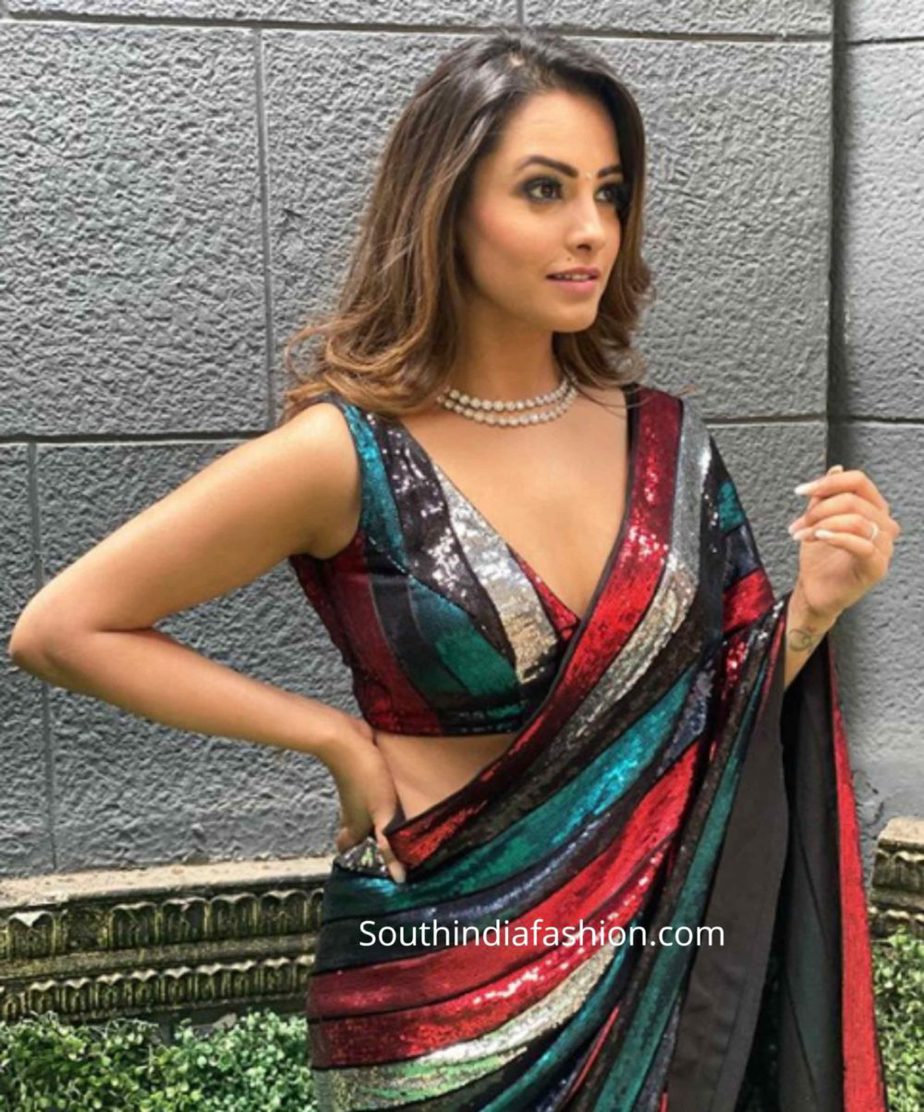 Blue ruffle sleeves blouse
Why not go for some statement ruffles on your sleeves like on this blue V-neck sultry blouse design? It sure will add a some drama to your look.
Halter neck shoulder cutouts blouse design
This mélange grey halter style blouse with cold shoulder cutout flaps looks so fun and exciting! A totally unique take on an ordinary cold shoulder blouse.
Red Off shoulder blouse
Raise the temperature with this classic red off-shoulder wide neck blouse like Anita Hassanandani and have everybody's eyes glued on you the entire evening!
Spaghetti criss cross double strap  blouse design
This ash grey V- neck spaghetti blouse features a fresh criss cross double strap design that looks so different and unique, we cant wait to get down to the tailor's to get it made!
Pink dramatic flared ruffle sleeve blouse design
Head down to your favorite dinner place or party with this fancy V-neck stylish blouse design with dramatic flared ruffle sleeves. Ruffles will never go out of style and will add some oomph to your ensemble.
Maroon Cold shoulder blouse with flared sleeves
Why go for only one type of blouse design? Mix and match your cold shoulders or halter necks with flared sleeve bottoms, ruffles or fills. The possibilities are endless when it comes to unique blouse designs! Let Anita Hassanandani blouse patterns provide you with the inspiration you need!
Cutout design Anita Hassanandani blouse pattern
This trapezium shaped front cut out sleeveless blouse design is the perfect option if you're going for something different yet effortlessly chic.
Emerald green cross strap tube blouse design
Look fabulous in this high-style emerald green single cross-strap tube blouse paired with a contrasting net saree! The metallic hue adds a lot of statement to the design.
Green cold shoulder blouse design with frill sleeves
This green cold shoulder blouse with frilled sleeves is another eclectic mix and match design that will have everyone giving you tons of compliments!
Draped back blouse design
A one of a kind Anita Hassanandani blouse pattern indeed! This copper gold deep back blouse has a U shaped drape at the back which looks extremely elegant and classy!
Hope we've excited your brain cells enough to think of such innovative, sexy and stylish blouse designs for your parties and family gatherings!