There is this unique trend of saree blouses that is catching up now. Be it for bridal blouses or blouses for pattu sarees these unique blouse designs makes them a head turner. We are talking about the divine saree blouses trend where we have embroidered the likeliness of gods and goddesses on saree blouses. No, we are not just talking about the Kalamkari blouses that have Buddha and Kali faces but something more heavy and unique. Let's take a look at some trending Gods and Goddesses embroidered silk saree blouse designs.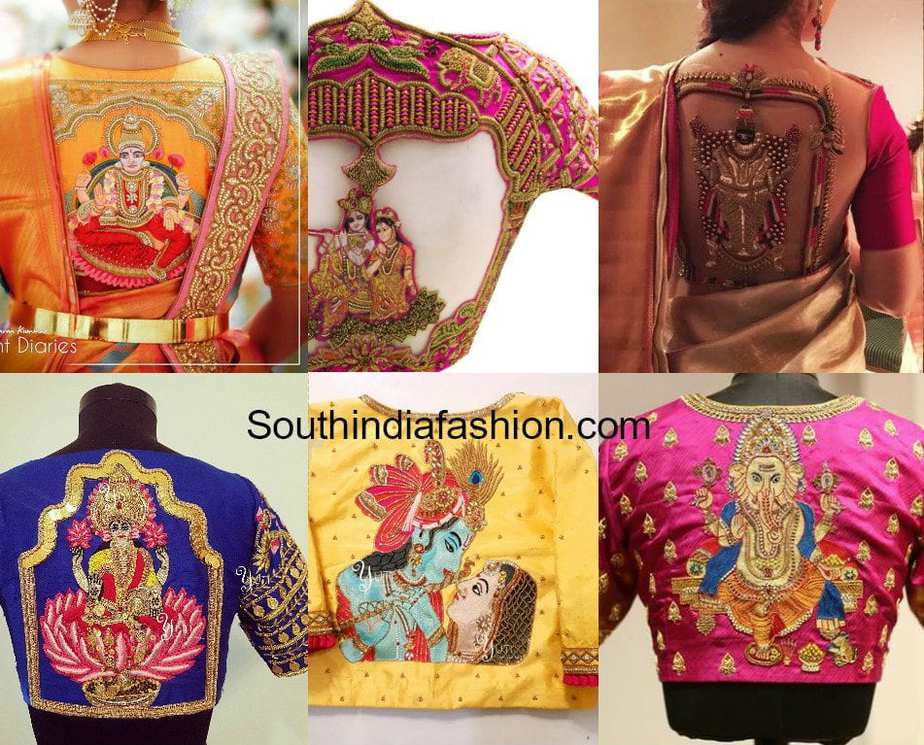 Divine saree blouses have become very special. In fact this is a trend for bridal blouses as divinity is associated with all things great and your wedding wear having the likeliness of gods would be such an interesting add on. This deep blue blouse with heavy embroidery across the back is so intricate and though it is different from the saree motif it looks fabulous. Lord Krishna blouses are very common, be it Krishna playing thr flute or Radha Krishna blouses.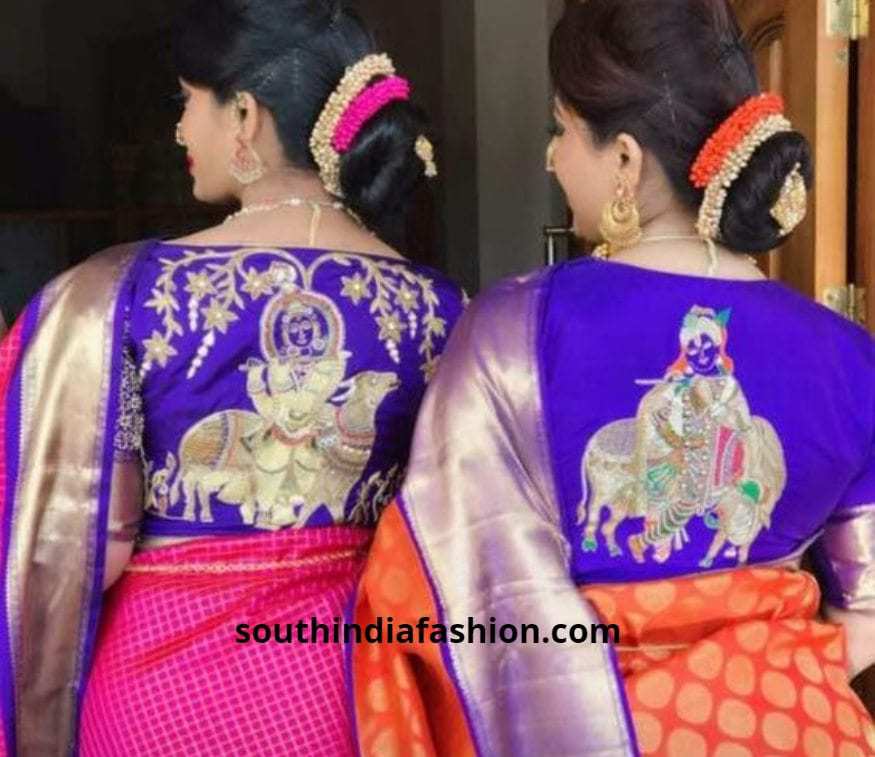 You can also opt for part painting and part embroidery like maggam work or aari work for these heavy blouses. They give a slight different texture and they are totally cool and work well even for bridal blouses.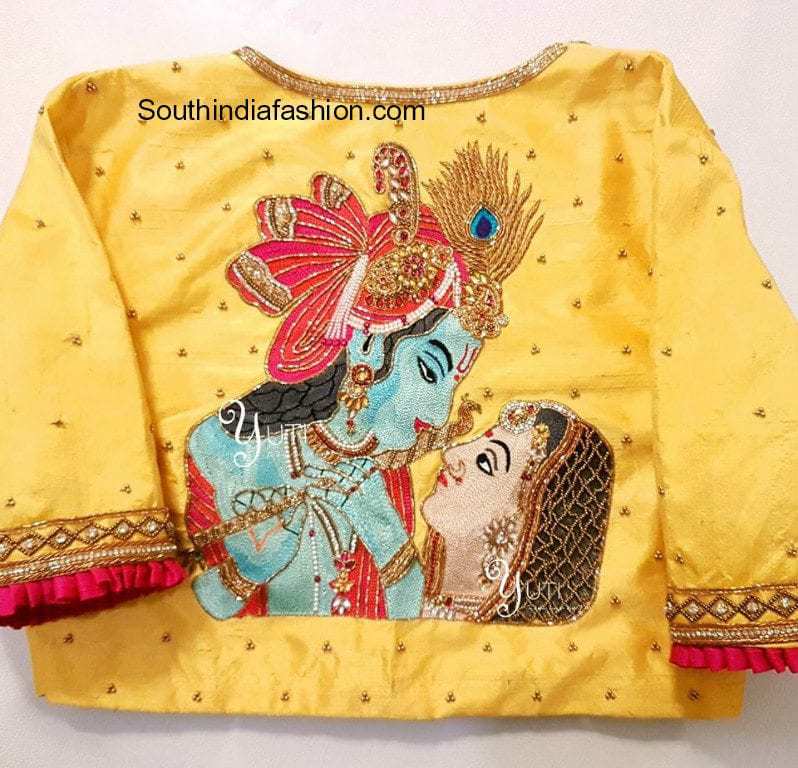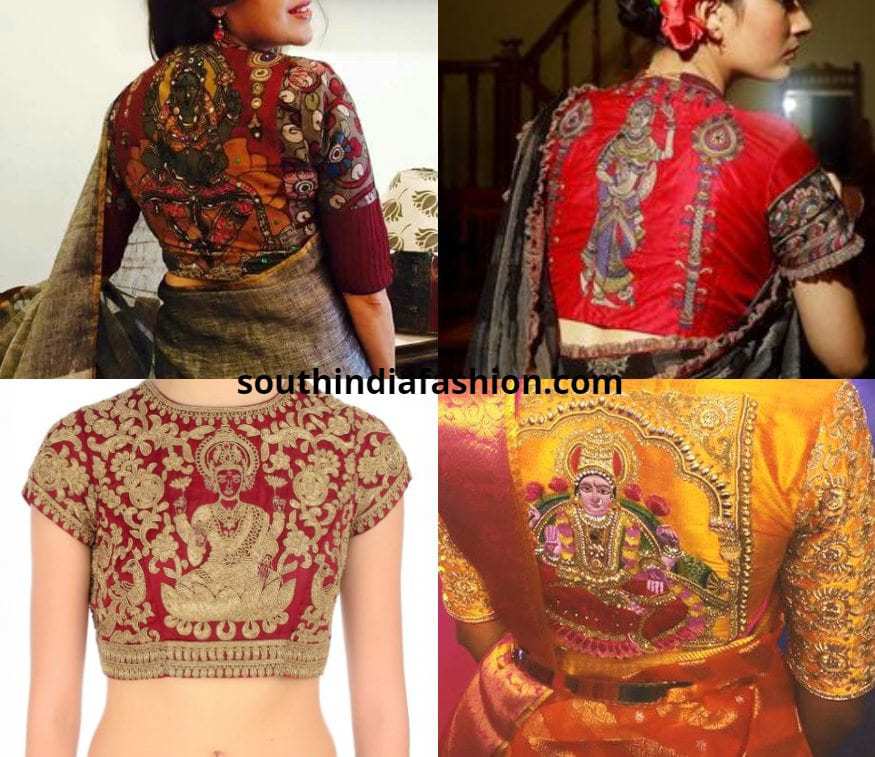 If you are wondering if this is the only way of trying out a divine saree blouse, we have some more interesting options for you. Try out a sheer back blouse with the likeliness of the god or goddesses done or even in the form of cutwork with embroidery. This is so unique and you will surely be asked about this blouse. Scenes of Raas Leela or Radha Krishna is very common in this style. You can choose gods and goddesses that give you a chance to add more color and bling to your blouses especially if it is your bridal blouse or you are attending a special occasion. another preferred choice is goddess Lakshmi embroidery on blouses for silk sarees. There is so much chances of adding more bling when you choose a goddess.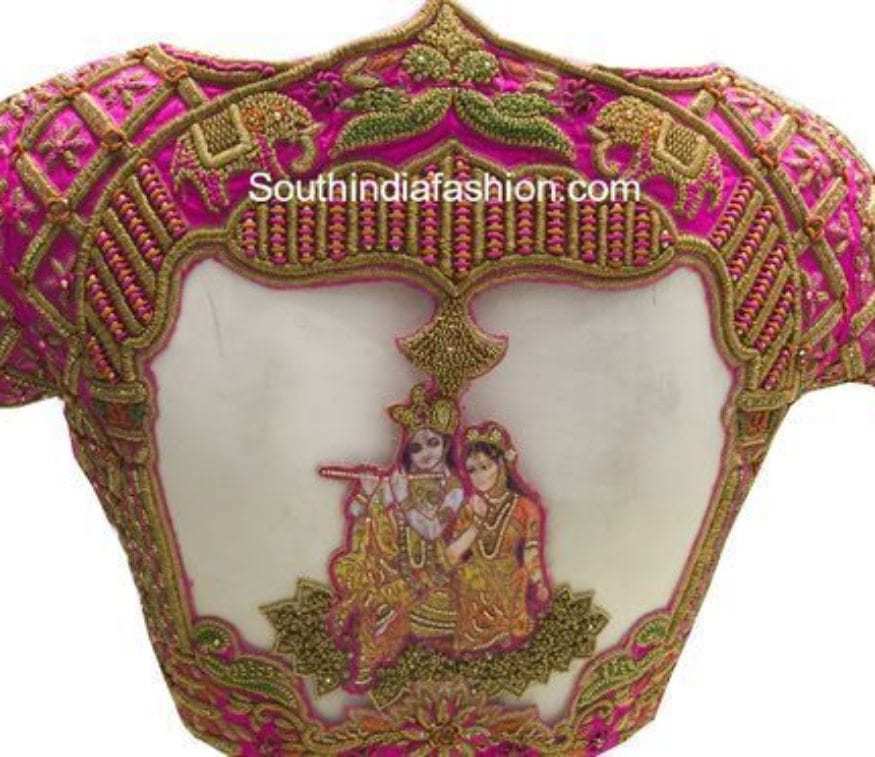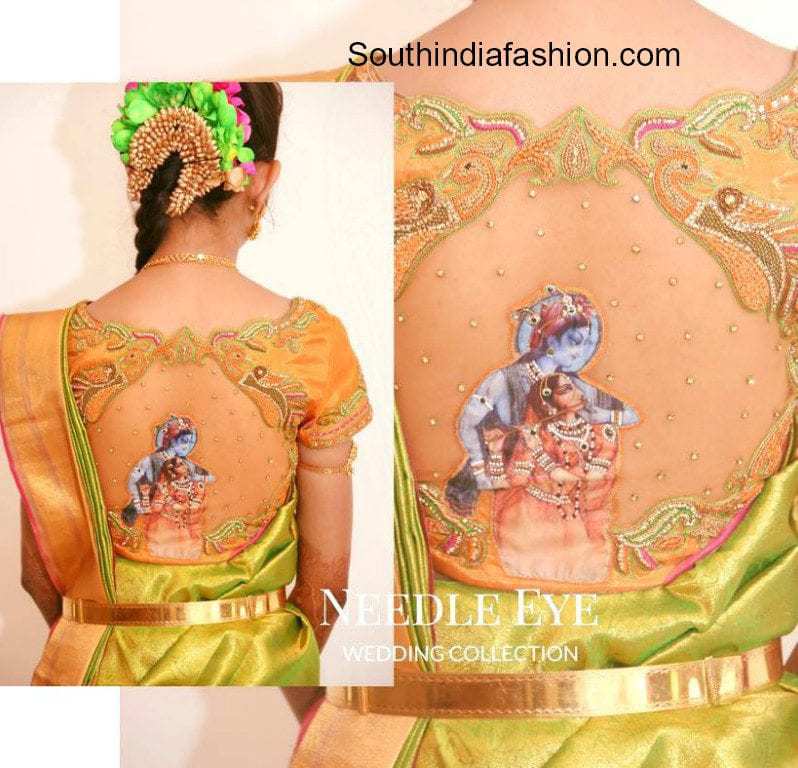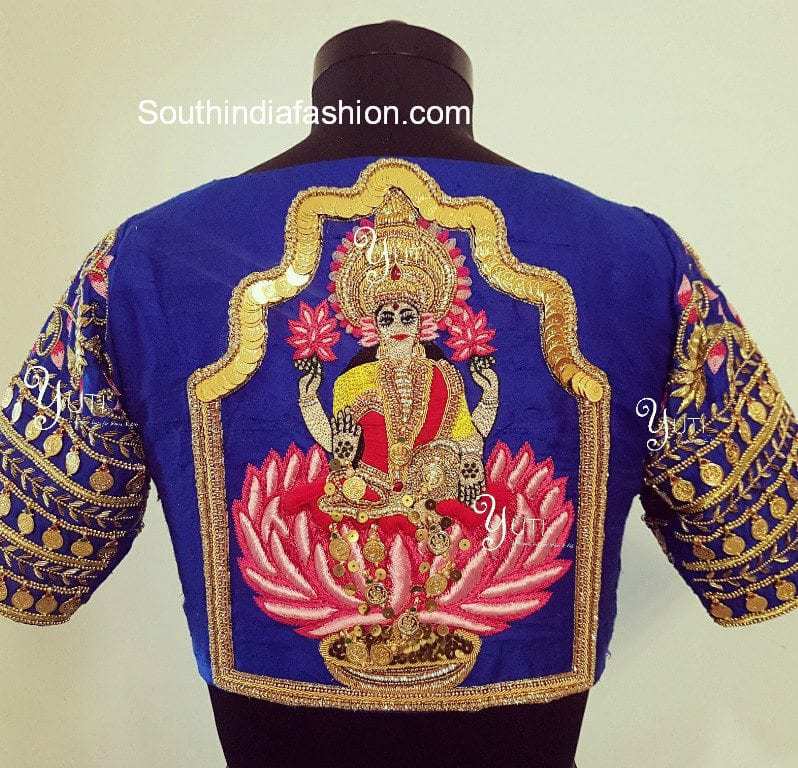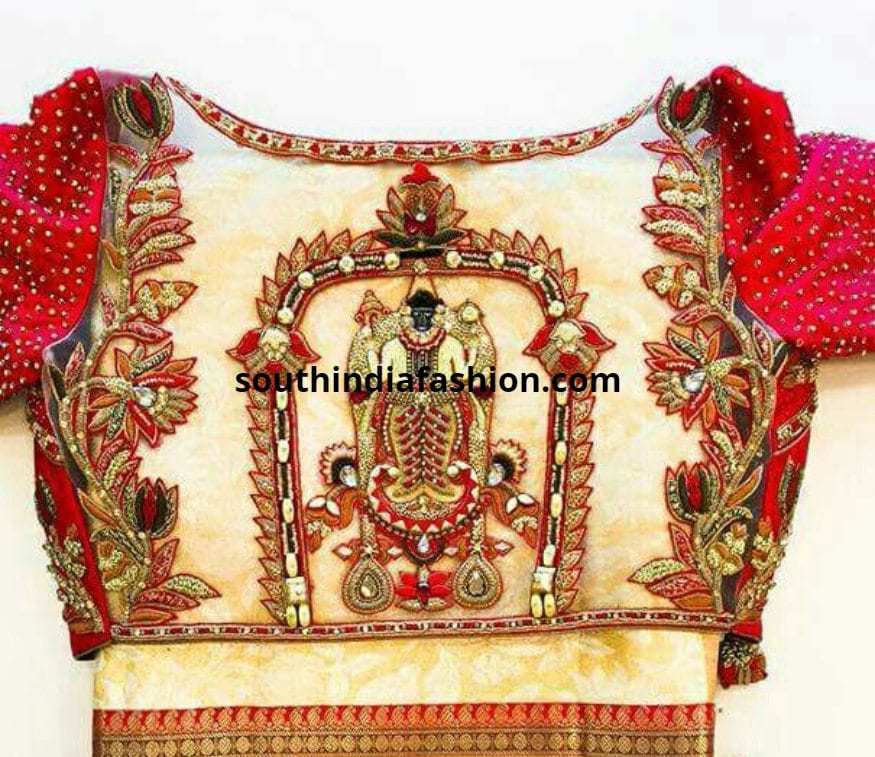 Another way to try this divine saree blouse if you are not up for having the embroidery done on the back of the blouse, these elbow length sleeve blouses are an interesting choice for you. They are so girly and cute apart from that you can add a complete goddess on your sleeve too!! If you have a thematic wedding these god and goddess blouse designs would be a great choice for a bridal blouse.
When we talk about bridal divine blouses, the latest bride on the block actress Bhavana, wore this lovely gold blouse by Label'M. The blouse had the needed bling of a bridal blouse and the trending standing Radha Krishna embroidered in a contrast tone of blue and red that completes the beauty of the blouse. These bridal blouses that show a beautiful couple on the blouse is so charming and pretty.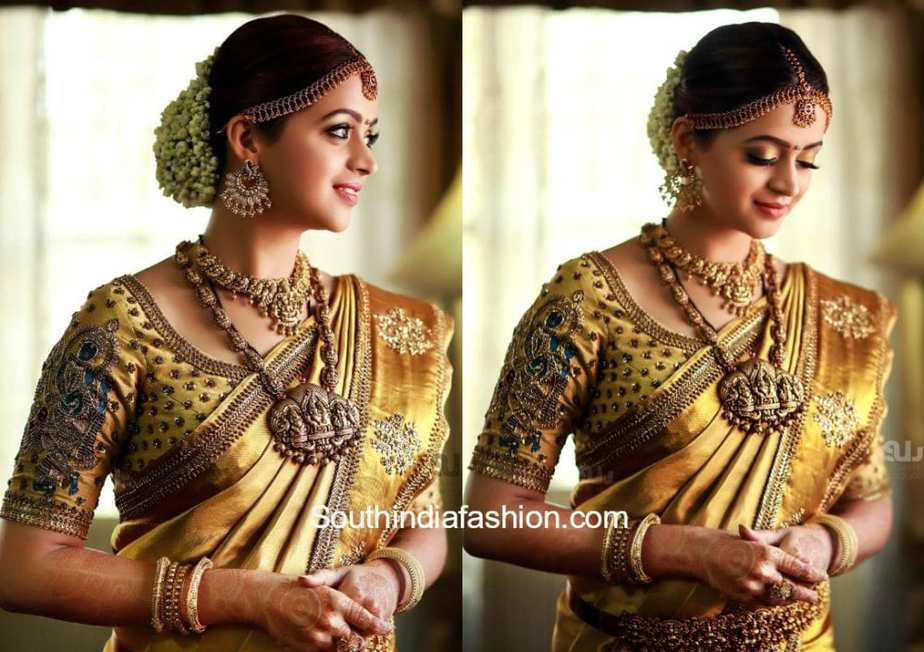 This god and goddesses blouses trend is surely here to stay this wedding season. Make your most of it and try getting one divine saree blouse done now!!