Traditional silk sarees are undoubtedly one of the best wardrobe investments for every Indian woman. We all already own many pattu sarees and yet cannot resist from shopping for more. But what completes our evergreen kanjeevaram sarees is beautiful silk saree blouse designs. Any pattu saree can instantly be dressed up or down with an appropriate pattu saree blouse pattern. But the specialty of the silk sarees is that you can style it with the simplest of blouses and still rock in them. Keeping the wedding season and the upcoming festivities in mind, we have come up with a catalogue of 30 latest simple silk saree blouse designs of 2018. These simple blouse neck designs for silk sarees or traditional sarees are very versatile and definitely for the win.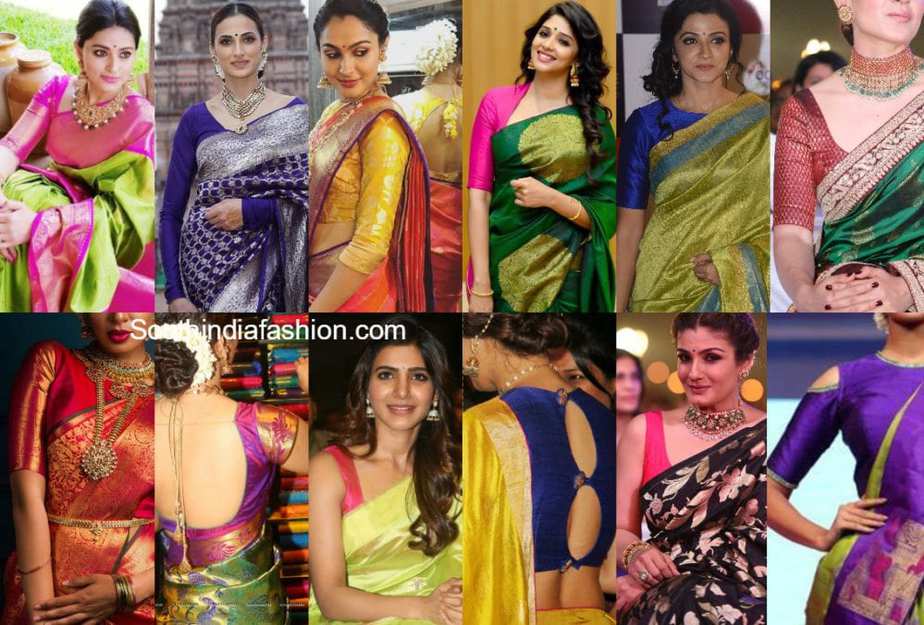 Simple Silk Saree Blouse Designs:
1. Silk Saree with contrast high neck three quarter sleeves blouse
Going for a contrast blouse design with your classic pattu sarees is always a good idea. A contrast high neck blouse with three quarter sleeves will elevate the look of your silk saree. This simple silk saree blouse style also allows you to wear statement traditional jewelry hence a perfect option for a simple yet sophisticated look.
2. Contrast plain sleeveless blouse for Pattu Sarees
If there is one simple silk saree blouse blouse design we will forever swear by, then it has to be a plain sleeveless blouse. Contrasting a plain sleeveless blouse with your silk sarees will never let you down. Infact, we suggest, every woman must own one plain sleeveless blouse in every different color.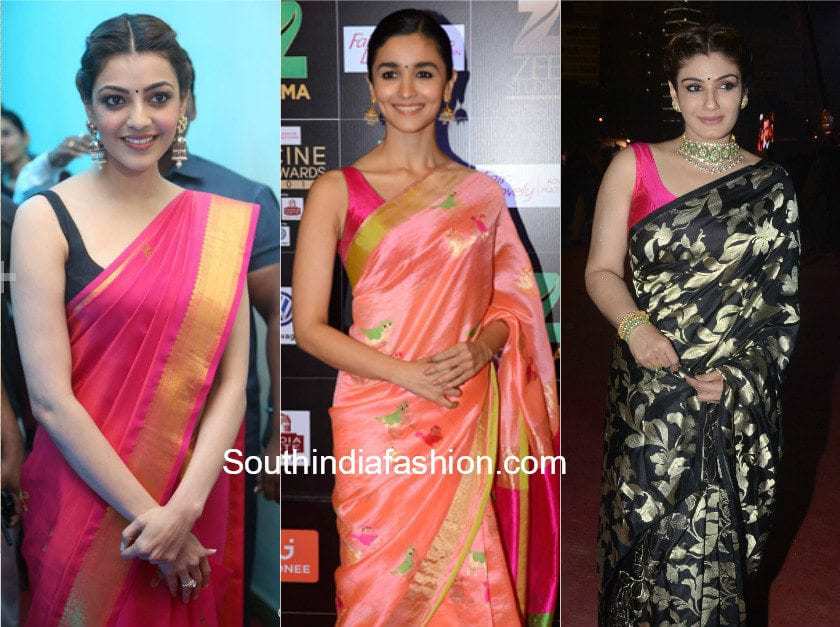 3. Silk saree with high neck key hole back blouse
A traditional silk saree paired up with a high back neck key hole blouse looks very modest and trendy at the same time. Play with your accessories to glam up your silk saree.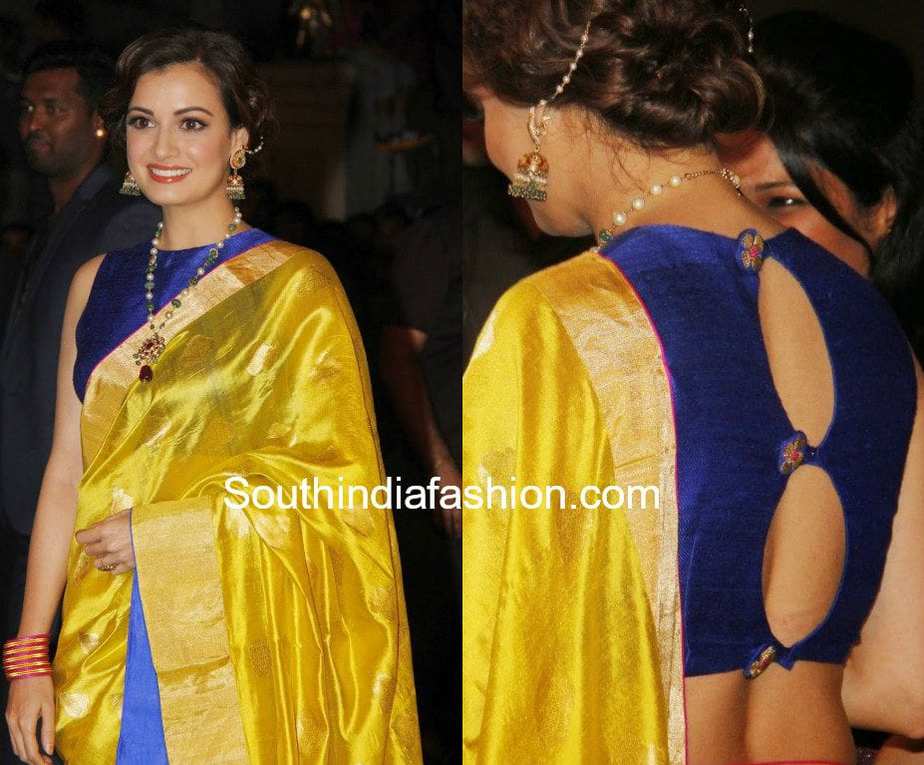 4. Contrast Color Blouse Designs For Silk Sarees
Any pattu saree look can be elevated with a contrast color pattu blouse. This style not only amps up your saree look but also allows you to try trendy blouse patterns on your back neck.

5. High Neck Puffed Full Sleeves Blouse For Pattu Sarees
This may seem to be a little hard to pull off but it is one of the simplest styles and extremely easy to style. A high neck puffed full sleeves blouse design must be paired up with a same color silk saree. You will get best results of the look if you pin up the pleats and accessorize with a belt.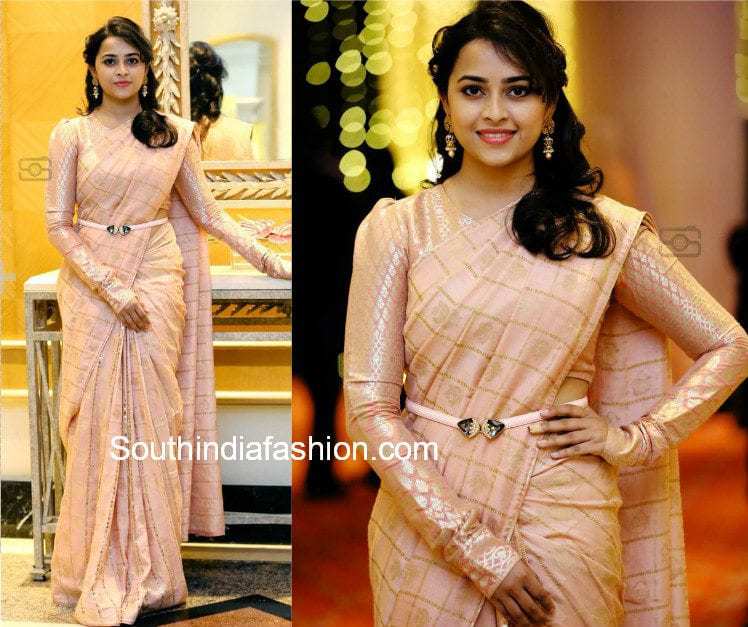 6. Pattu saree with high neck full sleeves blouse with cut out back neck
A pattu saree paired up with high neck full sleeves blouse featuring a cut out on the back neck is for those who want to make a statement with the back neck because the entire attention goes towards your back neck.
7. Silk saree with plain puffed elbow length sleeves blouse
Balance out any bold silk saree with a plain puffed elbow length sleeves blouse. This vintage blouse style is simple but makes a lasting impression with it's design.
8. Kanchi Pattu Saree with contrast elbow sleeves Banarasi Silk Blouse
A banarasi silk blouse defines royalty and every woman must own one in a neutral shade to mix and match with your numerous kanjeevaram sarees. A contrast shade blouse design with elbow sleeves will add a royal touch to your traditional silk saree look. This is one of the most trending silk saree blouse designs.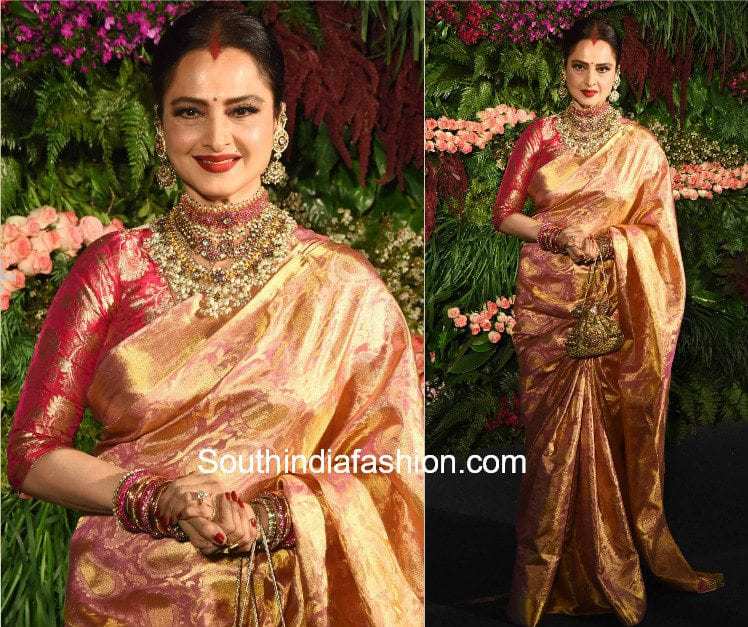 9. Silk Saree with elbow length sleeves Banarasi bhuti blouse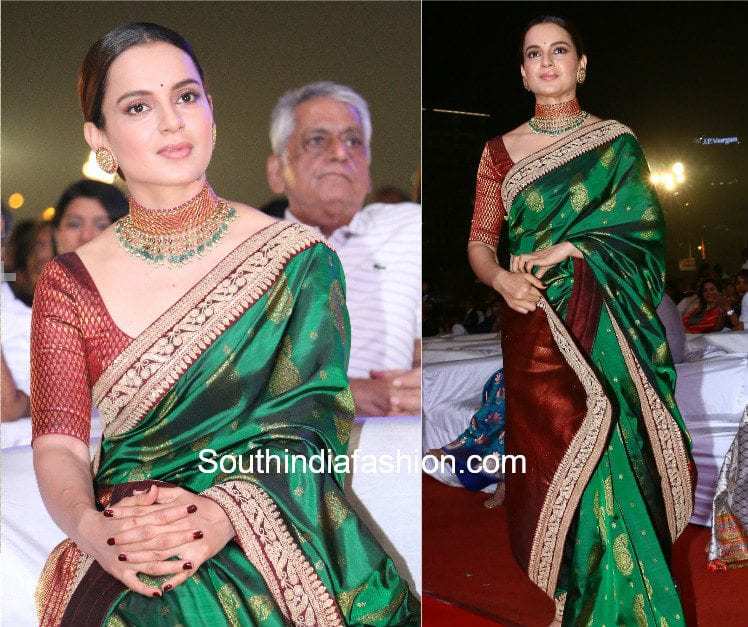 Tiny little bhuttis or even large motifs on your elbow length sleeves blouse look very cute and graceful with your silk sarees. You opt for this style of silk saree blouse design if you do not want to go with the plain blouse.
10. Contrast Plain High Neck Elbow Length Sleeves Silk Saree Blouse Designs
Pair up your pattu sarees with a contrast plain high neck elbow length sleeves blouse. However old style or sophisticated it may be, with the right styling anyone can ace this look.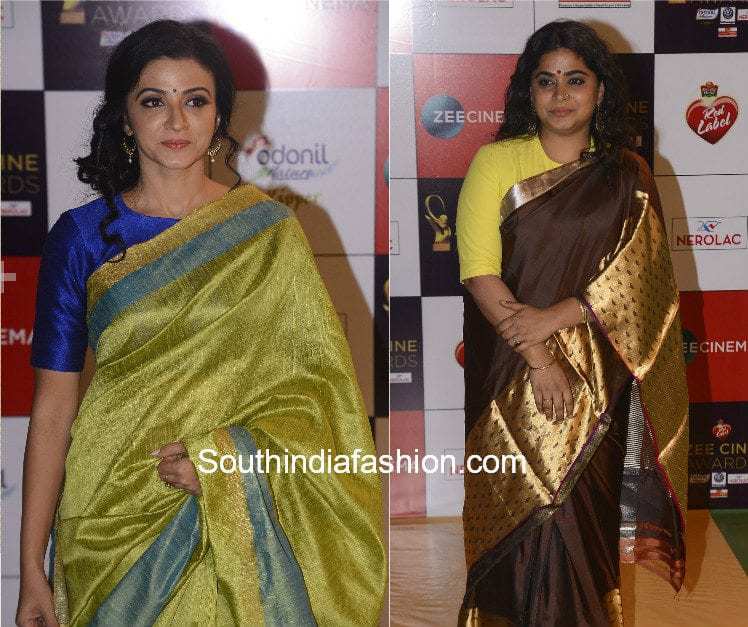 11. Kanjeevaram Saree with contrast plain kanjeevaram blouse
Team up your classic kanjeevaram saree with a contrast kanjeevaram blouse for a timeless elegant look. This simple silk saree blouse pattern has been continuing since generations and will never go out of style.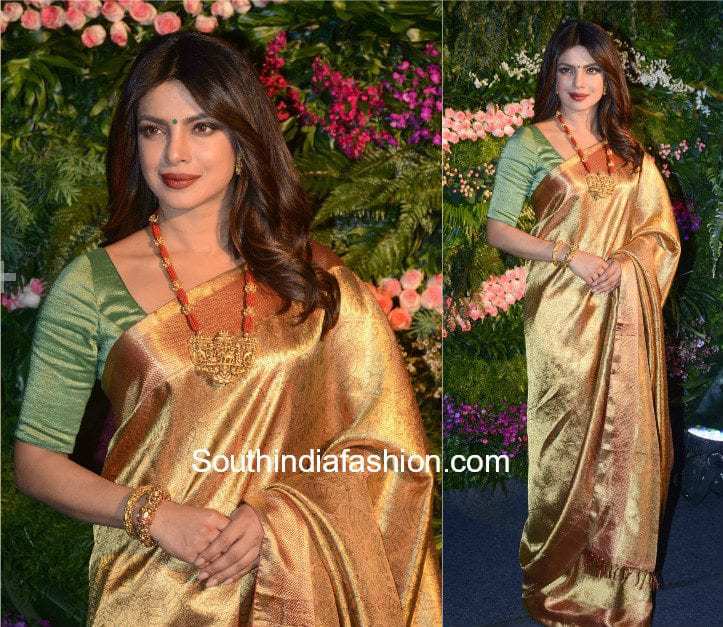 12. Matching color full sleeves blouse for silk sarees
A matching color full sleeves blouse design with your silk sarees can make a world of a difference to your saree look. The one color dominance adds more beauty to the traditional attire.
13. Sleeveless High Neck Pattu Saree Blouse
A matching sleeveless high neck pattu saree blouse design is a very trendy yet modest style to try out. This blouse design is a huge rage among all young girls and is sure to rule this 2018.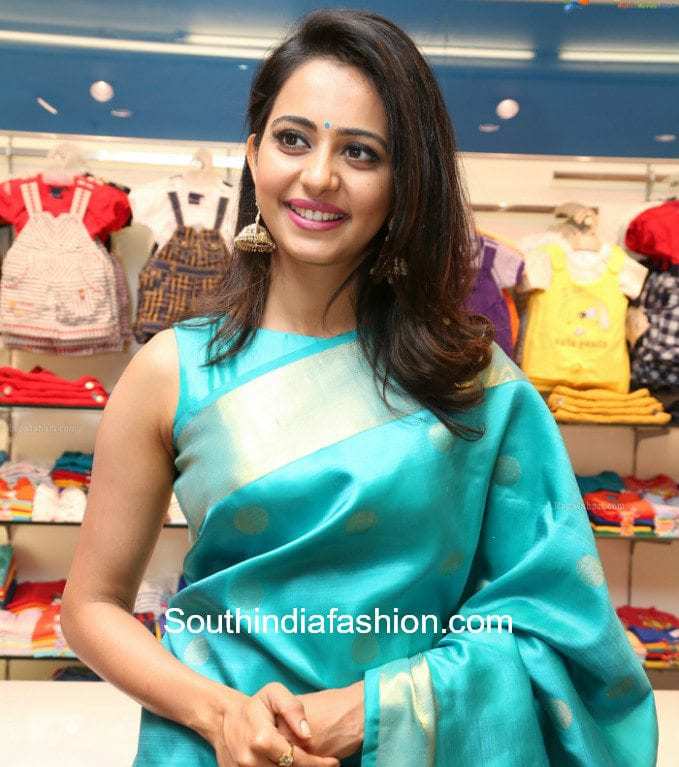 14. Pattu Saree with Short Sleeves Blouse
We don't think anyone has ever gone wrong in a pattu saree with a short sleeves or cap sleeves blouse design. Needless to say, this one is the most sought after designs.
15. Silk Saree With Plain Three Fourth Sleeves Blouse
A silk saree with plain three fourth sleeves blouse is another must try. The plain blouse beautifully balances out your silk saree look.
16. Collar Neck Short Sleeves Blouse for Silk Sarees
Super trendy and simple collar neck short sleeves blouse with your pattu sarees is one of our favorite styles if your are looking for a modern touch to your traditional look.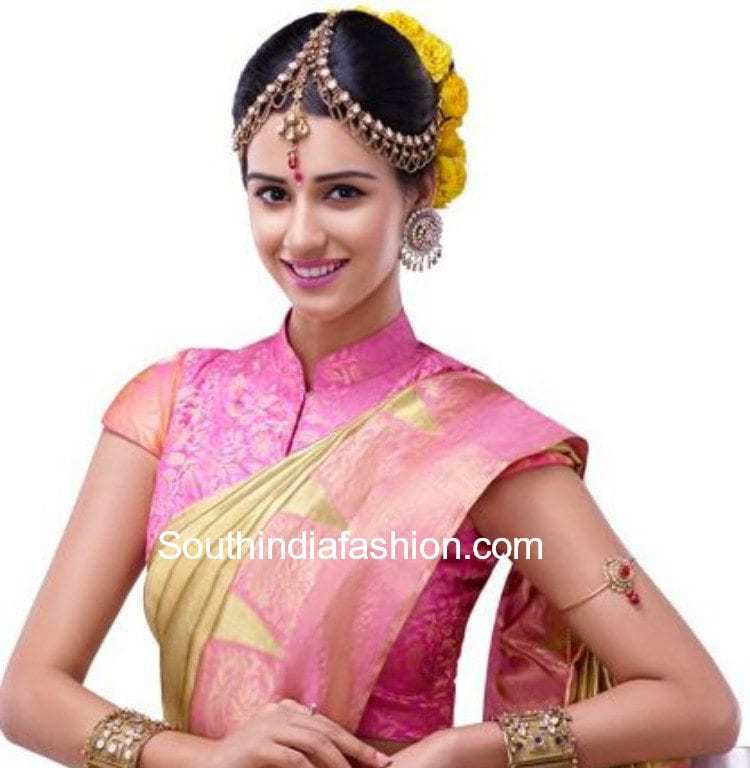 17. Silk Saree with Closed Neck Elbow Sleeves Blouse Embellished with Small Bhutis
A silk saree paired up with closed neck elbow sleeves blouse embellished with small buttis looks very graceful and can easily glam up your plain silk sarees.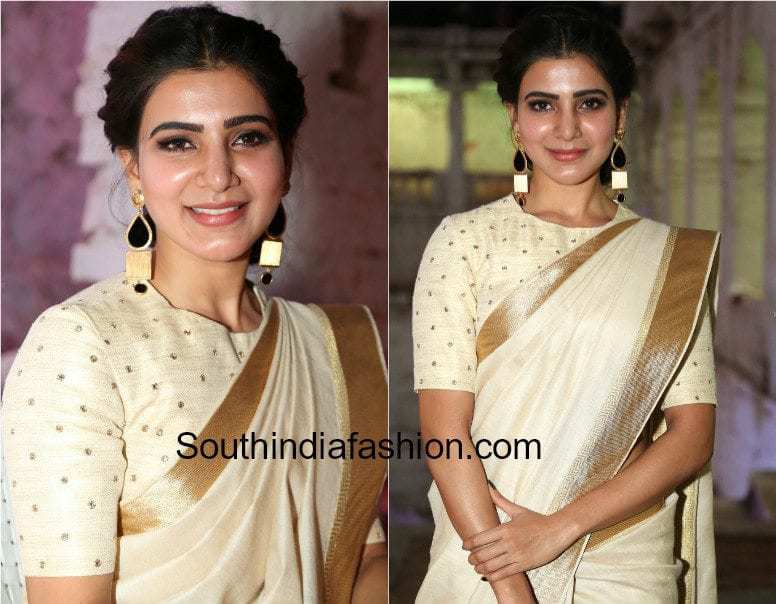 18. Full Sleeves Blouse with Contrast Sleeves
We saw this trend soaring high in 2016 and it is only getting bigger year after year. A full sleeves blouse with contrast sleeves is for those who want to make a bold statement with the sleeves and it is the second color that will catch all the attention.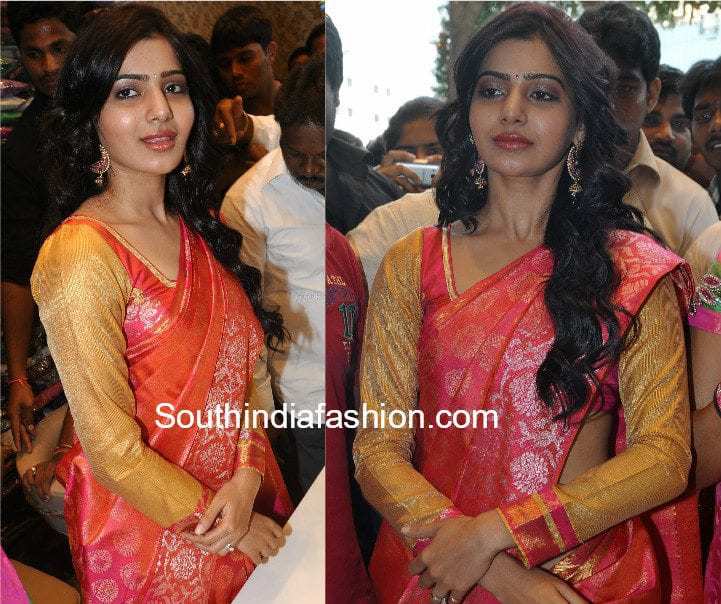 19. Big Border Elbow Length Sleeves Blouse For Pattu Sarees
Elbow sleeves blouse with big borders are one of our huge favorites. Borders only beautify the traditional attire and when they are bigger, they look even better.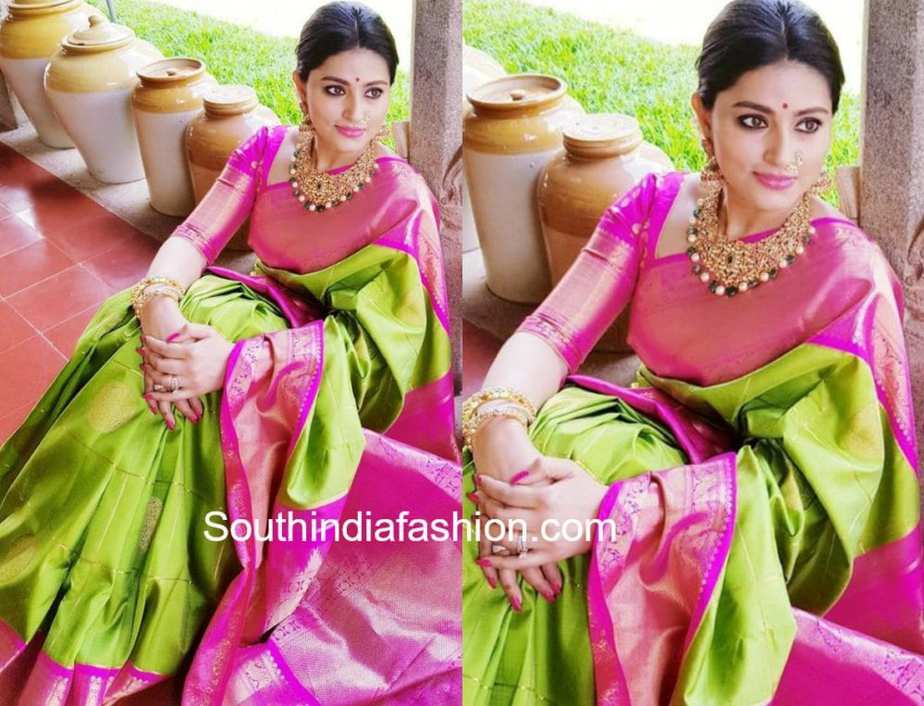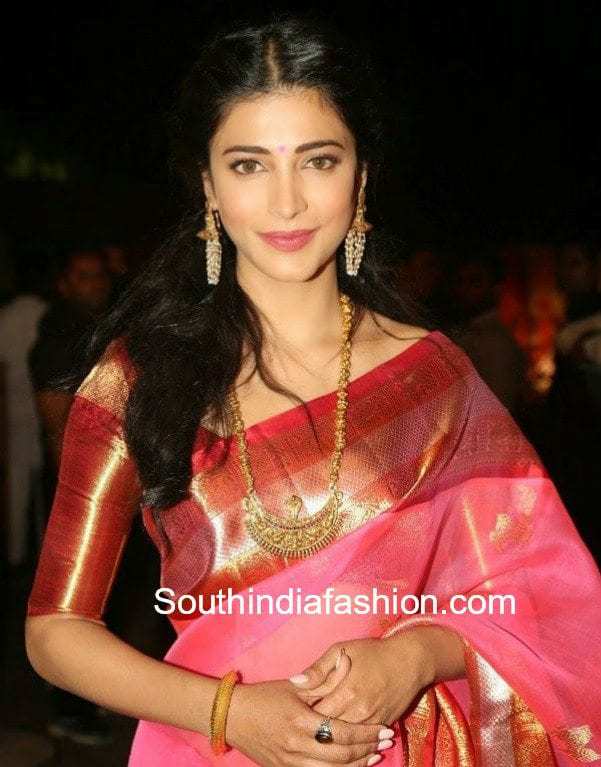 20. Off Shoulder Blouse For Silk Sarees
Show off your collar bones and pair up your silk sarees with simple off shoulder blouse designs. This style is for the modern young woman who love to make a statement with simplicity.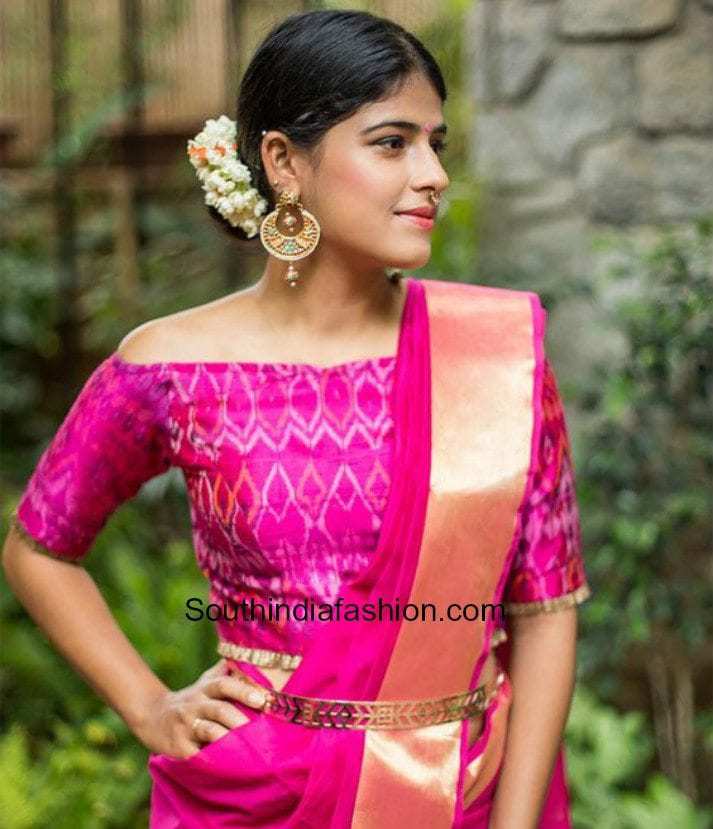 21. Cold Shoulder Blouse for Pattu Sarees
The hottest trend of 2016 – the cold shoulder is one of the trendiest and the most practical design to flaunt with your evergreen kanjeevarams.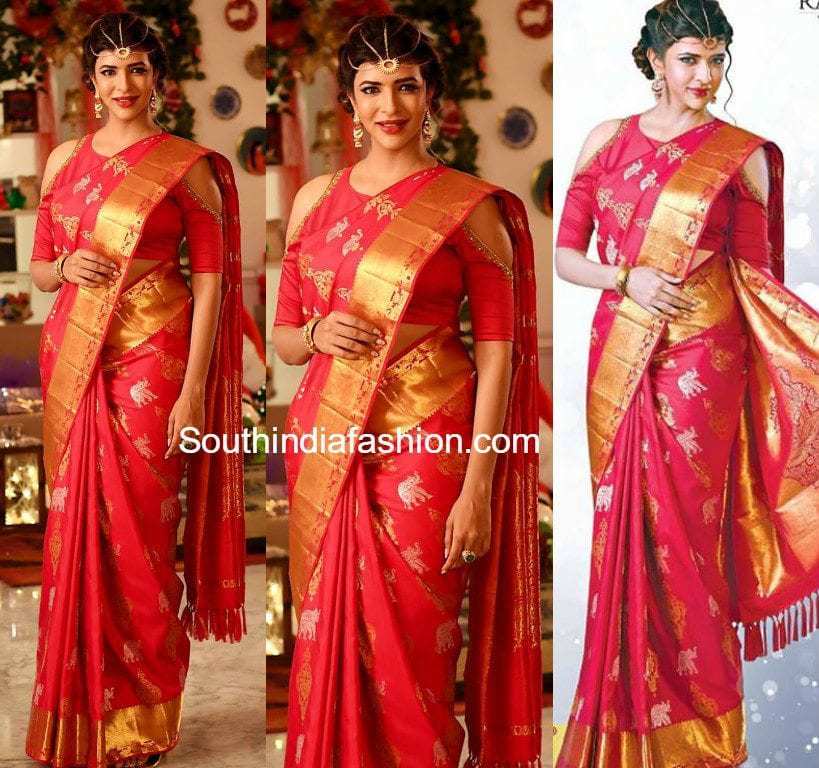 22. Pattu Saree with Contrast High Back Neck Elbow Sleeves Blouse
Our celebrities love them and we can never get bored of this style. Pattu sarees with contrast high back neck elbow sleeves blouse is a must try for every saree lover.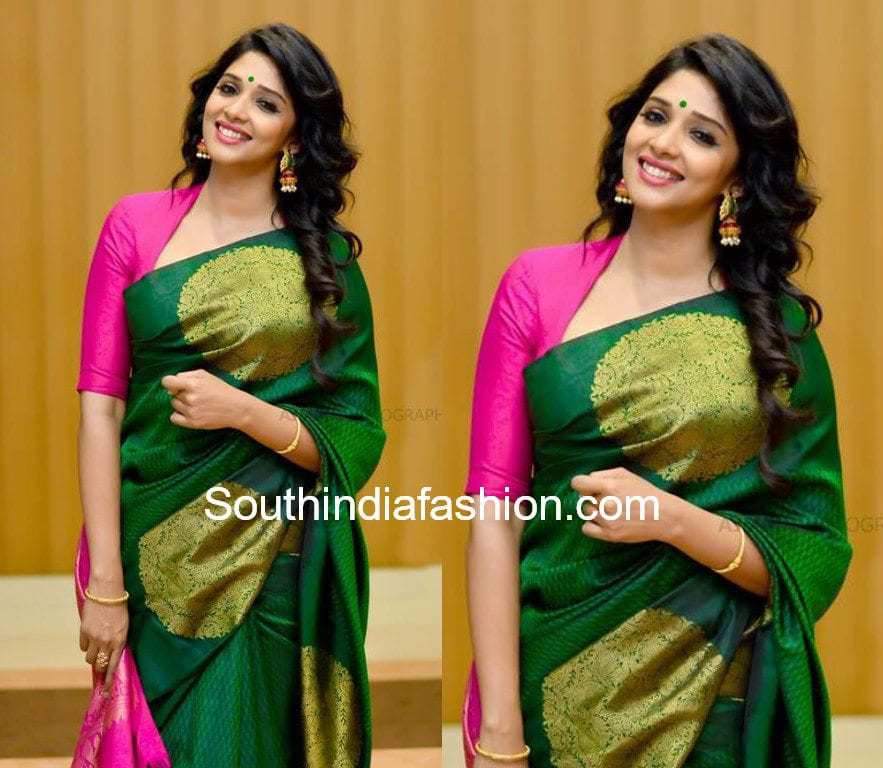 23. Silk Saree With Puff Sleeves Blouse Design
Since years, we have seen this style of the silk saree with a puff sleeves blouse design and don't you think it looks super cute? This famous pattu saree blouse design will remain evergreen.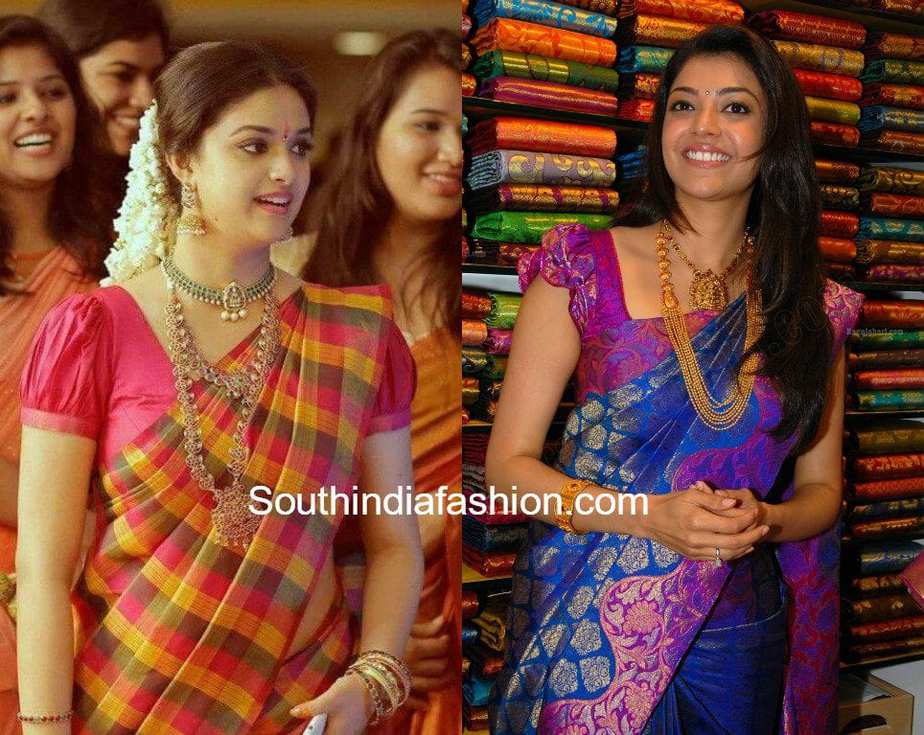 24. Pattu Saree Blouse with Net Sleeves
If you are one of those to experiment with textures on your blouses, then mix up your pattu saree blouse with net sleeves. The texture play will make everyone go wow.
25. Checks Blouse with Silk Saree
The retro style checkered trend is the most sought after blouse design for pattu sarees. This design is perfect for weddings and festivities.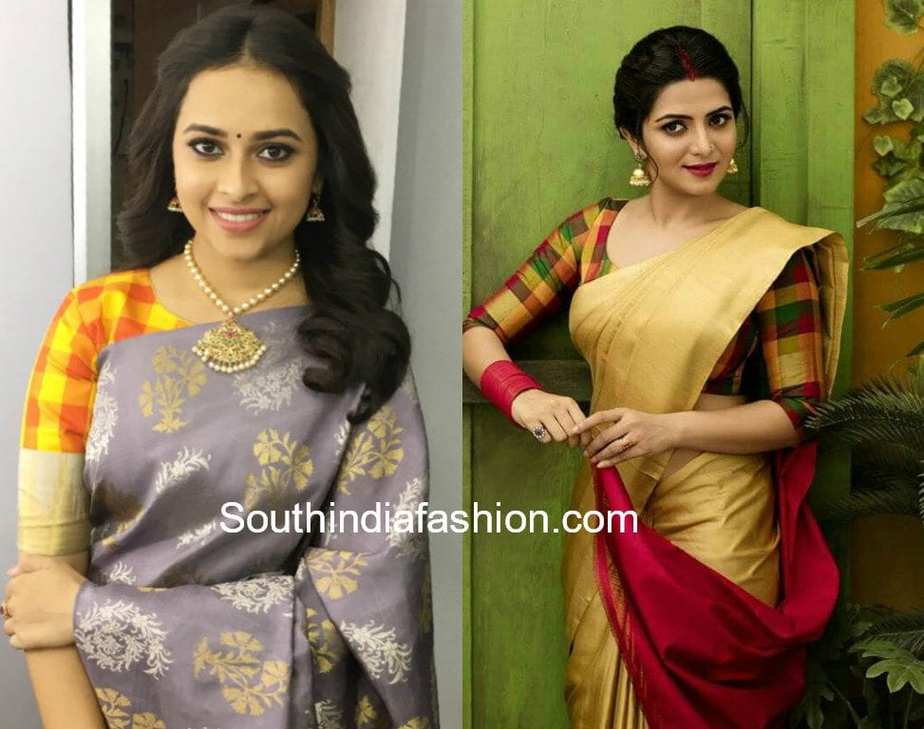 26. Pattu Saree with Floral Blouse
The floral blouse trend is for sure coming back every spring summer. Add a splash of color to your silk sarees with a floral blouse.
27. Silk Saree with Boat Neck Blouse
A kanjeevaram silk saree paired up with a boat neck blouse can make heads turn with its simplicity. The boat neck style works best with an elbow sleeve length blouse.

28. Silk Saree with Matching Sleeveless Blouse
Just like how we swear by the idea of a silk saree with a contrast sleeveless blouse, we equally love the matching sleeveless blouse design. Your silk saree will look very elegant and stylish at the same time.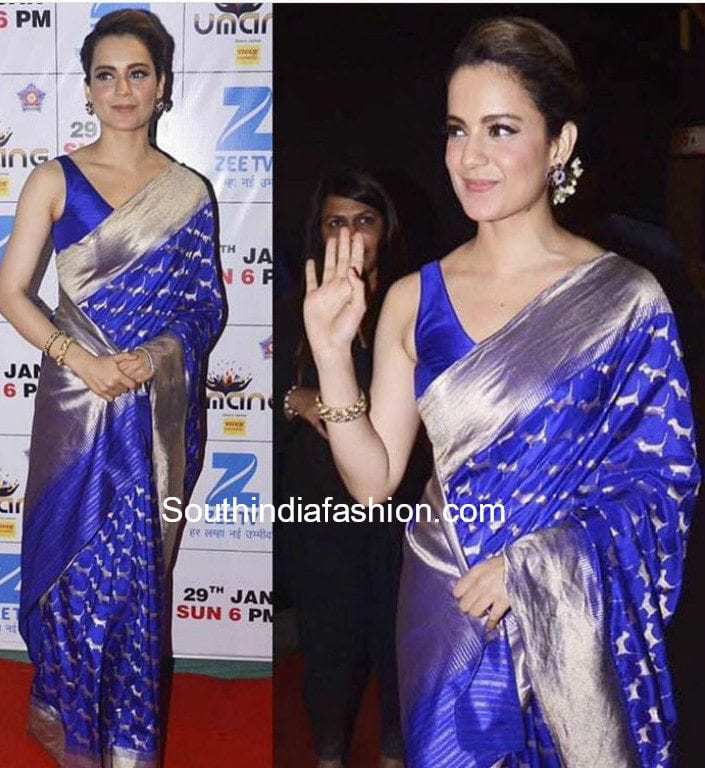 29. Plain Pattu Blouse with Elbow Length Zari Sleeves
Are you a fan of glossy zari? Then the plain elbow length pattu blouse with zari sleeves is the one for you. Your pattu sarees will look even more dressy with this blouse design style.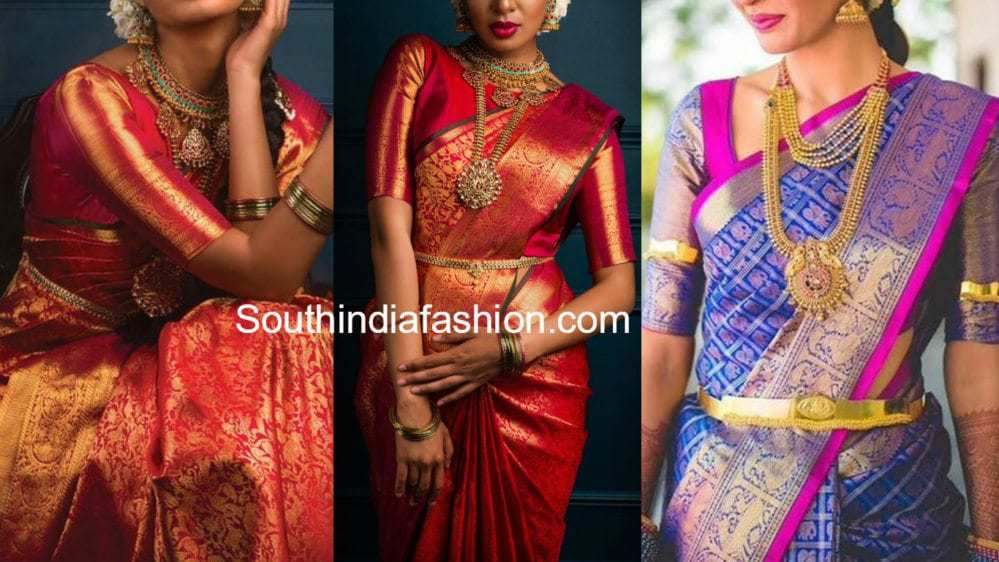 30. Boat Neck Cap Sleeves Blouse
A boat neck cap sleeves blouse is rarely seen but do not hesitate to try it out as this style will always be in trend. Style your cap sleeves with a touch of the border or lace for it to stand out.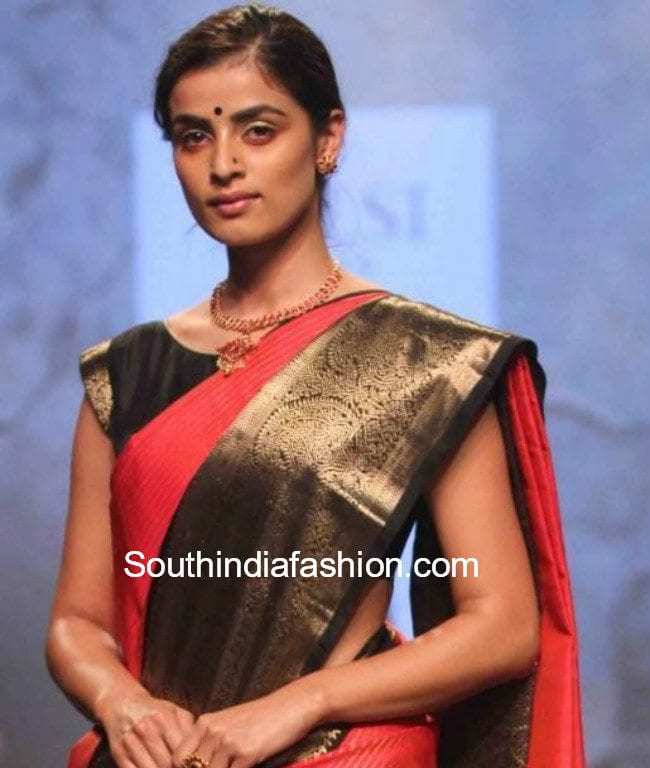 Simplicity is the key to win any pattu saree look. You do not always have to over-do your traditional look but just styling your kanjeevaram sarees right with the simplest pattu blouse designs / simple silk saree blouse designs can work wonders. In today's world, from the trendiest to the simplest readymade saree blouses can be shopped online at one go thus making saree dressing so hassle-free. So go ahead and rock your silk saree looks with simplicity and style.