Shilpa Reddy is one of the popular fashion designers who makes sure that ethnic wear does not get boring. Even if it is a simple saree she makes sure that it is as alluring as a fancy western outfit. Thanks to people like Shilpa more people are embracing ethnic outfits for the cool twist it gives. Let's learn how to style sarees as effortlessly as Shilpa Reddy..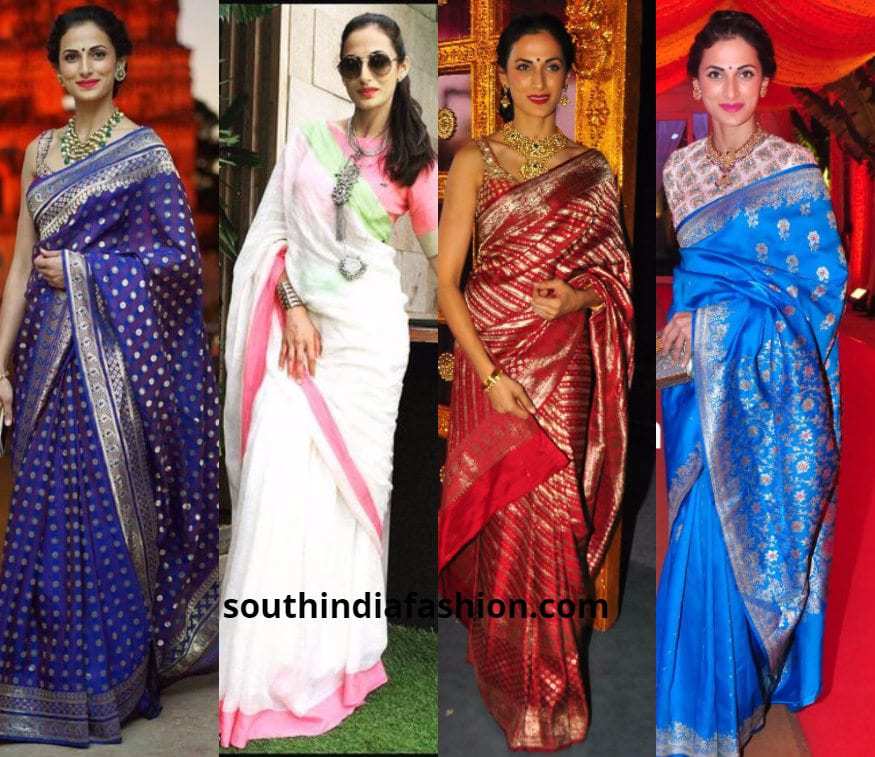 If you are attending a wedding check out this incredible gold saree and perfect accessorising by Shilpa Reddy that would sure make you the belle of the ball. It is surely not that heavy to provide stiff competition to the bride nonetheless!!. This is a perfect choice for a bridesmaid saree.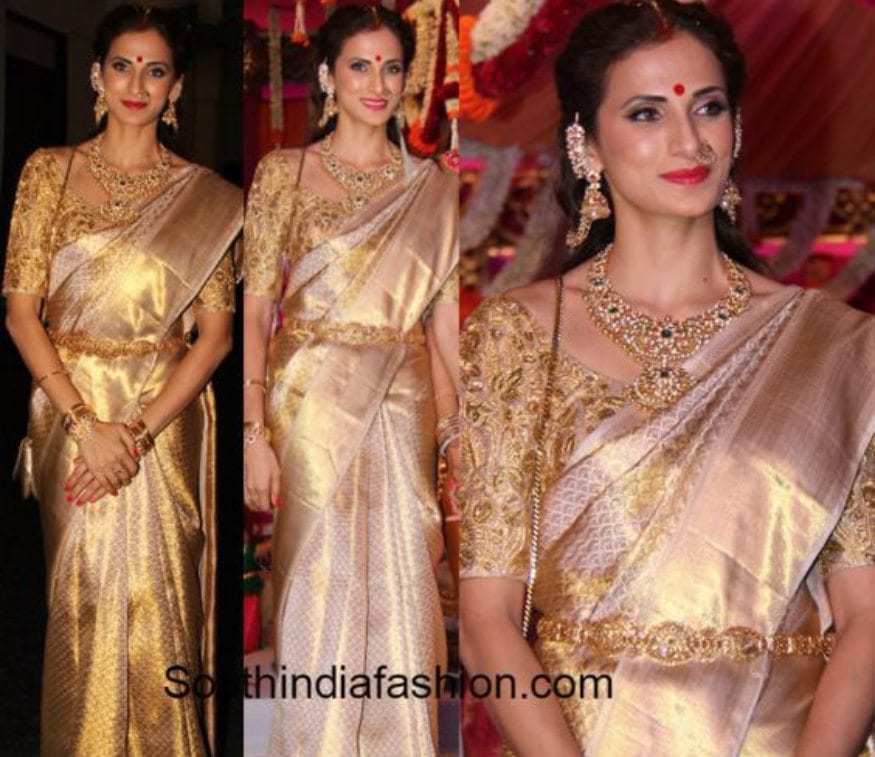 For a warm day where you do not want to wear a relatively heavy saree team up a corset blouse with a light weight saree, and wait for the flawless effect.
For yet another beautiful wedding guest look, go for a heavy banarasi saree and team it up with a plain full sleeve blouse like Shilpa Reddy here. Your heavy saree gets the attention it deserves and she shows that it is not necessary to wear a heavy blouse all the time.
Now, how about some great idea for the winter weddings? When you have to wear a saree do not team it up with a regular blouse. Instead go for a jacket style- both short or long jacket and wear your saree. You can also opt to wear the jacket over the saree, but in such a way that you can show off the pallu shoulder.
For the young fashionistas take a page out of Shilpa Reddy's style and wear a linen saree with trendy glasses and a statement neck piece.
In yet another unique drape Shilpa rocks the simple saree and gives it a new dimension by wrapping it like a stole. The beads give the spunk the saree deserves.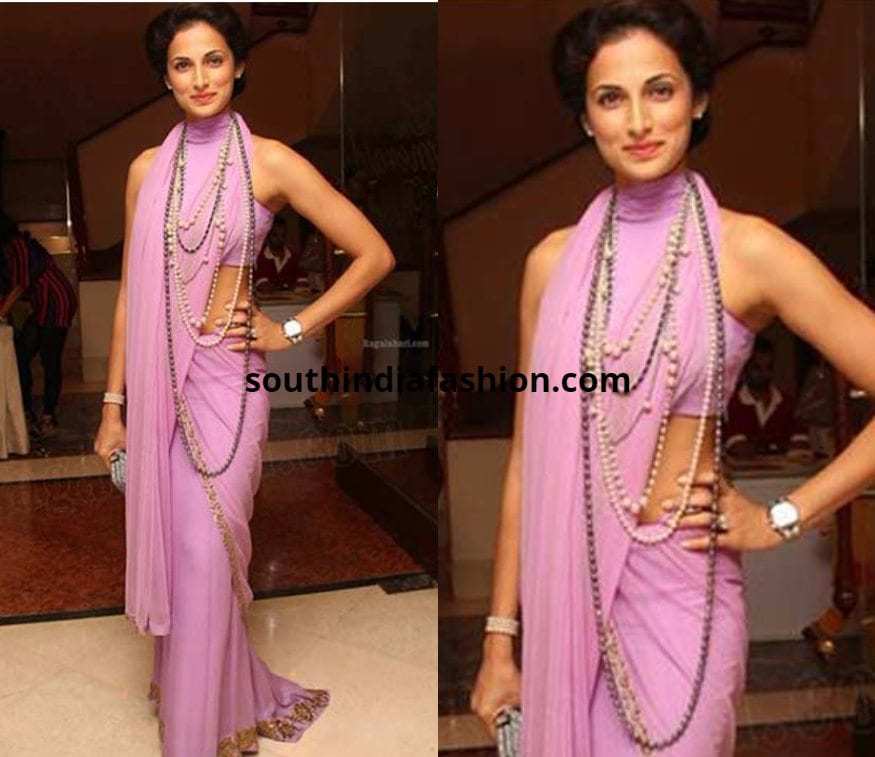 7. Doing a traditional look with a contrast blouse is a little tricky. Especially if the contrast blouse color is not a part of the saree colors palette. Leave it to Shilpa Reddy to change that and pull this look off in style with a fancy hairstyle as well.
8. This dhoti saree fully accessorized with temple jewellery can be another rocking pre wedding festivity look for the bridesmaids. Its quirky, fun and has all the bling elements in place.
Belting your saree is in fashion now. Everyone knows that. This broad belt that reduces your waist and makes you look fab is so cool and it transforms the simple Kalamkari cotton saree to a master piece.
10. For another traditional look with a twist pair up your heavy silk saree with a sleeveless blouse with work done all over the sleeves and neckline and add some bling with a heavy kundan neck piece. You are sorted for any high profile event.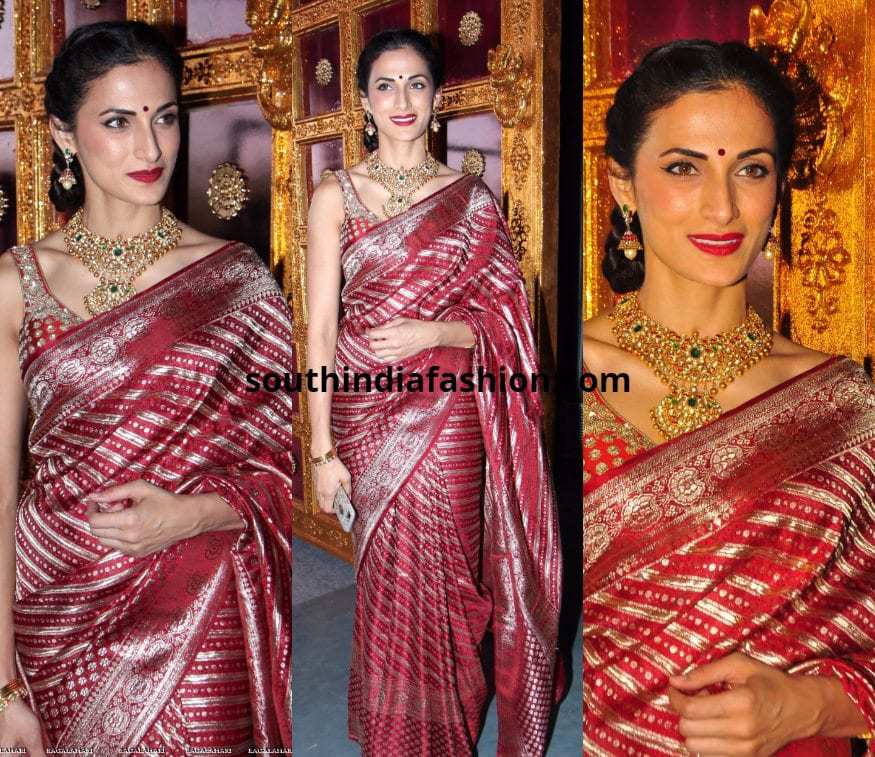 Hope these 10 ways to style sarees like Shilpa Reddy gives you more ideas to try!!