When we think of Pattu sarees, we think of the reds, greens and a whole lot of bright colors. Blue is a color that comes to our mind a little later. So if you have a blue pattu saree how can you give it a new look each time you wear it? Easiest way is to pair it with a unique blouse of a different color each time you wear it. We give you 4 perfect blouse combinations for blue pattu sarees.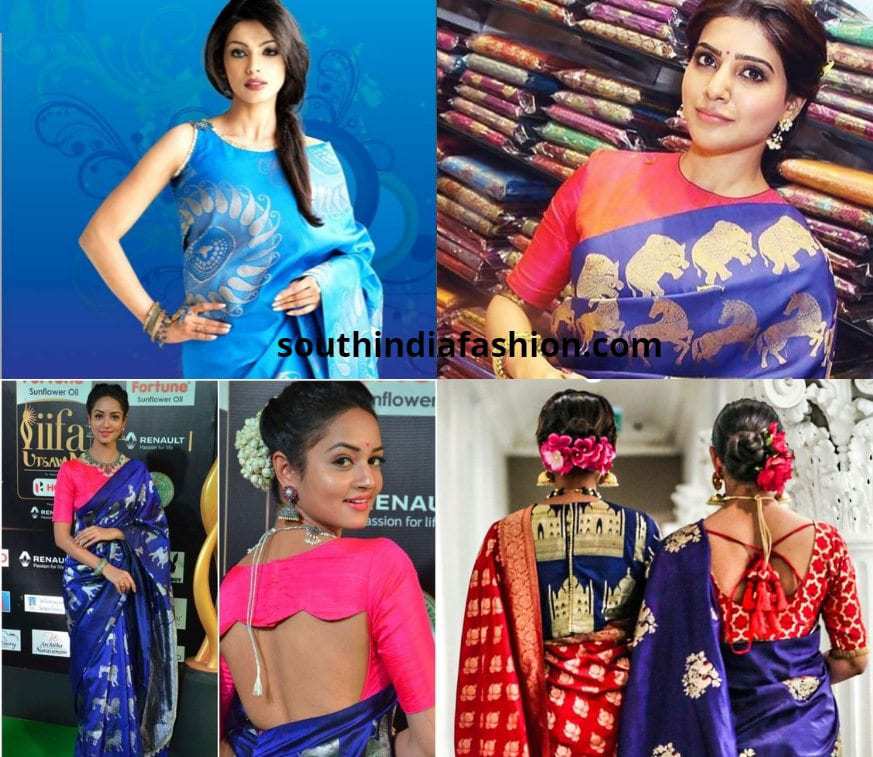 Blue Blouse 
A blue pattu saree looks lovely with the same blue blouse. Adding the border or making the border smaller than that of the saree or adding some embroidery is purely your choice. But a blue on blue combo is definitely a pleasing choice and cannot go wrong.
Red Blouse
Various tones of blue looks lovely in a pattu saree. A color that pairs well with most of these tones of blue from a light blue to a royal blue is red for sure. Regal and vibrant a red blouse can give the whole look a shine and make it excellent. You can opt for deep red either a plain one or even a brocade red blouse to add more glamour.
Pink Blouse
Pink is one such color that goes with almost all colors of the spectrum. Blue and pink have always had a great bond. So choosing a hot pink blouse for a blue pattu saree is second nature or an instant pick. This looks very pretty and gives a grand look.
Yellow Blouse
A dynamite of a color, yellow can add joy by even the smallest addition. A yellow blouse paired with both a light blue or even a deep blue saree is a total yes and it gives the required effect without much pain!!
These 4 blouse combinations give your pattu sarees a fresh look each time you try it. Go for plain blouses, heavy maggam work blouses. Try different sleeve patterns too like puff sleeves, full sleeves or even sleeveless. This Diwali rock in your pattu sarees!!