Saree blouses are of so many different patterns. Each one is awesome and there are certain patterns that suit traditional sarees better than your fancy sarees and vice versa. However there are certain blouse designs that works splendidly well with all kinds of sarees. High neck blouses are one of those blouse designs that can add glam and elegance for any kind of sarees.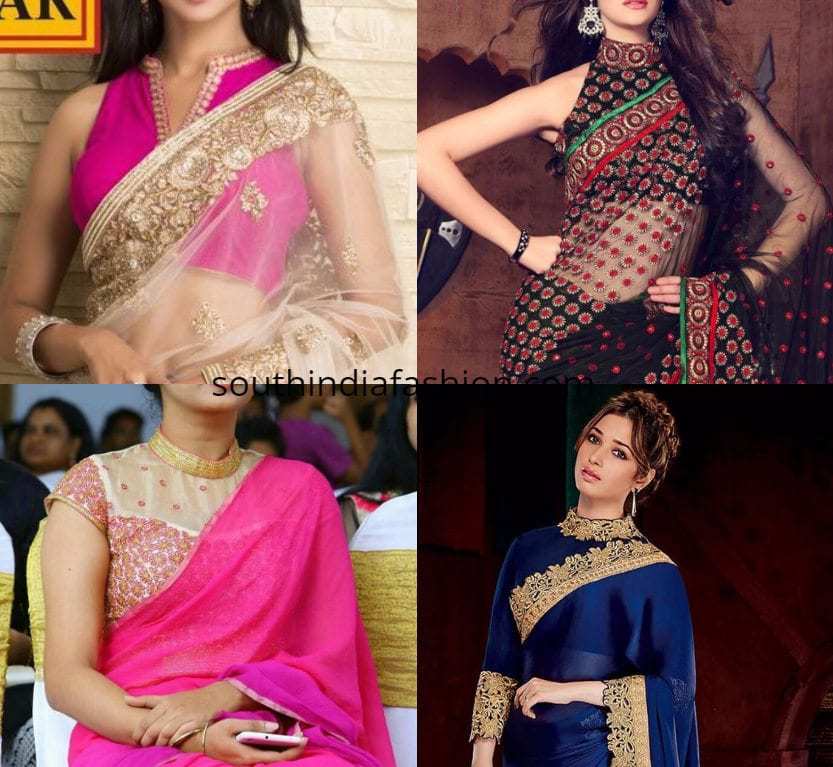 High neck blouses can be literally classified into so many kinds. The ones with a light collar, more like a Chinese collar. You can have jeweled high neck blouses too. They look really nice with simpler sarees, and you can let the blouse do the talking. Another interesting high neck blouse design that has been doing the rounds is the high neck blouse with a tear shape pattern at the side. It looks lovely and these blouses are being done in a kind of sparkly fabric which adds to the fun.  These styles are perfect for your chiffons and breezy fancy sarees.
Look below to see how perfect are high neck blouses for traditional sarees. Be it Kanjeevaram sarees or Banarasi sarees these blouses in brocade or in simple silk look beautiful and gives you a unique vintage appeal.
Now let us talk about what kind of sleeves will complement high neck blouses. We think that since the neck is quite high we need to go with sleeveless or very short sleeves. So the number of people who opt for high neck blouses are low. But this is not the case. A high neck blouse looks as good with sleeveless as with full sleeves. Celebs like Deepika Padukone totally endorse high neck blouses. You can see how she carries them off effortlessly in all kinds of sarees and all kinds of sleeve lengths.
You should know that high neck blouses are totally stealing the show in 2017 and you must have a few of them to be the trendy diva!!