As much as we love our traditional sarees fancy sarees occupy a great chunk of our wardrobe. They are apt for evening outings and the bling, textures and colors make them look quite exotic. These exotic sarees surely need equally exotic blouses to complement the complete look. So here are 10 exotic blouses for you to make you look gorgeous!!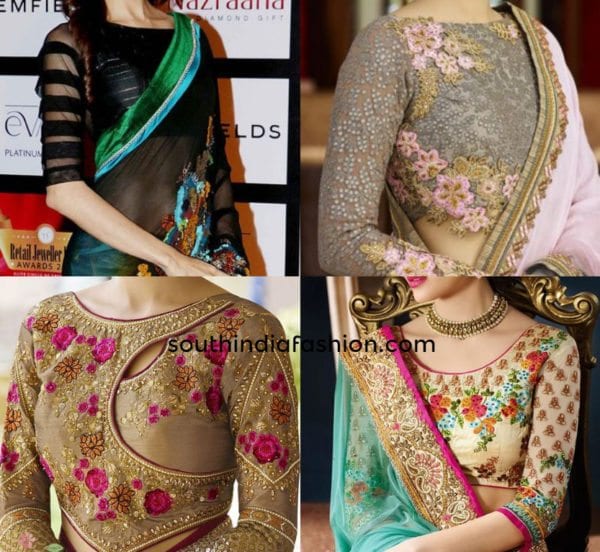 1. This blue blouse combines both simplicity and elegance together and presents a wonderful output. This blouse can be replicated in any color with both gold and silver bases. Take care not to overdo the bling beyond this.
2. If your saree is relatively simple and you are looking for a heavy blouse, you can surely think about this pattern. It has all the trendy elements in place and is sure a looker.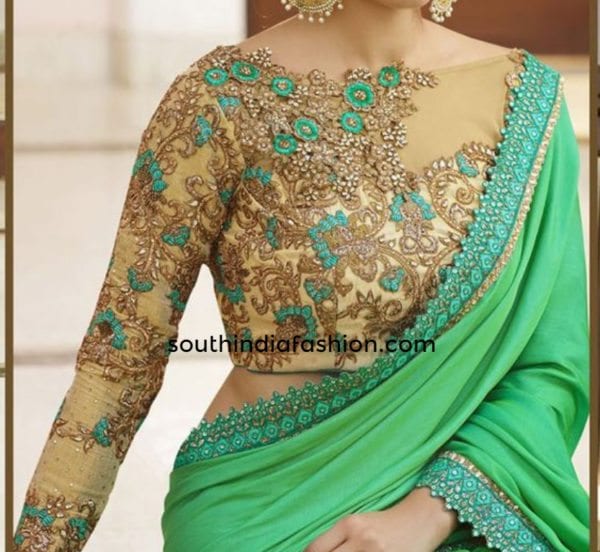 For those who want to try a two tone that is a contrast of your saree color, this blouse can sure give you ideas. It has a variety of textures and colors and yet perfect for fancy sarees.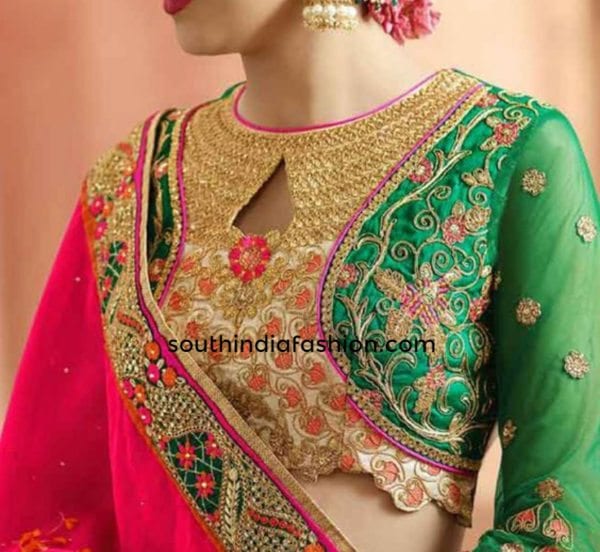 Ladies who love a fancy back neck, will surely love this. The neckline, with the bead trim, which is again replicated on the sleeves is a must have.
Sonam Kapoor shows us how to rock a high neck blouse with two different textures. You can replicate this blouse in a variety of colors. Take care not to use fabric that is too shiny.
This two tone yellow and black blouse is so unique in the way it is designed that everyone would surely ask you for this. Apt for rather simpler sarees, this one is a keeper.
7. If you are a cold shoulder blouse fan, but are not that comfortable with showing off bare shoulders, go for this illusion cold shoulder blouse. In fact this is an investment as you can pair it up with even traditional sarees.
8. All you collar neck fans, this one is for you. When we normally do a collar neck blouse we opt for a rather simple back. This blouse changes it for us, thus giving us major goals!!
Yet another different style and cut this exotic blouse is a sure winner and can work with both heavy as well as simple sarees. Make sure you do not deviate from this pattern like shortening the sleeves etc. if you want the complete effect of the blouse!!
This blouse is a piece of art that uses sheer in a different way. The pattern is classy and elegant and is something that is suitable for everyone.
These exotic blouses will make you major goals and always have your styling game on point!! Try it out and let us know!!