Sarees are timeless and a wardrobe staple for every Indian woman. The beautiful attire graces the look of every Indian woman. But what makes the saree look complete is the blouse. Blouses are the most important aspect in a saree and we all love to experiment with new blouse designs and styles. Today, let's talk about the most trending blouse style – the sheer blouses or net blouses.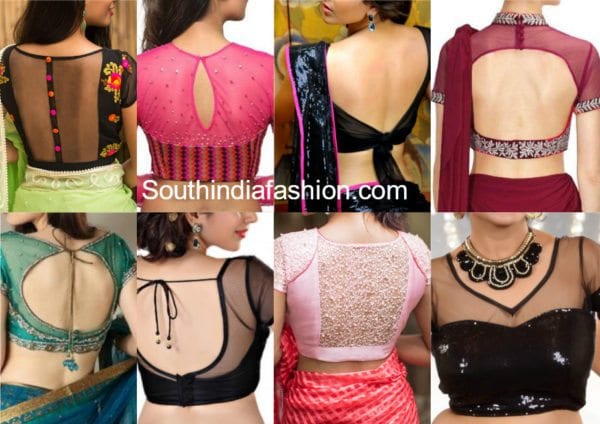 The sheer blouses are designed with a bit of sheer fabric on it; which means you can show off your skin in a very modest way. The trick of the pattern is that it shows off a wee bit of your skin as the mesh fabric covers it up. So what better way of looking stylish as well as being modest?
From front neck styles, to sleeves, to black necks or even sheer tie back blouses look very graceful and can effortlessly make heads turn. A simple transparent fabric can make a world of a difference to the blouse. Even if the fabric is not sheer net, skip the lining of your usual blouse fabric on a certain area and see the number of compliments you receive. Embellishments on your sheer transparent saree blouses will enhance the beauty of the blouse thus making it very dressy. But if you are going with a heavy saree go for a simple sheer blouse and if your saree is simple, a statement sheer blouse will make your outfit win.
The sheer can be effortlessly flaunted by anyone and at any age. It is one of the trendiest blouse patterns with an equal amount of class and modesty. So if you are looking to make a statement with your blouse, a bit of sheer will do all the magic.