When we buy a heavy Kanjeevaram saree then we obviously start thinking about a heavy work blouse. It could be maggam work, zardosi or even gold thread work.  The blouse fabric that comes with the saree is normally not used. Else we go for a plain blouse to balance out the heavy saree. This time take out one of those blouse materials that has come with the saree for big border blouse patterns.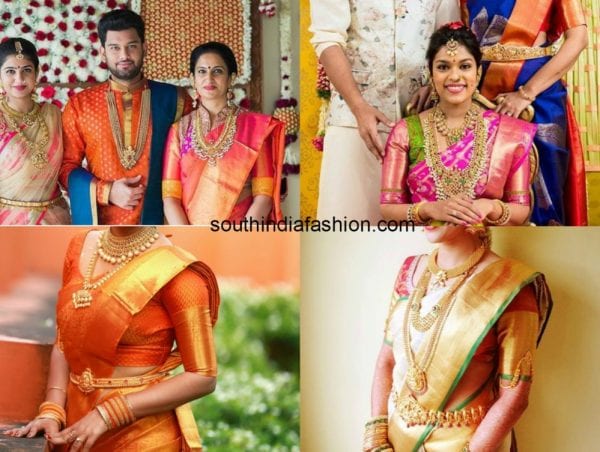 A big border blouse was totally in vogue in the earlier days. The heavy border of the Kanjeevaram saree was used to advantage to show off and the sleeve length was around the elbow length or little above that. The borders were never dissected and was used as a complete sleeve.
The big border creates a grand effect especially when you are doing it for a blouse that you are wearing for your wedding or any grand wedding for that matter. If you are ok with adding an arm band as well then that would be sheer grandeur. Arm bands look the best either in gold or the diamond versions.
If you feel that just the big border for your blouse will be too old school here is what you can do to rev it up a little. Add maggam work through the blouse body at especially the shoulder area in contrast or colors of your choice. You can even extend the maggam work to about an inch of your sleeves. Follow this up with the heavy border on your sleeves and you have a rocking blouse for your special day!
When you are already adding a big border on your sleeve try not to add the same border in the back of your blouse too. It sometimes looks too overdone and does not give the desired effect. You can also add a contrast piping just below the border to add some color and spark!!
Hope we have given you a new way to spin your next blouse or create a new look for your older Kanjeevaram saree for a special occasion.