A Red Kanjeevaram saree is there in every woman's wardrobe. It is either your bridal saree or a heavy saree you have picked for a wedding of your relatives. Why don't you reuse the saree for a different function with different blouse options? Well, when a red saree is in question decide the combo with caution as the color by itself is quite rich.
1. Red Blouse
Instead of the original blouse which you had done for the saree (mostly that would have been a heavily embroidered blouse) why don't you try a red blouse with a heavy border?  Or if your actual blouse was plain try a maggam work heavy blouse. You could also try a rich red full sleeve plain blouse to enhance the look of the saree.
2. Gold Blouse
This is another go to option. Instead of a regular cap sleeve tissue gold try a sleeveless boat neck gold blouse to bring about a modern twist. Instead of a bright gold blouse you can also try a dull gold blouse with options like patch work. Gold cut work blouses are also a great choice and makes your saree look more grand.
3. Green Blouse
Red and green is a great combo. Why don't you try that with your red Kanjeevaram saree? Opt for intricate work done green blouses to pair with the red Kanjeevaram saree. You can also try a dual color with green and red incorporated to it. Even a brocade green blouse can be matched with a red Kanjeevaram saree.
4. Blue Blouse
Red and blue is also an epic combination. Try a deep blue blouse in raw silk or even fabrics like velvet with your red saree. Take care not to make the blue too bright as it will disturb the balance of the look.
5. Purple / Violet Blouse
This is another risqué option. Try out a heavy work violet or purple blouse with your red saree. In order to match it better the work that is done on the blouse can have red accents. This works best with shades like tomato red.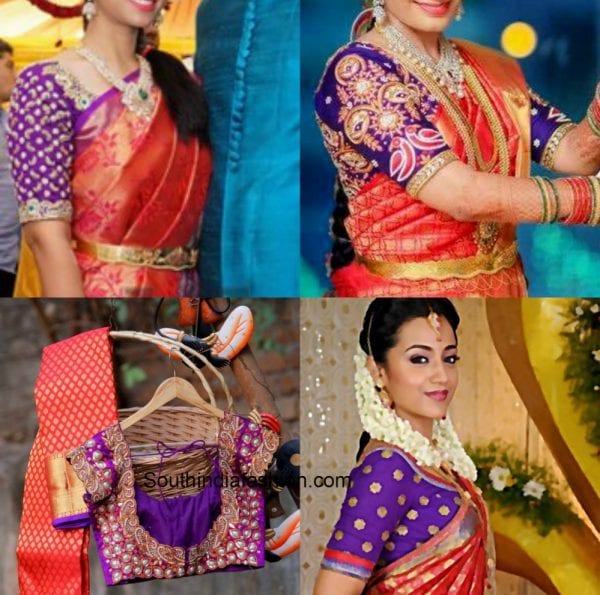 Red is a very rich color. If you do not feel up to trying a daring combo stick to options like plain red or gold. If you are not the bride and yet wearing red for a wedding do not over accessorize. It steals the thunder from your saree. Hope these blouse options would help you create new looks with your Red Kanjeevaram saree.