Hyderabad's very own, age-old, Zardosi work can add a very unique elegance and beauty to just about any garment, more so on saree blouses. Team a Zardosi work blouse with a kanjeevaram or a fancy saree and it is bound to add a whole lot of grace to your saree attire.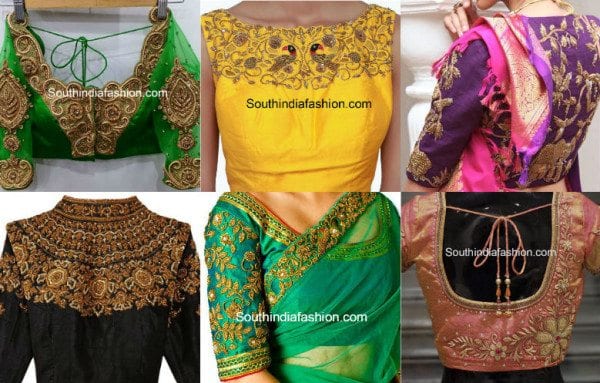 Here are some artsy Zardosi work blouse designs:
The very classic way of adding work to any blouse – along the borders of the blouse always makes the blouse beautiful.
Let Zardosi flowers bloom all over the back of your blouse by getting floral work cover all of it. This is yet another beautiful way to let Zardosi fill your blouse with prettiness!
Getting yourself a boat-neck blouse stitched and having the neck filled with zardosi work is a pattern that is much in vogue lately.
A high neck blouse looks its elegant and gorgeous best when you adorn all of the collar entirely with Zardosi work. You can then team this blouse with a chiffon or a cotton silk saree.
Shilpa Reddy shows us how we can cover all of the back and the sleeves in Zardosi work to make it look stunning!
Gaurang Shah's animal theme and floral design zardosi blouse designs are stunning that go well with silk sarees..
Here are few more beautiful zardosi work blouse designs that you can try out: