Be it with her outfits, hair-dos or jewellery, Samantha (and her stylist) see to it that there is nothing boring or dreary about them. We especially love Samantha like playing with her blouse designs, sporting some of the most off-beat, beautiful and never-worn-before designs triggering off many a fashion trends.
Among all of the best blouse designs Samantha sported, here are a few of them which are so totally drool-worthy that we just got to love them – and yes, ape them!
1. The Mirror-work blouse
The mirror work blouse by Arpita Mehta that Samantha wore for an opening event is one of the best of her saree blouses yet. We love how it looks so beautiful and so simple – a work of sheer perfection!
2. The Cape blouse
At Rabhasa audio launch, Samantha proved yet again that she can try something that's never been tried before and pull it off like a pro. The cape went really well with the Saree and blouse and her attire had a very sophisticated, urbane look to it.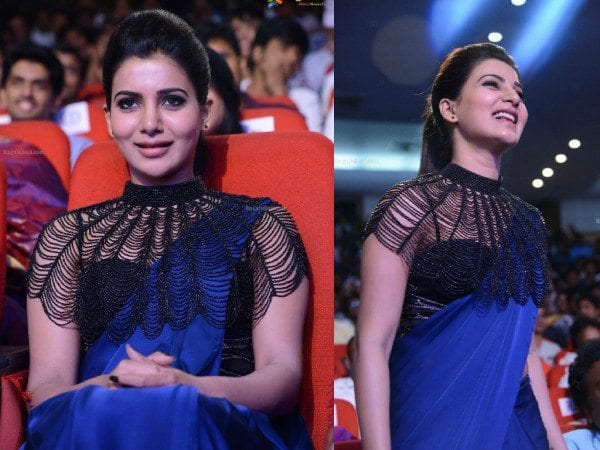 3. The lace black corset blouse
This corset blouse that Samantha sported that we just got to love. Lace, we know brings a class to just about any outfit and when it's bodice and when it's woven beautifully into a floral design, and then, when it is Samantha who's wearing it – it ought to look great!
4. In an ethnic, elbow length sleeves blouse
Samantha donned an ethnic red blouse to go with her kalamkari saree for an awards event and this, too, is one of the best blouses she's sported. With barley-there work that added a light glitter to the blouse, it was high boat neck both on the back and the front and had cute little puffs on to the shoulder. We loved how Samantha looked super-elegant in it!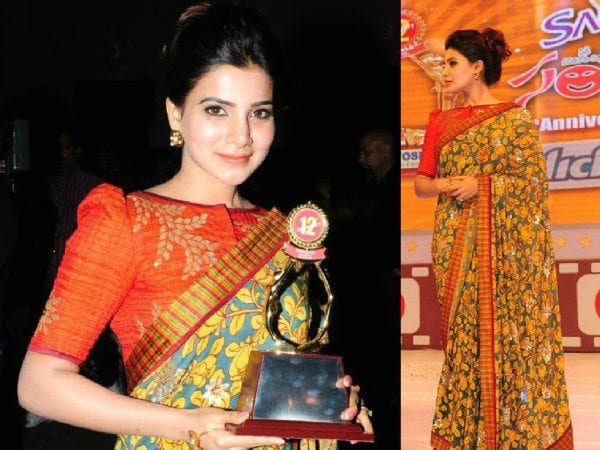 5. Black boat neck blouse
There were many boat neck blouses that Samantha sported but none of them oozed a very beautiful ethnic charm like this one did. With mirrors and slight gold work, it looked great, going especially well with the bright red Saree. This blouse, we'd say would in fact go with just about any Saree that one would like to team it up with.
6. In a boat neck cut work blouse
The Frou Frou Saree that Samantha donned for one of the events in recent past literally made waves in the fashion industry for the way that she teamed it up with a belt and that gorgeous cut work blouse. Made with net, the pastel pink boat necked blouse that she wore on the Saree looked like it couldn't have been more perfect!
7. In a shimmery high-neck blouse
To go along perfectly well with a glittery, dhoti Saree that Samantha wore to an event, she teamed it up with an equally shimmery, high neck corset blouse that looked great on not just the Saree but on her as well.
8. In a shimmery blouse to go with a Kanjeevaram
When Sam wore a shimmery blouse to match with a Kanjeevaram, it started off a trend! Who knew that we could pair glittery, shimmery blouses with Kanjeevarams and make them look so great together? The way the blouse was full-sleeved and the work that was done on it, all added to the look of the Saree.
9. In a long sleeved, worked-upon blouse
At a recent fashion show, Samantha walked the ramp in a pink Saree that she teamed with a long sleeved pink blouse that was worked upon with beautiful gold motifs. And needless to say, that's a blouse idea that's so good that we should steal an idea or two from the design. The bow at the back did good to it as well. We only wish that it could been a wee bit tighter to fit Sam's slender body perfectly.
10.  Closed Neck Blouse
The way that Samantha paired up this gorgeous yellow Kanjeevaram with a raw silk green closed-neck blouse is just perfect. This is definitely a blouse design we should try out – especially since it is so simple to make and to wear.
11. Pink, puff sleeved blouse
If there's one way to wear puff-up your blouse, that would definitely be this way that Samantha puffed it. To go with her Kanjeevaram, the pink puff sleeved blouse was done beautifully and to add to it, the beautiful borders with a hint of gold threadwork on them made it great. And as for Samantha she was overloaded with cuteness!

12. Sequined, high-collar blouse
Samantha's sequined, high-collar blouse that she wore to go along with a gorgeous gold lehenga for the Memu Saitham event was stunning, to say the least. This is a design that exudes elegance and can go with most sarees in our wardrobe – every reason to try it out.