The beauty of a Saree depends largely on the blouse that accompanies it. The style of the blouse can enhance the appearance of a saree to a great extent. One of the most popular blouse designs nowadays is a High neck design. It gives a very classy and elegant look. A high neck ensures that you don't feel conscious at all, as is the case with various deep neck designs. High neck blouses go very well with formal, casual and party wear sarees. Be it young or old, it suits every woman and makes her look fashionable. The best thing about high neck blouses is that you can experiment a lot using sheer fabrics and for those who like it heavy, zari and silk can be used.
There is a very simple mantra that you need to follow. If your blouse has heavy embroidery, your saree should be relatively plain and if your blouse is simple, then you need to team it up with a heavy saree.
Here are a few ways you could get your high neck blouse designed: 
High Neck Net Blouse: Many women wish to wear a deep neck but are afraid that they may not be able to carry it off. A good option is to get a high neck blouse with a transparent neckline. If you're bold enough, get a transparent back too! It looks extremely sexy.
Backless High Neck Blouse: You can also get a backless high neck blouse. It may have a hook or draw strings at the back and the front can be embellished with a teardrop design or a sheer fabric like lace or net.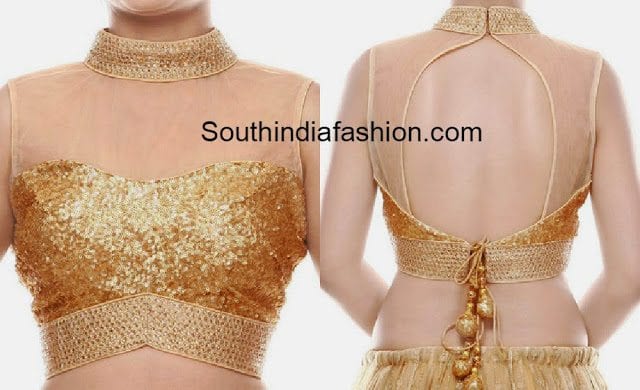 High Neck Blouse with Key Hole Back Neck: One can get a high neck blouse with a keyhole or teardrop design at the back. The front may be embroidered and the keyhole at the back can also be accentuated with a little embroidery. It can be a long narrow key hole or a big round hole if you have a great back. One can also get a teardrop design in the front.
Full Sleeves High Neck Blouse: High neck blouses look really aesthetic and sophisticated with full sleeves. Party wear and work wear sarees, both look good with a full sleeved high neck blouse.
Maharani Blouse: A high neck maharani blouse with intricate embroidery around neckline and sleeves gives you a royal look.
Collar Neck Blouse: High neck collar blouses look really smart when worn with a formal saree. The sleeve for this blouse can be cap sleeves, half sleeve, elbow length or full sleeve, as you like.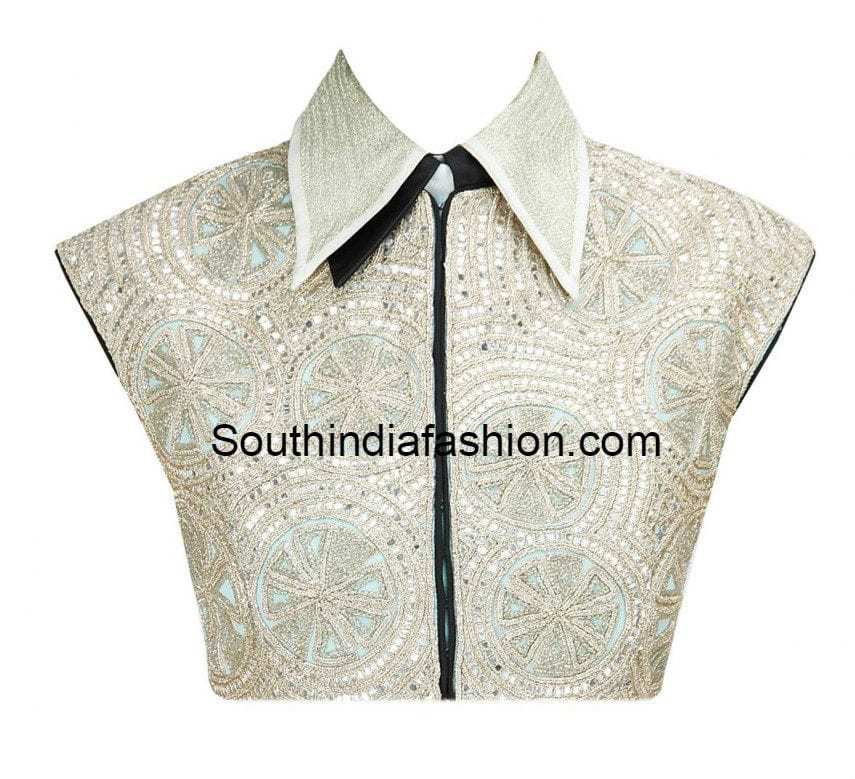 Halter High Neck Blouse: A Halter high neck blouse looks great when worn at a party. It looks really glamorous and doesn't require much detailing. Wear it at a formal gathering and just watch people awe at you!
High Neck with Button Placket: Gone are the days when blouses used to have hooks on the front. Nowadays buttons/zips are located on the side and back. A high neck blouse with a button placket at the back gives a very up market look.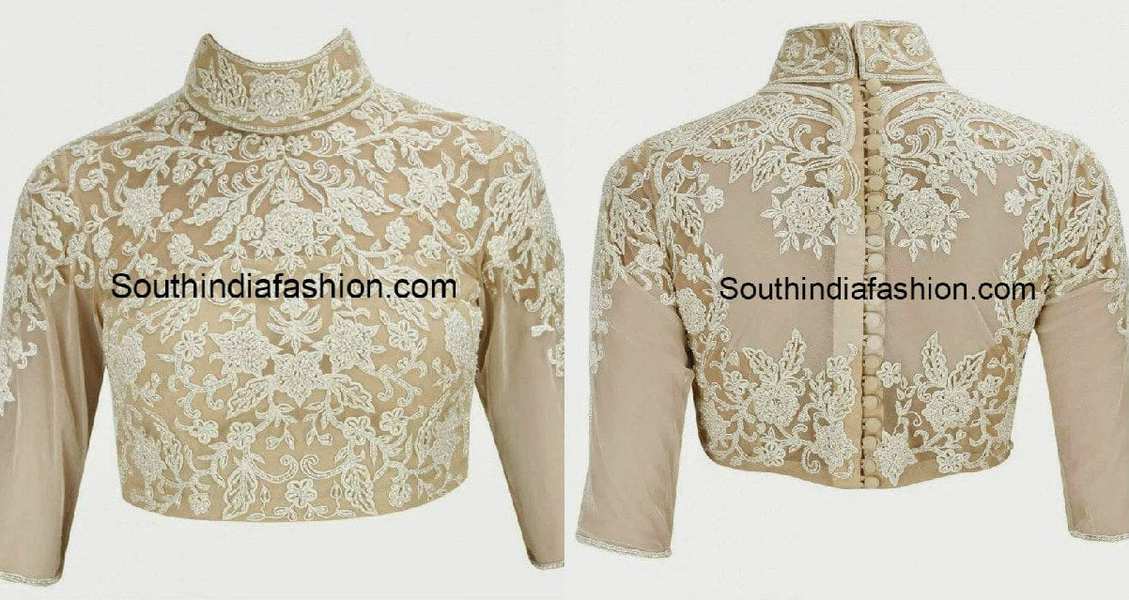 High Neck Jacket Style Blouse: The open half-jacket style high neck blouse works really well with a designer saree. It has a bustier with a half-jacket which is clasped with a hook on top and then left open. The bustier can be embellished with stone work or zardozi.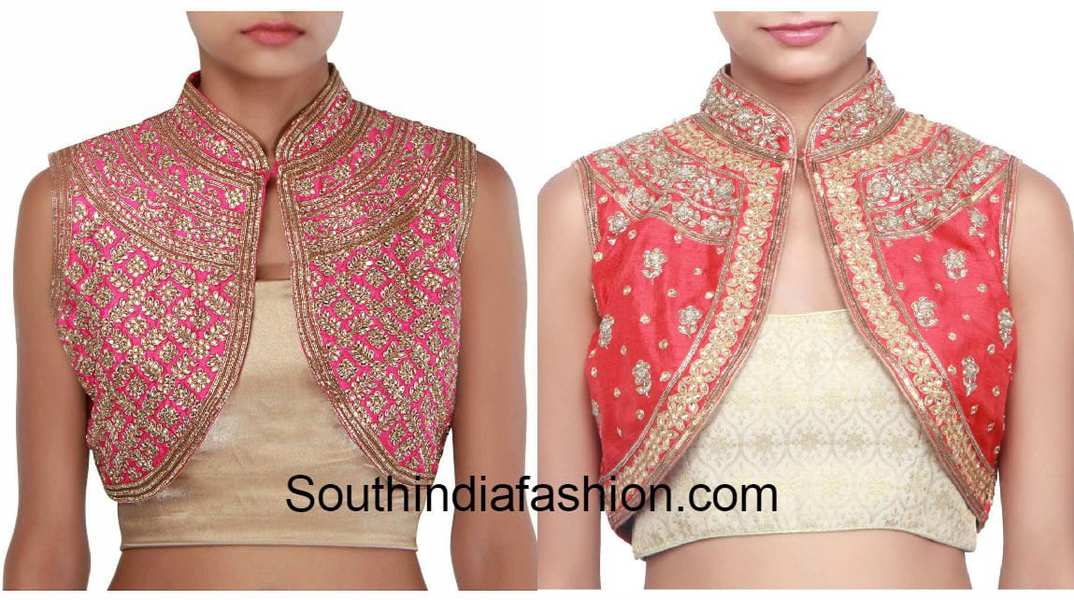 A high neck blouse with a deep V neckline is good way to make you look taller. Keep your saree nicely pleated to draw all the attention to your intricately designed blouse.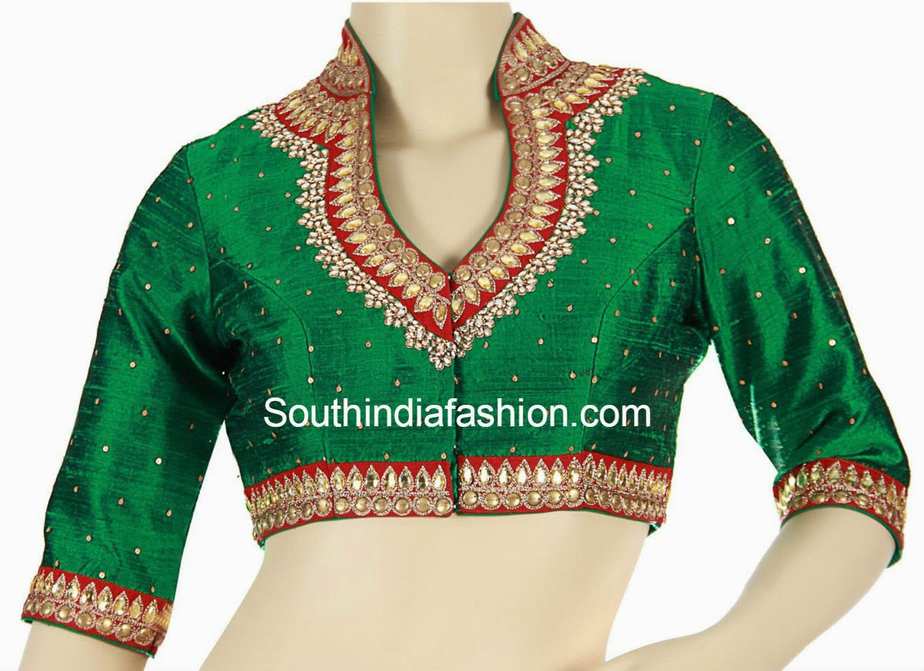 Wearing these will definitely set you aside from the contemporary blouse designs that most women wear. So, create a style statement for yourself with one of our High neck blouse designs!