Every woman loves to drape a saree but at the same time there is also a constant competition among each other about their blouse designs. If you want to take your saree look to a whole new level then you can do that by choosing a stunning blouse design. More than the front part, the blouse back neck designs are important as the entire back portion is clearly visible and the more attractive it will be, the more stunning your saree will look. Here we are presenting some unique blouse patterns for those women who are constantly in search for the stunning blouse back neck designs of 2017:
1. Pom Pom Back Neck Blouse Designs
These back pom pom blouse design can be added to the strings at the back or they can also be added at the back cut out portion of the blouse. For a plain blouse you can use multicolor pom pom to give a pop of color and for the heavy work ones you can opt for the single color ones. The Pom Pom trend is everywhere these days, you can find it's earrings, bags, chappals, so why not incorporate the pom pom back neck blouse designs in your saree look as well.
2. Bow Blouse Back Neck Designs
The bow looks quite fascinating when someone looks it from behind. You can add a ready made bow to the blouse or to make it more dramatic you can also add a tie up bow and let your blouse design look extraordinary. The bow back neck blouse trend is quite in fashion since last 2-3 years and it also gives a contemporary touch to the sarees.
3. Net Back Blouse Designs
The most glamorous fashion trend which gained immense popularity in the year 2016 and is in fashion since then is the sheer trend. You can also opt for the sheer back neck blouse designs and if you don't want to bare it all from the back then you can add floral designs in between or you can also add a button row. For your reference here we have shared some stunning blouse designs of back net blouses.
4. Cut Out Back Neck Blouse Designs
If you are bold enough to flaunt your back then you can take one step ahead than the sheer blouse patterns and go for cut out back neck blouse designs. Most trending cut out patterns includes the circular ones with motifs or mirror work all around, fish cut back, triangle and square shape. You can choose your designs depending upon the amount of back skin you want to flaunt.
5. Button Blouse Neck Designs
One of the simplest yet stunning saree blouse pattern is the button back blouse. From the top celebs to the socialites, everyone seems to be in love with this design off late. There are many ways to get the button back in your blouse. Either you can add them in a row from top to bottom or you can add them in some distance. Button blouse back pattern is mostly popular either in silk fabrics or in net fabric.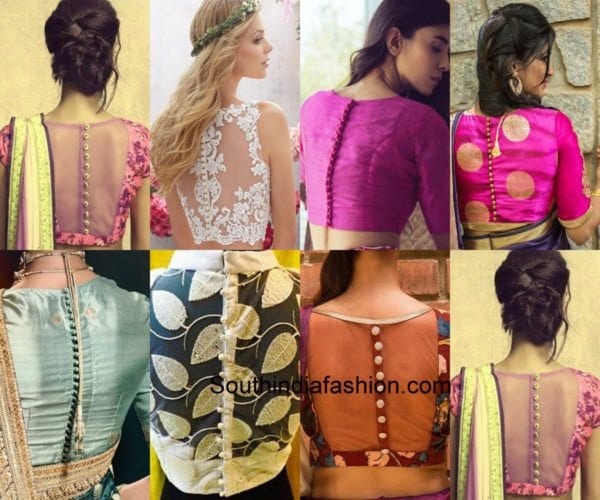 Hope you like this compilation of the stunning blouse back neck designs of 2017, if we have missed any do comment and let us know!!